Whether you want giraffes nosing through your hotel room window or perhaps wake up with a view out of the cockpit, here are some hotels that offer experiences the kids will never forget.
By Katrina Brown Hunt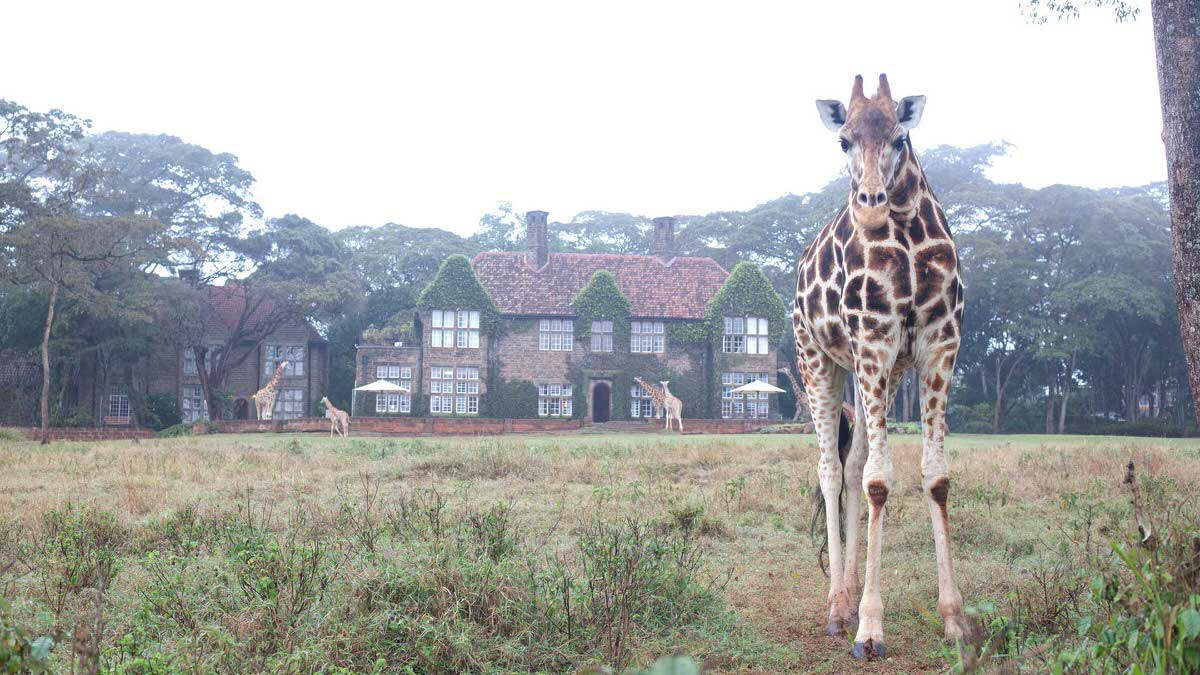 Interact with giraffes without leaving your hotel room at the Giraffe Manor. (Courtesy The Safari Collection)
Most kids love any hotel: An indoor pool, an ice machine—thrills come easy. But if you want to raise the bar on hotel experiences—and create an unforgettable vacation memory—there are some intriguing options out there. Granted, some are pretty extreme: The Ice Hotel in northern Sweden (and similarly, the Hotel de Glace in Quebec City) are famous for offering luxurious but sub-freezing accommodations—but they are closing for the season soon, and, let's face it, would be a tough sell to a lot of kids anyway. But sleeping in an elaborate tree house? Or a converted jail? That's something else.
Here are seven fabulously unusual places to sleep around the world—some even nicely close to home—that offers both novelty and family-friendly charm:
In an Igloo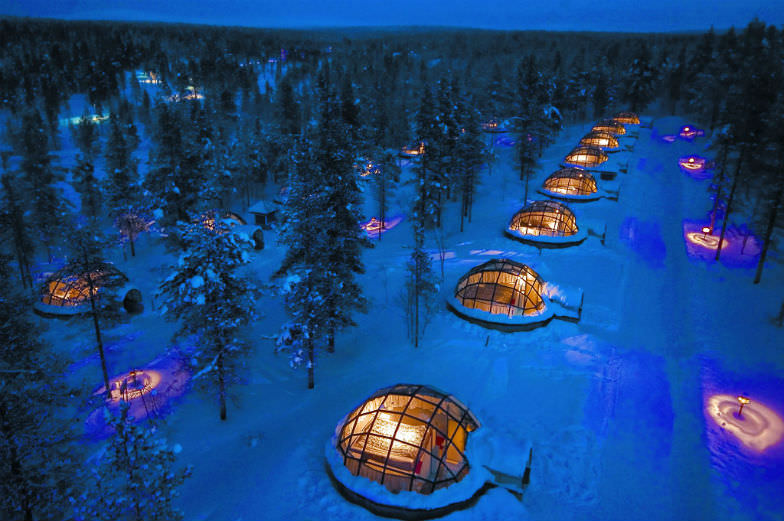 Sleep under the Northern Lights at the Kakslauttanen Arctic Resort. (Courtesy Kakslauttanen Arctic Resort)
Located in Finnish Lapland, the Kakslauttanen Arctic Resort offers lodging in igloos—some made of snow, but many made of glass. The latter (some of which sleep up to 4) have two beds, a bath and glass roof that are perfect for watching the Northern Lights on display from August through April. Showers and saunas are close by. Coming next season, the resort will also have Kelo-Glass igloos, which are part log cabin, part glass igloo, and come with a fireplace. While there, you can also visit Santa's House, a giant red cabin that's available for concerts, weddings and meets-and-greets with the man in red. Glass igloos start at $580 for a family of three.
In a Vintage Car
This place puts those car beds in little boys' rooms to shame. Located in Stuttgart, Germany, the birthplace of the automobile (and convenient to the world-famous Mercedes-Benz or Porsche museums), V 8 Hotel has 34 rooms, each with a 32-inch TV and WiFi. Ten of the rooms have fabulous themes too, like the car wash room (complete with giant brushes hanging over the bed); a Drive-in Cinema, with a converted Cadillac Coupe de Ville; or the Herbie the Love Bug room, with a large piece of an in-character VW. Themed rooms start at $189.
With a Giraffe Watching You
If you're unsure of whether your kids are ready to go on a safari, here's an option where the safari comes to you. The 10-room Giraffe Manor is a boutique hotel in Nairobi, Kenya channels some serious English estate vibes—except for the fact that its 12-acre lawn is crawling with giraffes, which amble over from their neighboring sanctuary. (Seriously, during mornings and evening, the prime times they visit, you can feed them out your window.) Kids are welcome, and the hotel makes a nice launching pad for an actual safari, or day trips to see spots like the Sheldrick Wildlife Trust (where you can feed baby elephants) or the Karen Blixen Museum dedicated to the Danish explorer and author of Out of Africa. Rooms start at $1,050 per night, double occupancy.
With the Big Cats
If Africa seems too far to take the kids, you can always give them a taste of the savannah—just in the Ozarks. You can take a day trip through the Arkansas wildlife refuge, Turpentine Creek, that opened in 1992—home to lions, tigers, lions, leopards, and the occasional coyote—but the ultimate way to experience it is to stay the night in one of its safari-lodge-style accommodations (the family-friendly options include the Siberian Suite, where you can see tigers playing outside). And even during the moments when you aren't actually seeing the animals—on daytime habitat tours or at feeding time—you'll hear them at night. Rooms start at $150, and RV/tent sites start at $25.
In a Treehouse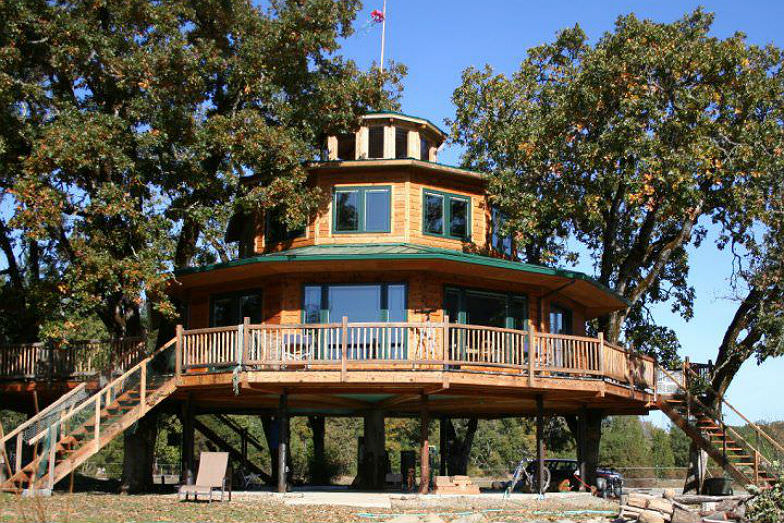 One of the tree houses at Out'n'About Treehouse Treesort LLC. (Courtesy Out'n'About Treehouse Treesort LLC)
You can choose from five overnight-ready tree houses at Out'n'About Treehouses Treesort in Takilma, Oregon neighboring the Siskiyou National Forest, which boasts of having the highest concentration of treehouses in the world (there are more than a dozen more available for day use). Overnight lodgings include the Majestree, which has a main bedroom, loft, kitchen and spiral staircase—all perched 46 feet up a Douglas Fir. Other treehouses' amenities range from beds and bunks to full bathrooms and kitchenettes (and some requires just a short walk to nearby facilities). During the day, you can play on the ziplines, go on horseback rides or head out for nearby river-rafting trips. Treehouses start at $130 a night.
In Jail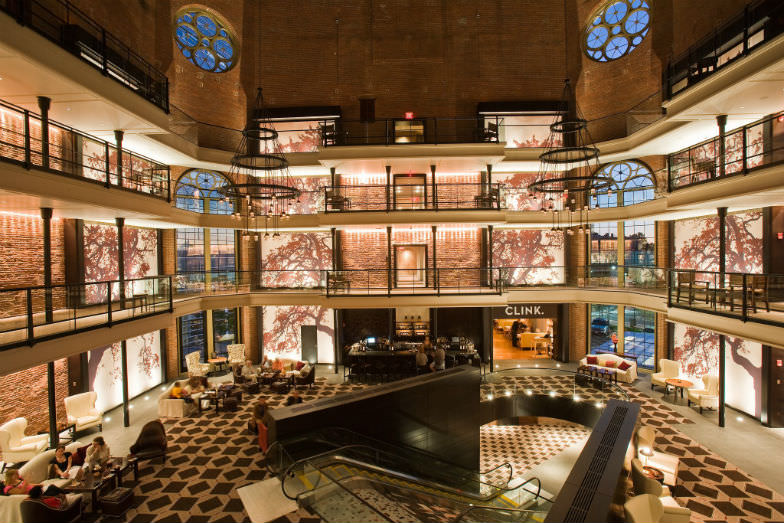 Sleep in a posh converted-jail hotel in Boston. (Courtesy Liberty Hotel)
The Liberty Hotel 298-room in downtown Boston may seem plush, but it was not always the case: in its past life, it was the Charles Street Jail, whose guest list once included a disgraced mayor of Boston and Malcolm X. The kids might not appreciate that the cocktail lounge Alibi used to be the jail's drunk tank, but they will be charmed by the jail-cell bars that remain in the hotel's main restaurant Clink. Rooms start at $399 a night.
(MORE: Prefer a tropical Caribbean getaway? Hurry and grab one of these family deals before they end.)
In a 747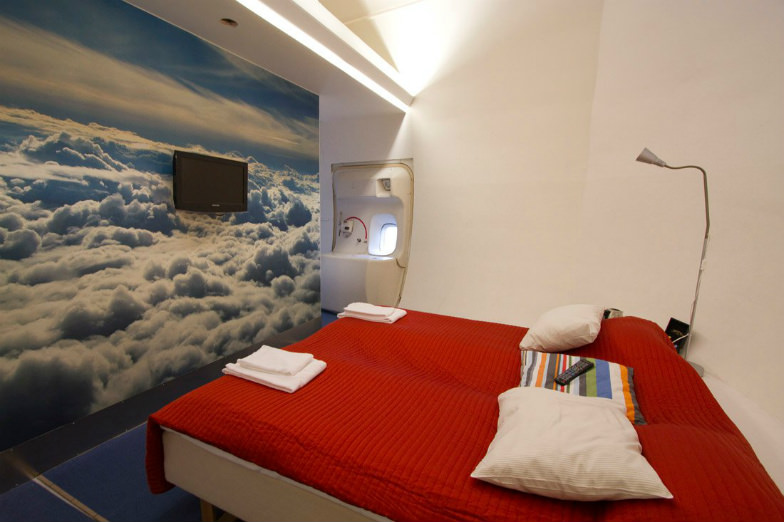 Experience how it's like to sleep comfortably in an airplane. (Courtesy Jumbo Stay)
Who says it's impossible to sleep on a plane? Jumbo Stay is a grounded 747, built in 1976 and located just outside Stockholm Arlanda Airport in Sweden, that has been rehabbed to feature 27 rooms with beds—including a cockpit suite, a "black box" suite and wheelhouse single rooms. The cheeky hostel (which also has dorm-style rooms to share) features a small café and the chance to take a walk on one of the wings. Rooms for two start at about $200 a night.
Katrina Brown Hunt contributed this to MiniTime. Katrina is based in San Diego and writes about travel, business and lifestyle for publications and websites.