Vegas with kids
By Brandi Sjostrom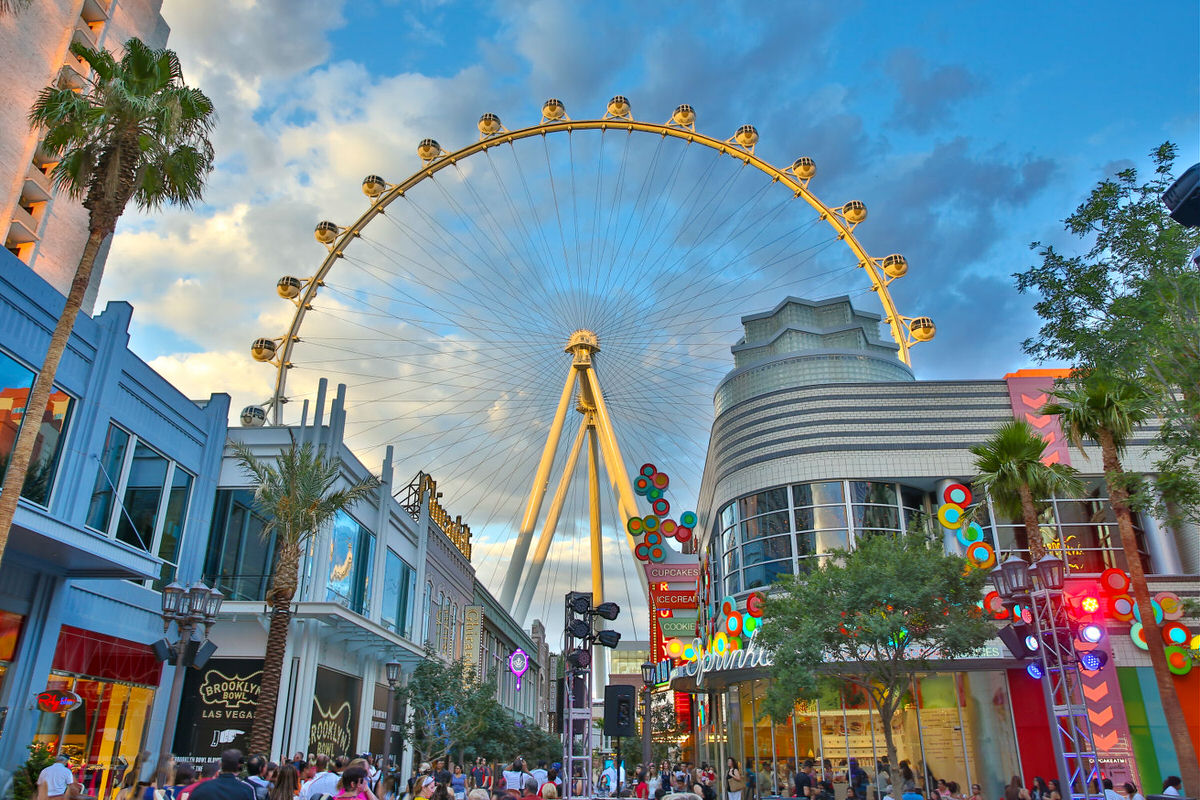 LINQ Promenade is one of Vegas' kid-friendly attractions for hip families. (Credit Caesars Entertainment)
Gone are the days when Las Vegas only appealed to high stake gamblers, hard partiers and adults looking to let loose. The former Sin City has been hard at work in revitalizing its image so that it can be a destination ideal for families too. Contrary to popular belief, while the city still has remnants of its old ways, it's learned to compartmentalize those from its more family-friendly and cooler draws. And these draws are now luring families from all over the country.
Here are seven kid-friendly things young, hip families can partake in Las Vegas:
For a kid-friendly hotel during your Las Vegas visit, consider Flamingo Las Vegas with its rooms and suites that can accommodate families young and small, its prime location and close proximity to many of the Vegas Strip attractions, and the Beach Club Pool.
(MORE: Unforgettable Adventures for Families in the Sea of Cortez)
Start, of course, at the LINQ Promenade whose beautifully designed brick pathways ooze cool, modern aesthetics that will certainly appeal to the younger crowds and millennials. The fact that this commercial stop is hidden away while still located on the strip makes it less crowded, which in turn makes it perfect for families with kids. Take the kids here for a bit of exploring as well as shopping—it is home to shoe stores Bella Scarpa and 12A.M. Run, accessory store Ruby Blue, and more—and afterwards have a hearty lunch or dinner at one of the many restaurants there. But save some room for dessert; Sprinkles Cupcakes is but a walk away. And if you have some time to spare before 8pm, hit the lanes with the kids at Brooklyn Bowl.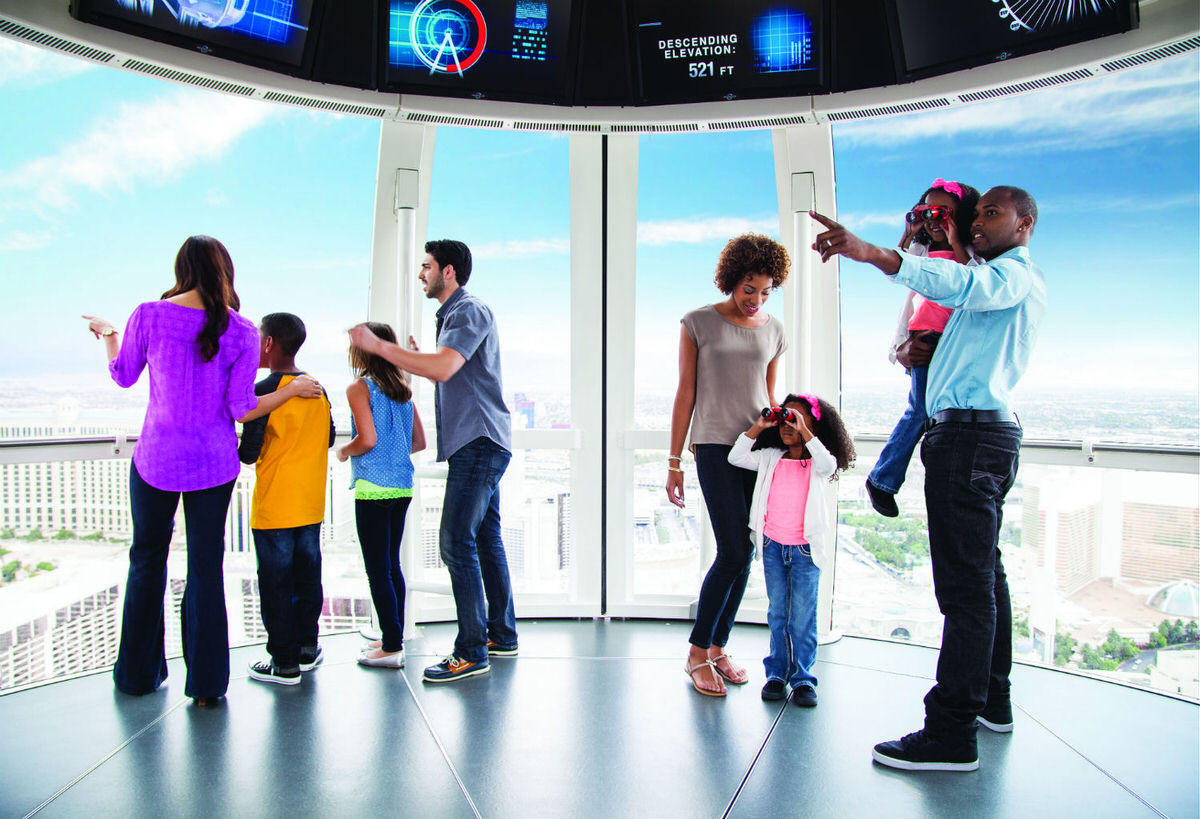 Families in one cabins on the High Roller (Credit Caesars Entertainment)
While at the LINQ Promenade, be sure to get ride the High Roller. It's not only the tallest observation wheel in the world at 550 feet tall; its beautifully furnished, large cabins that fit 40 people each afford stunning 360-views of Vegas and the surrounding areas. The views are even more arresting at night with the city and its famous landmarks—the fountains at Bellagio, for example—are lit up. Each leisurely ride takes about 30 minutes, giving riders plenty of opportunities to capture the scenes below without rushing. The wheel is very kid-friendly and welcomes riders 12 and under for free; but the Happy Hour cabin is purely for adults and boasts an open bar so moms and dads can have fun on their own.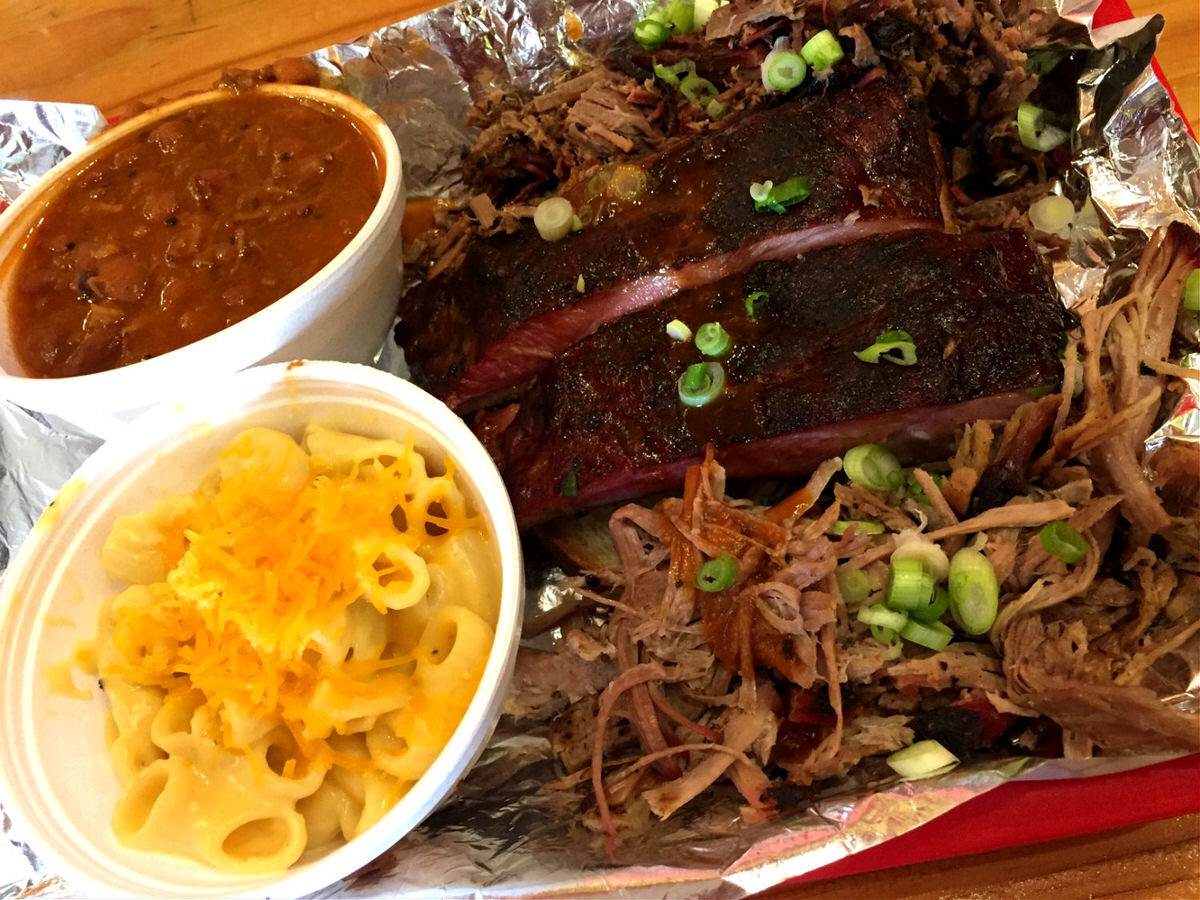 Ribs, brisket, pulled pork, beans, and mac and cheese at Rollin Smoke Barbeque (Photo: Brandi Sjostrom)
Less than 10 minutes away, the Rollin Smoke Barbeque has two decades of barbecuing experience and is a must visit spot for foodies, barbecue addicts and hungry little humans looking for a hearty meal. The restaurant, started by father-and-sons team Lee Holland, John Holland and Dusty Ardoin (aka the pit master) only 4 years ago, is now considered one of the best culinary spots in the city and serves authentic Southern-style barbecue that both adults and kids will love. With all their meats cooked low and slow to perfection, patrons will find every single dish flavorful and incredibly juicy, the ribs and brisket especially. And while many barbecue joints tend to disappoint with their side dishes, Rollin Smoke's mashed potatoes as well as its mac and cheese are very creamy and buttery. Get adventurous with their famous, monster-sized Outlaw Burger, which was featured on the Travel Channel's Food Paradise along with their smoked meatloaf.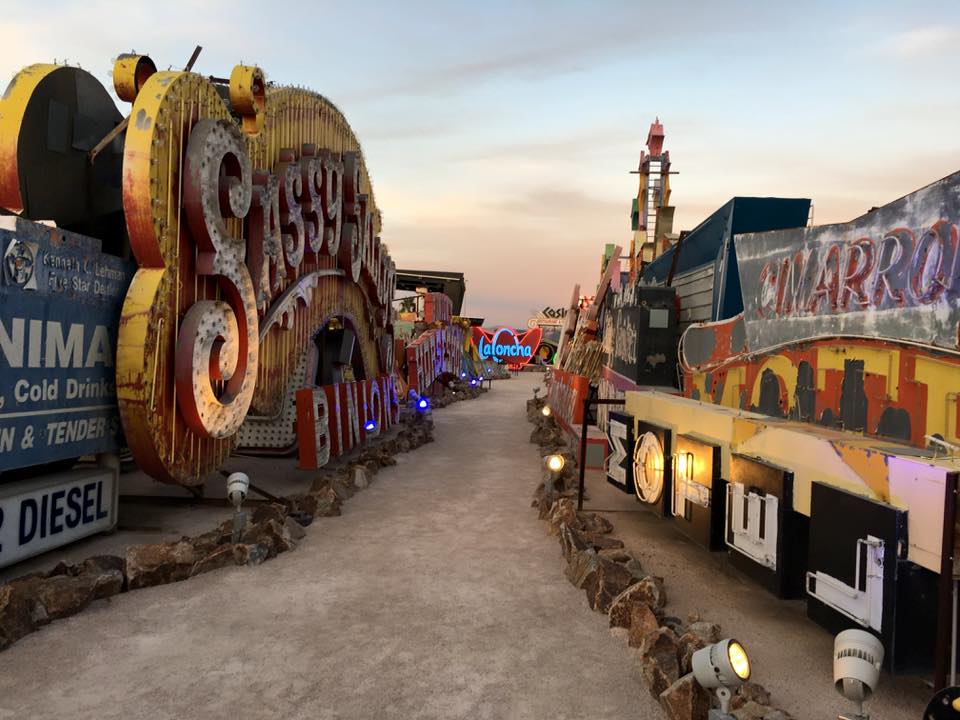 Neon lights at the Neon Museum are popular with hip families (Credit The Neon Museum)
Squeeze in a little bit of culture and nostalgia while in town by taking an hour-long guided tour of the awesome and kid-friendly Neon Museum, also known as the boneyard of Vegas' neon lights. Located in downtown Vegas, this popular non-profit, outdoor museum founded in the 90s is one of the city's many quirky attractions, and would truly appeal to millennials and young families. The Neon Museum showcases many of the city's most iconic neon signs, some of which have been around since the 1930s. It not only gives visitors a good and colorful peek at the city's past, it also provides ample photo opportunities so be sure to bring your Polaroids or instant cameras for quick snapshots. There is also a night tour, but it's not recommended for kids under 12.
Another cool spot for vintage loving young families is the Pinball Hall of Fame. Still considered a hidden gem in the city, this hands-on, non-profit museum features over 200 historic arcade machines that are in good working condition and open for visitors to use and play with. Arcade-loving parents can take a walk down memory lane as they get a rare chance to show their kids which games they loved to play when they were young. And the kids? Well, they in turn get a chance to sample some of the old games that would be hard to find anywhere else.
(MORE: Montego Bay Vacation Ideas for Every Family)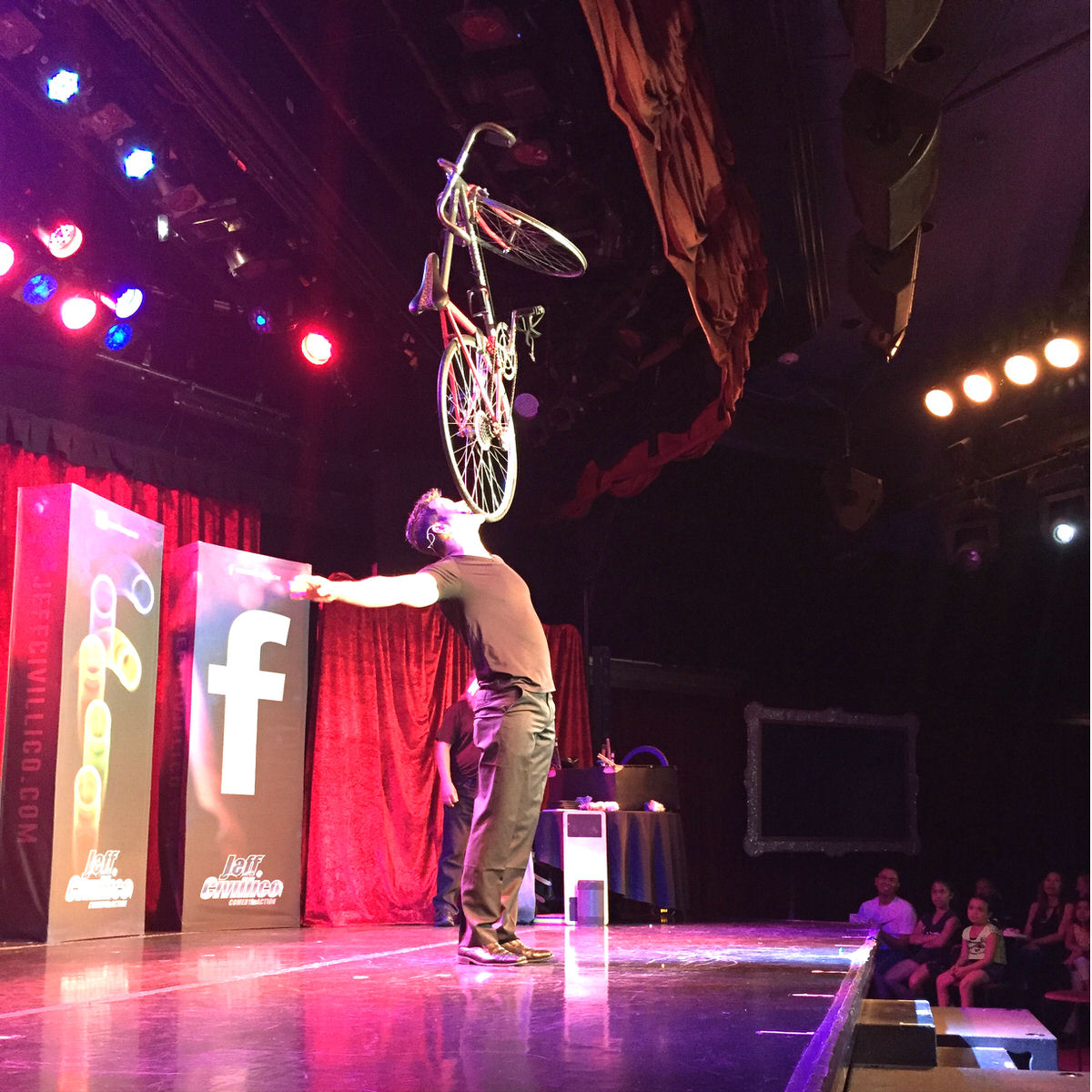 Jeff Civillico balancing a bike on his chin (Photo: Brandi Sjostrom)
Looking for a kid-friendly show after 5pm? What is Las Vegas after all without its spectacular shows? At the family-friendly Flamingo Las Vegas hotel is Bugsy's Cabaret, which hosts one of the most kid-friendly shows in town, Jeff Civillico: Comedy in Action. The super entertaining production appeals to millennial families as Jeff Civillico, who often takes his act all over the country, blends physical comedy with action packed stunts. Declared the "Best Family Attraction" by the Las Vegas Review Journal, the show showcases Jeff's amazing talent of the juggling kind. The kids will get a kick out of watching him balance a bike and a 12-foot ladder, and wonder how he could possibly be juggling a nine pound bowling ball with an apple and a knife. Wondering if the comedy might be a tad cheesy? Both young parents and singles have attested that the show is surprisingly way funnier than they initially thought it would be.
Other kid-friendly options, of course, include Cirque du Soleil shows. Vegas currently has eight of them, some more kid-friendly than others: Mystere and O, specifically. The little kids might think the shows too long to sit through—they are kids, after all—but the bigger kids will certainly enjoy one or both of these acrobatic shows. Mystere's blends whimsy and drama with high-energy acrobatics such as Chinese poles and aerial tissu, while O mixes water and fire in a breathtakingly surreal showcase full of synchronized swimming, diving and water dancing. Afraid that the kids might get bored and not fully appreciate it? Give your kids some credit; they can appreciate performance art just as well as adults, if not more.
Brandi Sjostrom contributed this to MiniTime.