Cool new thrills
By Katrina Brown Hunt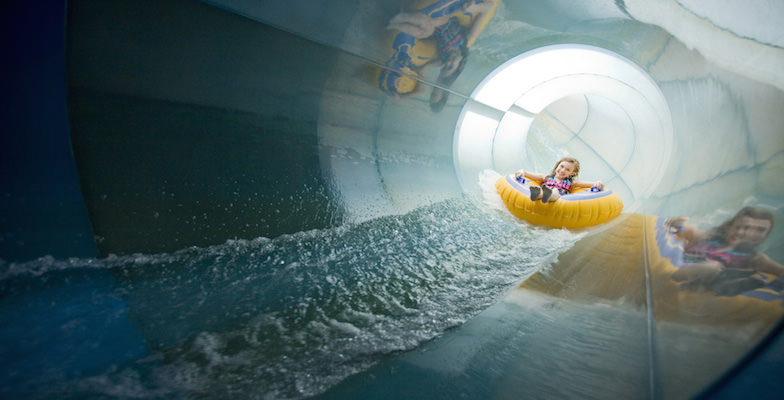 Great Wolf Lodge New England
It's hardly summer yet, but plenty of families are already making plans to cool off. Water parks can trace their roots to a wave pool that opened in Arizona in the 1960s, but over the past few decades, each summer seems to bring a new selection of slides, lazy rivers and splashy thrills. This year, the highlights include trap-door slides, expanded parks and a mellow river ride under the squawking of tropical birds. Here are the best new water park attractions—and whole parks—opening this summer in the U.S.:
Great Wolf Lodge New England, Fitchburg, MA
The famed indoor water park resort chain will drop its first anchor in New England this summer, in the Boston area. Along with a wave pool, splash ground and a variety of slides, the high points (literally) of the 68,000-square-foot indoor water park will be the six-story funnel slide the "Howling Tornado" funnel and the "Wolf Tail" trap-door slide. Some rides have height requirements of 42 to 48 inches. Opens May 30.
(MORE: Find other things to do with kids in the Boston area.)
Ihu's Breakaway Falls, SeaWorld Aquatica Orlando
Named after the theme park's gecko mascot, this 105-foot multi-tube slide sets you on your path after a trap door opens underneath you, and promises to be the steepest and tallest slide in Orlando. Height requirement: 48 inches Now open.
Verrückt Meg-a-Blaster, Schlitterbahn Kansas City, Kansas
Verrückt Meg-a-Blaster (Schlitterbahn Kansas City)
Standing 17 stories high—taller than Niagara Falls or the Statue of Liberty, as the park site boasts—this four-person raft ride will take you up to 65 mph on this "water coaster." How intense is it? "Verrückt" is German for "insane." Meanwhile, a new branch of the Schlitterbahn parks will also opens this summer in south Texas' Corpus Christi. Height requirement for Verrückt: 48 inches. Opens May 23.
Hurricane Harbor, Six Flags Over Georgia, Austell, GA.
The Atlanta area Six Flags is expanding its realm as it opens a new, Caribbean-themed Hurricane Harbor water park this summer—with a wave pool, a kids play area, and multi-slide towers Tsunami Slide and Bonsai Pipeline. Height requirements not yet available. Opens May 23.
Legends of Chima Water Park, Legoland California, Carlsbad, CA
The water park area of the LEGO-loving park expands this summer to embrace the LEGO animal-warriors characters from the Chima series. The park will have a new wave pool, a splash ground with slides and water cannons, along with the "Eglor's Build-A-Boat," which lets kids build and compete with their own LEGO boat creations. Most rides have a 42-inch height requirement. Opens May 24.
(MORE: View a family trip plan: 5 days in San Diego and vicinity with kids.)
Roa's Aviary, SeaWorld Aquatica, San Antonio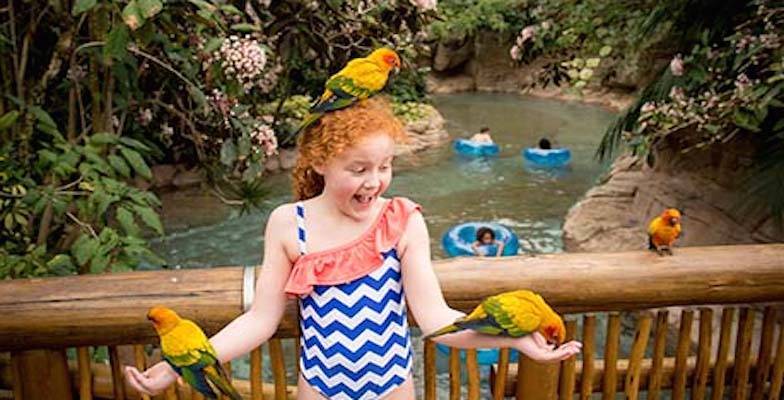 Roa's Aviary (SeaWorld Aquatica)
It's a lazy river combined with a nature tour: This all-ages section of the Aquatica park in San Antonio lets you float, wade or walk through an aviary with 300 birds of 50 different species. Opens May 24.
Cowabunga Bay, Las Vegas
Here's another way families can go to Vegas without freaking out the kids on the Strip: This new, $23-million water park in Henderson will have a retro beachy theme, with a Beach Blanket Banzai raft ride, Surfing' USA racing slides and a trap-door-style Zama Zooma slide. Most rides have a 42-inch requirement. Scheduled to open in early June.
Katrina Brown Hunt contributed this to www.MiniTime.com.