Best winter slopes for kids
By Katrina Brown Hunt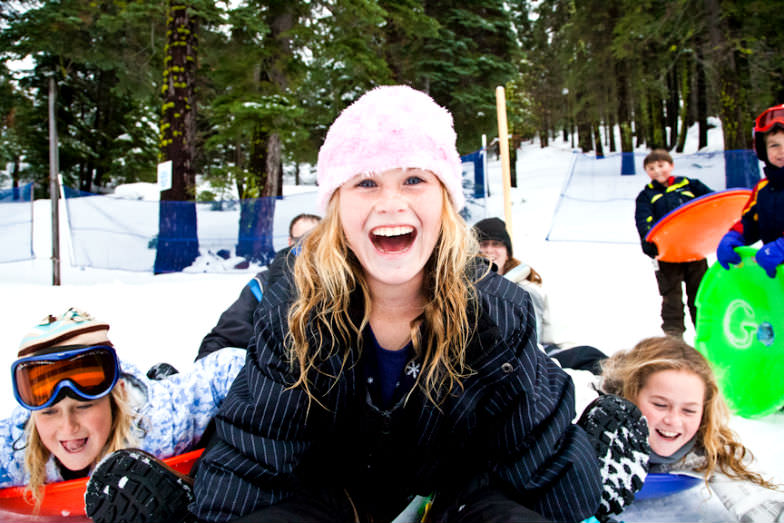 Sledding at Granlibakken (Granlibakken)
Sometimes, strapping on boots and skis, or getting the knack of the snowboard, is just a little too much work for the kids (or, let's be honest, for mom or dad) on a winter getaway. For low-stress winter fun, you still can't beat a good ol' wooden sled—or saucer, or the more 21st century inner tube—to get some gold-medal thrills without the steep learning curve (but like the more "serious" winter sports, you're still best off wearing a helmet). Here are some snowy spots around the U.S. with great hills—including a converted Olympic ski jump—that have committed themselves to the fabulously old-school sport:
Adventure Mountain Lake and Granlibakken, Lake Tahoe, CA
Set on more than 40 acres at an elevation of 7,200 feet, this play area boasts of being the highest sled zone around Tahoe. They offer 14 machine-groomed sledding runs—which are free to use—plus a concession stand. You can also do great sledding at Granlibakken (Norwegian for "a hillside sheltered by fir trees"), which has been an established toboggan spot since 1928; you can rent saucer-style sleds for $14 per day. At Adventure Mountain Lake, rentals of a two-person sled are $10 for the day; inner tubes are $25 for the day and snowshoes with poles are $18 for the day.
Firecracker Hill, Telluride, CO
This ski town may not have an official sledding park, but one local hill marked with orange cones—and nicely away from the skiers and snowboarders—has become a magnet for toboggan-lovers. You can rent a sled at the Telluride Nordic Center then the head to the south side of the city's Town Park, where Firecracker Hill is the locals' favorite sledding spot. Sled rentals are $6 a day.
Lake Placid Toboggan Chute, Lake Placid, NY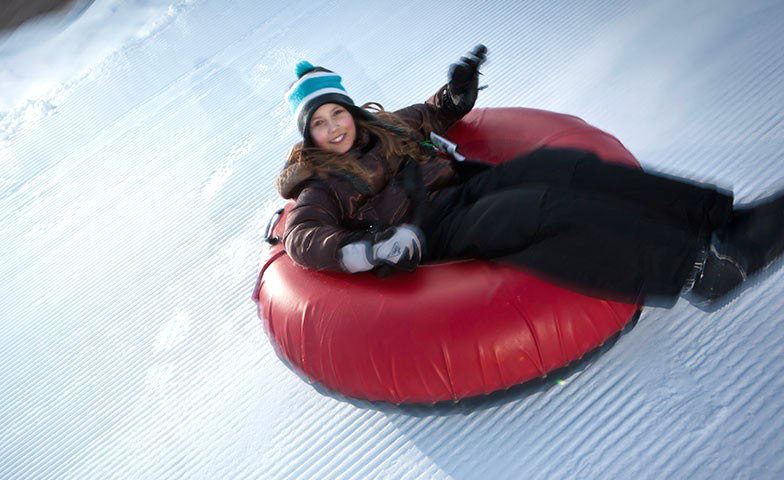 Lake Placid Toboggan Chute (Lake Placid.com)
Sledding may not have been part of the Olympics here in 1980, but you can glide down a slope from the Olympic park like a gold-medal winner: they've converted A 30-foot converted ski jump trestle into ice-covered chutes that deliver you onto frozen Mirror Lake; once you reach the lake, your toboggan may keep going for another 1,000 feet. Admission starts at $5, including toboggan.
Mountain Home Lodge, Leavenworth, WA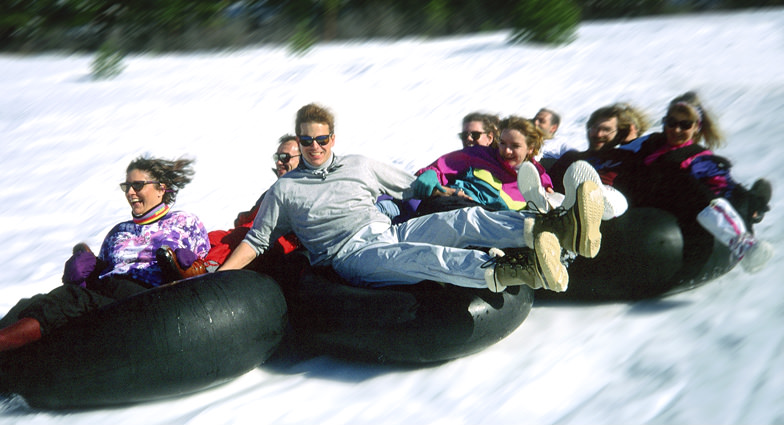 Mountain Home Lodge (Mountain Home Lodge)
Choosing your sledding vehicle may be like choosing the right wine to go with dinner. At this 1/4 –mile, 7,800-foot hill—just for guests at this resort east of Seattle in the Cascade Mountains—the staff feels that different snow conditions call for a tube or a toboggan, and will advise you which to rent when you arrive.
(MORE: Find more winter resorts to visit with the family.)
Wirth Winter Recreation Area, Minneapolis, MN
A city that has a wealth of both parks and winter weather makes for great sledding. Theodore Wirth Park, west of downtown, is the best known, with a rope tow for tubes, snowmaking capabilities, and lights for evening sledding; you can bring your own sled or rent tubes. For more hills you can go to Sunset Hill, a half mile north of the park, or, for the steepest run in town, Columbia Golf Club, where you can rent tubes for $5. Wirth opens for the winter Dec. 20. Admission is $5; tubing and tow-rope admission is $8 for ages 4-17, $12 for ages 18 and up.
Katrina Brown Hunt contributed this to MiniTime.