Great holiday tree lighting ceremonies to see with the kids.
By Katrina Brown Hunt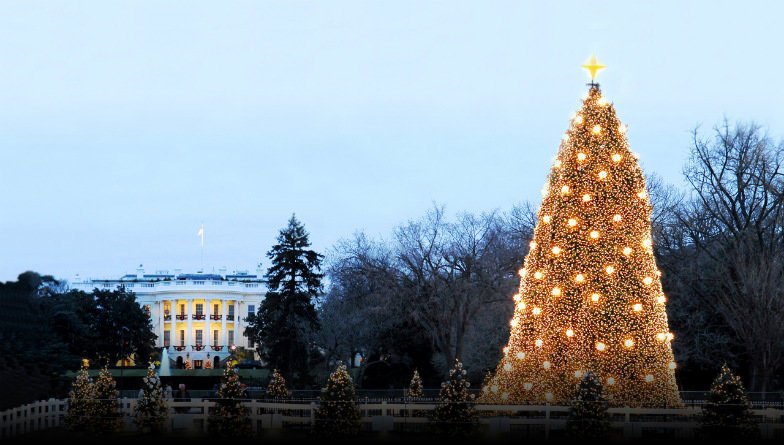 The National Christmas Tree in Washington DC (TheNationalTree.org)
Forget Black Friday.
For a lot of people—sentimental types, perhaps—the true beginning for the holiday season is the ceremonial lighting of a Christmas tree—preferably, a really big one. The most famous tree lightings, of course, even get shown on TV: This year's tree at New York City's Rockefeller Center will be an 85-foot Norway spruce from Pennsylvania, and it will be lit on Dec. 3, while the National Christmas Tree will light up the White House lawn on Dec. 4.
Rockefeller Center Christmas Tree (Flickr: Angelo Amboldi)
While plenty of other ceremonial tree-lightings around the U.S. don't get televised, perhaps they should—not because they are as big as the trees in D.C. or Manhattan, but because they are fabulously creative, splashy or even weird. At the very least, they make great excuses for a family trip to see the tree go bright live, and take part in the accompanying celebrations, from bonfires to standing inside a giant snow globe. Here are five of the most creative tree-lightings around the nation:
Rodeo Drive Holiday Lighting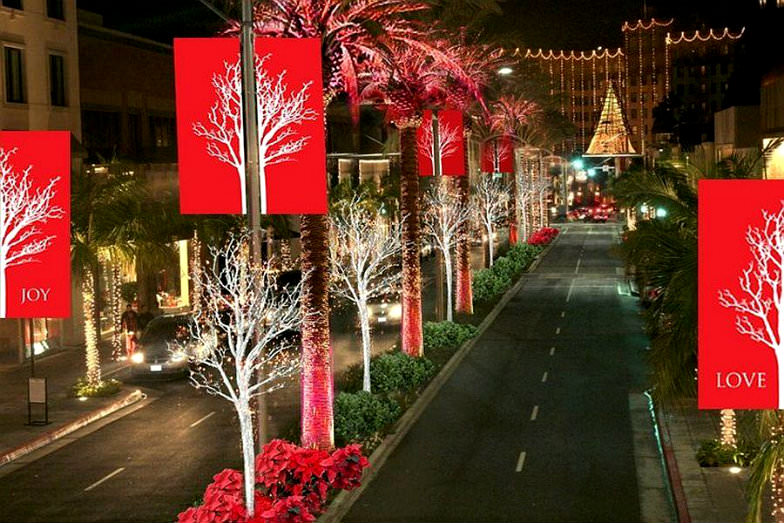 Holiday Lighting in Rodeo Drive (Love Beverly Hills)
For a town whose heart is in retail, there's no reason to wait to start the holiday shopping season. And no doubt, the annual lighting in Bev Hills is unabashedly fabulous. There is not just one "tree," but rather 42 illuminated palm trees, many other twinkling birches, and 16 full-sized Baccarat chandeliers hanging over the stretch of Rodeo Drive between Santa Monica and Wilshire Boulevards. The ceremony also includes a fireworks show and a "snow shower" of confetti. (Beverly Hills / November 23, 6 pm)
Zilker Holiday Tree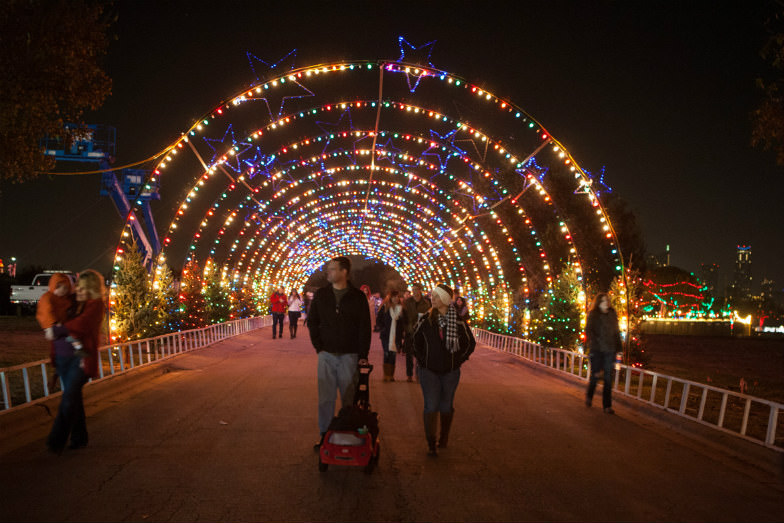 Zilker Holiday Tree in Austin (Austin Trail of Lights)
This conical, man-made tree in Austin's main park was born in the late 1960s and still has a bit of a mod, retro vibe: It was created by City of Austin electricians using a base of 19 utility poles, and stands 155 feet high taking its shape from 39 streamers that hold more than 3,300 lights; on top, the 10-foot-wide star has 150 bulbs. Each year, the power switch gets flipped by the winner of a city-wide tree-coloring contest for kids. From Dec. 7-21, you can also walk Zilker Park's Trail of Lights, a 1.25-mile long path with 50 displays and decorated trees. (Austin, Texas / November 30, 6 pm)
Tumbleweed Tree Lighting Ceremony
Shortage of pine trees? No problem. Since 1957, this Phoenix area town has decked its town square with a giant Southwestern version of a Tannenbaum. The 35-foot wire frame in Dr. A.J. Chandler Park is filled out with roughly 2,000 tumbleweeds that have been collected from around the city, and are fortified with white paint, glitter and flame retardant before being decorated with approximately 1,200 holiday lights. The evening also includes a parade, traveling performers, and, new this year, a 15-foot-high Snow Globe that you can stand inside for photos. (Chandler, Arizona / December 6, 4:30 pm)
Telluride Ski Tree Lighting
Perhaps because the town is loaded with Christmas-tree-worthy pines, Telluride lights up one of its other sustainable resources: a big pile of used skis that have been donated by the community. You can warm yourself next to another version of winter-sports recycling: the evening also features a bonfire — Ullr's Ceremonial Ski Burn — in which old skis go up in flames to honor Ullr, the old Norse patron saint of skiers. (Telluride, Colorado / December 6, 5:30 pm)
(MORE: Find more family-friendly holiday trip ideas for your next getaway.)
Lobster Trap Tree
Fans of the film Love Actually already know that lobsters and Christmas magic can happily go hand in hand (or claw). Over the past several years, though, a number of towns around New England — including Rockland, Maine, and Provincetown, Massachusetts — have instituted holiday trees that celebrate the crustacean that plays a key role in many local economies. This lobster-trap tree in Gloucester, however, is so far the tallest, measuring 45 feet and featuring 150 lobster traps and buoys donated by local fishermen and decorated by kids. (Gloucester, Massachusetts / December 18, 5 pm)
Katrina Brown Hunt contributed this to MiniTime.