Carlsbad, California
By Katrina Brown Hunt on Apr 17, 2013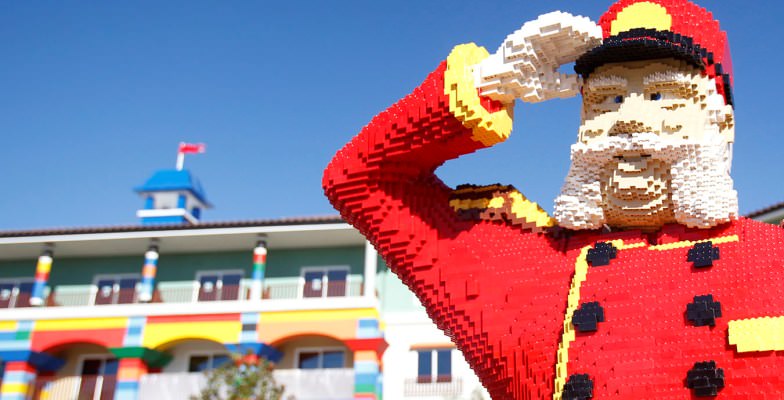 LEGOLAND Hotel
Why Go: For passionate fans of iconic little plastic bricks, LEGOLAND has become a primary-color pilgrimage. The first U.S. LEGOLAND theme park opened in California in 1999, and has since expanded to include an aquarium and waterpark, alongside the rides and mini, LEGO-fied cityscapes—and it's now easy to spend more than a day here. Now, following in the footsteps of Disney resorts and hotels, the LEGOLAND Hotel offers the luxury of easy access: steps away from the theme park's front gate, early-morning entry for some rides, and a certain behind-the-velvet-rope (and very hands-on) LEGO experience.
Granted, during peak season you're paying about $100 extra per night, compared to local hotels. But for true pilgrims, it's worth it. When my family and I visited during the Grand Opening, we found that the vivid, primary-color vibe is clearly meant to thrill the kids—and not necessarily soothe parents—but the hotel still exudes an infectious sense of fun.
Location: The LEGOLAND Hotel is just east of I-5 in Carlsbad, 30 minutes from the San Diego Airport and roughly 90 minutes from L.A. The beach is just a five-minute drive away, and you're also within a few minutes of various chain restaurants (from BJ's to In-N-Out Burger).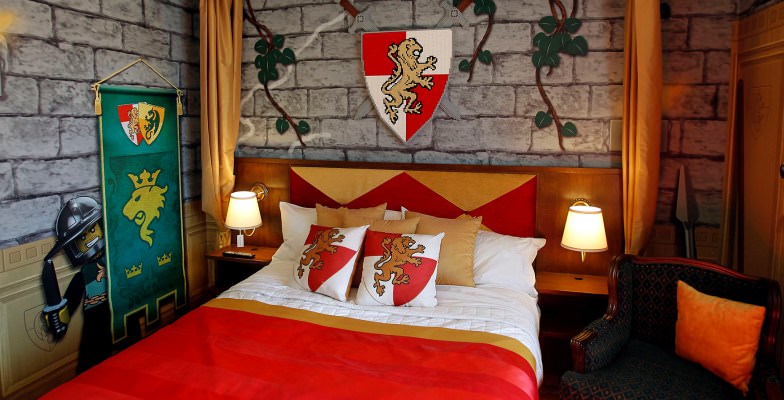 LEGOLAND Hotel
Room Options: The 250-room hotel is spread over three floors, each with its own theme: Adventure (a LEGO nod to Indiana Jones), Pirate, and Kingdom. All rooms have the same basic layout: a grown-up side with a queen bed, flat-screen TV, desk and chair, plus a semi-enclosed alcove for kids with its own flat-screen TV and bunk beds (and a trundle underneath, nice for three-kid families). Walls and shelves are adorned with LEGO accents such as candelabras and butterflies, while carpets are patterned with big graphics, such as magic brooms and serpents. The hotel's 24 suites add more space and a sleeper sofa.
The best part: You shouldn't feel guilty if you opt for a standard instead of a premium room. In both classes, the kids' alcove has the same eye-popping decor (say, LEGO wizard wallpaper). Premium rooms follow suit on the grown-up side, but in the standard rooms it's tastefully toned down, with color block walls and simple draping instead—which may come as a relief to some parents after a long day in the theme park.
All rooms come with a tub bathroom, coffee maker and LEGO-themed ice bucket—but the lack of a mini fridge may annoy families used to stowing milk and snacks.
Just For Kids: Most everything here keeps the 12-and-under set in mind. Kids have their own check-in counter where they get a welcome goodie bag, while the uber-colorful lobby has several bins and a giant play house stocked with thousands of LEGOS. Rooms also come with an extra, toy safe, where kids use clues to crack the code and find goodies (mini LEGOs, chocolate coins) tucked inside.
Babysitting: The concierge can recommend local babysitting agencies.
Recreation: There's a large pool, which goes to five feet deep but has plenty of shallow water (even under two feet). There's an on-duty lifeguard, free use of kid-sized life jackets and, during peak season, swim-up movies on weekend nights.
Where to Eat: The hotel's main restaurant is Bricks, which offers a large buffet for breakfast ($23/adult, $8.50/child) and dinner ($25/adult, $10/child). No surprise, there are plenty of kid pleasers—pancakes and pastries in the morning, mac 'n' cheese and chicken fingers in the evening—as well as a kids-height buffet section, but there is also enough carne asada, spinach salad, and mozzarella caprese to keep parents happy. Across from the buffet is the Skyline Lounge, a full bar with the most mod styling of the hotel.
The second, more casual eatery is the Skyline Cafe, a counter-style cafe with sandwiches, fruit cups, java and to-go bowls of cereal. Room service is also available (figure $12 for a burger).
Insider Tips:
Aesthetically, the Adventure rooms—with earth tones and burnt orange walls—may be the biggest crowd-pleasers for boys, girls, and parents. Kingdom is a little heavier on knights than princesses, while red-and-white Pirate has the most vivid colors.
For an ocean view, ask for a room on the second or third floor (Pirate or Adventure) facing west.
The early-entry perk happens a half hour before opening, for one portion of the park; use that time to ride Coastersaurus, which will have long lines for the rest of the day.
Even if you're on the first floor, don't miss the fabulous disco-themed elevators (strobe lights, ABBA, BeeGees and more) and the whoopee-cushion corner in the elevator lobby.