Explore fantastic movie locations in New York City
By Holly Rosen Fink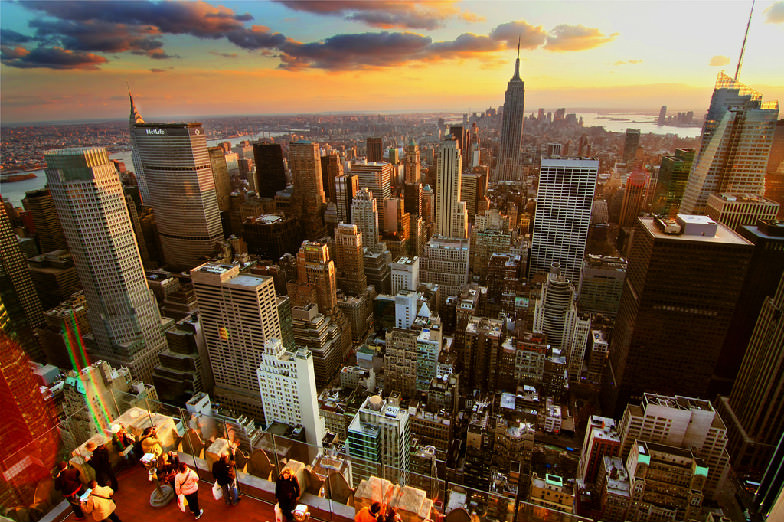 New York City (Flickr: Jerry Ferguson)
New York City has been a huge player in the film industry over the last few decades, serving as the set to some of the best films in history. Over time, directors have taken to the NYC streets to film great movies for and about kids. With its busy streets, tall buildings, landmarks and diversity of people, cuisine and culture, it offers great city scenes that directors can't get anywhere else.
We've compiled a list of five kid-friendly films that were shot in New York City, with information on how to visit the spots seen in the movies. Take your kids on this self-guided, cinematically themed tour. They'll feel like they're in Hollywood without ever leaving the city!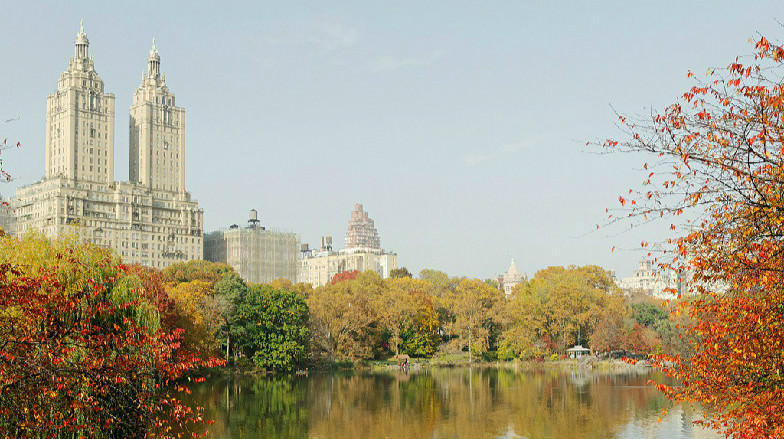 Central Park (Flickr: Marie-Lan Nguyen)
Home Alone II (1992)
In the second film of the popular film series Home Alone, Kevin McCallister, played by Macaulay Culkin, ends up in New York City after losing his family at the airport. As he seeks safety running from two thieves (seen in Home Alone I), Kevin gives viewers a tour of the city. First he uses a credit card to stay at the Plaza Hotel (57th Street and 5th Avenue). Later he spots Santa Claus on stilts on the sidewalk outside the Empire Diner (22nd Street and 10th Avenue). He also spends time in Central Park where he meets the pigeon lady, and at Lincoln Center (66th Street and Columbus Avenue) where she takes him to a show on the rooftop. At the end of the film, Kevin is reunited with his mother at Rockefeller Center (50th Street and 5th Avenue) under the famously lit Christmas tree.
(MORE: Find wonderful kid-friendly hotels in NYC.)
Scrooged (1988)
In the beloved movie Scrooged based on Charles Dickens' Christmas Carol, Frank Cross, played by Bill Murray, doesn't see the point of Christmas. We see Frank in various points of the city as he discovers the meaning with the help of ghosts. One memorable shot is of him hailing a cab outside what is now the Atlantic Grill (49 West 64th Street) to discover his driver is the Ghost of Christmas Past. He is then seen sitting outside this office at the Seagram Building (375 Park Avenue, between 52nd and 53rd). The film also takes us underground in the NYC subways in Long Island and naturally back to Rockefeller Center at the scene of the glorious Christmas tree (50th Street and 5th Avenue).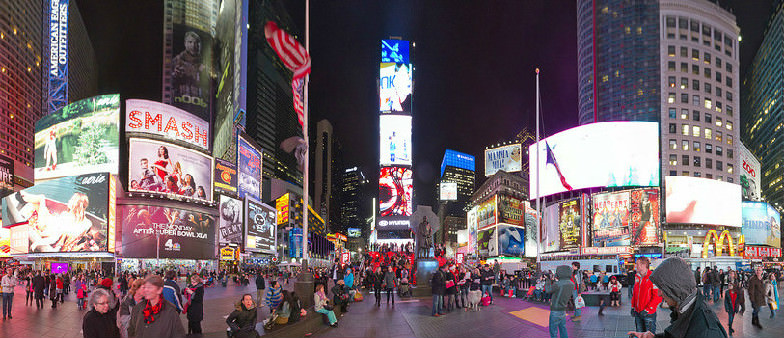 Times Square (Flickr: Harald Hoyer)
Ghostbusters (1984)
Bill Murray also graced the streets of Manhattan during the filming of Ghostbusters three decades ago. The film is about a group of Columbia University professors who lose their jobs and start a business catching ghosts, taking them all over the city: to the New York Public Library (42nd Street and 5th Avenue), Columbia University (116th Street and Broadway), Manhattan CitiBank (41st Street and 5th Avenue), Lincoln Center (64th Street and Columbus Avenue), the Manhattan Bridge over the East River, Tavern on the Green (66th Street and Central Park West), Columbus Circle (59th Street and Broadway), Times Square, Wall Street, the NYC subway, City Hall and of course, the Ghostbusters Headquarters at North Moore Street and Varick Street downtown. The scenes from this film are so memorable that it is easy to picture them whilst standing in these locations.
Elf (2003)
In the movie Elf starring Wil Ferrell, Santa Claus' elf Buddy is sent to NYC from the North Pole to find his birth father, kicking off an exploration of the city like no other. His dad greets him at the Empire State Building (34th Street and 6th Avenue), albeit with a cold reception. Other sites seen in the film include the tree lighting at Rockefeller Center, the Bethesda Fountain in Central Park, his family's apartment at 55 Central Park West and Lincoln Tunnel. The outside of Gimbels Department Store was a digitally altered version of what is now 34th Street Macy's. New Yorkers were later pleased to welcome a Broadway version of the movie loved by so many young children.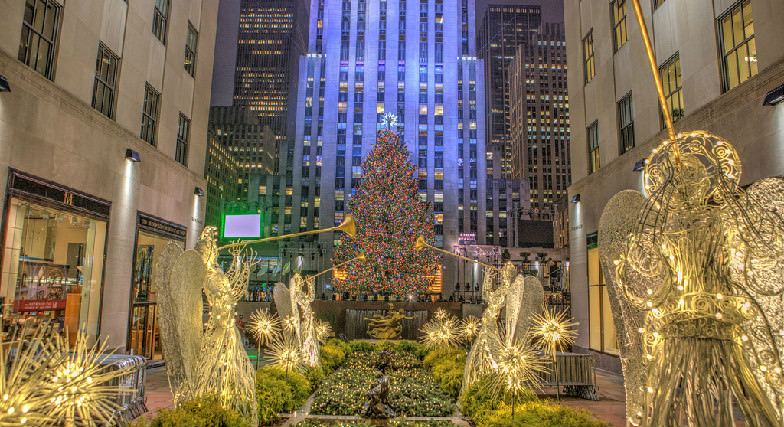 Rockefeller Center (Flickr: Anthony Quintano)
(MORE: Find other fantastic family and kid-friendly attractions in New York City.)
Big (1988)
One of the most unforgettable film scenes in history has to be in Big when Tom Hanks performed on the giant piano keys at FAO Schwarz (58th Street and 5th Avenue). In the film, Josh, a 12-year old, is turned into an adult via magic. As an adult, he ends up doing an impromptu duet with his new boss at the store, resulting in a promotion. Other locales spotted in the film include the St. James Hotel (45th Street and 6th Avenue), the old Hasbro building (32 West 23rd Street), Thompon Playground (Thomson and Spring Streets) and an apartment in Soho (85 Grand Street). At the end of the film, he ends up in Rye Playland, 20 miles north of NYC in Westchester County, where the magic is reversed.
These are only five films with NYC movie location history. The list is long and others not to be neglected include Mr. Popper's Penguins, Little Manhattan, Annie, Miracle on 34th Street, Splash, The Muppets Take Manhattan, Teenage Ninja Turtles, Superman & Superman II, Spider Man series, Enchanted, Serendipity, Smurfs, An American Tale, Stuart Little and Night at the Museum.
For a real insight into which films where shot in NYC, take an On Locations Tour. Their family-friendly Holiday Lights & Movie Sites tour takes you to many of the sites listed in this article.
Holly Rosen Fink of The Culture Tripper contributed this to www.MiniTime.com.