Awesome roller skating rinks you and your kids will love.
By Katrina Brown Hunt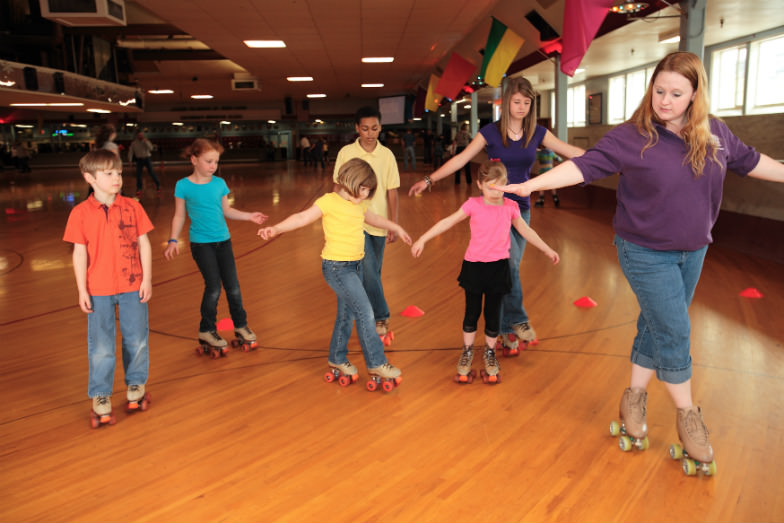 Kids learning to skate at Oaks Park Skating Rink in Portland (Oaks Park)
Let's face it: even if rollerblading seems cooler, and ice skating more graceful, nothing beats old-school roller skating. Plus, for kids trying it for the first time, it's much easier to pick up roller skating in an afternoon. And while the number of rinks around the U.S. has dropped by the hundreds since the days of Xanadu, roller skating looks to be on an upswing again, with old rinks getting makeovers and new rinks popping up, in such hipster havens as Brooklyn. Here are eight rinks worth a spin:
(MORE: Find other cool and unusual kid-friendly things to do.)
Pier 2 Roller Rink (New York City, New York)
This new open-air rink at Brooklyn Bridge Park just opened in May, and has sweeping views of the Manhattan skyline and the Statue of Liberty. And unlike a lot of activities in NYC, it's a serious deal: admission is just $5 per person for the 3-5-hour public skate sessions, and another $6 to rent skates.
Lakeside Rink (New York City, New York)
Roller skaters at Lakeside Rink in New York City (Lakeside Brooklyn)
There are actually two new rinks in NYC. The outdoor rink in leafy Prospect Park used to get just one season's worth of play — with winter ice skating — but now for the other three seasons the 16,000 square foot rink has gone roller-style. Admission is $6, skate rentals are $6 and a gear combo of helmet and pads can be rented for $7.
Oaks Park Amusement Park and Skating Rink (Portland, Oregon)
The disco era skating rink is a relatively recent memory at this Portland amusement complex that opened in 1905, and still offers skating sessions with its live Wurlitzer pipe organ. (Other sessions have a live DJ.) On weekends, there is roller-derby and freestyle slalom classes. Admission starts at $6, and skate rentals start at just $1.50.
Skate Daze (Omaha, Nebraska)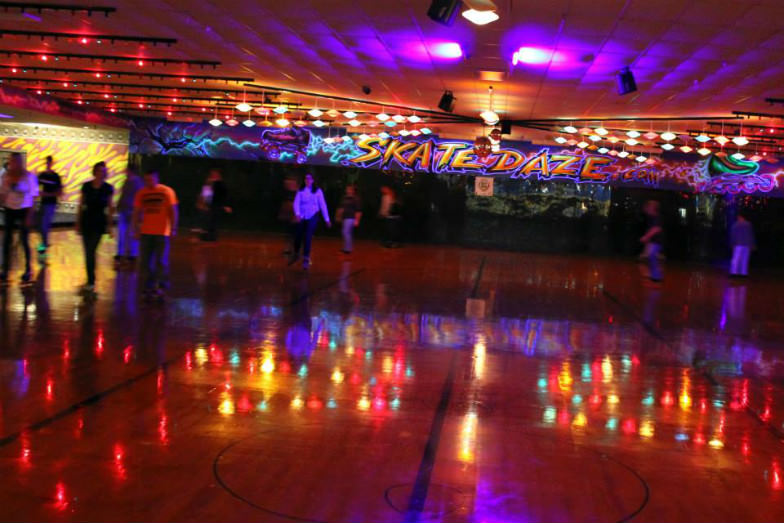 Skate Daze Roller Rink in Omaha (Skate Daze)
This family-owned rink opened its first location in 1947 and today its empire has been centralized in a 45,000 square-foot site, which also has laser tag, bumper cars and a rock-climbing wall. Skating admission is $6 per person, $3.50 for skate rentals.
Fun Plex Entertainment Center (Houston, Texas)
The rink at this oil town amusement park center is surrounded by murals of iconic city skylines, and accented with fog machines and strobe lights. For grown-ups, the adults-only skate on Friday nights runs until 1 am. Admission is $5, with skate rentals for $2.50.
(MORE: Vacationing in Texas? Find great kid-friendly hotels to stay in Houston.)
The Rink (Chicago, Illinois)
Chicago is famous for its own style of pizza, but it also has its own style of roller skating: "JB," named after James Brown and featuring lots of fancy footwork. You can watch the local experts do it at The Rink on Sunday's JB nights, but you might also pick up a few pointers from locals on the Saturday all-ages skate. Admission starts at $6, and skate rentals are $1.
Northridge Skateland (Northridge, California)
Skaters at Northridge Skateland in Los Angeles (Northridge Skateland)
Open since the late 1950s, this LA area rink has been used as a backdrop for several TV shows, films and music videos (like one by Jay-Z), and features seven huge movie screens that show video clips and cool atmospherics. Family Fun and Food Skate night includes an all-you-can-eat pizza buffet. Regular admission starts at $7 person, with $5 rentals, while the Family Fun and Food Skate is $12 per person.
Brentwood Skate Center (Brentwood, Tennessee)
This suburban Nashville rink has serious Music City street cred: Miley Cyrus and Allison Krauss have been reported to skate here, and American Idol's Kellie Pickler shot a video here. To give even the non-pros the star treatment, the rink uses rainbow LED lights and spotlights during songs. Admission is $6 per person, $3 for rentals.
Katrina Brown Hunt contributed this to MiniTime.