These desert oases offer plenty of splish-splashin' fun
By Katrina Brown Hunt on Jul 14, 2015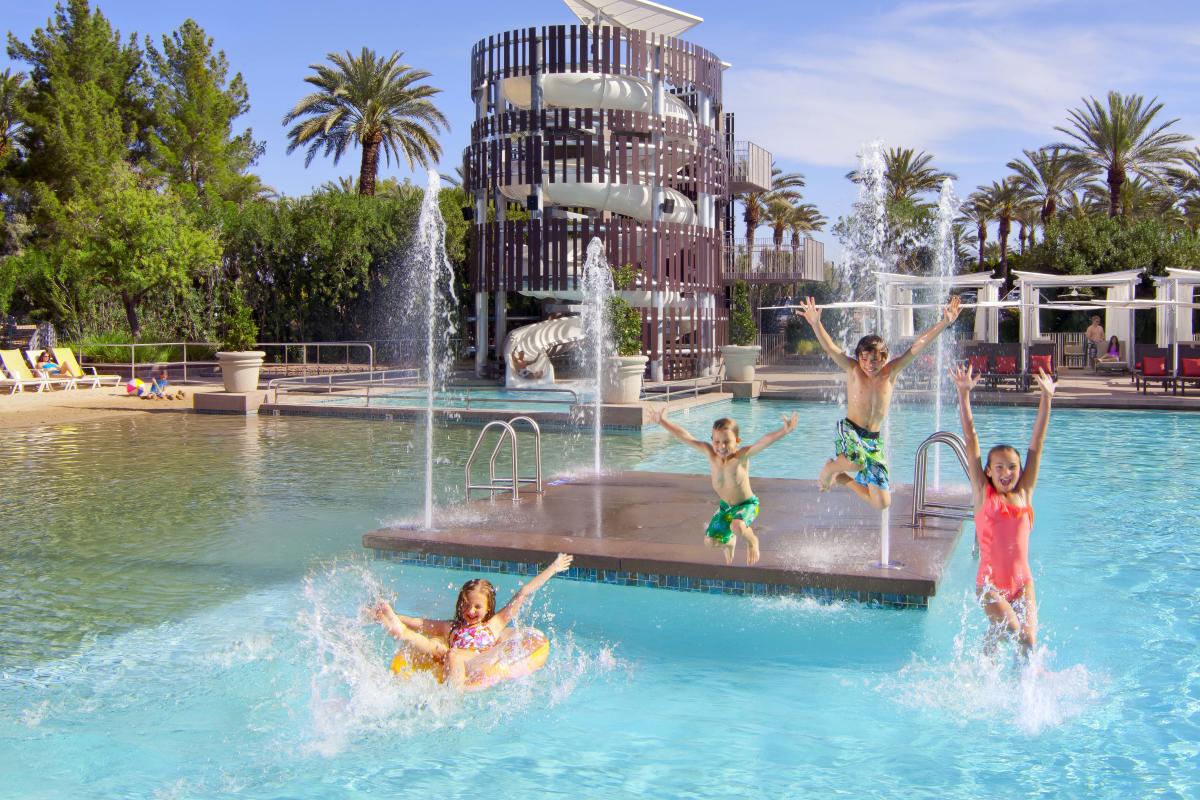 Water playground at Hyatt Regency Scottsdale (Hyatt Regency Scottsdale)
While some snowbirds flock to the Phoenix-Scottsdale area for the sunshine and golf, many winter refugees simply dream of lounging by a pool. Or six pools. Or even 10 pools. While top Phoenix and Scottsdale resorts embrace their old-school glam side—one hotel boasts a favorite swimming hole of Marilyn Monroe's, and another has a pool inlaid with mother of pearl—the most kid-friendly of them also seduce families with elaborate waterscapes, high-speed slides, and even the chance to go surfing in the desert. Here are seven resorts where you can ditch (at least for a while) the winter coats and boots:
Hyatt Regency Scottsdale Resort at Gainey Ranch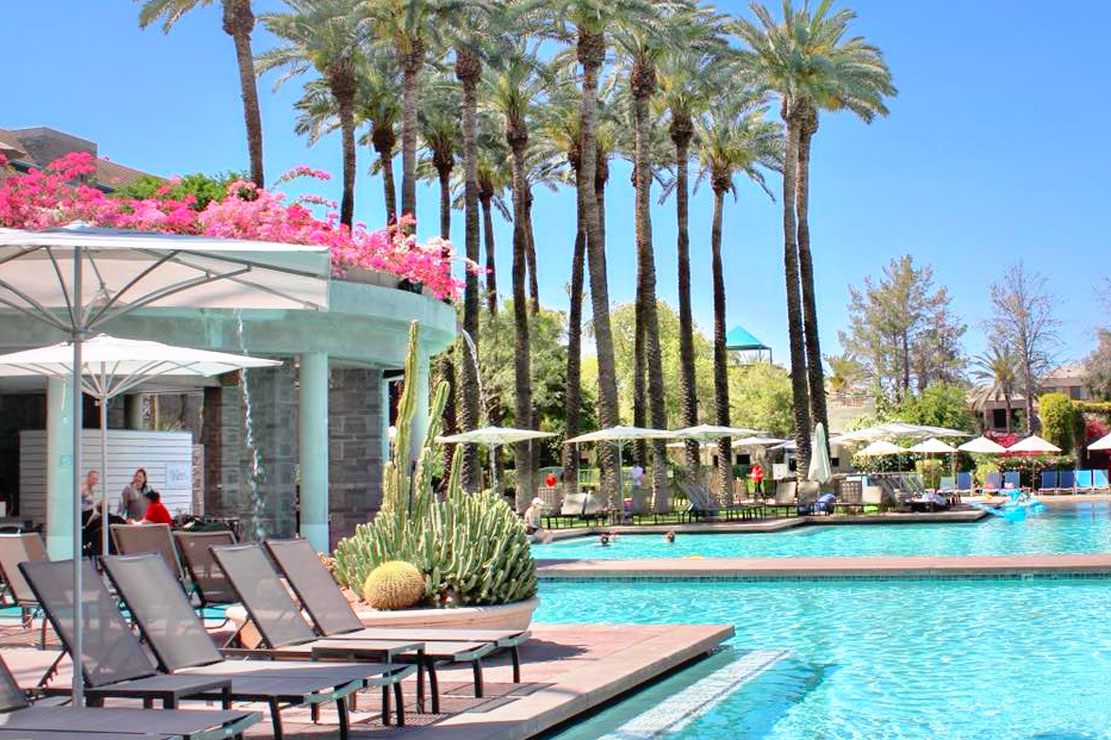 The nearly 3-acre water playground at this 493-room Hyatt Regency in Scottsdale ups the pool ante with 10 swimming holes, as well as 20 fountains and 45 waterfalls of varying sizes. The newest addition is a three-story, high-speed waterslide, clocking in at 25 mph. The pool area has a sand beach and seasonal activities such as water basketball, water ping-pong, water volleyball, dive-in movies, and Wii games on the pool's big screen. The rambling resort also has bicycle paths (with bikes for rent) as well as an indoor Lost Dutchman's Playground play center for kids.
Arizona Biltmore Resort & Spa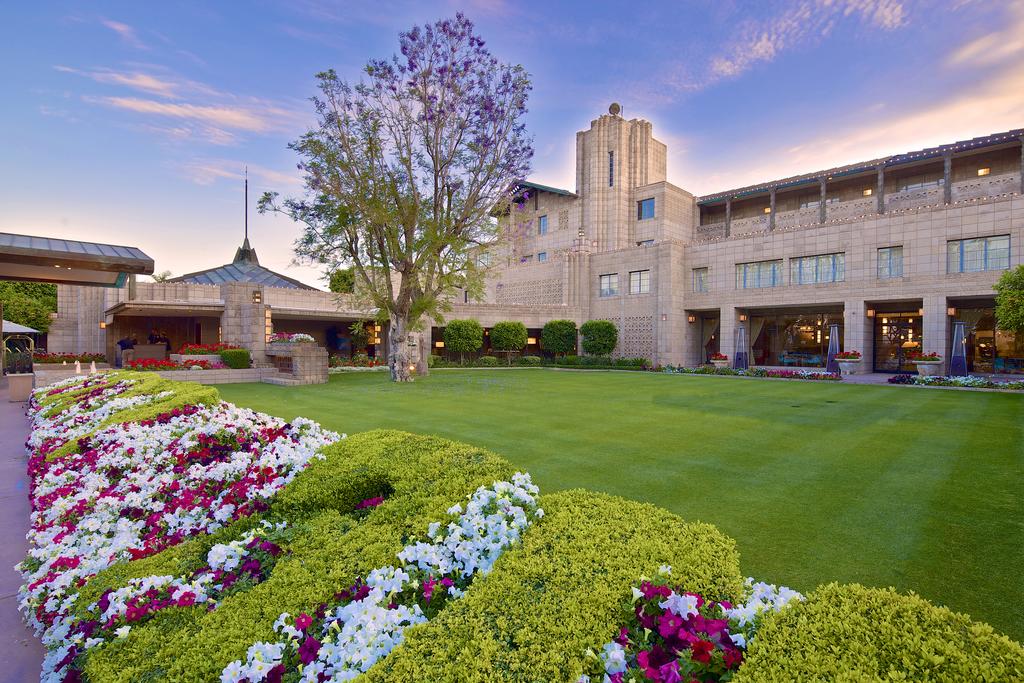 This posh, Frank Lloyd Wright-influenced Phoenix resort dates back to 1929, but keeps up with the times as it keeps all of its pools heated to 73 degrees. The original pool, the Catalina, was Marilyn Monroe's favorite, but kids might prefer the three-pool cluster of Paradise Pools, with a 92-foot slide and dive-in movies. It's a short walk, too, to the resort's giant chessboard with knee-high game pieces.
The Phoenician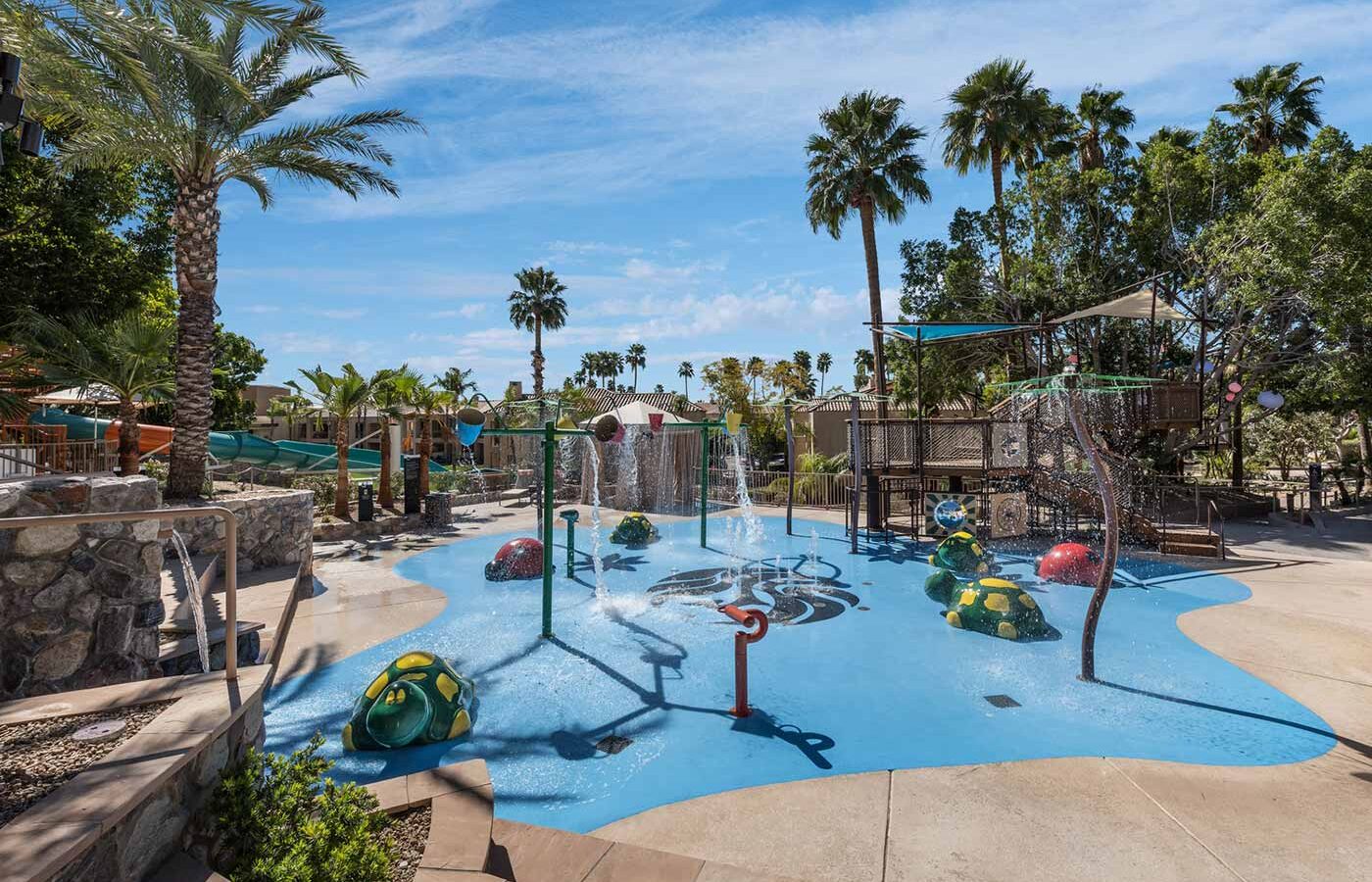 Kids' pool at the Phoenician (The Phoenician)
The general vibe at the 250-acre Phoenician is definitely plush—and the nine interlocking pools (which recently got makeovers) reflect that. Two are shaped like grand pianos, and the centerpiece pool is inlaid with hand-crafted, iridescent mother of pearl tiles. But that doesn't diminish the fun for kids, who get two pools—one outfitted with a 165-foot water slide. Kids ages 5 to 12 can also find fun in the resort's Funicians Club.
JW Marriott Desert Ridge Resort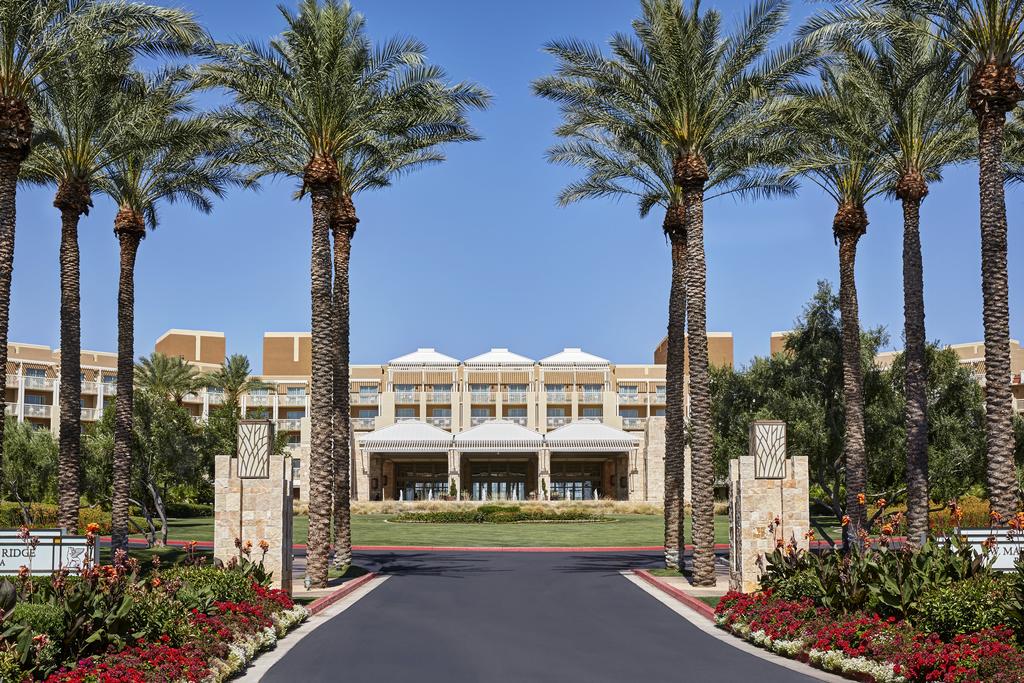 This 869-room JW Marriott resort in Phoenix spreads its water play area over four acres, with four interlocking pools, a 1,600-foot-long meandering lazy river, a water slide, and the family-friendly Sidewinder Pool, where kids can play basketball, compete in duck races, or enjoy weekly dive-in movies. The pool area also has easy access to the resort's Nickelodeon Activity Zone, which offers games, activities and Dora and SpongeBob meet-and-greets.
Westin Kierland Resort & Spa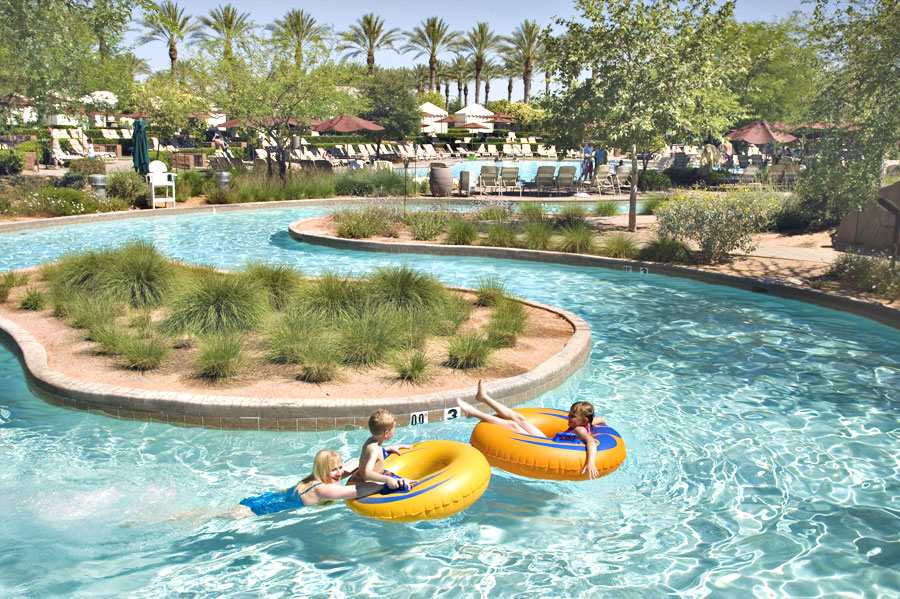 Westin Kierland's Adventure Water Park (Westin Kierland Resort & Spa)
CHECK HOTEL PRICE" text="CHECK HOTEL PRICE"]
The Pacific Ocean may be several hours away, and yet the Westin in Scottsdale offers its own form of surfing. The resort's Adventure Water Park has a lazy river, 110-foot-long waterslide, and a Flowrider for simulated surfing. The resort also has a kid-centric OK Corral area with basketball, game tables, remote-control car race tracks and s'more-ready firepits.
Pointe Hilton Squaw Peak Resort
This all-suites resort in North Phoenix, with views of Piestewa Peak, has its own four-acre water park and recreation area, featuring a 130-foot slide, lazy river, kiddie pool and a large, lagoon-style pool with a 10-foot-high waterfall. The resort's River Ranch play area also has mini golf, shopping and an old-style ice cream parlor, and the hotel itself has a kids' program for ages 4 to 12.
(MORE: Find kid-friendly things to do in the Phoenix-Scottsdale area.)
Arizona Grand Resort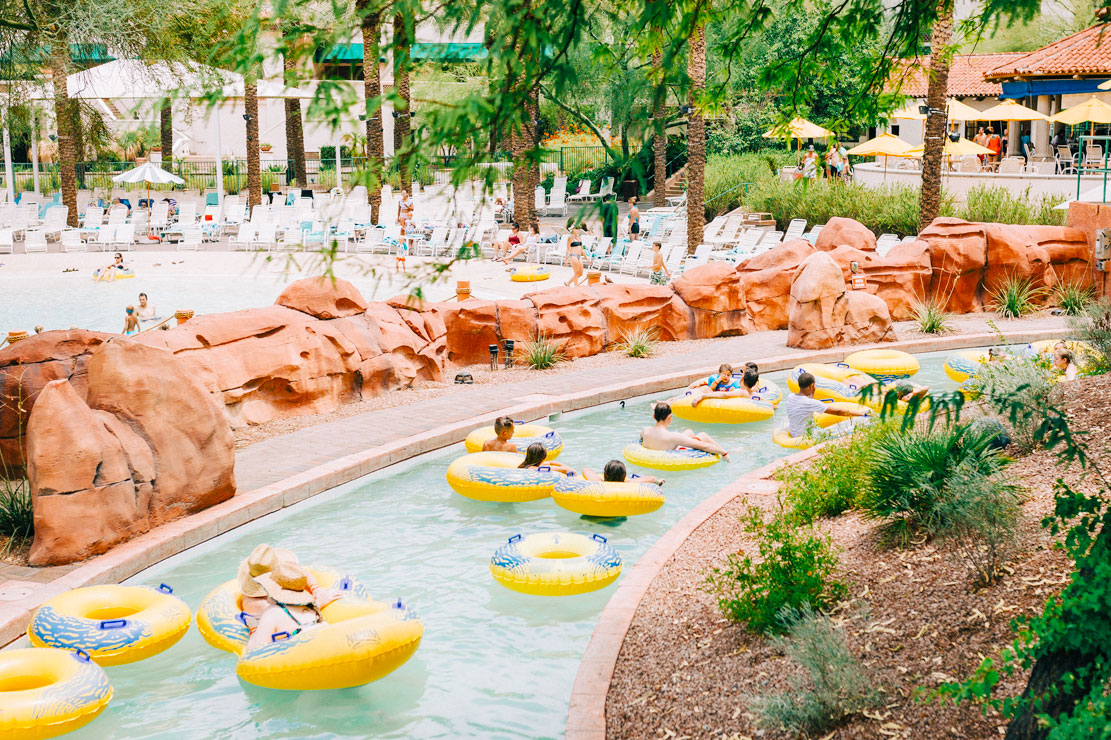 Oasis Park at Arizona Grand Resort (Arizona Grand Resort)
It says something about Phoenix resorts when having six pools is barely keeping up with the Joneses. The sprawling Arizona Grand has a half dozen swimming spots for the various wings of the resort, but its centerpiece is the seven-acre Oasis Park, which features three water slides, a 10,000-square-foot wave pool and lazy Zuni River. (Note: the Oasis Park is closed during December and January, opening back up mid-February, but the other six heated pools are open all year.)
Katrina Brown Hunt contributed this to www.MiniTime.com.