Unusual Santa sightings to see with the kids
By Katrina Brown Hunt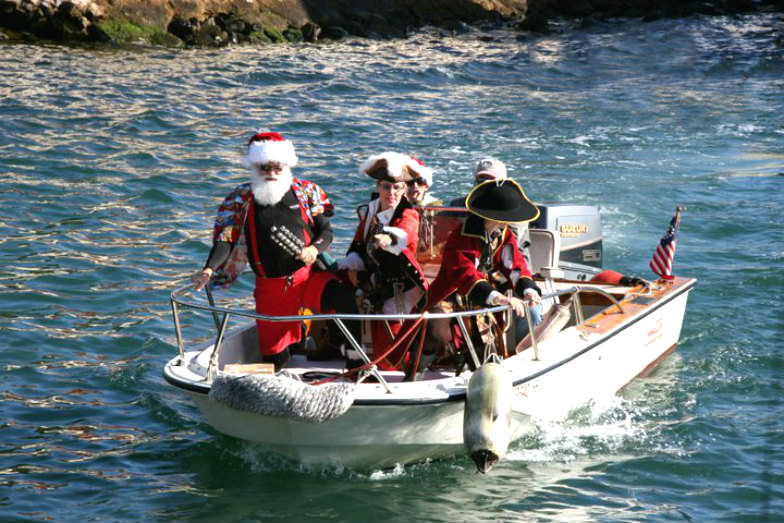 Surfin' Santa in San Diego (Seaport Village)
On Thanksgiving Day, Santa Claus makes his traditional New York City arrival while comfortably seated on a float outside Macy's. But other towns around the U.S. have proof that Santa is not always so sedentary, or buckled down to his sleigh. Depending on where you usher in the season with your family, Santa can be spotted skiing, rappelling or toting his own surfboard while wearing flip-flops. And while some may wonder when the man in red pants manages to get any actual work done during November and December, he certainly knows how to make an entrance. Here are the most fabulously kooky Santa arrivals around the U.S.:
Jingle Jump Santa (Janss Marketplace, Thousand Oaks, California; Nov. 28, Noon)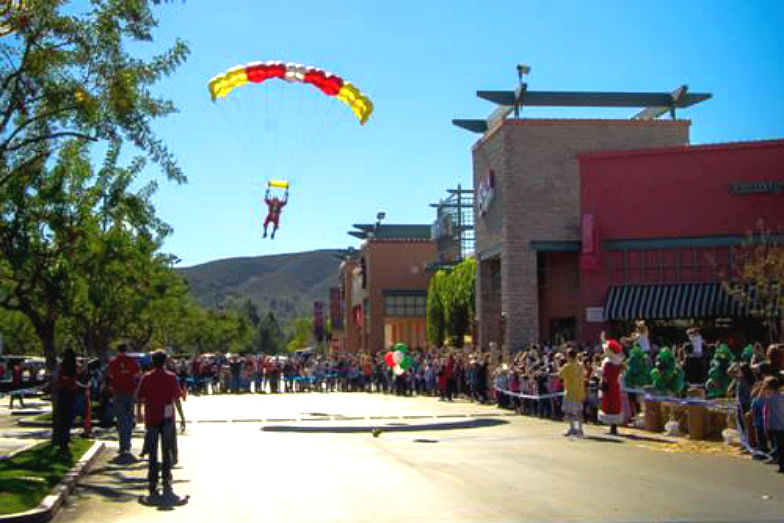 Jingle Jump Santa in Los Angeles (Janss Marketplace)
His suit may be red, but that ain't Superman up in the sky: Father Christmas celebrates Black Friday in this Thousand Oaks Mall by jumping out of a plane and parachuting into the mall lot. Once on the ground, he takes a spin on the holiday train and then makes way for crafts and storytime with the Mrs. Your kids can get a free pic with him if you show a same-day shopping receipt from the mall — or you can also come back for free train rides and pics from noon to 4 pm on the shopping-season Saturdays (Dec. 6, 13 and 20) afterward.
Santa Gets Rescued (Lawrence, Kansas; Nov. 28, 5:30 pm)
The annual tree lighting ceremony in this college town culminates with a disaster averted atop Weaver's Department Store. Perhaps because he can't find the chimney, Santa gets stranded on the roof every year, and must be ushered down by the local fire department. On Dec. 13, Santa finds safety in numbers at the Lawrence edition of SantaCon, the worldwide, dress-as-Santa pub crawl for grown-ups.
Surfin' Santa (San Diego, California>; Nov. 29, 1-5 pm)
When he's in SoCal, apparently St. Nick starts feeling a little overdressed. At this event in the city's Seaport Village, Santa comes ashore in a "special water craft" and then leads a parade while wearing his board shorts and flip flops. You can pose for pics with him and his board — even if you doubt that he has used it enough to tighten up that core.
Skating Santa (Ice Rink at PPG Place, Pittsburgh, Pennsylvania>; December 6, 13, and 20 from 2-4 pm)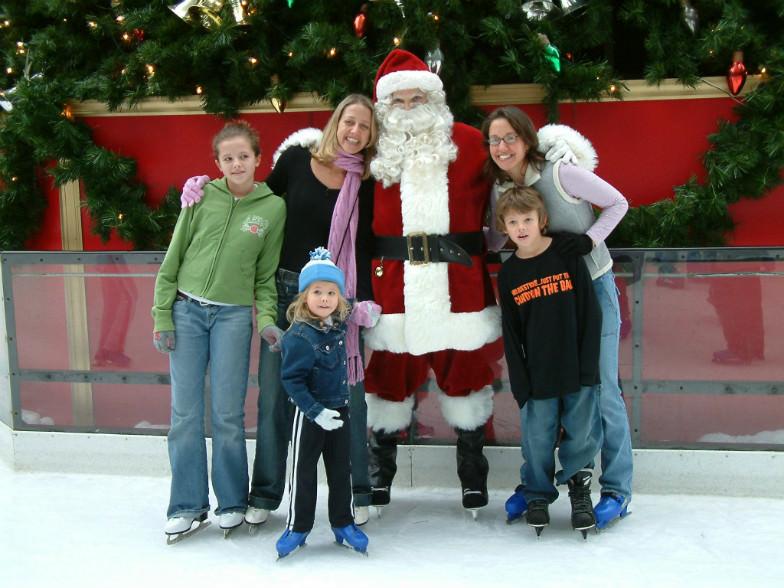 Skating Santa in Pittsburg (PPG Place)
You might need to give the big guy a wide berth at this seasonal outdoor rink between Pittsburgh's Third Avenue and Fourth Avenues. Santa will be making loops most Saturday afternoons in December while other folks shop, and he'll occasionally stop for pictures. Nearby, you can also check out the PPG Place Wintergarden, which has more than 500 gingerbread houses on display. The rink stays open until March 1. Skating is $8 per adult, $7 for kids 12 and under, and seniors; skate rentals are $3.
Rappelling Santa (Chimney Rock State Park, Chimney Rock, North Carolina; Dec. 6 and 13, 11 am – 2 pm)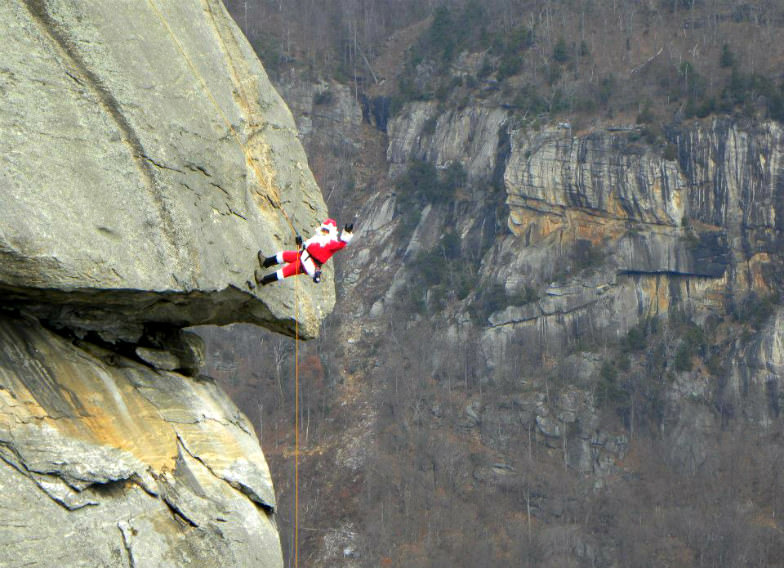 Rappelling Santa in Chimney Rock, North Carolina (Chimney Rock )
Shimmying down so many chimneys has made Santa ready for the big time: rappelling down Chimney Rock, the 315-foot rock face in this state park about 25 miles from Asheville. You can watch from below with Mrs. Claus and the elves, enjoying some hot cocoa and cookies. Each day, one winning guest will win a free two-hour rock-climbing lesson with one of the expert mountain-climbing elves. Admission to the park is $15 for adults, $7 for ages 5-15; ages 4 and under are free.
(MORE: Find other dreamy Christmas getaway ideas for the family.)
Ski Bum Santas (Park City, Utah and Angel Fire, New Mexico; Dec. 13 and 24)
With the temptation of fresh powder in this Utah ski town, Santa apparently can't be bothered to log too many hours in the shop. The holiday season begins on the Dec. 13 with Santa and his reindeer hitching a ride on the Town Lift down the mountain. Then, he reemerges on Dec. 23, and starts skiing his way around the Canyons and Park City Mountain, culminating in a torchlight parade where he leads 100-plus ski and snowboard instructors down the PayDay run. Likewise, in New Mexico's Angel Fire, Santa and Mrs. Claus are known to strap on their snowboards and cruise the slopes all day on Christmas Eve, followed by their own Torchlight parade.
Katrina Brown Hunt contributed this to MiniTime.