10 Awesome Things to Do with Kids
By Suzanne Rowan Kelleher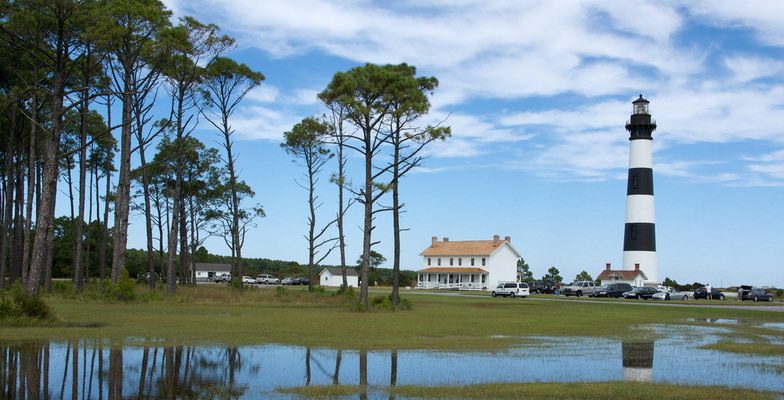 Visit a Lighthouse in Outer Banks (Flickr: Vironevaeh)
With great beaches, historic sites, dining and kid-friendly recreation, it's no wonder so many families head to the Currituck Outer Banks for their family vacations. Located on barrier islands just off the northeastern coast of North Carolina, the area enjoys a climate that is ideal for year-round visits. So just how do you get your OBX on? Here are 10 fun ways to be an insider on the Outer Banks.
Go on a wild horse safari. Just north of the town of Corolla (pronounced Kuh-RAH-Luh), a herd of more than one hundred wild horses have run free on the spectacular Currituck beaches since the 16th century, when they swam ashore from shipwrecked Spanish galleons. Bob's Wild Horse Tours is one of several local companies offering off-road eco-tours that get up-close to these magnificent creatures in their natural habitat. Tours in Bob's open-top vehicle can last up to two-and-a-half hours, bringing you within viewing distance of horses and other wildlife, which can include white-tail deer, wild boar, goats, red fox, or even buffalo. (1066 Ocean Trl., Corolla; 252/453-0939; Tours daily from 9am; Tickets: $49/adult; $29/child 4-12; $15/child 3 and under; Get 10% off one adult ticket with printable coupon.)
Learn to fish, crab, or catch a dragonfly. Located right on the Currituck Sound, the 22,000-square-foot Outer Banks Center for Wildlife Education is a wonderful resource that teaches visitors about local wildlife and traditions. But what really makes this a don't-miss for families is the impressive roster of free outdoor workshops where kids can learn to fish, crab, track animals, or catch dragonflies. Teens 14 and up, meanwhile, can join naturalist-led kayaking excursions on the sound. Check the calendar of daily activities and reserve spaces in advance. (1160 Village Ln., Corolla; 252/453-0221; Open Mon-Sat 9am-5pm; Free admission.)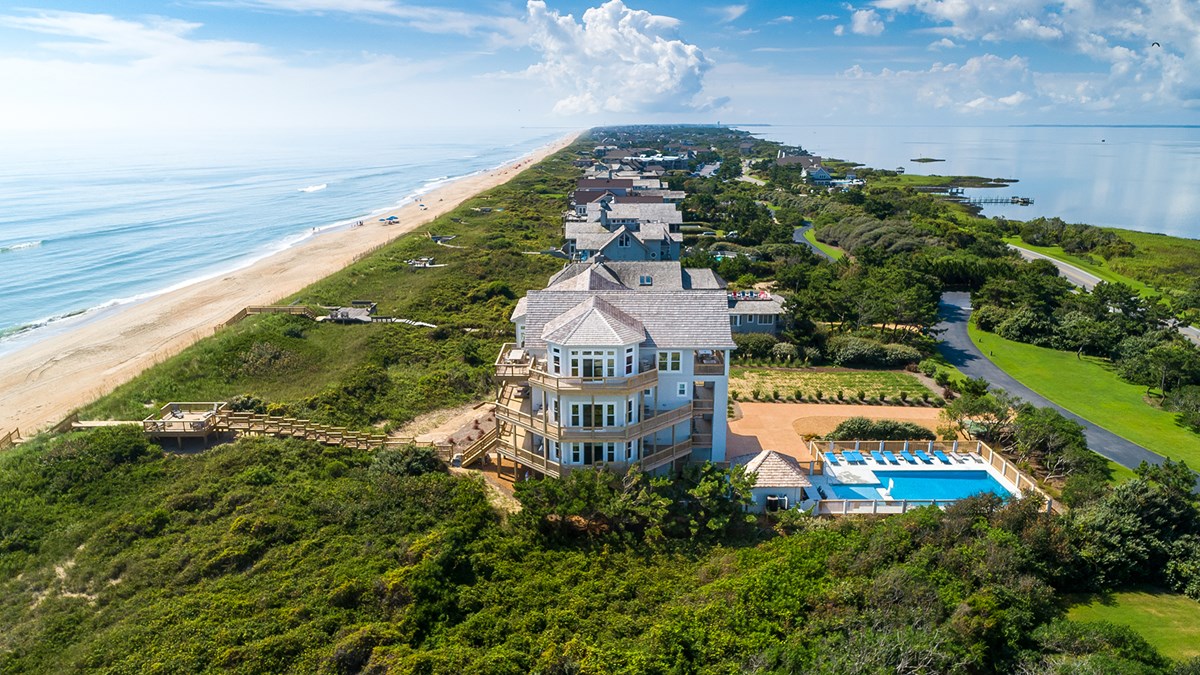 There are a lot of awesome things to do in Outer Banks. (Flickr: Counselman Collection)
Visit a historic lighthouse. First illuminated manually in 1875 to fill the darkness between Cape Henry and Bodie Island, the red-brick Currituck Beach Lighthouse has been automated since 1939 and remains in use today. Adults and accompanied children who are brave enough to climb to the top of 158-foot tower are rewarded with a truly spectacular view. Scared of heights? Go anyway—for a waterside setting so picturesque that it's a popular wedding location. (Off Rte. 12 in Corolla; Open daily Easter-Thanksgiving 9am-5pm and every Thursday in the summer until 8pm; 252/453-4939; Tower: $7/person ages 8 and up, free for children 7 and under. Note: No credit cards.)
Explore with a duck's-eye view. Nature lovers won't want to miss a chance to get to know the Currituck Sound from the water. Families with kids ages 5 and up can book a two-hour kayaking trip with Kitty Hawk Sports and paddle around the sheltered islands, bays, and canals of the sound. You'll be sure to spy a lot of birdlife, including snowy egrets and great blue herons, as well as the occasional river otter. Book in advance online or by phone. (Timbuck II Shopping Ctr., Corolla; 877/359-8447 or 252/449-2210; Tours run Wed-Sat from 7am; Tours: $45/adult, $25/child 5-12.)
Get your steamers to go. In case you hadn't noticed, shellfish plays a prominent role on almost every Outer Banks menu. But if you're staying in a vacation rental (Twiddy & Company offers a lot of choices), you may prefer to ditch the sit-down restaurant and bring your catch back to your base camp and relax. Steamer's Shellfish to Go is a fun concept in take-away eateries: Steamer pots-to-go come filled with live Maine lobster, little neck clams, Eastern Shore mussels, or Alaskan king crab. Back in your digs, preparation is easy: Place your steamer pot on the stovetop, fill with a cup of water, steam for 20 minutes, and enjoy! You can also introduce your kids to regional delicacies such as fresh softshell crabs or a side of hush puppies. (Timbuck II Shopping Ctr.; 252/453-3305; Open daily 11am-9pm; Menu items from $2.95, Steamer pots $19.95/person.)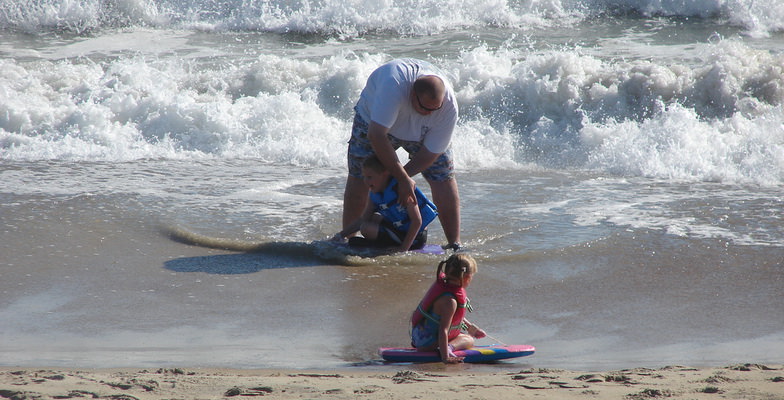 Beach in Outer Banks (Flickr: Counselman Collection)
Put water safety first. While the Currituck Outer Banks is a beach lover's paradise, every family should exercise caution in and around the water. Families that love the sand and surf have a fantastic opportunity to bone up on their beach smarts, thanks to the free summer Safety Education and Aquatic Learning (SEAL) program designed for kids ages 6 to 14. Local lifeguards from Corolla Ocean Rescue teach children to be safer in the water through instruction about the ocean, first aid, and physical fitness. While kids are taking part in the SEAL program, parents are invited to attend their own free, two-hour adult seminar. (The beach across from the Currituck Beach Lighthouse, off Rte. 12 in Corolla; 252/453-3919; Program runs mid-June to mid-August, Tues 10:30am and 1:30pm.)
Listen to a good ghost story. Ghosts and pirates and shipwrecks, oh my! Built in the 1920s as a lavish, 21,000-square-foot Art Nouveau private residence, the Whalehead Club is now part of the Currituck Heritage Park, and a terrific place to enjoy a picnic, catch a sunset, or participate in one of many available tours. At dusk every Thursday, families are invited to join the "Moonlight Legends Lore & Ghost Tour" (bring a flashlight), which brings to life dozens of characters from the Outer Banks' storied past. Younger kids might prefer the slightly tamer "Daylight Ghost Tour," which departs earlier in the afternoon. Each morning, the Whalehead Club also offers a scavenger hunt-style "Discovery Quest" tour for kids ages 8 to 14, on which children must find clues to complete an educational expedition. Finally, for families with preschoolers, there's a self-guided family scavenger hunt of the house and property. (Currituck Heritage Park, Rte 12, north of Corolla; Open year-round Mon-Sat 9am-5pm. Moonlight Legends Lore & Ghost Tour: May-Oct Thurs at dusk, $15/person, $8/child 8 and under. Daylight Ghost Tour: Year-round Mon-Fri 4pm, $8/person. Discovery Quest: Year-round 10am and 11am, $7/person. Family Scavenger Hunt: Pick up clues from reception desk, $5/family.)
Learn about Corolla's history and horses. Built in 1905, the tiny Corolla schoolhouse was the town's very first school and stayed in operation through the late 1950s. You can walk on the original uneven, squeaky wooden floorboards, peer through century-old window panes, view local report cards from the 1940s, and learn how resourceful Outer Bankers recycled shipwreck debris to make useful items. Today the building also houses the Wild Horse Museum, so you'll find plenty of photos and information about the famous horses, along with staff from the Corolla Wild Horse Fund who can answer questions. During the summer, kids can take part in a painting activity every Tuesday and Thursday from 11am to 2pm; on Wednesdays, they can meet a gentled Spanish mustang on the grounds. Admission to the schoolhouse and museum is free; there is a nominal fee for children's programs. (Schoolhouse Ln., Historic Village, near Currituck Beach Lighthouse; 252/453-8002; Open Mon-Fri 10am-4pm.)
Take a surf lesson. A vacation on the OBX is the perfect opportunity for a two-hour family surf lesson from the folks at the 15-year-old Corolla Surf Shop, whose surf school has been recommended in Fitness magazine. Kids 9 and up (and parents, too) can get an introduction to surfing from local expert surfers who keep groups small, with a student:instructor ratio of 5:1. The intro lesson focuses on the fundamentals of surfing: water safety, paddling, catching a wave, popping up on the board, and balance. All equipment is provided. (807 Ocean Trl.; 252/453-WAVE; Lessons available daily June-Aug; Two-hour lesson: $65/person.)
Scream for ice cream. When you want to chill out, head to Big Mama's for a nice cold frosty or a few scoops. Locals swear by the hearty breakfasts and super take-out menu full of good ol' Southern comfort food and seafood. Mama's Beach Survival Kits—think potato salad, steamed shrimp, crab cakes sandwiches and more—are perfect for a family picnic. (1152 Ocean Trl., Corolla; 252/453-4960; Open year-round 7:30am-5pm, open in summer until 10pm.)
Click to rate this post!
[Total:

0

Average:

0

]