Walt Disney World, Florida
By Suzanne Rowan Kelleher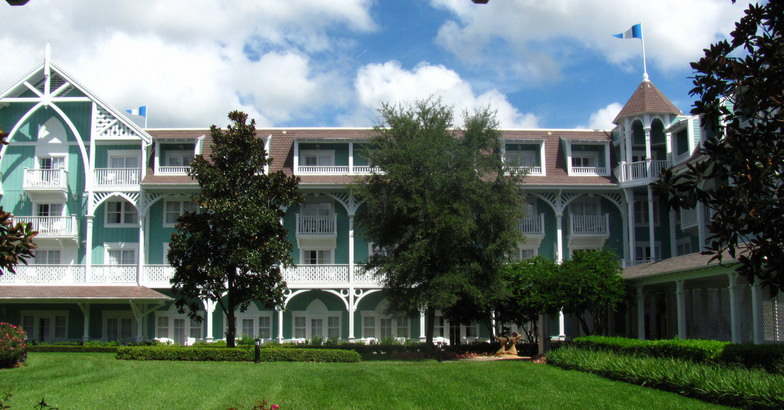 Why Go: Families who frequent Walt Disney World's deluxe resorts can be a tough crowd. They've grown accustomed to great service, meticulous surroundings, and being blown away by one extravagantly themed property after another where Mickey is in the details. The advantages of one deluxe Disney resort over another often boil down to personal preferences. Which theme do you like best, and what's your top priority: A convenient location? Spacious accommodations? A spectacular pool? Lots of recreational pursuits? Many dining options? Then again, why settle for trade offs? You can have it all, as our correspondent, Suzanne Kelleher, and her family found out.
Beach Club Villas is one of six Disney Vacation Club membership resorts inside Walt Disney World. It's an annex to the 26-acre Yacht and Beach Club resort complex designed by noted architect Robert A.M. Stern. Every design and landscaping detail of this expansive domain evokes the exclusive East Coast beach resorts of the early 20th-century where well-to-do families have come for generations to frolic by the seaside. Think Martha's Vineyard. Cape May. The Hamptons. Kennebunkport. The beach-and-boats theming is heart-stoppingly spectacular, with a boardwalk, a marina, a lighthouse, a shipwrecked pirate ship, and real sand beaches, all sprawled along the edge of Crescent Lake. The adjoining five-story resorts blend together so harmoniously that it would be difficult to tell where the Yacht Club ends and the Beach Club begins were their clapboard facades not painted different colors. Whitewashed wooden trim, fancy-cut shingles, covered porches, airy breezeways, French doors, and neat-as-a-pin picket fences pour on the charm in spades.
For families with kids of all ages, Beach Club Villas has got it going on. It's hard to beat the location, within walking distance of Epcot, Disney-MGM Studios, and Disney's BoardWalk. Then there are the spacious condo-style accommodations (Disney prefers the term "villa"), which deliver home-away-from-home comfort and perks like a full kitchen, Jacuzzi, and in-room laundry facilities. The Yacht and Beach Club resorts offer what's arguably the best range of dining options in the World, with easy access to the marquee restaurants of Epcot and the casual fare at Disney's Boardwalk. There are recreational pursuits galore, from boating to shuffleboard to riding surrey bikes on the boardwalk. But none of this can compare to being near the wonderful Stormalong Bay, hands-down the most magnificent pool at any Disney World resort. ("It's one of the most spectacular swimming areas we've ever seen at a resort. Once my kids got a look at it, they didn't want to be anywhere else.")
Together, the Yacht and Beach Club resorts comprise nearly 1,500 units. It's a big place whose size works in its favor, offering plenty to do without ever feeling impersonal or overwhelming. This is a feel-good place, with a palpable high-spirited buzz in the air. For Kelleher and her family, the hardest part was tearing themselves away. ("There are just so many fun things to do at this resort, it seems a shame to leave, even to visit the theme parks. If the Beach Club were located anywhere but Walt Disney World, we'd have been happy to spend every waking moment just hanging out and having fun.")
Getting Oriented: The resort is located in the Epcot area of Walt Disney World. It's an annex to the Beach Club, which, together with the Yacht Club, sprawls along the edge of Crescent Lake between Epcot and Disney-MGM Studios. On the opposite side of the lake is Disney's BoardWalk.
The Beach Club Villas are integrated seamlessly into the Beach Club Resort. Guests and members share front desk and concierge services, restaurants, a kids' evening activity center and an arcade, and all recreational pursuits. The villa building is separate from the hotel, accessed via a charming courtyard graced by a statue of Ariel, the Little Mermaid. On the far side of the villas building, there is a small swimming pool and a hot tub. This pool is un-themed and quiet, and it can be less crowded than Stormalong Bay. As the villa building is set back from the lake, there are no water views, but some units are positioned to afford good viewing of Epcot's nightly IllumiNations fireworks display.
Getting Around: Guests staying at the Beach Club Villas can take advantage of the free Magic Express bus service and luggage transfer to and from Orlando International Airport. (Note: Be sure to use the special luggage tags provided.)
Once at the resort, the Disney transportation system provides an efficient way to get around. There are buses to the Magic Kingdom, Animal Kingdom, and the two waterparks, Typhoon Lagoon and Blizzard Beach. It's a 10-minute walk to Epcot and to Disney-MGM studios, and there's also a convenient water taxi service to both parks. When the Kellehers visited in May, ride times from the resort averaged 8 minutes to the Magic Kingdom, 7 minutes to Animal Kingdom, 5 minutes to Epcot, and 5 minutes to Disney-MGM Studios. ("We especially loved the water taxi service to Epcot. The boat takes you right up to the International Gateway back entrance, which is far less crowded than Epcot's main entrance. There was no line to get into the park, and no line at the stroller rental. It was fantastic!")
Note: The rambling layout of the Yacht and Beach Club complex means that you frequently need to walk a distance to take advantage of the available amenities and services. Count on four minutes to get from your villa to Stormalong Bay, and another minute or two to get to the water taxi dock, which is directly in front of the Yacht Club.
Even if you use Disney transportation to visit the parks, a car may still come in handy. The Kellehers used their rental car for quick trips to a supermarket to restock their fridge. (Note: There is a small market section inside the Marketplace in the Beach Club, but the food selection is limited and prices are higher than you'll find at off-property supermarkets.) Guests at Disney properties who drive to the theme parks can park for free, a savings of $8 a day.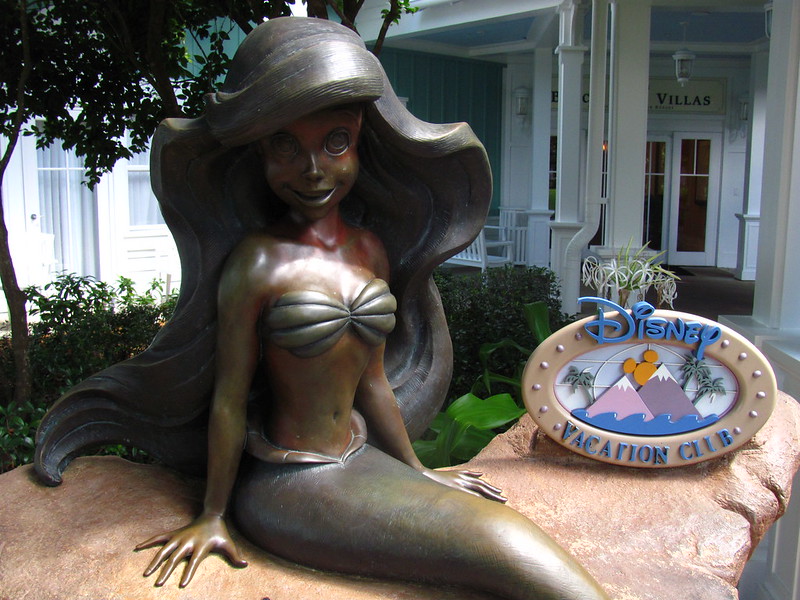 We Are Family: Two words make this resort a standout family vacation paradise: Stormalong Bay. Loaded to the gills with over 750,000 gallons of water, Stormalong Bay is one of the best-conceived family swimming areas we've ever seen at a resort, with something for every age group. Spanning three whole acres, Stormalong is made up of three main pools, each with a freeform shape. The pools are linked by an elaborate series of causeways, footpaths, and pedestrian bridges, one of which ends on a tiny peninsula with a windmill. A unique feature of Stormalong Bay is its sandy bottom, which gives you the feeling that you're actually playing at a beautiful beach, only without any rocks or jellyfish to worry about.
At most resorts, toddlers and preschoolers are relegated to a kiddie pool that's much smaller and less interesting than what the big kids get. Here, small fries have a huge dedicated space and mega-fun pool. No doubt, the sandy-bottomed "Quiet Lagoon" is the safest beach your child will ever visit. The large, kidney-shaped pool has a maximum depth of only two feet and gets gradually shallower until it becomes a giant, beachy sandpit. There are plenty of tiny buckets and shovels on hand for sandcastle building, much to the delight of Kelleher's 3-year-old son. ("MacDara absolutely loved this pool. He could have easily spent an entire day playing in the sand and splashing around in the water. It was tough to get him to come out!") Young toddlers might prefer the small kiddie pool at the base of the shipwreck, where there's a gentle three-foot straight slide that lands in less than a foot of water.
Local legend has it that a sailor named Stormalong was caught in a terrible nor-easter and crashed his vessel onto the shore. Today Stormalong's mock galleon lies shipwrecked on the beach, with a broken mast that doubles as a 230-foot waterslide for big kids who ride at breakneck speed through an enclosed tunnel before splashing into a designated landing area in one of the main pools. There are many fun features to delight kids of all ages. In one area, water jets propel swimmers around in a whirlpool. Other sections of the pool resemble coves with rock walls and mini waterfalls and waterspouts. There's also a "rising sand" feature, where guests can get the sensation of being pulled down into the sand and try to get themselves back out again. At the Beach Shack, you can borrow noodles and life vests at no charge or rent inner tubes ($3/hr or $10/day).
When you've finally had your fill of Stormalong Bay, there are many other ways for your family to have fun at this resort. You can play beach volleyball or tennis (complimentary equipment available from Ship Shape Health Club), rent Sea Raycer motorboats at the marina, or arrange for a fishing excursion (catch and release only) on the lake. Nip across the lake to Disney's BoardWalk, and you can rent bikes ($8/hr or $22/day) or six-seater surrey bicycles ($20/30 min). Big kids will want to check out Lafferty Place Arcade, a good-size room with over two dozen arcade-style games, plus computer and video games, air hockey, and foosball. Adults can head to Ship Shape Health Club to use fitness and aerobic machines, relax in a steam room or sauna, or indulge in a massage.
Where to Eat: The Yacht and Beach clubs are arguably the best resorts in Walt Disney World for dining. You are a quick walk or water taxi away from Epcot and its extraordinary selection of international restaurants and from Disney's BoardWalk, where there are a dozen casual eateries.
At the Yacht and Beach Club resorts, these are main dining options:
The Yachtsman Steakhouse is the most prestigious (and expensive) restaurant at these two resorts, known for its open kitchen and very good Black Angus prime rib. Besides steak, the menu features a wide selection of seafood and poultry dishes. Advance Reservations are recommended. The children's menu offers smaller portions of adult dishes, along with a handful of favorites like hot dogs and PB&J sandwiches. (Dinner: Average entrée: $36/adult, $8/child.)
Cape May Café, off the lobby in the Beach Club, offers a popular New England-style clambake buffet, with all-you-can eat clams, mussels, shrimp, BBQ ribs, chicken, and prime rib. The all-you-can-eat character breakfast buffet (with Minnie, Goofy, Chip and Dale) features Mickey Waffles, French toast, specialty omelets and pastries. Character breakfast daily 7:30am-11am: $18.99/adult, $10.99/child. Dinner buffet: $25.99/adult, $11.99/child.)
Yacht Club Galley, in the Yacht Club, offers a breakfast buffet and à la carte selections for breakfast and lunch. At lunch, the kids' menu includes cheeseburgers, hot dogs, pasta, grilled cheese, and PB&J sandwiches. (Breakfast: Buffet $15.99/adult, $8.99/child, Average à la carte entrée $ 8.50/adult, $4.79/child. Lunch: Average entrée $11.50/adult, $5.49/child. Dinner: Average entrée $16.49/adult, $5.49/child.)
Beaches & Cream Soda Shop is Disney's take on an American classic, with oversized sundaes and ice cream sodas. The food is a bit pricey ($6.49 for a hot dog, $7.89 for a cheeseburger), but the old-style ice cream selections make a lovely treat.
Hurricane Hanna's Grill is the poolside option with hot dogs, sandwiches, hamburgers, and other quick bites. There's a full bar service offering frosty drinks. (Average item $6/adult, $4.29/child.)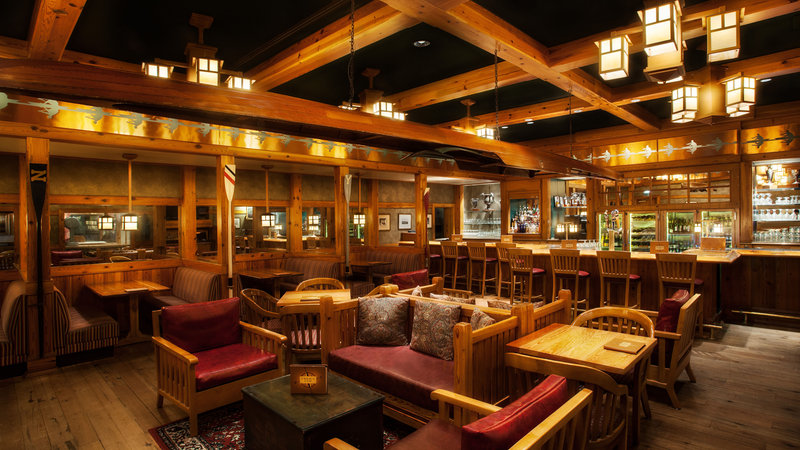 The Crew's Cup Lounge
Nightlife: With Epcot, MGM-Disney Studios, and Disney's BoardWalk all at your fingertips, the possibilities for a great evening out are extraordinary. The Crew's Cup Lounge is a fun place for a light bite with an evening beer or cocktail (specialty drinks include a sour apple martini). If you prefer a glass of wine with an evening snack, head to Martha's Vineyard at the Beach Club.
Hoping to get out without the kids? There are several babysitting options. Children between 4 and 12 can visit the Sandcastle Club, an evening group babysitting service supervised by the resort's cast members. There are video games, board games, arts and crafts, Disney movies, and many toys and props available for pretend play. You can drop off your kids for an hour or an entire evening. Reservations are required. (Open 4:30pm to midnight; $10/hr per child, including dinner.)
Disney resorts also offer in-room babysitting for children aged 6 weeks to 12 years old. The service is usually provided by a local agency called Kid's Nite Out. In-room babysitting rates run $14 per hour for the first child and $2.50 per hour for each additional child.
For special occasions, one very popular nighttime splurge is a private family cruise on Crescent Lake aboard the "Breathless," a mahogany reproduction of a classic 1930s Cris Craft Runabout. Your cruise, which includes a private driver and snacks, leaves the Yacht Club marina for a one-hour cruise of the lake, including viewing from the World Showcase Lagoon of Epcot's IllumiNations fireworks. These cruises sell out months in advance. (Recommended to book 90 days in advance at 407/939-7529; $250/boat with a maximum of seven people.)
Where to Stay: The Beach Club Villas are housed in a dedicated five-story building on the Epcot side of the Beach Club Resort, accessed through a small courtyard. A charming breezeway, done up like a library-style study, links the villa building to the courtyard containing the small pool and hot tub.
None of the villas have particularly breathtaking views. Some overlook the quiet pool courtyard and others face Epcot. Request a room on the fourth or fifth floor facing Epcot for great views of the nightly IllumiNations fireworks display.
The floorplans at the Beach Club Villas are identical to those at the Saratoga Springs Resort & Spa, another Disney Vacation Club property. Villas come in three sizes, all with private balconies or patios, cable TV and broadband Internet access. Early American reproduction furnishings are painted in cream tones, and a soft seafoam-and-sand color palette calls to mind the seashore. Quality fabrics and designer touches give these accommodations a homespun yet luxurious feel, particularly in the one- and two-bedroom villas, with their granite kitchen countertops and large Jacuzzi tubs in the master bathrooms.
The smallest units are the studio villas, which sleep four comfortably in a 355-square-foot room. Studios feature one queen-size bed, one pullout sofa, a full bathroom, and a wet bar with a small refrigerator, microwave, and coffeemaker. Guests have access to a laundry room located near Beach Club room 1532.
One-bedroom villas are a significant step up in size and perks. At 714 square feet, these units have a dedicated foyer, and the master bedroom has a king-size bed and a bathroom with a separate shower and a Jacuzzi. The living room has a pullout sofa, cable TV with a DVD player, plus a full kitchen that includes a stovetop and oven, refrigerator, dishwasher, coffeemaker, microwave, plus pots and pans, dinnerware, and cutlery. A stacked washer-dryer unit is tucked neatly into a closet.
Kelleher's two-bedroom villa, with close to 1,100 square feet, was extremely comfortable for her family of five. The additional bedroom had two queen-size beds and a second full bath with a combined shower and tub. Note: some two-bedroom villas are "lockouts," which means that they comprise a one-bedroom villa adjoined to a studio through an interconnecting door.
For families with babies and young tots, there's a portable travel crib in a closet of every villa. If you prefer, the resort will set up a full-size crib in your villa free of charge.
Price Tag: You don't have to be a member of the Disney Vacation Club to stay at the Beach Club Villas. Non-members can book directly through Disney Reservation Center (407/WDW-MAGIC), or buy points from an existing DVC member. For more details, see our introductory article on the Disney Vacation Club.
The 2006 rack rates for the Beach Club Villas resort fluctuate according to the company's four-category pricing schedule: Value, Regular, Peak (February through April school breaks), and Holiday (the last ten days of December). A studio will cost $305 per night in mid-July or $475 per night during the week of Christmas. The nightly rate for a one-bedroom villa runs between $410 and $605, depending on travel dates. A two-bedroom villa starts at $575 and slides up to $1,070.
These prices reflect that the villas are deluxe, condo-style accommodations in a highly desirable area of Walt Disney World. Consider that a standard room at the most deluxe hotels at Walt Disney World would cost more than a studio here. Similarly, a one-bedroom suite at the most expensive hotels costs more than a two-bedroom villa here. The studios compare in size and price to standard hotel rooms at the Beach Club and Yacht Club resorts, both categorized by Disney as "deluxe resorts". A two-bedroom villa compares roughly in price to a one-bedroom or junior suite at these hotels, but offers a more home-away-from-home feel with a full kitchen and in-room laundry facilities. The largest suites at the Beach Club and Yacht Club are considerably more expensive than a two-bedroom villa at this Disney Vacation Club property. Note: Your Beach Club Villas bill will reflect an 11.5% county resort tax on top of the quoted prices.
Insider Tips:
Save money by stocking up on provisions at a grocery store outside Walt Disney World. Just ask the concierge for directions to the nearest off-property supermarket.
Disney's "refillable mug" is available at this resort for $11.99. After buying the mug, you can refill it for free with the non-alcoholic beverages of your choice for the duration of your stay.
Looking for an inexpensive souvenir? Keep an eye peeled for vintage-style machines that press pennies into copper ovals stamped with an emblem of the resort. The cost is just 50 cents, plus the penny. Encourage your kids to look for these machines all over Walt Disney World, and start their own low-budget collections of souvenir Disney pennies.
Click to rate this post!
[Total:

0

Average:

0

]