Hawaii with kids
By Ashley Burnett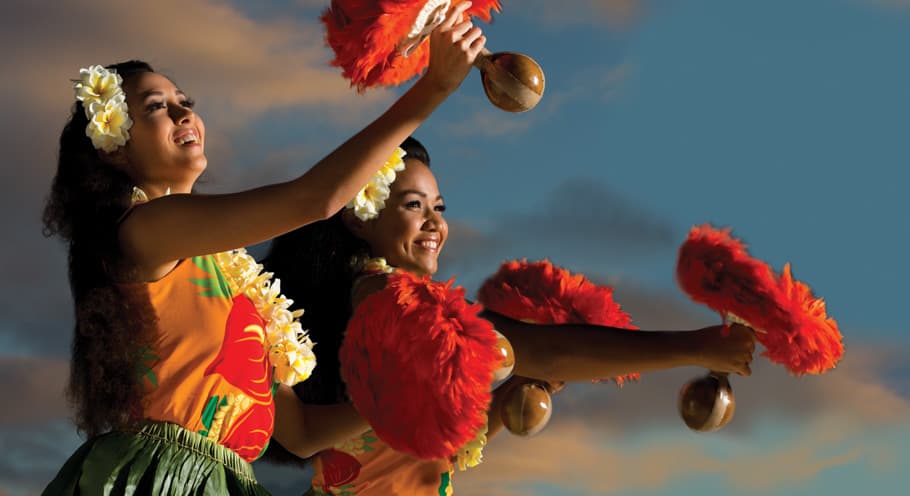 Waikiki Starlight Luau at Hilton Hawaiian Village is one of the best in Hawaii. (Courtesy Hilton Hawaiian Village)
You can't visit Hawaii without going to a luau. These fun celebrations combine the best of tradition, eating and entertainment. Luckily, many resorts and luau companies have family-friendly shows where kids are able to move around and won't have to sit quietly. In fact, many luaus nowadays invite audiences to participate to make them part of the show.
Below, we've rounded up some of the best luaus in Hawaii. These luaus offer spectacular food and entertainment. Most importantly, they provide lasting memories of your time in Hawaii. Best of all? They're all incredibly kid-friendly. Read on for seven of the best luaus in Hawaii.
(MORE: Best Cultural Sites to Explore with Kids in Kauai )
Starlight Waikiki
Held at Hilton Hawaiian Village, Starlight Waikiki is a great choice for a family-friendly luau. The resort itself has been rated kid-friendly by Gayot and Conde Nast. During the show, you can expect live music, a gorgeous outdoor setting, and plenty of good food. It's the fire knife dance that's the star of the show, however; as are the mesmerizing traditional dancers.
Paradise Cove Luau
This Oahu luau gets a ton of praise for being family-friendly. Thanks to plenty of activities—including various arts and crafts—kids are sure to be entertained throughout. There are traditional activities like dancing and open-oven cooking as well. This luau also has "Hawaiian games" like dart sliding and ulu maika, a form of disk throwing. One standout activity is the hukilau in which guests help pull in fish nets to the sound of chanting and conch shells.
Te Au Moana
Considered one of the best luaus in Hawaii, this event is hosted by Wailea Beach Resort. There's plenty of family-friendly audience participation throughout, with kids even getting invited onstage to dance. Alongside an open buffet full of delicious eats, expect a fire dance, arts and crafts, and plenty of fun photo opportunities.
Old Lahaina Luau
Considered one of the most authentic luau experiences, this family-friendly event on Maui is a must. The menu is full of delicious, local cuisine like leaf-wrapped pork, fried rice and lomilomi salmon. The entertainment is similarly rooted in tradition, focused on the Hawaiian tenets of aloha, hookipa (hospitality) and pookela (excellence). It's clear why this luau is considered one of the best luaus in Hawaii. Kids will stay entertained throughout. If you arrive early, there are plenty of arts and crafts led by locals to keep them occupied.
Drums of the Pacific
This luau, held at the Hyatt Regency Maui Resort & Spa, is regularly voted as one of the top family-friendly events on the island. The luau's fire dancer will mesmerize adults and children alike. As will authentic dances from Hawaii, Samoa, Fiji and New Zealand, among others. The food, too, is excellent, with luau staples like kalua pork and Polynesian rice on hand.
(MORE: A Family's Guide to Australia's Great Ocean Road)
Kaanapali Beach Luau
Held by Ka'anapali Beach Hotel, this luau will teach you the story of the Tahitian migration to Hawaii. Like other family-friendly affairs, this luau has impeccable performers that will completely engage your kids. Also on hand are local artisan crafts and, of course, tons of good food. All of this adds up for one of the best luaus in Hawaii.
Hale Koa Luau
Hale Koa Hotel plays host to this luau which brings Hawaiian traditions to life. A Hawaiian musical duo will entertain during cocktail hour, while dinner brings plenty of Polynesian flavors to your plate. At twilight, witness hula dancing, fire knife dancing and the musical stylings of Glenn Medeiros. Kids will love this event and adults, too, as children 4 and under get in for free.
Ashley Burnett contributed this to MiniTime.