Most kid-friendly museum exhibits the entire family will enjoy.
By Katrina Brown Hunt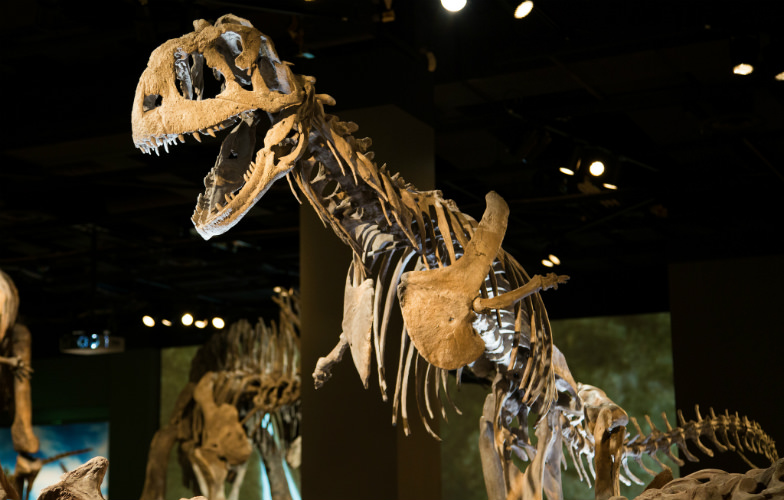 Ultimate Dinosaurs (Flickr: Matthew Deery)
Announcing a museum stop while you're on a family vacation may inspire groans from the back seat, but the slate of current exhibits looks so good that you might not even have to promise a trip to the gift shop afterward.
Showcasing pirates, a wealth of dinosaurs, video games and some fabulously fun art, here are 9 extra-kid-friendly exhibits that are running this summer around the U.S.:
Real Pirates, San Diego Natural History Museum (San Diego, CA)
Things that make you say arrr: this exhibition from National Geographic features swords, jewelry, coins and cannons that were recovered from an authenticated pirate ship named Whydah, which sank off of Cape Cod in 1717, apparently holding the riches from 50 ships it had previously plundered. The exhibit also features hands-on features—such as learning to tie sailor's knots or whooping it up in a pirate play area. Runs through September 1.
(MORE: Find wonderful kid-friendly hotels in San Diego.)
Ultimate Dinosaurs, The Science Museum of Minnesota (St. Paul, MN)
Were the world's dinosaurs once all neighbors? This exhibit shows how super-continent Pangaea affected the dinosaurs' destiny millions of year ago and which of their ancestors might still be lurking around us today. The exhibit has hands-on, iPad and Xbox Kinects-based features, as well as a big-screen movie, Dinosaurs Alive! in the museum's Omnitheater. Runs though through September 1.
Design Zone, Durham Museum (Omaha, NE)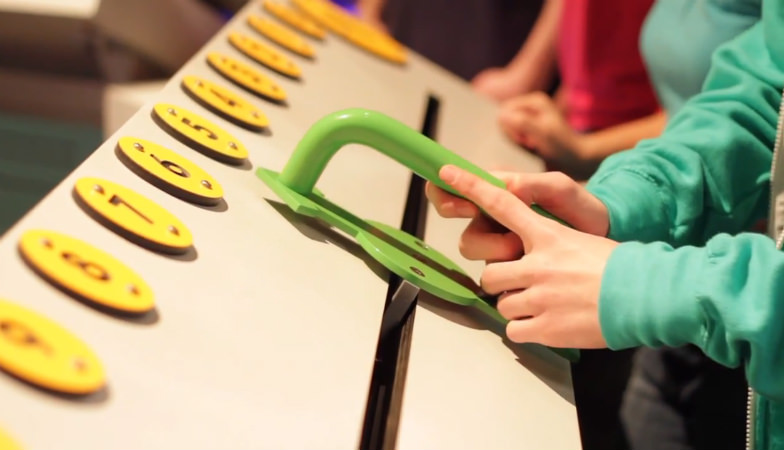 Design Zone at Durham Museum
This is a dream exhibit for the kid who wants to grow up to design video games—as well as a delight for parents who wants to prove to kids how math can be fun (and crucial). This kid-friendly exhibit shows how video game developers, music producers, roller coaster designers and other pros use math and science to do their jobs—whether that's figuring out how many beats per minute will get people dancing or how algebraic formulas translate into onscreen video-game magic. Runs through September 14.
The World's Largest Dinosaurs, Perot Museum of Nature & Science (Dallas, TX)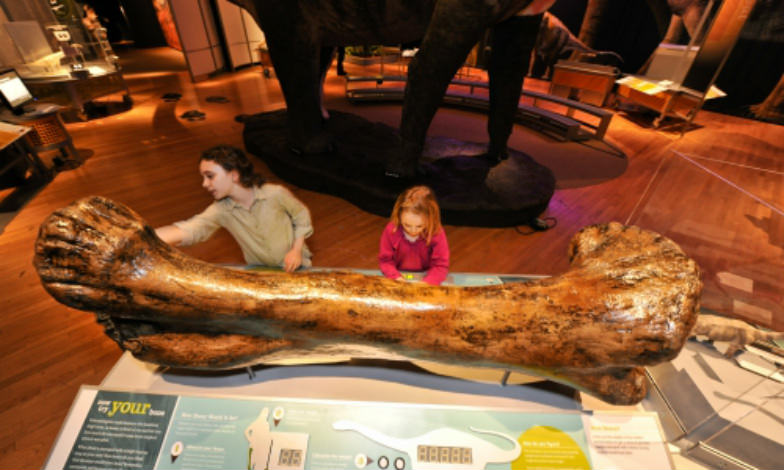 World's Largest Dinosaurs
Have any idea how big a Mamenchisaurus was? Or how to say Mamenchisaurus? (It's Mah-MEN-chi-SAWR-us.) This Texas museum displays this dino as its centerpiece, but also shows what scientists think the skin and innards of dinosaurs may have looked like and offers hands-on features, such as a fossil dig and a hand pump that gives a glimpse of a dinosaur's rather dramatic blood pressure. Runs through September 1.
Build! Toy Brick Art, Heard Museum (Phoenix, AZ)
This museum has been focused on American Indian art and culture since 1929, but this exhibit gives native-inspired art a contemporary twist: artists transformed their best works into LEGO brick creations. No surprise, there are several areas where kids can create their own LEGO art, too. Runs through September 28.
(MORE: Look for other things to do with kids in Phoenix.)
Your Brain, The Franklin Institute (Philadelphia, PA)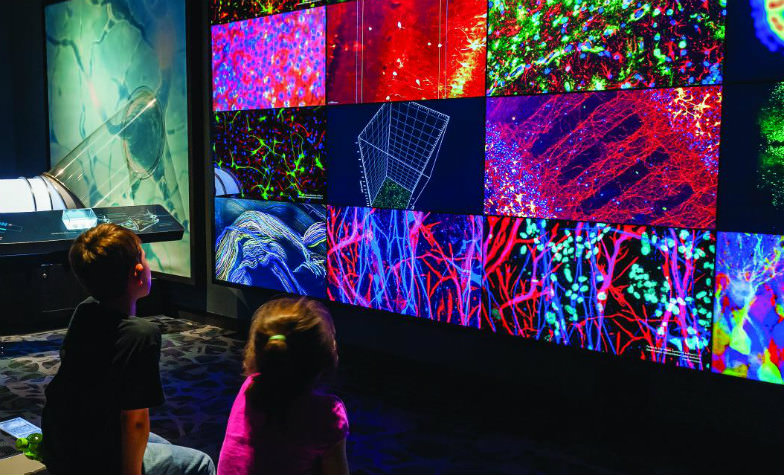 Your Brain at Franklin Institute
This month, the Philadelphia museum is debuting the three-story, 53,000-square foot Nicholas and Athena Karabots Pavilion, which has, on its exterior, a Shimmer Wall, made of thousands of clear aluminum squares that move with the breeze. Inside, the heart of the new wing will be the new permanent exhibit Your Brain, an interactive area with a "neural network" climbing structure, which responds to your steps with lights and sounds. This summer you can also see the exhibits Circus! Science Under the Big Top (running from June 14-September 1) and 101 Inventions That Changed the World (running from June 14-October 26). Your Brain also opens June 14.
Jeff Koons: A Retrospective, Whitney Museum of American Art (New York City, NY)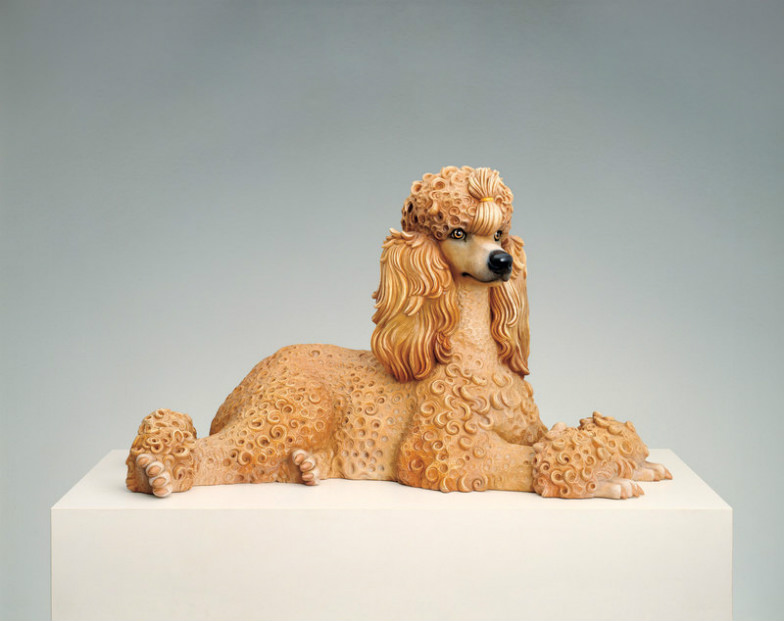 Quirky Jeff Koons Exhibit
While this retrospective of the pop-culture influenced artist is not necessarily geared to children, it's the kind of exhibit many kids will get a kick out of—like the basketball suspended in a tank and a silhouette of Piglet or works such as "Michael Jackson and Bubbles" and the giant "Balloon Dog (Yellow)". Opens June 27 and runs through October 19.
(MORE: Explore the city this summer. Find great kid-friendly hotels in New York City.)
Madeline in New York: The Art of Ludwig Bemelmans, New-York Historical Society Museum & Library (New York City, NY)
Since the plucky French orphan turns 75 this year, the New-York Historical Society is showcasing more than 90 works by her creator, Ludwig Bemelmans. Highlights include drawings from the books as well as paintings from New York's old Ritz Hotel and panels Bemelmans did for the Onassis yacht. Go on a Wednesday and you have the opportunity to join one of the tea parties planned for kids. Opens July 4 and runs through October 13.
Spiders Alive!, American Museum of Natural History (New York City, NY)
The mother ship of nature libraries takes on the ultimate creepy crawly in this exhibit highlighting 20 different live species of spiders, including black widows, fishing spiders and a goliath bird eater, considered one of the largest spiders in the world (with a name like "goliath bird eater," do you doubt it?). You can also learn about the art of web spinning and spiders' lesser-known talents. Begins July 4 and runs through November 2.
Katrina Brown Hunt contributed this to www.MiniTime.com.