7 ways to get lost in the joy of autumn
By Katrina Brown Hunt on Sep 12, 2013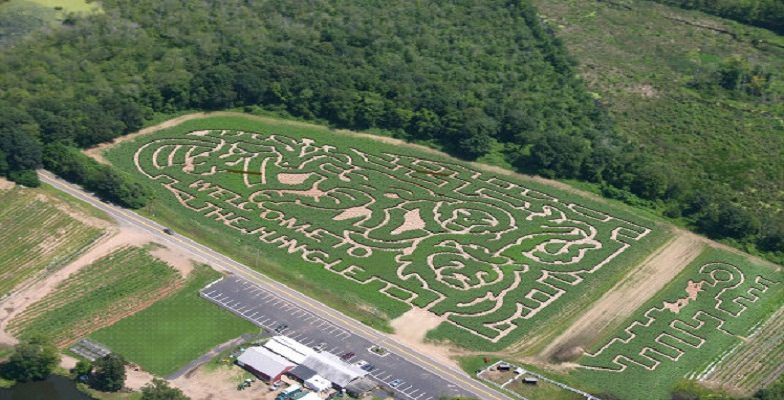 Connors Farm
It's easy to get lost in the joys of autumn, from crisp air and colorful foliage to football mania and harvest fests. But what about literally getting lost in a labyrinth of towering corn stalks?
Corn mazes have become an increasingly common and mega-popular part of pumpkin patches and fall festivals and, for some farms, mowing down stalks is elevated to an art form.
Corn mazes can also make a great excursion for families. While some labyrinths take just 45 minutes to navigate, others can take hours—so pack a bottle or two of water, some snacks, and perhaps your cell phone. Here is where to find the biggest and most interesting mazes this fall:
Connors Farm: Danvers, MA
Twenty miles north of Boston, this maze has gotten raves for being super-creepy in the past: 2011's design featured the "witches" of Salem, and led one extra-lost family to eventually call 911. This year's maze theme is Welcome to the Jungle, with the faces of a giant, lion, monkey and more in the field. Other activities include pig and duck races, bounce houses and pedal carts. On select evenings, you can also do the maze by flashlight. Open daily though Oct. 31. Admission: $12.95 for ages 3 to 64; $9.95 for seniors; free for ages 2 and under.
(MORE: Find a parent-recommended kid-friendly hotel in Boston)
Cool Patch Pumpkins: Dixon, CA
About 65 miles north of San Francisco, this elaborate maze—now at 53 acres—is the Guinness World Record holder for size. A few landmarks—like a giant bin with a Starbucks logo on it—offer some guidance along the way. Other activities include a scarecrow-making contest, a kiddie straw maze, big tricycles to ride through the pumpkin patch, as well as a pumpkin-smashing extravaganza. Open Sept. 15- Nov. 5. Admission: $10 for ages 5 and up; free for ages 4 and under.
Happy Day Farm: Manalapan, NJ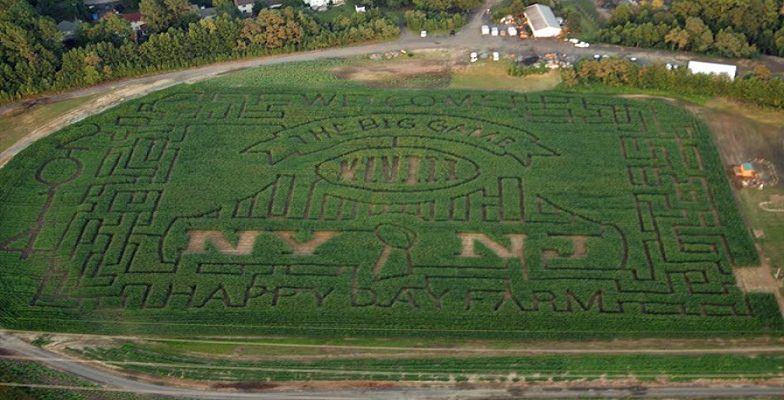 Happy Day Farm
Midway between Philadelphia and New York City, this 10-acre field harvests a lot of Jersey pride. Last year, the maze featured the faces of state heroes such as Bruce Springsteen, Frank Sinatra and Joe Pesci, and this year, the corn features a seal for the upcoming, New-Jersey-hosted SuperBowl. Little-kid activities include a hay maze, a hay mountain and playground. Open Sept. 21-Oct. 27. Admission: $13 per person for ages 3 and up; free for ages 2 and under.
Richardson Adventure Farm: Spring Grove, IL
This year, the 33-acre maze located about midway between Chicago and Milwaukee looks like a giant Beatles poster, in honor of the 50th anniversary of the Fab Four's first album. There are also 24 hidden checkpoints, a farm-scene-investigation game, a 50-foot tube slide and even a zip line. Open Wed.-Sun., through Oct. 27. Admission: $11.50 for ages 13 and up; $8.50 for ages 4 to 12 ; free for kids 3 and under.
The Great Vermont Corn Maze: North Danville, VT
As a playful tip to mysterious crop circles, this Vermont family farm, about 45 miles east of Stowe, has carved aliens and space ships into their field this year. The farm also a petting zoo, 100 feet of underground tunnels and haunted wagon rides. Open daily though Oct. 20. Admission: $5 per person.
(MORE: View a family trip journal: Stowe with kids.)
Treinen Farm: Lodi, WI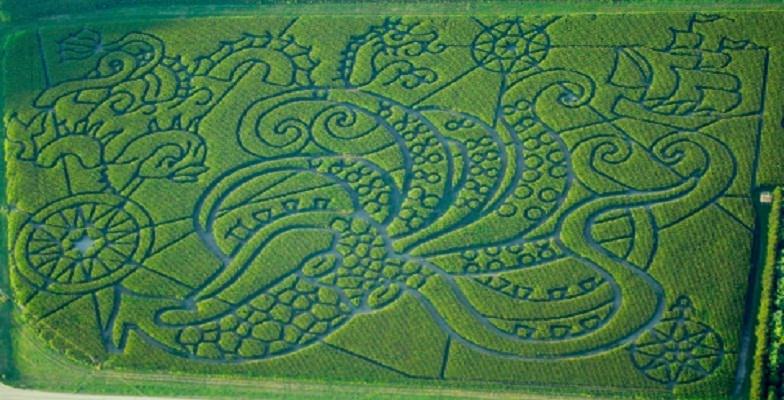 Treinen Farm
This 15-acre corn maze is the biggest in Wisconsin and embraces the old-school sea monster, the Kraken, for its theme this year. Along the way, you're challenged (with the promise of prizes) to find seven mailboxes and eight secret locations. The farm also has hay rides, farm animals, and a one-night spookfest on Oct. 26 called Zompocalpyse. Open weekends only through Sept. 22 and then Fri.-Sun., Sept. 28-Oct. 27. Admission: $8.50 for ages 12 and up; $6.50 for ages 6-11; free for ages 5 and under.
Queens County Farm Museum: Floral Park, NY
At just three acres, this Long Island maze (about 45 minutes from Manhattan) may be more compact than many, but it has packed a lot of twists and turns into its circus theme this year. Special weekend activities include an apple-cider-and-donuts fall festival, a kids' costume festival and a late-afternoon haunted house. Open weekends Sept. 21-Oct. 27 plus Mon., Oct. 14 (Columbus Day). Admission: $9 for ages 12 and up; $5 for ages 4-11; free for ages 3 and under.
Katrina Brown Hunt contributed this to www.MiniTime.com.