Orlando with kids
By Holly Rosen Fink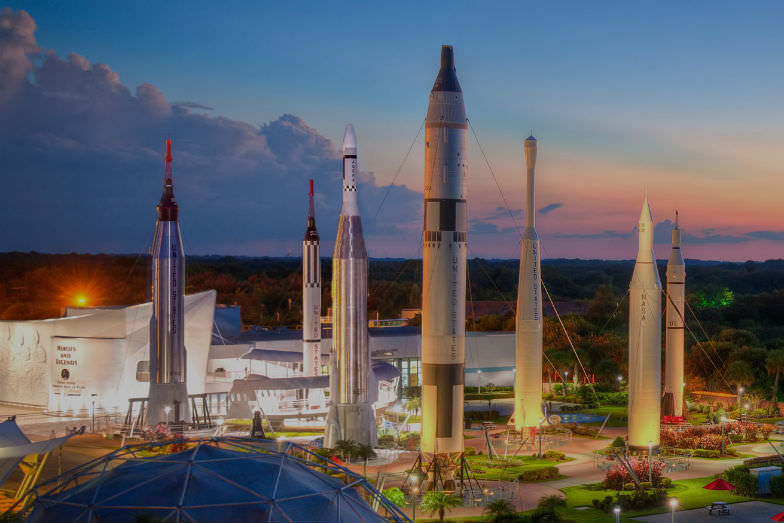 Visit the Kennedy Space Center for a fun and educational thing to do in Orlando beyond Disney. (Courtesy Kennedy Space Center)
If you're headed to Orlando with the kids this season and want to do something other than go to theme parks, don't fret. There are dozens of things to do in Orlando with kids for every type of traveler. From adventurous to more intellectual activities, you and your children have a wide range of choices to choose from.
Sometimes parents just need a dose of something non-Mickey and Minnie to get through their visit to Orlando. A trip beyond the parks can be just what the doctor ordered to break up the theme park action. From airboat rides to the Kennedy Space Center, Orlando has a never-ending list of fun things for families and kids to do.
Here is a list of our top ten things to to do beyond Disney World.
(MORE: The Reluctant Parent's Guide to Disney)
Take an Airboat Tour
Kids and adults alike will love the experience of taking an airboat tour. It's considered one of the best things to do in Orlando with kids. The experience will take your family deep into the protected swamps, marshes and rivers that make up the Central Florida Everglades. Choose a morning and take a ride on the waters with a guide. You will see alligators, birds, eagles, trees and plants in the region's inspired wetlands. Then you'll be refreshed to revisit Disney World in the afternoon.
Tips: Choose Wild Florida as your boat ride of choice. You can spend time after the ride in their wildlife park, home to zebras, watusi, water buffalo, emus, lemurs, sloths, and other animals native to South America, Africa, and Australia. There is also a tropical bird aviary and a hands-on alligator demonstration. The park is passionate about alligators and wildlife of all kinds, rescuing and releasing animals often. Be sure to grab lunch while you're there.
Have brunch at the Bohemian Bar and Grill at the Bohemian Hotel Celebration
The Bohemian Bar and Grill is a respite from the action of nearby Disney. Located right on the lake, the atmosphere is laid back and relaxing with comfortable chairs and big chandeliers. More importantly, they serve a scrumptious menu for all ages including Citrus Glazed Scallops, the Bohemian Burger, Sautéed Mussels, Pan Seared Grouper, Crab Cakes, and Filet Mignon Egg Rolls, a restaurant favorite.
Tips: Kids can enjoy Chicken Fingers and Shirley Temples.
Play a Real Life Action Game
Escapology is a real-life escape game. Groups of up to five players are locked in a themed game. Players must work together to find hidden objects, uncover the clues, and solve the puzzles to earn freedom. The largest obstacle in the way is that you must do it before your sixty minutes are gone. Adventurers have several unique challenges to choose from, from Wild West to Pirate Ship. Escapology is a real diversion from Disney, and one of the latest and best things to do in Orlando.
Tips: Make this a family activity. Look for discounts online, via GroupOn or another discount provider.
Visit Kennedy Space Center Visitor Complex at Cape Canaveral
Whether your kids, young or teens, are into space or not, there is no question they will enjoy a day at Kennedy Space Center. They most likely won't even miss the allure of Disney World. The space complex offers opportunities to meet astronauts and to tour a full-size replica of the Space Shuttle Atlantis. You can also watch stirring films in the larger-than-life IMAX Theater. Even your kids will agree that it's a great day out, especially as they tour the launch and observation areas or lunch with an astronaut. Most recent additions include the Space Shuttle Atlantis exhibit and the Shuttle Launch Experience, a simulation of the sights, sounds and sensations of launching into space. The Kennedy Space Center is truly one of the best things to do in Orlando.
Tips: The Space Center is a 45 minute ride east of Orlando and a day worth spending away from Disney. Look for discount tickets online.
Go Zip lining at Orlando Tree Trek
Orlando Tree Trek is a fun- filled two hours of swinging through trees, zip lining and navigating through obstacles in a 15-acre tree canopy. The park has 6 color-coded courses. They include Tarzan-like swings, ladders, suspended bridges, scramble nets, swinging logs, surfboards and more. The owners, a married couple who hail from Montreal, take great pride in what they do. They have made this one of the best things to do in Orlando with kids.
Tips: It may seem off the beaten path, but zip lining is great exercise and a thrill for adults and kids as young as seven.
Osceola Country History Society's Pioneer Village
Who knew that just miles from Disney sits a historical village comprised of authentic, original buildings from over a hundred years ago? On a walking tour around Osceola Country History Society's Pioneer Village, you and your kids will be introduced to an 1898 "Cracker House," a 1900 general store, and pioneer artifacts. You'll also see a blacksmith shop, sugar cane mill and an 8-acre pristine nature preserve under 100-year-old trees.
Tips: A visit to Osceola is a serene, tranquil break and a worthwhile educational visit for families.
Paddle Through the Everglades
If you're looking for a bit of exercise and adventure beyond Disney, think about a paddling trip down Shingle Creek. The Paddling Center in Kissimmee offers a helpful team to help choose and rent kayaks or canoes for one or two persons. Choose between a self-guided or guided tour with the kids. Paddle through braided channels in a cypress forest along a 32-mile trail. This trail extends from Kissimmee to Wekiva Springs Street Park and from Orlando to Mascotte. The multi-use trail runs along Shingle Creek, which is the headwaters of the vibrant and lively Okeechobee-Everglades ecosystem. This is truly one of the best things to do in Orlando with kids.
Tips: Choose a nice afternoon to spend on the Everglades. Check the forecast before you go.
Spend time at the Disney Wilderness Preserve
The Disney Wilderness Preserve is managed by The Nature Conservancy. It is a 12,000-acre showcase for habitat restoration. Purchased to replace habitats erased by the construction of Walt Disney World, this preserve was largely a cattle ranch when it first opened. Families can hike and bird watch, and enjoy the region beyond Disney's natural beauty. There is no fee, although donations are appreciated.
Tips: The preserve is open 9 a.m. to 5 p.m., Monday through Friday, but it is closed on weekends and most major holidays. Before visiting, call (407) 935-0002, as there may be limited access due to flooding or restoration activities.
Enjoy a swim at Wekiwa Springs State Park
Wekiwa Springs State Park, a Florida State Park, is a great place for a swim and picnic. There's also a 13-mile-long hiking trail through sand pine scrub, river estuaries and dry sandhill terrain. Visitors can even rent a canoe to paddle into the Wekiwa River. You're likely to see alligators, turtles and countless wading birds – or even black bear.
Tips: The park's campground is a great place to stay with kids and one of the best things to do in Orlando.
(MORE: Cruelty-Free Wildlife Attractions for Families in Bali)
Enjoy a Lavish Dinner at Reunion Resort's Rooftop Restaurant, Eleven
With 360-degree views, Eleven, the restaurant at Reunion Resort, offers a beautiful menu of prime cuts of beef and fish. The kids menu is also a welcome sight for families, offering options that go beyond the usual choice of chicken fingers! The hotel is gorgeous. It boasts 5 swimming pools and a waterpark with a lazy river. Your family can spend the day lazing and having fun should you choose to stay there and spend time away from Disney. The rooms are also incredibly spacious and include all the amenities a family could ask for on a vacation.
Tips: Be sure to go for dinner at Eleven during Disney's fireworks for a great viewing by the rooftop pool.
Holly Rosen Fink of The Culture Mom contributed this to MiniTime. She is a full-time marketer living in Larchmont, NY with her husband and two children.