Florida with kids
By Holly Rosen Fink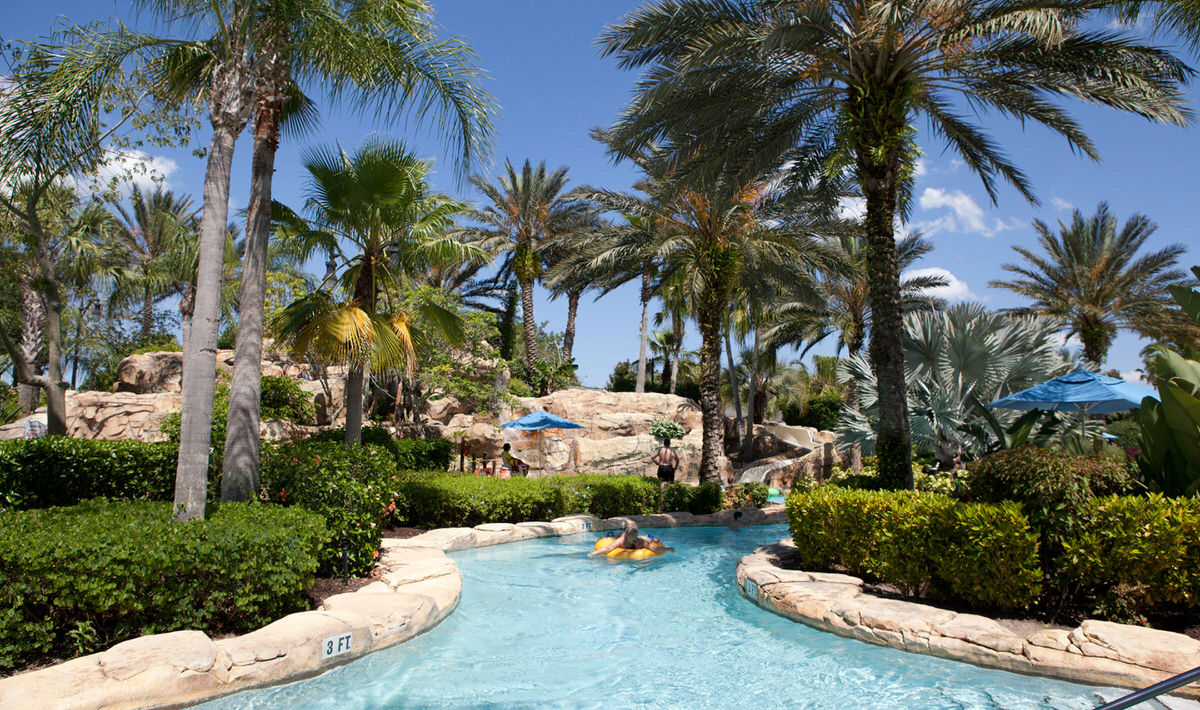 A stay at Reunion Resort is truly a family-friendly travel experience. (Courtesy Reunion Resort)
Reunion Resort, located in Kissimmee, Florida, just minutes away from Orlando, is truly a family-friendly travel experience. Rated a AAA Four Diamond rated hotel, the hotel is a peaceful respite several miles away from the exhilarating chaos of Walt Disney World.
The family-friendly hotel happens to be a good value, offering a great deal of space and amenities. It offers fully equipped kitchens, multiple bedrooms and bathrooms, and onsite swimming pools. Kids will love the water slides and the kids club. Parents won't want to miss the views of Walt Disney World's fireworks during dinner from the top of Eleven. This onsite restaurant offers nicely portioned kid's meals. Best of all, its concierge and reception staff are helpful.
The hotel is a very relaxing experience for any traveling family. Having space and a "home away from home" can be a very satisfying experience for everyone, and Reunion Resort is no exception.
(MORE: Beyond Disney World: Things to Do in Orlando Besides )
Why Go
Reunion Resort features 360 resort style accommodations that include luxury suites, condos to, multi-room villas, and private vacation homes. Rooms are fully equipped with all the amenities a family would need from large living room space to inside and outside patio dining areas with great views of the resort's grounds.
The resort has a lot to offer families including multiple pools; a waterpark with slides and water playground, and a 1,000-foot lazy river; and tennis courts. Parents will love Kids Crew—a special club for guests ages 4-12. Here,, kids can spend a day or more enjoying activities like scavenger hunts, nature hikes and pooltime, giving parents a break. Registration is required and kids must be potty-trained to attend.
This family-friendly resort also offers daily lawn games including Giant Checkers, Corn Hole, Mega Jenga, Horse Shoes, Hula Hoops, and Jump Ropes. Bike rentals, activity trails, and community playgrounds are also offered.
In addition, Reunion has a variety of onsite dining options that families of all sizes and budgets will appreciate.
Room Options
Rooms are meant for short or long-term visits with fully equipped kitchens, multiple bedrooms, and private balconies. They range from 750 to 2,200 square feet, and are more like homes than hotel rooms. All three-bedroom villas can be converted into one and two units by locking off the bedroom doors to create a specific type of villa, perfect for bigger families.
The rooms throughout the resort feature a master suite with a king size bed and private bathroom, a flat-screen TV and DVD/CD in the living room, and cozy bedrooms. Families can make full meals in the kitchen, which can be eaten on the premises, both saving money and ensuring an early bedtime. The living room has a queen sleeper sofa, where families can have movie night or just hang out together after a long day of sightseeing. There is also a private balcony in every room with a table and chairs, along with great views of beautiful gardens and foliage. In addition, the resort offers free Wi-Fi, available laundry services, and free self-parking – all necessities for any traveling family.
Where to Eat
The resort offers various culinary options to traveling families. Casual options are in abundance at the Clubhouse any time of the day, where you can sit inside or outside. The kids can also order up their favorite snacks at the pool at Longboards or The Cover at Seven Eagles. For dinner, Forte Grille serves traditional, family-style Italian cuisine in a warm and rustic atmosphere. Kids will love big bowls of pasta and parents will appreciate the restaurant's extensive wine list.
For a more upscale option, Eleven sits on top of the Reunion Grand on the 11th floor. It's an indoor/outdoor rooftop restaurant with 360 degree views including nightly looks out onto Walt Disney World Resort's fireworks. This family-friendly restaurant offers a delectable menu of delicious dishes and cocktails, with beef and fish options. There is also an abundance of kid-friendly choices from Filet Mignon to a Kid's Pasta Bowl. All ingredients are fresh, and their dessert options are sublime.
Another option at the resort is sushi in the Grande Lobby, prepared by the renowned Chef Michael Ha.
Getting There and Getting Orientated
Reunion Resort is conveniently located south of Orlando, Florida. It's only six miles from Walt Disney World, and nearby to Universal Studios, SeaWorld, LEGOLAND Florida, Orlando Balloon Rides, Baseball Spring Training, and more. It's also just less than 30 minutes from Orlando International Airport.
(MORE: The Reluctant Parent's Guide to Disney)
Insider Tips
The hotel is really good value, offering more space and comfort than you would get closer to the theme parks. Check the Internet for specials to find the best deal on the resort in advance.
Be prepared to go grocery shopping to stock up the refrigerator during your visit. Making food in will ultimately save your family money!
If you have time without the kids, definitely head to The Spa at Reunion Resort for an hour of relaxation and bliss. Treatments range from massages to facials and are first-rate. They also have three golf courses for golf playing parents.
Be sure to explore the property's community trails. They're great ways to get your kids outside and active.
Holly Rosen Fink of The Culture Mom contributed this to MiniTime. She is a full-time marketer living in Larchmont, NY with her husband and two children.