For an unusual New Orleans vacation, try camping with the kids near the French Quarter!
By Jody Halsted
Jackson Square in New Orleans (Photo: Jody Halstead)
When you think of visiting the French Quarter in New Orleans, camping is probably the last activity to cross your mind. But if you have an RV (sorry, no tents allowed), you can comfortably glamp within blocks of Bourbon Street and laissez les bons temps rouler – let the good times roll.
Located just off Interstate 10 and across the street from St. Louis Cemetery #1, the French Quarter RV Resort is the only RV park within walking distance of New Orleans' famed French Quarter. With this RV Resort, you can roll into the city and still enjoy good ol' camping fun!
Glamping at French Quarter RV Resort
Exiting Interstate 10, arrive at French Quarter RV Resort after only a couple of right turns – a relief to those who are dreading the thought of entering New Orleans traffic in a 32 foot RV.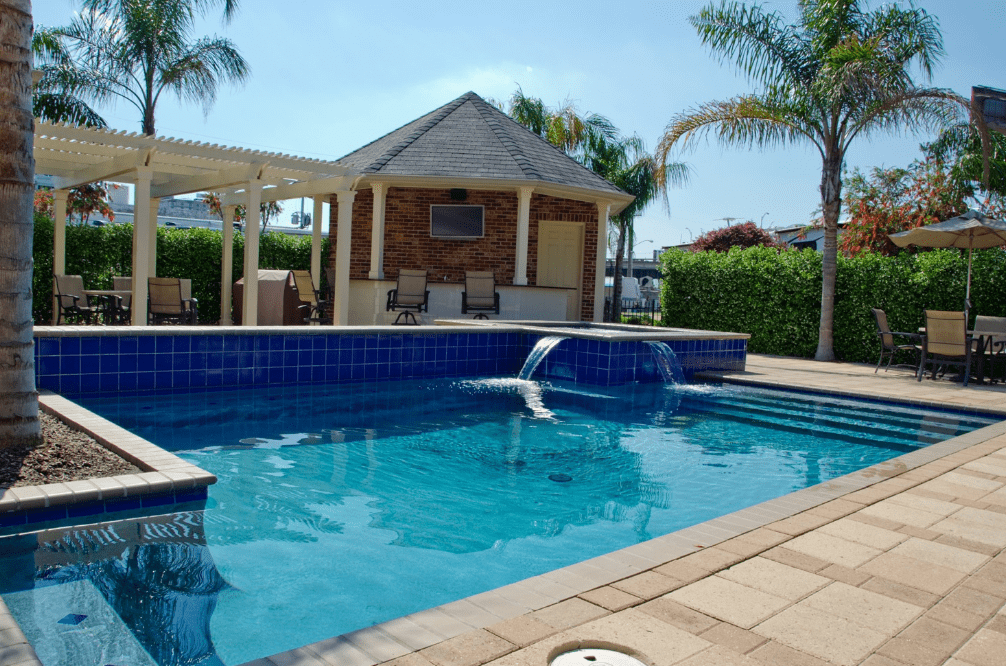 Pool at French Quarter RV Resort (Photo: Jody Halstead)
Each RV site is large and paved, with full hookups – electric, water, sewer, cable TV and limited wifi. The French Quarter-style courtyard, located near the resort entrance, houses on-site recreation including a pool and hot tub, fitness center, and gazebo with bar facilities. The attached clubhouse houses spacious private baths, a laundry room, and indoor lounge.
Check in is quick and easy – you'll settle into our site and out exploring within half an hour.
2 Handy Tips for Staying at French Quarter RV Resort
1. If your camping adventures are usually peaceful and soothingly quiet, you will want to bring earplugs. Both interstate noise and sirens continue through much of the evening and into the early morning hours.
2. As the staff will warn you, do not walk back to the resort from the French Quarter after dark. Portions of the route are not well lit and there is no sense in putting yourself in a possibly dangerous situation. Cabs are easy to find near any French Quarter hotel, or consider a pedi-cab if dusk is just beginning to settle onto the city.
Exploring New Orleans with Kids
The French Quarter RV Resort is about 6 blocks from the French Quarter – easily walkable so your days will be jam-packed with exploration and celebration.
Here are a few of the highlights of our own visit:
Shopping for Easter Bonnets in the French Market. We bought our incredible creations from Carnival Collectibles. Tip for the French Market – stay to the outer edges for uniquely crafted souvenirs and adornments.
The Chris Owens Easter Parade. It rolls down Bourbon Street at approximately 1pm. It's a crowded mass of humanity, but the floats are grand and the riders really look for kids to gift their fun trinkets like small stuffed animals to. Unfortunately some adults standing along the route aren't quite so careful with the kids, so keep your children close.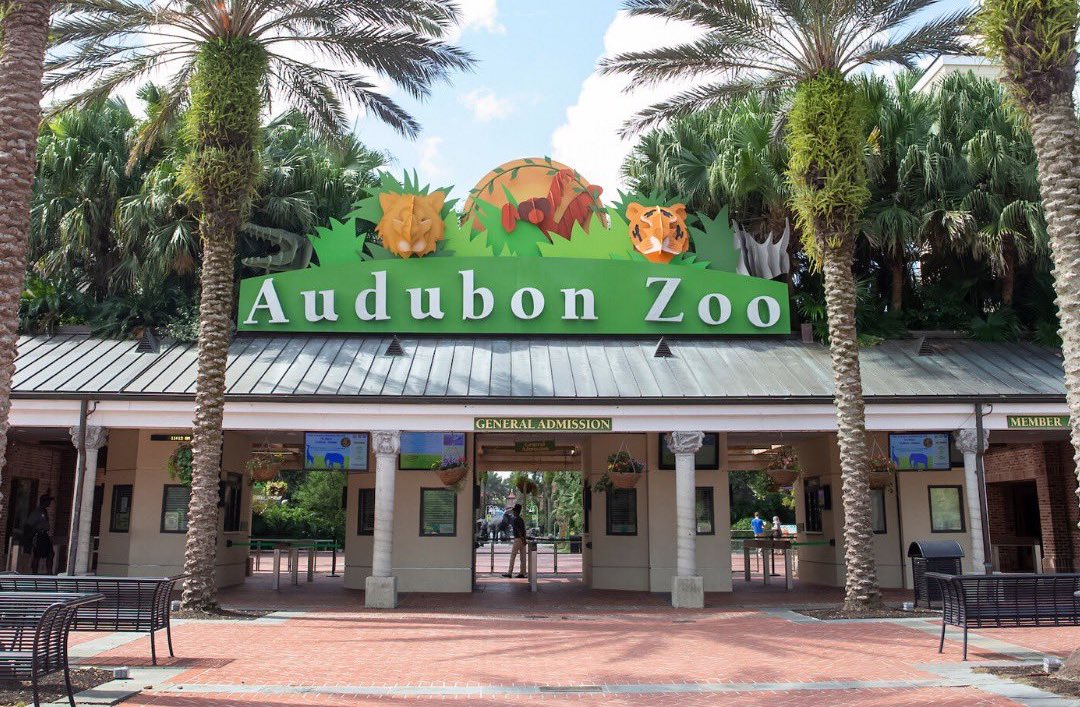 Audubon Zoo (Courtesy Audubon Zoo)
Audubon Zoo. The zoo can be accessed via the St. Charles Streetcars. After exiting the streetcar you can choose to walk a mile through the beautiful parklands or wait for the free shuttle to the zoo. We spent some time on the new Ropes Course (my thrill seekers loved it!) before wandering the exhibits.
The National World War 2 Museum is a must. We spent nearly 4 hours in the huge complex and didn't see half of it. The privately-funded museum is home to extensive exhibits, incredible artifacts, and incredible first-person oral histories that take visitors through the story of the war. Absolutely phenomenal.
Hop On, Hop Off Bus. The Hop On Hop Off bus, located at Basin Street Station, is just 2 blocks from the RV resort. This fun tour with live narration, takes you nearly everywhere you want to visit in New Orleans. We learned quite a lot about the city from our amazing guides.
Royal Street is filled with experiences. A couple of our favorites are M.S. Rau Antiques, which not only has items you usually only see in museums, but also holds store events focused on art and history and has a staff that is genuinely kind and so very knowledgeable, and Sutton Galleries with its eye-catching paintings by Isabelle Dupuy and its wonderful gallery director, Jean-Paul Pinel, who answered questions posed to him by my 8-year-old about specific paintings on her level, with not a bit of pretension or hint of bother.
(MORE: Bask in luxury at these New Orleans hotels for families)
And, Finally, Food!
New Orleans is known for its fabulous dining! A few places and their not-to –be-missed meals include: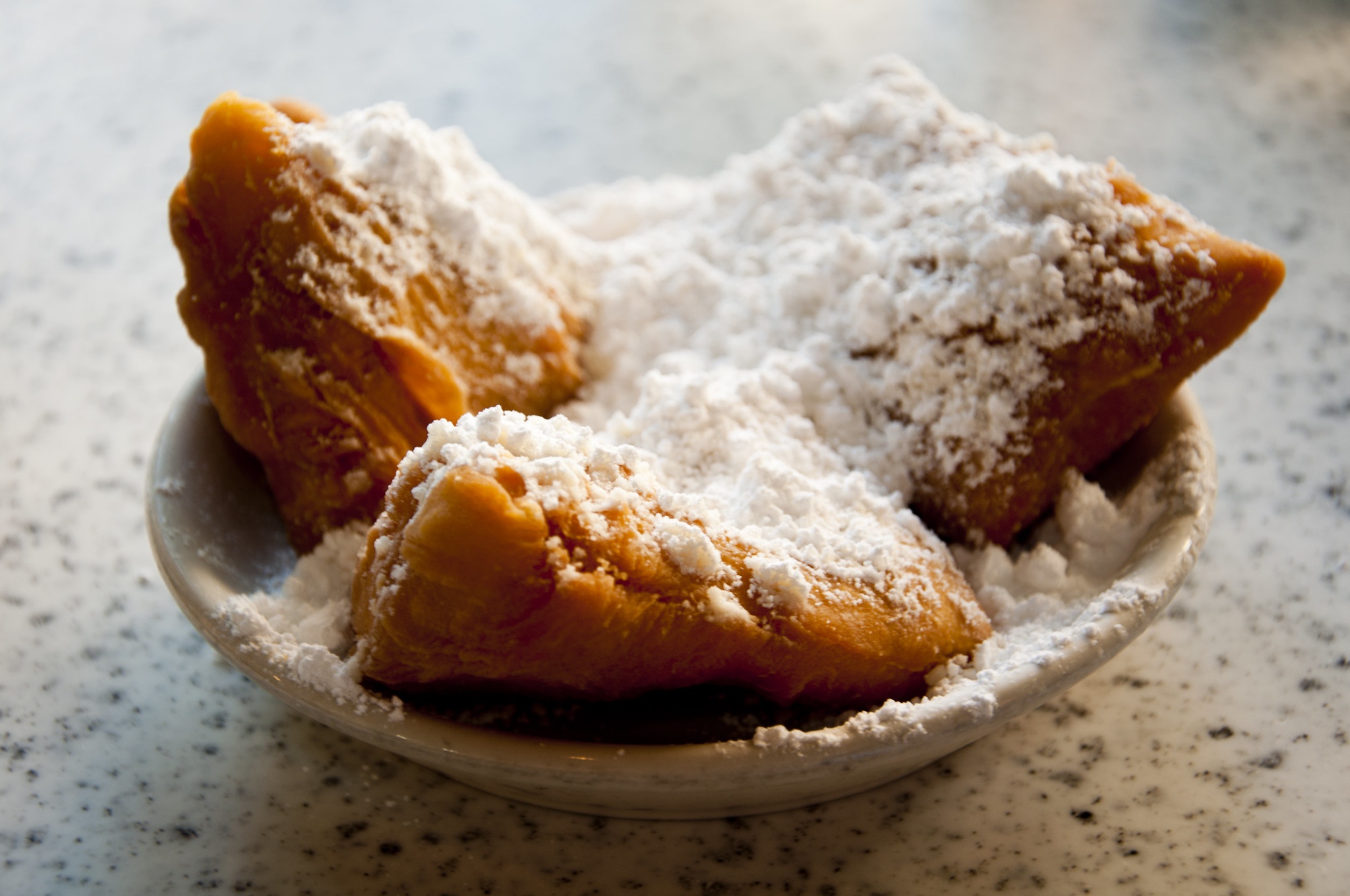 Beignets at Café du Monde (Flickr: vxla)
Café du Monde – renowned for their beignets and chicory coffee. Locals tip: don't stand in line for a table- use the carry out window and take your treat across the street to Jackson Square.
Joey K's Restaurant – this relaxed corner space in the Garden District is the best place to take a hungry family after walking all over town. Be sure to order the onion rings!
Antione's – if you want one fine-dining meal, make reservations at the oldest family-owned restaurant in the US, known for its French-Creole cuisine. After your meal, be sure to visit the 1840s room and peek into the private dining rooms used by Mardi Gras Royalty.
Brennan's Restaurant – serving the one dessert you must have in New Orleans – Banana's Foster – is available at the original Brennan's Restaurant, where it was created, or at The Palace Café, owned by a member of the Brennan family.
It's time to let the good times roll- load up your RV and take the family to New Orleans!
Jody Halsted of FamilyRambling.com contributed this to MiniTime.