Cancún, Mexico
By Jinny VanDeusen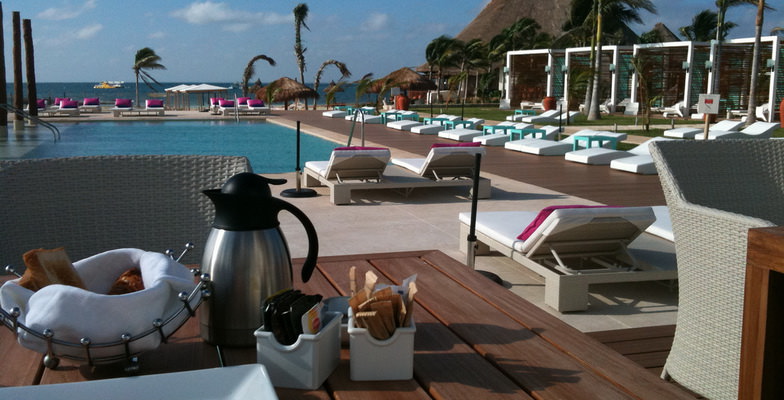 Séb.
Why Go: Cancún was created, literally, to be the ultimate beach destination—which is why most people love it, but also why many travelers are wary of it. Originally home to Mayans centuries ago, the area was almost entirely uninhabited until the early 1970s, when the Mexican government began developing a money-making tourism hub there. Over the past 30-plus years, the "7"-shaped island, connected to the mainland and Cancún City by two bridges, has become a bustling string of beachfront hotels, referred to as the Hotel Zone. And we mean bustling: An estimated 3 million people visit the Hotel Zone every year—so we're not talking about an undiscovered paradise. Still, it's hard to argue with translucent blue waters, white sands, and access to Mayan ruins. The challenge is finding a good spot to stay.
Club Med Cancún Yucatán offers a great combination: everything you'd want in terms of beach, dining and activities, but at a distance from the churning tourist machine. The resort was an early arrival in the Hotel Zone, originally opening in 1976, but it took a beating during Hurricane Wilma in October 2005. In November 2006, the resort re-opened, looking, well, distinctly younger.
The $24-million renovation made the resort's accommodations more spacious and up-to-date. Half of the 384 rooms, and all 18 suites, were expanded, and a Parisian design firm gave the rooms a contemporary spin on traditional Mexican décor. Accommodations are comfortable rather than luxurious, but overall the resort delivers an upscale experience. The revamp also added the Jade Villa building, where guests can get room service, a private car from the airport and niceties such as laundry service and fresh flowers. There is also a new emphasis on the Yucatan setting: menus have been updated (including local wines) and the resort now offers culturally- and environmentally aware excursions. Perhaps most important, the resort shifted from being couples-only to a family-friendly destination that welcomes kids, with a special emphasis on those from 4 to 10.
Like at all Club Med villages, staffers are known as GOs (short for "gentils organisateurs," or "gracious organizers"), guests are called GMs ("gracious members"), and the all-inclusive, egalitarian vibe encourages easy socializing between staff and guests, as well as an active, outdoorsy routine. (For more on Club Med's history, see our review of Club Med Sandpiper.)
Our correspondent, Jinny Mansfield, and her family arrived with few preconceived notions, having never visited a Club Med before. ("The fact it's a well-known, established brand was a positive, so I was interested to see what it was like. I was looking forward to some good beach time and family time, and warm weather.") Club Med Cancún Yucatán delivered on just that, thanks to a generous-sized beach and plenty of activities for her two kids, Kate, 9, and Jack, 7. That the resort was an all-inclusive was key. ("With kids it's even more of a selling point because—at least with my kids—there's always someone hungry or thirsty at random times. And it's nice to be able to take advantage of so many activities without having to pay for each, which would add up quickly.")
They also appreciated that the environment was laid-back and understated. ("It was not an overtly kid-centric resort with life-size cartoon characters walking around. Kids are welcomed and included but not at the expense of making adults feel like they're enduring a theme park.") Best of all, between the beach and myriad grown-up activities—snorkeling, kayaking, tennis, and exercise classes—there truly is something for everyone. ("The biggest thing Club Med Cancún Yucatán has going for it is that it offers a resort vacation with plenty of things to do.")
Getting Oriented: The 14-mile Cancún Hotel Zone stretches down the Yucatán coastline like a "7," with the Club Med Cancún sitting near the bottom. That's a huge plus: It feels distinctly out of the Hotel Zone's congestion, even on the beach. ("No noise, no craziness.")
The 22-acre, horseshoe-shaped resort is comprised of low-slung, modern-looking buildings, up to three stories high and painted alternately in white or bright colors; a picturesque lagoon sits in the compound's center. As you round the curve upon entering the resort, you pass the eight-court tennis center and the Jade Villa. At the end of the horseshoe is the reception building and the resort's hub, where you'll find two of the three restaurants, the theater, pool, beach and most of the guest rooms.
The resort is less than 5 miles, or a 15-minute ride, from Cancún International Airport. There's no free shuttle, but you can book one for about $13 per person. Since the transportation area at Cancún's airport can be both crowded and confusing, it's a good idea to book your transfers (through Club Med or your travel agent) before you leave home. As an alternative, you could take a taxi—about $45 one-way—but a cab fills up fast with kids and bags.
Getting Around: A big reason families choose an all-inclusive is so that they can stay put and soak up the food and atmosphere, so a car isn't necessary at Club Med Cancún Yucatán. If you choose to take a day trip, the resort offers 17 excursions, many with a distinctly eco-tourism bent, such as swimming with dolphins, visiting archeological site Chichen Itza or snorkeling in Cozumel. Seven-day packages to Club Med Cancún Yucatán include a free excursion to the archaeological site El Meco. Otherwise, excursions range from $15 to $135 per person. Outings are offered on specific days, so it's a good idea to check the excursion schedule soon after you arrive to help schedule your time during your stay.
On Day 4 of their stay, the Mansfields went to eco-theme park Xcaret, but instead of joining an excursion group, they rented a car for about $75 a day from the resort's on-site Thrifty counter ("We ended up doing it on our own because of how our schedule worked out," Jinny said "and because we had purchased Xcaret tickets before the trip.") Even so, Jinny found the staff at the Discovery Center, the resort's excursion office, very helpful about explaining the details of each trip. Note: Seven excursions—including Chichen Itza, biosphere Sian Ka'an and the deep-sea fishing trip—have a minimum age of 12.
If you want to explore the immediate environs—the rest of the Hotel Zone's shopping or restaurants on the more northern end of the "7"—you can get a cab, or even catch the bus that runs along the strip. The hitch: From Club Med, you have to walk up the beach and cut through the Westin, the next hotel north, to get that bus. ("I don't think the bus is worth it: inexpensive but crowded, and with kids in tow I wouldn't want to be schlepping up the beach and through the Westin!")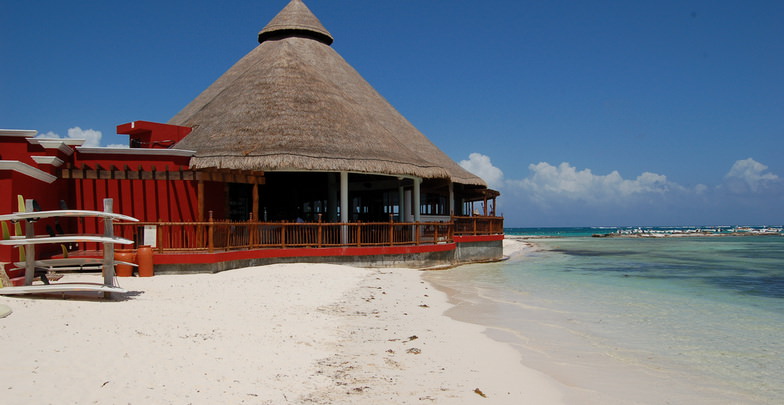 We Are Family: During her November visit, Mansfield estimated that about half her fellow guests had come with kids, ranging from infants to early teens.
For children 3 and under, Club Med Cancún doesn't have an organized program, but it does offer services such as in-room babysitting (about $15 an hour), as well as complimentary amenities such as high chairs, bottle-warmers and baby food.
For kids 4 to 10, however, there is great program. Mini Club Med is free and runs daily from 9am to 9pm, with a break for dinner. Activities include tennis, crafts, story time, swimming, beach time, piñatas, and a trampoline and trapeze (the latter being a trademark part of Club Med's "circus schools" found at some of its resorts). The evening programs tend to carry themes. For example, one evening during the Mansfields' stay, the 8- to 10-year-olds did a version of "The Amazing Race," while the 4- to 7-year-olds had a mini-car race.
According to Club Med's brochure and web site, kids are supposed to be broken out into tight age groups of 4 to 5, 6 to 7, and 8 to 10. If relatively few children are staying at the resort, however, the groupings might be larger. When the Mansfields were there, for example, there was just one group for ages 4 to 7. ("That works well, unless your kids are at the north end of those groups—but even then it depends on how many other kids are in the group.") During their stay, Mansfield estimated that there were about six to eight kids in each group on any given day.
Kate and Jack participated in Mini Club Med a total of six times and, overall, they liked it. Nine-year-old Kate—the oldest in her group—got bored at times, like when the tennis clinic featured a two-foot net and oversized balls. ("Jack seemed to have a blast, as evidenced by his desire to go back on another day.")
Compared to counselors she's encountered at other resorts, Mansfield was impressed with what she saw at Club Med Cancún Yucatán. ("I thought the counselors were good—some very good. Did they have the jovial, wrap-you-up, almost instinctive kid-warmth of some resorts? No. But they were fun with the kids, encouraging and engaging.")
For kids 11 to 17, the offerings are pretty spotty. In theory, the teen club, "Passworld," is open daily from 9:30am to 10pm with a dinner break. But the club only operates during school holidays such as Christmas or winter break (and, the resort spokesperson says, when more than 10 teen guests are staying at the resort). Passworld was closed during the Mansfields' November stay. We would prefer to see this group broken down into two smaller age ranges, since it can be particularly intimidating for preteens to socialize with high-school kids. This can be especially true where a teen program is fairly unstructured, as is the case at Club Med. The group's main hangout is an open-air area next to the pool, called the Car Wash; when open, the program also offers excursions such as an eco-tour or a day trip to a Wet 'n' Wild waterpark. As an alternative, teens can sign up for the resort's popular daily events (some are 12-and-up only) such as beach soccer or water polo. Teens can also check out the "Maya Lounge" in the hub area, which has a Ping-Pong table and a pool table but, for better or worse, no video games.
There are three pools at this Club Med village. Within the kids' club area, there are two small (10ft x 10ft) pools used for water play.
The main pool, in the resort's hub area, is open from 9am to 7pm. It ranges from three to six feet deep. The pool is a bit tough to manage with little ones. There's just one small entry, with a few steps that are not shallow enough for safe water play. Mansfield noticed that most parents of small tots ended up holding their kids while they stood in the pool. There are no life jackets or swim aids available, but guests can bring them if their children aren't strong swimmers. There were two lifeguards on duty when Mansfield visited. The pool had neither diving boards nor slides, but some kids brought toys to dive for. ("There were also organized activities in the pool most days—including rousing games of water polo—so the atmosphere never felt stuffy. We never felt like the kids had to be overly quiet.")
There is beverage service at the poolside bar, as well as a small table with snacks during happy hour. The pool bar even offers non-alcoholic cocktails for kids. ("Kate said that there was nothing quite so heavenly as sipping her non-alcoholic piña colada while lounging poolside reading Harry Potter.") Except for peak pool times (mid-morning and mid-afternoon) the Mansfields had no problem finding enough free lounge chairs. At the corner of the pool deck overlooking the lagoon, you can also relax in a portico filled with giant pillows, or an outdoor lounge area with canopy-draped chaises. ("Just make sure you hang onto the 'towel cards' included with your room folio. Towel attendants will give you one towel per card you hand them. No card, no towel. When you return your towels at the end of the day, you get your cards back.")
The Mansfields spent more than half of their time on the beach ("We couldn't get enough of the view of the spectacular water—pictures truly don't do it justice.") As a bonus, the sand is made up of crushed coral, which remains cool even on very hot days ("and eliminates the sprint from lounge chair to water"). Club Med's beach is wider than at the hotels further north along the coast, and buffered on the southern end by a rock jetty that's fun to explore. ("Jack met a few lizards out there.") From the jetty, the beach sweeps up the coast of the "7" and eventually narrows until there's no more room to walk. Mansfield and her family made the 20-minute walk many times during their stay. ("The nearest hotel, the Westin, is a 5-minute walk up the beach, but it doesn't feel too close.")
Beach lounge chairs are plentiful and complimentary, and drink servers often appear to offer beverages. It was very windy during the Mansfields' visit, which made for plenty of waves. ("There was some surf, but nothing our kids couldn't handle. Younger ones, though, would have had a tough time.") Lifeguards stationed along Club Med beach kept a watchful eye on swimmers. GOs also circulated through the chairs, chatting with GMs and recruiting for activities such as beach volleyball.
A Club Med hallmark is its roster of free watersports, and this property doesn't disappoint. The Mansfields went sea kayaking ("Fun, but it's not as though you can paddle for miles. You're limited to an area right off the beach.") At the beach, guests can choose from kayaking, windsurfing, and snorkeling. At the lagoon, there's waterskiing ("complete with the alligator disclaimer!"). Note: Though watersports are free, there's a one-time, nominal ($2US) reef conservation fee. There are also minimum ages for some activities.
Overall, this resort does a good job at appealing not just to kids, but to the entire family. When Kate and Jack were with their peers in Mini Club Med, their parents were able to spend time kayaking, playing tennis, and enjoying open-air dining. ("We really liked the fact that it didn't shut down at 9pm, that it could—and did, often—feel like a 'grown-up' vacation, and that it had an international flavor.")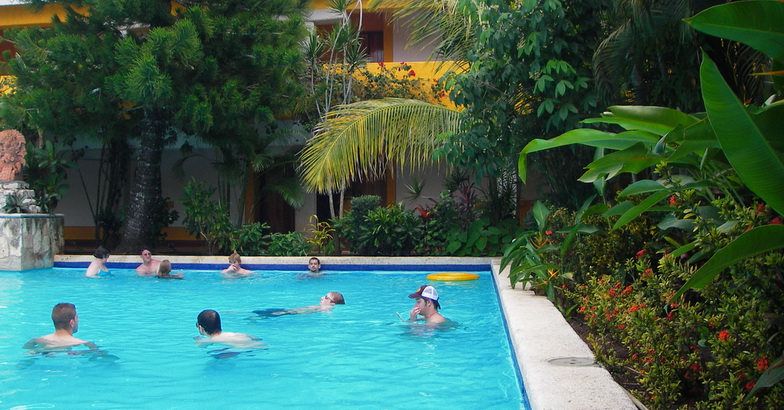 kwalbolt
Where to Eat: The food at Club Med Cancún Yucatán is both delicious and plentiful—a huge relief when you have booked an all-inclusive vacation. The resort has three restaurants, all tempting but with slightly different schedules and styles.
La Hacienda offers three buffet-style meals, with good service, four brightly decorated dining rooms and great lagoon views. High chairs and boosters are easy to come by. Dinners each night has a different theme—Mexican, sushi, French—and the Mansfields' only complaint was that the dinner service, which begins at 7:30pm, could be a bit late for the kids. The food offerings kept everyone happy, from adventurous eater Kate to slightly pickier Jack, who frequented the ample kid-friendly choices like pasta, chicken fingers and the like.
The other two restaurants are smaller, and perhaps slightly more adult-oriented. La Pergola, located near the reception building, is open for late breakfast, as well as for late lunch or snacks (from 4pm to 7pm) and evening tapas. The open-air Las Cazuelas, meanwhile, focuses exclusively on Mexican fare. It offers a late-lunch buffet and reservations-only dinner. Tip: Make dinner reservations soon after you check in.
Nightlife: Evenings are a fun time at Club Med. Some options are grown-up, such as dancing in the nightclub next to La Pergola. There are also family-friendly events, such as concerts with live bands, dance parties and screenings of movies, such as "Zorro." ("The area buzzes with activity well into the night.") One evening during the Mansfields' stay, a "Mexico Night" featured several local vendors selling jewelry, pottery and toys, as well as Cancún's omnipresent hair-braiding ladies. ("The vendors were a big hit with the kids, but most of the items are available farther up the Hotel Zone for less money.")
When parents want a romantic dinner for two, Club Med has them covered with two childcare options. For kids 4 and up, the evening Kids Club runs from 7pm to 9pm. Kids get dinner (parents can help little ones get situated), followed by an activity. For instance, on Fridays the attendees can have their faces painted, then take part in a "graduation ceremony." ("Jack showed up painted as Spiderman, and it took me 30 minutes to remove it! So if you don't travel with industrial strength make-up remover, caution your kids to go light on the face-painting.")
Another option: You can hire a local, certified babysitter through the resort (9pm-midnight; $17/first hour; $15 for each additional hour).
Where to Stay: There are three levels of accommodations: Club rooms (which have partial views of the ocean or lagoon), deluxe rooms (which have full views of ocean or lagoon, plus balconies) and suites (which also have full views and balconies).
The Mansfields had a two-bedroom oceanfront suite on the second floor of the Topacio building. ("The level of comfort was mid-range—just fine for beach accommodations.") Each room had bright accent walls painted red, fuchsia and orange, as well as dark tile flooring and dark-wood furniture. The sitting area featured a small purple couch, coffee table, a wall-mounted flatscreen TV, and a small refrigerator. Three closets offered plenty of storage. Sliding doors led to a balcony, with a chair and a small bench. ("While we had to keep the sliders closed at times when the wind brought in sand, we always had the drapes open because we couldn't get enough of the stunning view.") There was a king bed in the master bedroom and two twins in the kids' room. The bathrooms were on the small side, with a lack of counter space. ("If the four of us were sharing one room, it would have been a big drag.")
The Mansfields especially appreciated that Topacio was a three-minute walk to the pool, kids' club area, restaurants, and the beach. ("I loved our location—very easy.") The Obsidiana building has a similar proximity to the beach and the main hub of the resort. The Turquesa building sits closer to the pool area—but that means it could also be noisier. The Jade building is furthest away from the action, and therefore probably the quietest. ("But it's also a definite walk to the action—to my mind, a minus if you've got kids.") Likewise, a room on the second or third floors pumps up your view, but may not be worth it if you have strollers and gear to tote on a daily basis.
Note: Many rooms at Club Med Cancún have bathrooms with showers but no tubs. If your kids are bath-takers, you can request such a room when you book. Cribs and rollaways are available for free if you call the reception area. Internet access is available for $10 an hour.
Price Tag: Club Med's all-inclusive rates include room, all meals and most activities. ("There really weren't any hidden costs.") Prices for extras—excursions, rental car, and items in the gift boutique—are reasonable. A family of four paying full price on a one-week stay during peak season would spend $9,100, before airfare. Kids rates are discounted: Little kids 2 to 3 pay just 30% of the adult rate, while kids 4 to 15 pay 50%. Rates at the more upscale Jade Villa are slightly higher.
The good news: It's almost never necessary to pay full price at Club Med. There always seem to be online specials, which bring rates way down. At press time, for instance, we found these deals:
If you're a family of at least four, traveling during certain dates between April 26 and October 31, the 7-Night Family Escapes start at $1,000 per person.
Look for "Short Stay Specials" for 3-, 4- and 5-night stays, starting at $333 per adult for three nights, and half off that for each kid.
Insider Tips:
Register on Club Med's web site to get news of promotions sent directly to your email address—an easy way to pre-plan your trip.
Be sure to book your airport transfers, through Club Med or your travel agent, before you go.
It's hard to pry yourself away from the pool and beach, but Club Med Cancún Yucatán's eco-minded excursions are worth a day trip or two.
Stay in Topacio or Obsidiana buildings for a balance of low noise and easy access.
Request that your room have a bathroom with a tub if it's important to you.
You'll find cheaper souvenir shopping off the property—such as in Hotel Zone open-air markets.
Pack Ziploc bags for collecting shells