Ixtapa, Mexico
By Renee Petro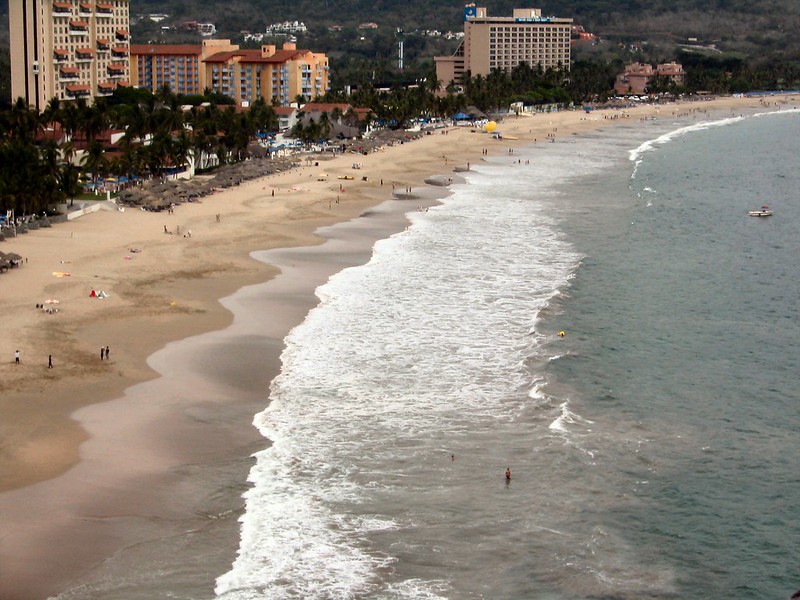 Why Go: For many people, the idea of a Mexican resort town conjures images of crowded beaches, crowded markets and, well, more crowds. That's not so with Ixtapa. Ixtapa as a destination was created by the Mexican government during the 1970s, just like its ever-popular cousin Cancún. A coconut plantation was mown down, and hotels started popping up. But unlike Cancún, this town on the Pacific coast has stayed comparatively quiet, often linked with its neighbor, quaint fishing village Zihuatanejo (or "Zihua," as locals call it).
Club Med Ixtapa Pacific was the first resort on Playa Quieta, north of Ixtapa's main two-mile hotel strip. The resort opened in 1982, during Club Med's heyday of swinging, kid-free adults. The vibe changed completely in 2007, when Club Med Ixtapa Pacific got a total facelift. Sixty two-bedroom "family suites" were created, standard rooms were enlarged, the décor became infused with sleek, contemporary lines and vibrant colors, and niceties such as flatscreen TVs appeared. The resort also introduced its Baby Club Med program for babies and toddlers—a program that sets Club Med apart from most family resorts.
Even so, the familiar structure of a Club Med vacation was left in place: Guests here are still called GMs (gentils membres, or "gracious members") while the gregarious staffers are known as GOs (gentils organisateurs, or "gracious organizers.")
Our correspondent, Renee Petro, had once visited another Club Med before she had kids, and equally enjoyed the kid-friendly version at Club Med Ixtapa Pacific. During an April visit, Petro and her husband and their three children (ages 14, 10, and 3) found that Club Med Ixtapa didn't miss a mark in keeping their family happy, comfortable and well entertained. The resort's all-inclusive nature was key to the trip's success. ("It makes life easy for kids and parents. There is plenty to do for every member of the family, and almost everything is covered at no additional cost. If the kids want Shirley Temples at the pool, soda at dinner, and unlimited visits to the restaurant buffet—why not?"
The capper was the slew of inviting activities. Besides the main pool and beach, there is tennis, mini-golf, soccer, ping pong, catamaran lessons, archery, basketball, volleyball, a climbing wall, inline skating and Club Med's signature circus school. ("It's the type of place where you feel comfortable trying new things, be it belly dancing, darts, or water polo. The goal is to have fun—you never have to worry about winning or being new to an activity. My kids were actually ready to get up and out by 8am for breakfast, since they were so excited about starting each day.")
Getting Oriented: The 34-acre resort is about 20 miles from Zihuatanejo airport. This is a relatively small airport and you'll likely need connecting flights to get here. The Petros were coming from NYC, so took a five-hour flight on Mexicana Airlines to Mexico City, then, after a short layover, a one-hour flight to Zihuatanejo. The smooth, 30-minute minivan transfer to and from the resort is free if you book your airfare through Club Med. Price the fares yourself before you take the offer. If you book your own flights, the airport-to-resort shuttle would cost you $10, and a cab about $35.
You can't walk much of anywhere from the resort, save a water taxi that takes you to Ixtapa Island, which has some restaurants and shops. It seemed to the Petros that most fellow guests didn't budge from the resort. ("Since the Club Med food is included and excellent, why bother leaving?")
Indeed, the Petros were happy to settle in at the Spanish hacienda-style compound. The central reception area includes the spa, fitness center and—parents of small kids will love this—an infirmary, where you can see a nurse for free during mornings or early evenings, or pay a fee to see a doctor by appointment. There is a small room off the lobby where you can use the hotel's computers for Web access ($10 a day or $50 for the week). If you bring your own laptop, you can get free wi-fi access in the pool area and in the newer family suites.
Just off the reception area you'll find the restaurant building (home of the buffet-style El Encanto and the reservations-only Luna Azul), the main pools and the first three buildings of guestrooms (the Pajaro, Muneca, and Cielo). Further down the lighted path you'll find the fourth lodging building, the Iguana, which has the best access to the kids' programs, circus school, rock-climbing wall and beach. Even so, the first three buildings are only about a five-minute walk from the beach and kids' clubs. ("We loved how convenient it was to walk to the main pool, shallow kid pool, restaurants, and beach.")
Getting Around: True to the all-inclusive promise, Club Med Ixtapa Pacific offers so much to do that you won't necessarily need to leave the resort during your stay. The resort can help you rent a car through several big-name agencies if you like, though, with rates starting at about $70 a day.
If you only want to venture out once or twice, Club Med has a Discovery Center where you can sign up for excursions such as golf, horseback riding, bike tours, deep sea fishing, shopping, or sightseeing in Zihuatanejo. ("We didn't see a need to do any of these options since it was so fun and busy at Club Med. Excursions didn't seem that popular.") The Petros did encounter a few families that enjoyed a swim-with-dolphins excursion; it costs $135 for each person, plus a $16 cab fare.
We Are Family: While plenty of resorts cater to kids 5 and up, Club Med distinguishes itself by extending its programs for babies and toddlers. The only catch: Neither Baby Club Med (for children 4 to 23 months old) nor Petit Club Med (for 2- and 3-year-olds) is covered in your all-inclusive rate. Both programs cost $68 a day for each child and are all-or-nothing: If you book for one day (done when your reserve your trip), you must book for every day, whether you end up using those days or not.
Petro felt that the extra expense was worth it, in part because it meant she could take advantage of other activities included in the rate. Three-year-old Ryan ended up attending Petit Club Med four out of six mornings. ("It gave him time to play with toys and other kids his age. This was my time to go for a swim, take a yoga class, get a massage, and try belly dancing. One day I took a water aerobics class while my husband went out on his own kayak adventure.") Families with small children who don't book the program can still participate in a daily (and free) mommy-and-me-style Baby Gym class.
Baby Club Med is divided into two factions: "Peanuts," ranging from 4 months to about a year old (where the ratio is 2 children for every GO); and "Rascals," which goes up to 23 months (with a 4-to-1 ratio). They share a colorful playroom in the Petit Club, filled with toys, baby swings and bouncy seats. There are separate rooms with high chairs and port-a-cribs, and a mini paddling pool outside. Parents can leave behind essentials such as formula and diapers, but there's no need to leave food. Club Med has a dedicated children's chef who prepares all-natural baby food for camp-goers.
The next level up is Petit Club Med, which Ryan attended. The staff ratio for kids in Ryan's group was 1 to 6. In Petit Club, kids play games, sing songs, do art projects, climb on both indoor and outdoor equipment and splash in the mini pool. Ryan created some art and enjoyed the riding toys, and he seemed to like the GOs just fine. ("The Petit Club GO staff were warm, friendly and nurturing. Some had nursery school and teaching backgrounds. I felt very confident dropping Ryan off to have fun with the other kids.")
Mini Club Med is for kids 4 to 10, broken down into three co-ed age brackets: Geckos (4-5), Iguanas (6-7), and Kids Club (8-10), with the groups kept to a limit of 8 to 10 kids per GO. At this level—the youngest club included in your rate—kids can take sailing or kayaking lessons, use the rock-climbing wall, or learn tightrope-walking, trapeze or juggling at the circus school (with lots of safety gear and supervision from GOs). Parents can join in afternoon activities such as tie-dying t-shirts, soccer, or sandcastle-building contests. Meals are eaten in the just-for-kids, buffet-style restaurant Sirena, where the tables and chairs are shaped like tree trunks, and kids can watch their chef grill meats and make pizzas or burgers.
Ten-year-old Sierra joined her age group for four morning sessions—kayaking, swimming, and circus-school lessons—and then often rejoined her group in the afternoon for the climbing wall. ("There were about eight kids in her group. The GOs knew everyone's name and helped kids connect with each other.")
The Junior Club Med program has two subgroups, for kids 11 to 13 and 14 to 17, and offers kids an even wider array of sports, including in-line skating, archery, and water polo. From what the Petros observed, there was a divide between the tween and teen guests who attended this program and those who stayed with their families or made friends on their own. ("The oldest teen group was the least populated of the kids' clubs during our visit. I think this is a good option for older kids who are really sporty or social. From what we observed, the teens in the program seemed to hang out in a small group, and they swam and ate together. There didn't seem to be a GO staffer following them around.") The Petros' oldest daughter, 14-year-old Gwen, preferred not to join in. Instead, she spent mornings on the rock-climbing wall and took teen and adult trapeze lessons in the afternoon. ("It was still a great vacation for Gwen. She got to swim out deep in the waves with her dad and Sierra. She got to order alcohol-free cocktails and smoothies at the bar. She got to try the trapeze tricks and take out a kayak on her own without a parent (for kids 14 and older). It was refreshing to see my girls actually swim together, play rounds of Ping-Pong, and watch each other's circus trapeze times. At home they either fight or ignore each other.")
Even kids who don't attend the morning programs can partake in a boatload of activities, such as the 45-minute circus classes or HipHop Kidz (starting at age 4), a dance class where kids work with a choreographer and then showcase their moves come evening. ("This was the most popular evening show of the week—cute, entertaining and impressive that they could learn so much in such a short amount of time!") Petit Tennis also starts at age 4, and guests can borrow balls and rackets (even kid-sized versions) for free. Kids between 4 and 7 can also take a "Mini Chef" half-hour group cooking lesson. There is no arcade at Club Med Ixtapa Pacific, but there is a game room with darts, foosball and a pool table, and there are Ping-Pong tables near the main pool.
After the kids' morning activities, the Petros typically reunited for lunch and then had pool and beach time together. Club Med's beach is about a half-mile long, with fine sand that's good for castle-building. The sailing and kayaking center is at the opposite end of the beach, with gear and lessons included in the rate. Though it isn't a private beach, the Petros saw only guests on the sand. There were no lifeguards, nor were there many vendors pushing wares or hair-braiding. ("We felt very safe and comfortable using the beach.") There were plenty of lounge chairs and hammocks, and the waves only seemed to get strong during late afternoon. ("The water is warm and gets deep gradually, so it's great for little kids to play and splash.")
There are four pools at Club Med Ixtapa Pacific: A big pool and a child's wading pool in the main area; a shallow pool in the Petit Club Med area and a small, adults-only pool on the far end of the resort. The Petros stayed in the main pool area for their swimming and never found it crowded or overwhelmed with kids. The main pool is entered by steps into a shallow area and then deepens to eight feet. The wading pool is also entered by steps but is three feet deep throughout. Lifeguards are on duty from 9am to 7 pm.
The Petros noticed that many people brought their own flotation devices or purchased them in the resort's boutique—but you may not need to do either. The Petros found plenty of available balls, floats, and noodles that had been left behind by previous guests. You can lounge in chairs with umbrellas or—if you grab them by 7am—stake out one of the coveted canopied (and waterproof) beds and sofas around the pool. There are two beach bars, the Miramar and La Perla; the latter does light snacks (pretzels, chips) and made-to-order drinks, while the Miramar is a good bet for a light meal when the buffets have closed.
One of the Petros' favorites times at Club Med was the poolside happy hour between 5pm and 7pm every day. It's a relaxed, festive time with live music, drinks, inflatable crocodiles, and swimming until the sun goes down. ("And such an amazing sunset to view and photograph!")
While the majority of guests were Americans or Canadians with kids spanning every age group, the GOs had come from as near as the United States or as far away as Europe and Africa. Whether they were making animal balloons or dancing with kids after the shows, the GOs seemed committed to keeping the fun going. Their service was always spot-on, too, whether it meant turning up a box of Trix cereal for a choosy 3-year-old's dinner, or tracking down a deck of cards. ("Parents told us that their younger kids became quite attached to their GOs, as well as an excellent kids' chef, Anthony. I saw a lot of hugging between kids and GOs when it was a child's last day.")
Where to Eat: Club Med Ixtapa Pacific adheres to the most important (if unspoken) law of the all-inclusive: good food, and lots of it. There are four restaurants, and their schedules overlap well enough that you should never go hungry.
El Encanto is the main, buffet-style dining room. Miramar is the poolside café and Argentinean steakhouse (reservations only, and closed Saturdays). The most grown-up option is Luna Azul, another reservations-only restaurant offering contemporary-fusion steak, seafood and chicken (kids are welcome, but most families choose other options). At La Sirena—the kids-only buffet of burgers, pizza, tacos, or even cooked fish and vegetable sushi—GOs escort young diners in the kids' programs for eating and then a show or dancing afterward.
The Petros heard good things about Miramar and Luna Azul, but stuck with El Encanto for most meals. Renee and her oldest daughter are both vegetarians, so the meat-oriented restaurants didn't hold much appeal, while Luna Azul's sophisticated menu didn't seemed a stretch for young Ryan's tastes. ("But we spoke with families who went with their kids and enjoyed the fresh fish choices and the excellent sit-down waiter service.")
Luckily, the Petros found that El Encanto had more than enough options to keep everyone happy. The buffet restaurant has five rooms, each with its own theme (botanical gardens, mirrors, masks, stars and aquarium). The Petros opted for the aquarium room at most mealtimes because the kids liked the huge TV screens that showed swimming fish. It was also geographically advantageous to the dessert and soda stations. They never had a tough time getting a table they wanted, and always felt there were enough boosters and high chairs for everyone to use. Most important, there was plenty of food that everyone liked. Breakfast featured chefs cooking omelets or crêpes and a spread of anything you could possibly want, down to bagels and lox. For lunch and dinner, the chefs might be preparing steak, sushi, Mexican specialties or other international dishes, depending on the theme of the day. ("The food was excellent and the staff never ran out of anything. They would always be bringing more food out from the kitchen or making new items right in front of you.") The kid-friendly options were extensive and varied throughout the day, from cereal boxes to quesadillas, burgers, pizza, plain pasta, and ice cream, cookies or flan. There was even a little station just for babies, featuring baby food, yogurt, cereal and a microwave.
Restaurants were mostly self-serve, but waiters were always on hand to offer coffee, tea, wine or beer. ("If you needed anything—extra napkins, coffee with cream and sugar—it was always a 'yes-can-do' from the wait staff. They were quick to clear tables of any extra plates, which was great if you didn't really want to remember how many plates of food you ate per meal!")
Nightlife: The family-oriented fun continues after dinner, when everyone takes a short walk from the restaurants to a theater to watch a 45-minute show organized by the GOs each night. There's singing, dancing, perhaps a trapeze act or even just light-hearted lip-synching—think big hair, spandex and Michael Jackson covers. Sometimes they ask for volunteers from the audience to join in, and often they showcase guest children, like the HipHop Kidz, who have learned a routine or new talent. It ain't Broadway, but it's definitely a crowd-pleaser. ("The shows can be silly and repetitive but they are fun and funny, and they show a lot of energy. Kids and adults had fun seeing the GO kids' club team, sports team, and other staff members performing on the stage.") At around 9:30pm each night, a second, hour-long activity cranks up that's a tad less kid-friendly—perhaps line dancing, salsa dancing or more singing.
You can also swim in the main pool, though no lifeguards are on duty in the evening. The Petros didn't see anyone using the pool in the evenings, and in general found that most people had called it a night by 10:30pm, except for some GOs. ("But they don't have kids!")
If you want a no-kids romantic evening to yourself—a quiet dinner or dancing in Miramar after the shows—you can book kids 4 to 12 in the Pajama Club program from 7pm to 1am ($22 per child). Participating kids stay together in one, mixed-ages group, while the GOs take them to dinner at Sirena and then to both shows, and afterward they hang out in the Petit Club Med room. The Petros never saw any kids there after 10pm. Booking is easy—you just sign up at the Petit Club Med room by 2pm on the day you want the service.
Where to Stay: All 298 rooms at Club Med Ixtapa Pacific were revamped in 2007, including 60 new "family suites" that let families spread out in separate bedrooms.
There are three levels of accommodations distributed among four three-story hacienda-style buildings. The most basic are club rooms, which are about 360 square feet and offer either one king or two twin beds and a bathroom with shower. At the next level up, deluxe family rooms offer almost 600 square feet and include a king bed, a separate bedroom with two twins and a trundle, and a bathroom with shower. Lastly, there are 60 family suites of roughly the same size and makeup of a family room but with a sofa in the main room, a stocked mini-fridge, free Internet, laundry service, evening turn-down and a room-service option.
At all three room levels, you get a mini-fridge, flatscreen TV (with a few American movie options), generous closets and bureaus, coffee-maker, hair dryer and air-conditioning. You can (and should) request an ocean view with terrace for any room level; non-ocean views have you overlooking garden areas. All the rooms are decorated with a retro-chic vibe, infused with hot colors—perhaps striped wallpaper in vibrant blues and purples, red pillows or even swirly murals.
If you're traveling with a baby or toddler, you can borrow a trove of helpful extras for free, including a stroller, port-a-crib, changing table, baby bath, high chair, bottle warmer, potty seats or toddler cot. Your room key will also give you 24/7 access to a room in Baby Club Med where you can make use of blenders, bottle warmers, and a large fridge.
The Petros booked two connecting club rooms on the ground floor of the Muneca building. ("This option worked out great for our family since it provided two complete bathrooms and showers, plus it gave the girls the option to stay up to watch TV without bothering us or their little brother.") They greatly appreciated that the housekeeping staff kept things tidy without rearranging their belongings. ("We're a family that leaves around a lot of magazines and papers that may seem like trash, but it's really our stuff!")
Petro only had one tiny beef with their accommodations: the installed hair dryer was set up inconveniently, too far from a mirror. Otherwise, she was very happy with their space. ("You had enough room not to feel like you were walking into furniture. It wasn't luxurious, but it was an inviting place to sleep and relax.")
If the Petros were to come back to this resort, they might request the Pajaro building, since it's closest to the resort's central hub. ("But there really isn't a building that has to be avoided due to noise, traffic, or anything that could take away from a great vacation.")
Price Tag: Club Med's all-inclusive rates include room, all meals, beverages, and most activities. Notable add-ons include the kids' programs for tots under 4, and the evening program. Petro never encountered any hidden fees, and even found some surprisingly good values in the gift shop, where a souvenir tee-shirt cost $20, a big bottle of Sunscreen SPF 70 cost $15 and a candy bar cost a buck. ("One day there was a bathing suit sale where you could buy two suits for $30. Where could you find a better deal for cute and high-quality suits?")
Overall, the Petros felt that their vacation was a great value, between not having to repeatedly dip into their wallets and not needing to rent a car. ("What a relief.") Not only would Petro go back, but she'd happily recommend it to most of their friends. ("Though I wouldn't recommend this resort to someone who likes a luxury, 'best you can buy'-type of vacation. And I would note that there are no motorized watersports, scuba, or golf. But this would be a very good match for my friends with kids. You can't find a better kids' program and there is so much for adults to enjoy, too.")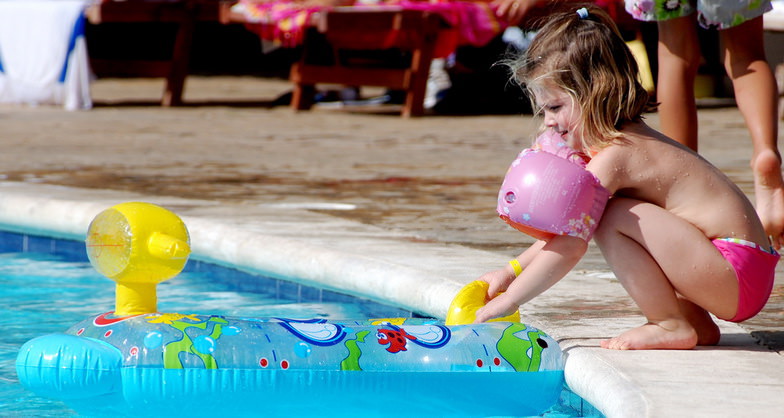 A family of four paying the rack rate on a one-week stay during peak season would spend $9,100, before airfare. Kids' rates are discounted: Little kids 2 to 3 pay just 30% of the adult rate, while kids 4 to 15 pay 50%.
Now for the good news: It's almost never necessary to pay full price at Club Med. There always seem to be online specials, which bring rates way down.
Insider Tips:
About a week before your stay, call Club Med (800/CLUB-MED) to fine-tune your reservation and put dibs on a good room. Ask for a building close to the center of the village, such as Pajaro. Request the ground floor if you'll have a stroller, since there are no elevators.
Ixtapa is close to the equator, so remember hats and a high SPF lotion.
To get good seats for the evening GO shows, get to the theater 15 minutes early.
Don't miss the excellent, freshly squeezed juices at pool bar La Perla. Typically, there's a choice of orange, grapefruit, carrot or lemonade. For the best coffee and cappuccinos, head to the Miramar bar.
Set your alarm if you want to snag a poolside canopy bed—they're typically gone by 7am.
If you're going to eat on El Encanto's gorgeous oceanview terrace, make it for breakfast. Lunch means a hot sun and at dinner, "all-inclusive" refers to bugs, too.