Where to stay at Disney World
By Leah Wood of Leah's Customs Travels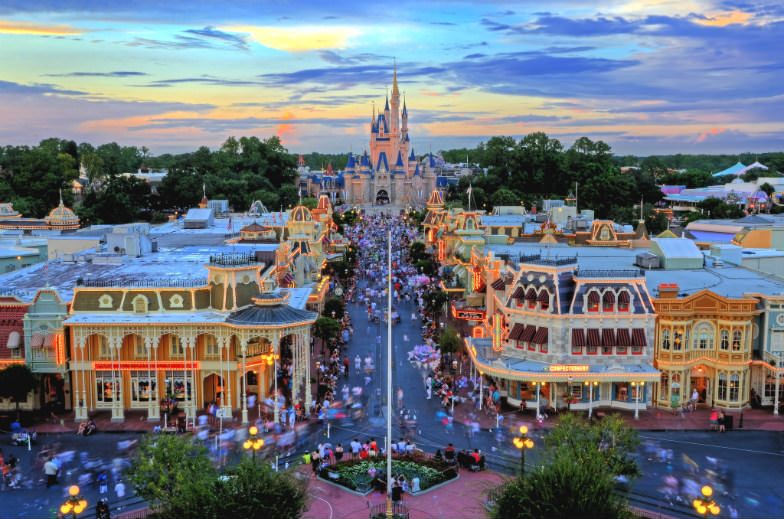 Disney World (Flickr: Atiq Nazri)
When planning your family Disney World vacation, one of the biggest decisions you make is whether to stay onsite at a Disney World resort or stay off-site at an area hotel or vacation home. This is especially important to families with special needs. As a Disney veteran, I've stayed both onsite and off, and there are advantages to both options.
(TRIP PLAN: See how a MiniTime family of four spent their 11-day Disney World vacation.)
ONSITE
If your family chooses to stay at a Disney World resort, Disney gives you extra perks.
1. Magical Express: Magical Express is Disney's transportation from the Orlando Airport to your Disney World resort. When you check your bags at your home airport, they are transported to your hotel without you ever having to go to baggage claim. They are placed in your room at your resort. It may take up to 4 hours after you check in but you don't have to lug bags and children through the airport.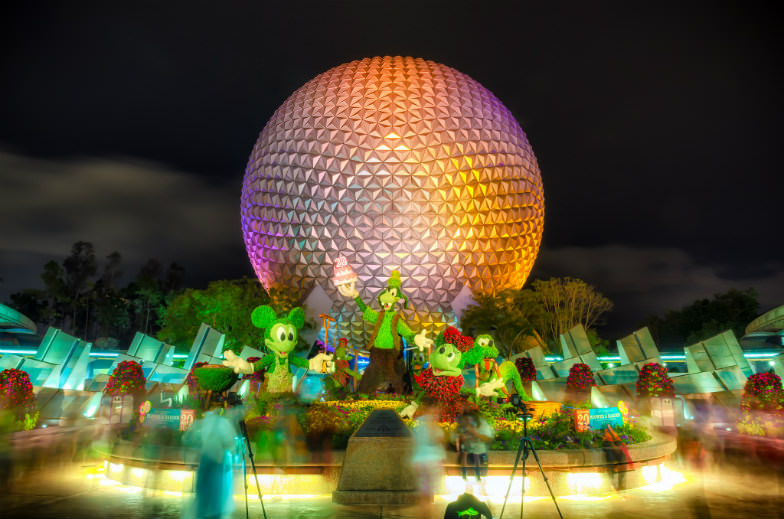 Epcot at Night (Flickr: Christian Lambert)
2. Extra Magic hours: Extra Magic Hours is on certain days one park is open 1 hour early before it's open to the general public or 2 hours after the park closes to the public. This is advantageous to families with special needs because these times are quieter and children will get more personal time to explore.
3. Disney Dining Plan: Another perk is the ability to pre-pay for meals at Disney World parks and hotels. The Dining Plan allows for resort guests to try restaurants that are usually out of their price range. For example, Hoop Dee Doo Revue is almost $60 for each adult, on the Dining Plan you would simply use 2 table service credits. That frees up money for other things.
4. Free transportation: Disney provides free transportation by bus, boat or monorail from every Disney World resort to their parks. They run regularly throughout the day and start 1 hour before parks open and 2 hours after parks close. Therefore, when you have a child that's overloaded, one adult can return to the resort, while the other members of the group can stay in the parks. Also, everyone can come back to the room when they get tired and then return when they're refreshed. Side note: parking is free to all Disney resort guests, just show your room key and you're in.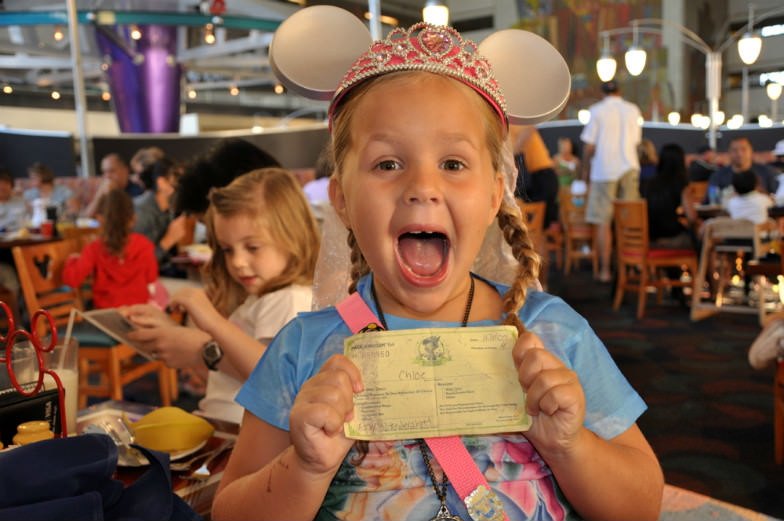 All smiles with her Disney fast pass (Flickr: Serena)
5. Fastpass: The newest perk for onsite guests is the ability to pick their Fastpass selections 60 days before arrival. With Extra Magic Hours, you can see all of your favorite attractions and meet and greets without too much stress.
OFF-SITE
With all those onsite perks, you're wondering why in the world would a family choose to stay off-site. There are some advantages too.
1. Cheaper: It is cheaper to stay off-site. For the price of a value resort, you can get a bigger hotel room with more amenities or even rent a house. It gives people a chance to spread out and escape the chaos of Disney. The Disney "magic" is muted and it gives overloaded children and tired adults a chance to relax. If you rent a house, everyone can possibly have their own room.
(MORE: Find highly recommended kid-friendly hotels to stay near Disney World.)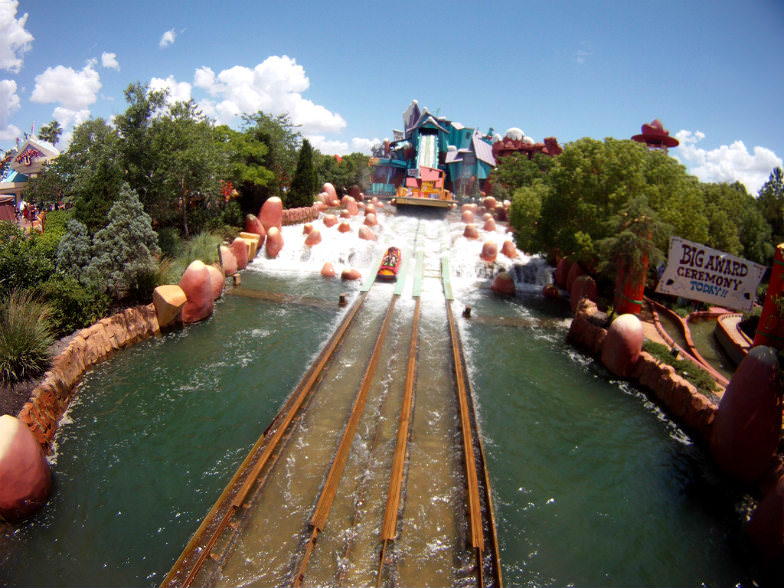 Islands of Adventure at Universal Studios (Flickr: Gordon Tarpley)
2. Other attractions: Staying off-site means you have more chance to explore other area attractions. Orlando has many other places that attract families on vacation. For instance, Universal Studios Orlando or the Wonder Works Museum>; both are no more than 10 minutes away from Disney World and are a nice addition to a family vacation. My family really enjoyed Wonder Works and asked to go again on our next trip to Disney World.
3. Chance to eat like a local: There are many restaurants along Highway 95 and this foodie's paradise is offering both new eats and familiar fares. If you have picky eaters eating outside of Disney World will give them a taste of the familiar. One place that our picky eaters love is Bubbalou's Barbecue on Apolka Place — great barbecue for a small price. When you're driving up, you can literally smell the luscious barbecue. We got a serious picnic for $30.
Whether you choose to stay onsite at a Disney resort or off-site at area hotels, just remember that the wrong hotel can ruin any vacation. Choosing the right hotel is especially important for families with special needs. Here is a helpful reminder of the advantages to both hotel choices.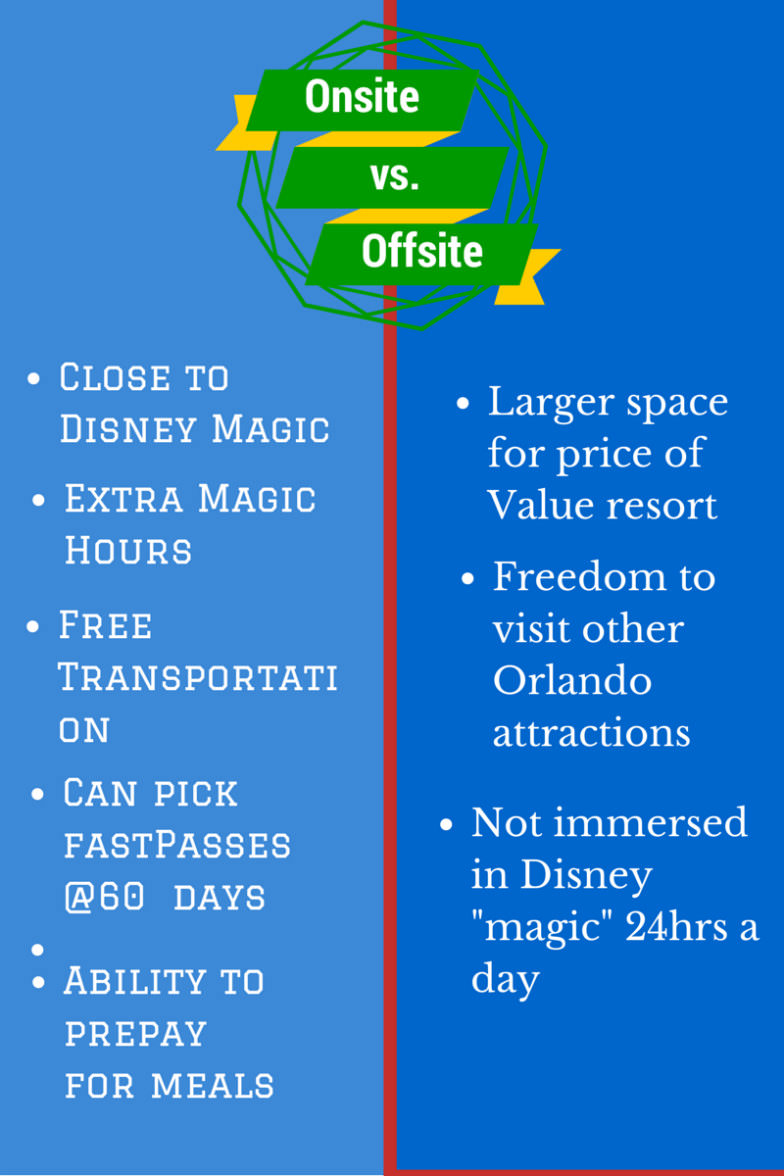 Onsite vs off-site (Credit: Lead Wood)
Leah Wood contributed this to MiniTime.
Leah's Custom Travels specializes in vacation planning services for families with Special Needs to all US destinations especially to Disney Parks, Universal Studios and SeaWorld.