Beauty and the Beach
By Suzanne Rowan Kelleher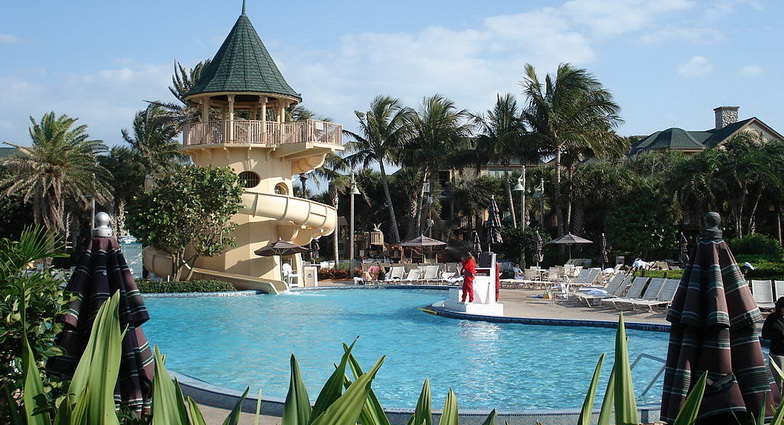 Pool Area at Disney's Vero Beach Resort (Flickr: Kookaburra2211)
Why Go: Close your eyes and imagine an idyllic Florida beach vacation. Perhaps your mind's eye sees a grand, old-fashioned inn set alone on an endless stretch of pristine sand. There isn't a high-rise in sight, that's for sure. It's gotta be a family place, conceived for carefree lolling by the pool and long walks on a crowd-free beach. Parents can introduce their kids to time-tested, low-tech pursuits like croquet, shuffleboard, horseshoes, fishing, and miniature golf. At night, there are campfire sing-a-longs with s'mores and the promise of being serenaded to sleep by waves lapping on the shore. Here comes the surprise: This dream is brought to you by Disney.
Disney's Vero Beach Resort is one of eight Disney Vacation Club membership resorts, and one of just two located outside Walt Disney World in Orlando. The setting is truly breathtaking: Dozens of acres of prime beachfront on one of Florida's most glorious stretches of sand. The inn's architecture harkens back to turn-of-the-20th-century Florida, with a striking rooftop of peaks and gables and a pleasing sand-colored facade that complements, rather than competes with, the natural surroundings. Wicker rocking chairs are set out invitingly on shady verandahs that face the sea, while verdant gardens are defined by curving footpaths and neat-as-a-pin picket fences.
For our correspondent, Suzanne Kelleher, and her family, a trip to the Vero Beach Resort was infinitely more tranquil than previous Disney vacations. As always, Disney's signature service is provided by well-trained staff ("cast members" in Disney parlance) and the famously meticulous attention to detail is evident. But, aside from a weekly breakfast with Goofy and his son, Max, in the inn's main restaurant, characters keep a very low profile. Center stage is shared by the gracious Old Florida atmosphere, spectacular surroundings, and menu of family-friendly activities. ("This is the antithesis of a theme park experience. The only soundtrack is the pounding surf, which you hear wherever you go. A vacation here is about slowing down and relaxing.")
Getting Oriented: Disney's Vero Beach Resort is set alongside the Atlantic on central Florida's Treasure Coast, about 81 miles north of Palm Beach and 97 miles southeast of Orlando. The nearest airports are in Melbourne and Palm Beach, with drive times of about 45 minutes and 90 minutes, respectively.
The resort sits on a barrier island that's linked by a causeway to Vero Beach, a town known for its enclave of affluent winter "snowbird" residents. Locals knew Florida long before overdevelopment and strip malls, and cherish the artsy, small-town feel. Disney's 71-acre oceanfront grounds straddle the A1A, a state road that bisects the island lengthwise and runs parallel to the mainland coast. On the Atlantic side of the A1A, a sweeping circular entrance leads to a 115-room inn, a stately, five-story affair that exudes plenty of Old World charm, though the resort opened in 1995. The three-story lobby features a massive triple-tiered chandelier and a turned staircase that leads to the second floor. Spindled balconies on the second and third floors overlook the reception area. This building is the hub of the resort, with two restaurants, a lounge, and a Disney gift shop. As you exit the inn and look toward the ocean, you see a manicured croquet lawn surrounded by lush shrubbery, with the dunes and the beach just beyond. From a rocking chair on the front porch, you're only 30 yards from the beach. Sprawling on either side of the inn are three villa buildings and six private, two-story beach cottages. The footpath linking all the buildings and recreational areas is edged with tropical gardens and the occasional palm tree.
Since the resort spreads out along the beach, no building or recreational pursuit is far from the water. Adjacent to the inn is the pool area, which includes Disney's trademark "Community Hall" recreation building, a toddler play area, and a 9-hole miniature golf course. Behind the Community Hall, an underground passageway runs under the A1A and emerges on the other side near the banks of a small lake. (A touch to make Uncle Walt proud: Pedestrians are treated to piped Disney music.) There's a nice lakeside picnic area, with a barbecue pavilion and grills, a horseshoe pitch, soccer and archery fields, and tennis and basketball courts. The lakeside area of the resort is equally accessible by car and offers ample parking.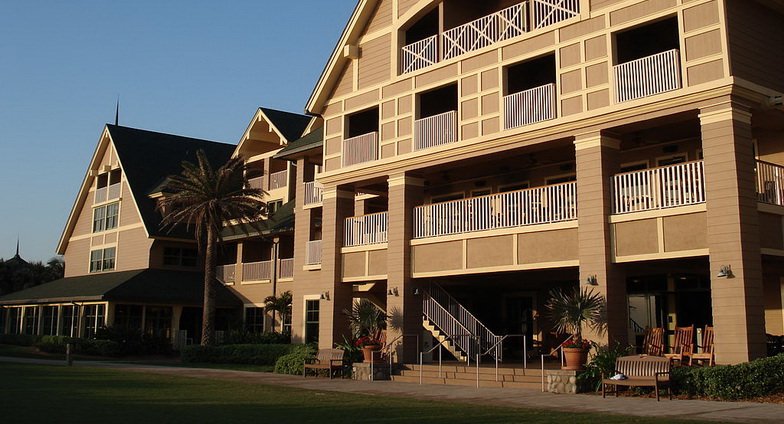 Disney's Vero Beach Resort boasts great amenities. (Flickr: Kookaburra2211)
Getting Around: Though you'll likely spend significant time at the resort, a car comes in handy for quick trips to the supermarket to restock your refrigerator and to explore the collection of shops and restaurants in Vero Beach. The inn and three villa buildings feature free underground parking garages.
We Are Family: Predictably, the clientele is made up substantially of families. Even so, the quiet beach and top-drawer service attracts plenty of couples and seniors come without children.
The approach to the beach, via a small boardwalk leading off the pool area, does little to prepare you for the wonderful expanse of sand. Though narrow, the beach is blessedly unspoiled and private. ("Very often, we could gaze all the way down the shoreline without spotting another soul.") Located just south of Sebastian Inlet, the Surf Capital of the East Coast, Vero Beach boasts excellent sand quality and is a trove for seashells and sharks' teeth. And, because there's also significant surf and tidal action, the beach appeals to strollers and surfers in equal measure. Note: There is no lifeguard at the resort's beach. The depth drops off quite quickly, and there is a strong undertow. Be vigilant with small children and unconfident swimmers.
There's a beach rental shack at the top of the boardwalk, but making yourself comfortable sure does add up quickly: Canvas chairs ($9/day guest, $7/day DVC member), lounge chair cushions ($12/day guest, $9/day member), umbrellas ($12/day guest, $10/day member), and cabana hoods ($15/day guest, $12/day member). For fun in the surf, you can also rent boogie boards ($12/day guest, $9/day member), 30-minute sessions on WaveRunners ($60/guest, $55/member), Hobie Cat sailboats ($60/hr guest, $55/hr member), and sea kayaks ($25/hr guest, $20/hr member).
The other hub of activity is the swimming pool, which is open daily from 8am to 10pm. The freeform, curvy shape vaguely resembles Mickey Mouse, with two sets of broad steps that lead into their respective shallow ends. The water deepens gradually from three feet to a maximum of over five feet in the center of the pool. (Note: You can borrow Styrofoam noodles and life vests at no charge from Eb & Flo's Rentals, which is located at the pool area.) The pool's focal point is a three-story mock lighthouse. Climb the spiral stairway to the top, and you'll be rewarded with a spin down a 163-foot waterslide that wraps around the building twice before dumping you into the pool below. ("The slide is great fun, and fast but not too scary. Even our 3-year-old went on it over and over again, always with one parent at the bottom to catch him.") Freshly laundered towels are available poolside free of charge, and you can buy fun frozen drinks and light meals at Bleachers Bar & Grill. ("It was great to have the option of eating lunch at the pool without having to get changed.")
For preschoolers, there's a terrific splash area featuring a large pirate play ship with squirting cannons, cargo nets, a captain's wheel, a mini waterslide, and a masthead topped with a flag emblazoned with Mickey. Right next to the ship is a dry play area built atop a plot of flour-soft sand, with a climbing gym and a small corkscrew slide. Beyond the toddler area but still inside the pool area is a 9-hole miniature golf course.
The HQ for recreational pursuits is Eb & Flo's Rentals. There's free equipment rental for croquet, ping-pong, bocce, basketball, volleyball, soccer, and shuffleboard. For a fee, you can rent bicycles ($7/hr guests, $5/hr members) or equipment for mini golf ($2/round guests, $1 members) or tennis ($5/day guests, free for members). Next door to Eb & Flo's is Blinker's Arcade, a small room with nine arcade-style games and an air hockey table. For quiet, indoor activities like crafts and board games, head to the Community Hall.
This resort is not so much kid-centric as family-centric. You don't check your children into a kids' club and part ways for the day. Instead, the resort's organized programs emphasize activities that families can do together. When you arrive at the resort, you'll receive a weekly listing of organized "Playful Pastimes," most of which are targeted at families with elementary school-age kids. The roster is impressively rich and exhaustive, with 20 to 25 activities scheduled on any given day and plenty of stand-outs. Sign your kids up early for the very popular "un-birthday party" (ages 4 to 10), offered three times a week. Or try a class in "Fishing FUNdamentals" (7 and up), where kids learn the basics of catch and release and get to keep their rod and reel. Register early also for "SnorkelEars" (ages 7 to 15), an in-the-pool beginner's class where kids get to keep their masks and snorkels. Another exceptional opportunity is the four-hour kayak adventure (8 and up, must be accompanied by adult).
All activities are led by cast members and run the gamut from old faithfuls like scavenger hunts, sandcastle building, and bingo to mini golf tournaments (10 and up), archery (9 and up), harmonica lessons (7 and up), ball and jacks (6 and up), and kickball (6 and up). Arts and crafts also figure very prominently, with everything from watercoloring and collage art to designing t-shirts and baseball caps to creating bead jewelry and decorating seashell bags. While most activities are free, some carry a fee to cover the cost of supplies, ranging from a few dollars to $20. The mood at these activities is low-key but friendly and fun. ("The cast members were great with the kids and the activities were very engaging, particularly for my two oldest children.")
The marquee family activity happens in June and July, during sea turtle hatching season. Families can join a naturalist for nighttime turtle walks, and learn more about the incredible, endangered creatures (8 and up). Sign up early, since space is limited.
Though some teens may find the overall atmosphere a bit quiet, this resort does an admirable job of offering a wide range of activities for teens, from yoga and scuba (both 12 and up) to dodge ball, volleyball, capture the flag, and teen trivia contests (all 13 and up). They can also participate in many of the previously mentioned activities such as the sea kayak adventure and turtle walks.
Finally, parents can unwind with a massage, a sauna, or a workout at Anchors A-Weigh Fitness Club.
Where to Eat: There are four places to eat at the resort:
Shutters is the main restaurant, open daily for breakfast, lunch, and dinner. In the morning, the menu consists of favorites like eggs and omelets, frittatas, pancakes, French toast, and Disney's famous Mickey Waffles. The Saturday morning character breakfast is extremely popular. For lunch and dinner, the menu offers up tasty casual fare, from Caesar salads, club and Cuban sandwiches, and sirloin burgers to more refined options like grilled mahi-mahi and bacon-wrapped pork tenderloin. The children's menu offers grilled cheese and PB&J sandwiches, cheeseburgers, grilled chicken breast, chicken strips, macaroni and cheese, hot dogs, pizza, and Mickey Mouse raviolis. There are also healthy side dishes available, such as fruit and a garden salad. Kids receive coloring and activity sheets and crayons while they wait to be served. (Weekday breakfast average entrée $6.50/adult, $4.99/child; Saturday character breakfast $13.99/adult, $9.99/child; Lunch average entrée $9.99/adult, $5.99/child; Dinner average entrée $18.99/adult, $5.99/child).
Sonya's is the slightly more formal, white-tablecloth choice, open for dinner only during the latter half of the week and on Sunday morning for a copious buffet brunch. The dinner menu features a wide selection of beef, poultry, and seafood dishes, including a signature dish of lobster tails and steak. The children's menu is identical to the one offered at Shutters. (Sunday brunch 10am-2pm $21.99/adult, $11.99/child; Dinner Thurs-Sun 6pm-10pm; Average entrée $27/adult, $5.99/child.) The Green Cabin Room, on the second floor, is a clubby bar and lounge that serves cocktails and other beverages, plus snacks and light fare, such as mozzarella sticks, chicken tenders, salads, club sandwiches, and pizza. (Open daily 11:30am-10pm; Average item $8.)
Bleachers Bar & Grill is a poolside snack bar with counter service. In addition to a selection of frozen tropical drinks and ice cream treats, light meals include nachos, burgers, hot dogs, chicken pita sandwiches, and salads. The kids' meals get served in a small beach pail with a shovel and include fruit and a jumbo cookie (Average item $6.25/adult, $5.99/child.)
In addition, room service is available daily, 7am to 10am and 5pm to 10pm
Nightlife: The evening scene at the Vero Beach Resort is unabashedly family-oriented. If you want to have an adults-only evening with dinner and a few drinks, it makes sense to book a 6pm table for two reasons. First, the restaurants and lounge shut up at a saintly 10pm. And that timing will coincide with the evening kid's club that runs from 5pm to 8pm. Kids between 4 and 12 can attend the Disney Discovery Club, known as 2Dc, for a few hours of games, crafts and other counselor-led activities, plus a kid-friendly dinner ($35/child for guests; $30/child for members). Note: As an alternative to dinner out as a couple, the resort offers a wine tasting workshop once a week.
The family can regroup at 8:30pm for the family sing-a-long that's held around a classic campfire ring, complete with a sandy pit and log benches. The counselors are very good at eliciting crowd participation, so get ready to impress (or embarrass) your kids with your repertoire of standards from summer camp, like "Little Bunny Foo Foo," "Bazooka Bubblegum," and "Hi, My Name is Joe." The evening ends with marshmallow roasting and s'more-making.
The resort also offers in-room babysitting for children aged 6 weeks to 12 years old. The service is provided by an outside agency called Kid's Nite Out. In-room babysitting costs $14 per hour for the first child and $2.50 per hour for each additional child, plus a flat $10 transportation fee.
Where to Stay: Request a room on an upper floor facing the ocean. Oceanview rooms offer that all-too-rare prize: A blessedly unobstructed, perfect vista of the Atlantic. From your balcony, you'll feel almost close enough to dive in. ("We had a truly amazing view of the water, and the constant sound of the breaking waves was incredibly relaxing. Watching the sunrise each morning was a divine way to start the day.")
Units come in five sizes, all with air conditioning, private balconies or patios, and cable TV. Rooms are decorated in a soft sea-and-sky palette, with rattan furnishings, framed illustrations of seascapes, and quality fabrics and designer touches that deliver a relaxed yet luxurious feel. The villas and cottages are particularly well-appointed, with granite kitchen countertops and large Jacuzzi tubs in the master bathrooms.
Kelleher's family stayed in a deluxe inn room, which was comfortable for a two-night stay with three small children, but "it would have felt cramped if we stayed for a week or if our kids were older." These 360-square-foot rooms sleep four quite comfortably with two queen-size beds, a desk, a small table with two chairs, and a wet bar with a small refrigerator, microwave, and coffeemaker. The next size up, a studio, has 375 square feet of space. The big difference between an inn room and a studio is that the studio has one queen-size bed and a pullout sofa instead of two queen-size beds.
One-bedroom villas are a significant step up in size and perks. At a roomy 880 square feet, these units feature a living room with a pullout sofa, cable TV with a DVD player, plus a full kitchen that includes a stovetop and oven, refrigerator, dishwasher, coffeemaker, microwave, plus pots and pans, dinnerware, and cutlery. A stacked washer-dryer unit is tucked neatly into a closet. The master bedroom has a king-size bed and a bathroom with a separate shower and a Jacuzzi.
The two-bedroom villa has close to 1,300 square feet. Most often, the floorplan is a "lockout," which means that the unit is made up of a one-bedroom villa adjoined to a studio through an interconnecting door.
The largest possibility is the three-bedroom duplex beach cottage, with over 2,100 square feet and enough room for 12 people. This option combines the ultimate in privacy with the services of a first-class resort. The bedrooms are downstairs. The master bedroom has a king-size bed and a bathroom with a Jacuzzi tub and separate shower. The other two bedrooms each have two queen-size beds and a full bathroom. Upstairs, there is a large open-plan living and dining area and a fully-equipped kitchen. There are two very spacious balconies upstairs, off the living area and the kitchen, and a large porch downstairs that opens off each of the bedrooms. The beach cottages are less than 25 yards from the beach and offer extraordinary views.
For families with babies and young tots, there's a portable travel crib in every villa. If you prefer, the resort will set up a full-size crib in your villa free of charge.
Price Tag: You don't have to be a member of the Disney Vacation Club to stay at Disney's Vero Beach Resort. Guests can book directly through Disney's reservations system (407/939-7540), or buy points from an existing DVC member. For more details, see our introductory article on the Disney Vacation Club.
If you book through Disney's reservations system, the 2006 rack rates for Disney's Vero Beach Resort fluctuate according to a five-season pricing schedule: Value, Regular, Summer, Peak (February and March school breaks), and Holiday (April school breaks and the last ten days of December). Consequently, a studio that costs $169 a night in September will sell for $309 a night during the week of Christmas. An ocean view inn room will run between $185 to $365, from value to holiday season. The villas offer wonderful value-for-money, considering how spacious and conveniently equipped they are. The nightly rate for a one-bedroom villa runs between $255 and $440, depending on travel dates. A two-bedroom villa starts at $335 and slides up to $660. A three-bedroom beach cottage runs from $720 to $1,135, depending on dates.
Note: Your bill will reflect an 11% county resort tax on top of the quoted prices.
Insider Tips:
Since the only opportunity for meeting characters is at the Saturday morning breakfast with Goofy and Max, be careful to prepare small children for a different kind of Disney vacation. If the word "Disney" is synonymous with favorite characters, downplay the Disney name and focus pre-trip conversations on the beach, pool, and fun activities. That way, every sighting of a Disney detail will be a fun surprise.
Save money by stopping at a grocery store to stock up on provisions. Consider buying cheap beach chairs and boogie boards off-site, too, since they are expensive to rent at the resort. (If you don't want to bring them home, donate them to another family on the day you depart.) Ask the concierge to direct you to the nearest Wal-Mart or other major retailer.
Disney's "refillable mug" is available at this resort for $11.99. Once you pay for the mug, you can refill it for free with the non-alcoholic beverage of your choice for the duration of your stay.
Looking for an inexpensive souvenir? In the children's waiting room off the lobby, there's a vintage-style machine that presses pennies into copper ovals stamped with an emblem of the resort. The cost is just 50 cents, plus the penny.
It's vital to pre-book the Saturday morning character breakfast and Sunday morning buffet in advance of your trip. These breakfasts are so popular with locals and Treasure Coast tourists that guests of the resort are sometimes not able to get a table.
Pack insect repellent, especially if you plan to attend the evening campfires. This part of Florida is known for "no see 'ums."
Baseball fans take note: Vero Beach is the location of the L.A. Dodgers spring training camp in March. Ask the concierge about how to attend practice sessions.