Great kid-friendly things to do in Chicago
By Josephine Levin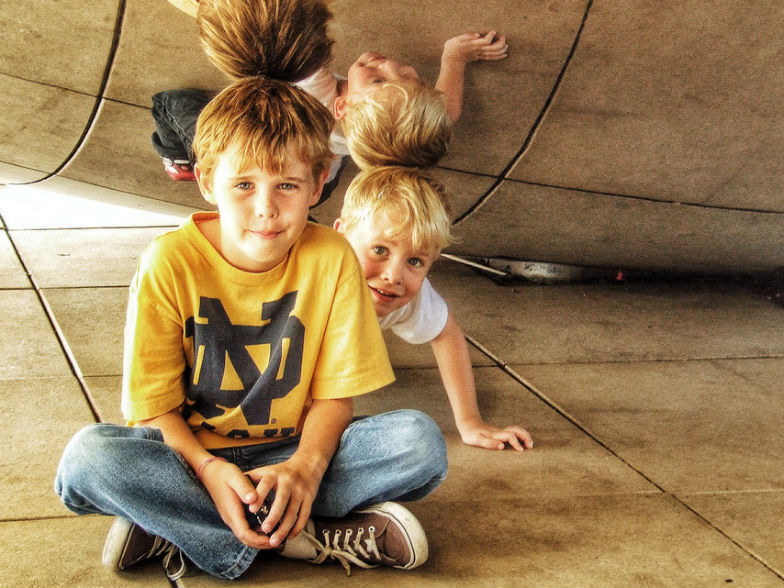 Kids under Chicago's Cloud Gate (Flickr: Ron Frazier)
If you and the kids are visiting the great city of Chicago but only have two days to spend there, don't fret. There are several ways for families to get the most out of the Windy City, even with the limited time you have, see many of the best kid-friendly attractions there – including its impressive architecture, beautiful parks and fantastic museums, and still have a lot of fun with the kids.
Here's one great way to do spend your two-day vacation with the kids in Chicago.
Day 1: Grant Park and Millennium Park
Morning: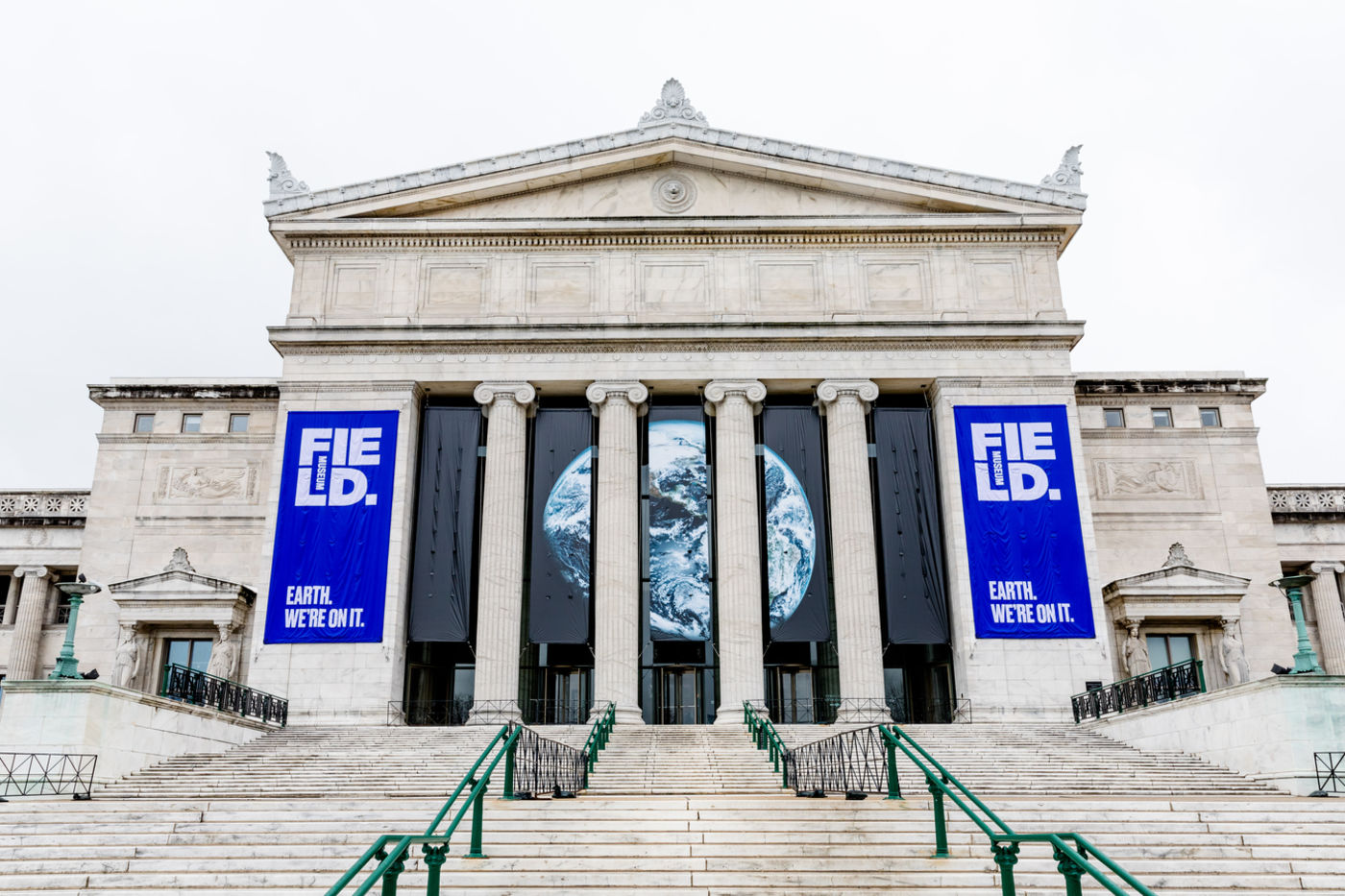 The Field Museum of Natural History (The Field Museum)
9 am. The Field Museum of Natural History (1400 S Lakeshore Drive) shows the history of life on the earth and offers special kid-friendly programs like Meet a Scientist and Dozin' with the Dinos. Admission price also includes free entrance to the Crown Family Play Lab (Thursdays through Mondays from 10 am-4pm, with the last admission at 3 pm).
10:30 am. From the Field Museum, head north until you come to the Clarence F. Buckingham Memorial Fountain (301 S Columbus Drive) in Grant Park. This is one of the world's largest fountains and one of Chicago's most popular tourist attractions. The Fountain operates for 20 minutes every hour between April and October sending a spectacular water display 150 feet into the air. At dusk, there is also a light and music display.
11 am. From Buckingham Fountain, head straight north until you come to the Lurie Garden at the southeastern end of Millennium Park (201 E. Randolph St., between Michigan Ave. and Columbus Ave). Lurie Garden is an amazing five acre award-winning urban oasis of North American and local Illinois plants and shrubs. It is also the world's largest rooftop garden built over underground parking garages. Guided 20 minute walking tours are offered on Thursdays, Fridays (11:00-13:30) and Sundays (10:00-13:30), May 5-September 22. 10 No registration is required.
Lunch:
Giordanos Park (130 E Randolph St) at Millennium is famous for its stuffed pizza.
Afternoon: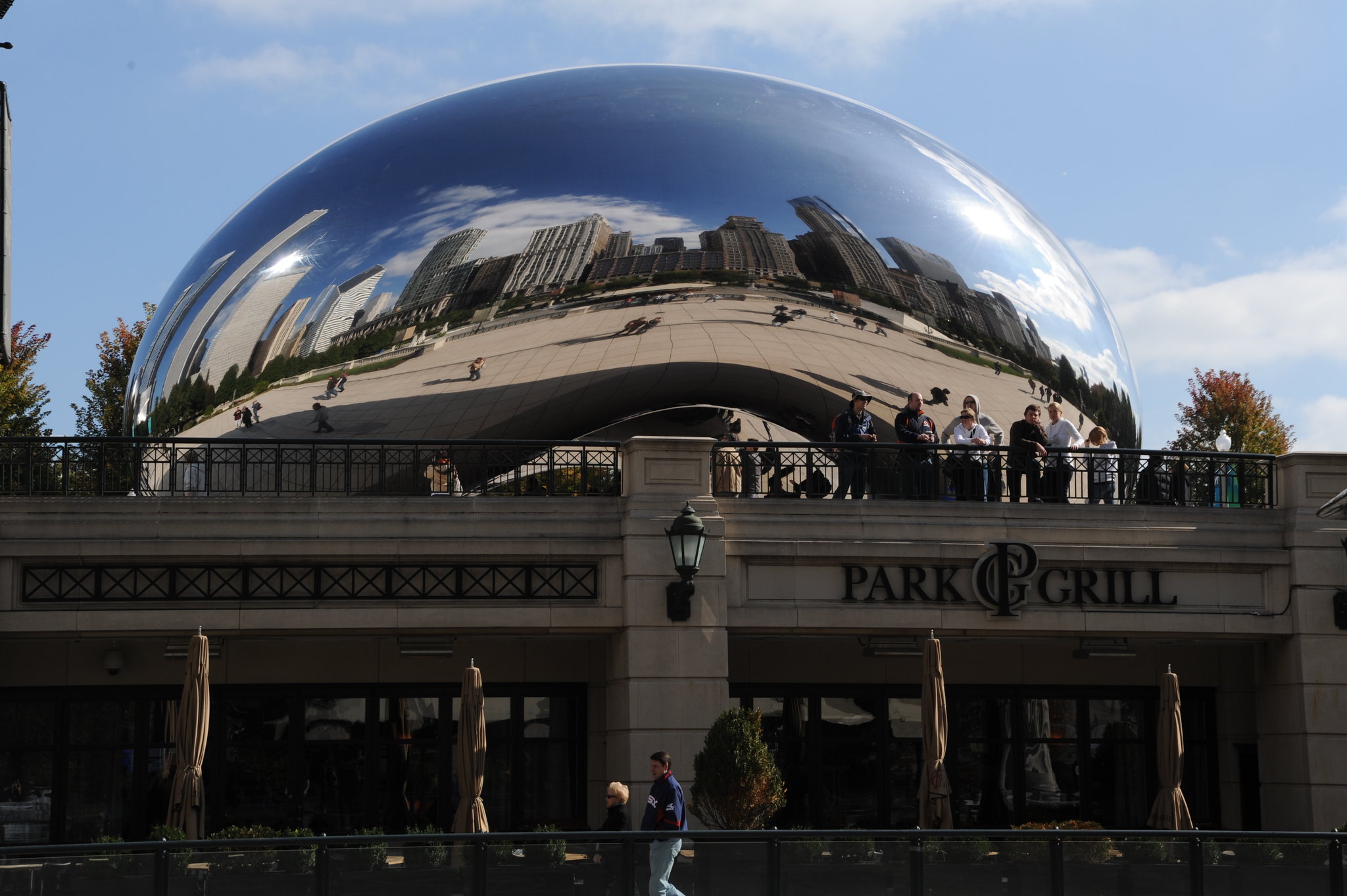 Millennium Park (Flickr: Carl Wycoff)
Millennium Park (201 E Randolph) is part of Grant Park. Here you can find art and architecture at its best, landscape designs, exhibitions, and concerts and special events.
1 pm. Stop by the Cloud Gate, a sculpture (the Bean) made of polished stainless steel plates and the most famous in Millennium Park. The Bean reflects mirror-like images of Chicago's skyscrapers and clouds. You and the kids can stand under the arch of the Bean and see yourselves reflected on the sculpture in all kinds of different ways.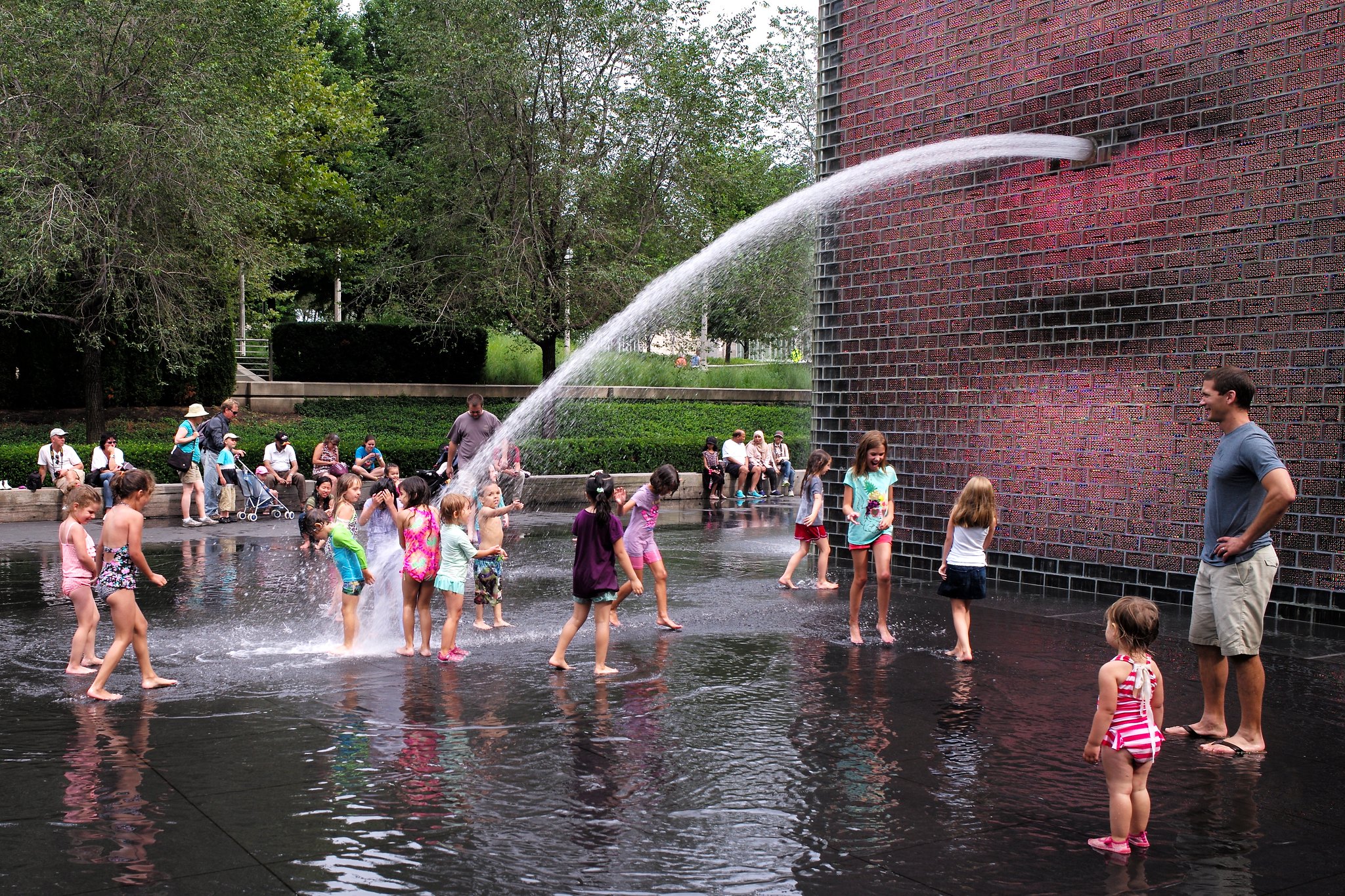 Crown Fountain (Flickr: Roman Boed)
1:15 pm. The Crown Fountain is loved by kids who play and splash in this interactive fountain during the summer, so don't forget to bring a swim suit and towel with you. If you are visiting here in the winter, you and the kids can go ice skating for free at the McCormick Tribune Ice Rink.
2:15 pm. Head south from Millennium Park to the Art Institute of Chicago (111 S Michigan Avenue). Here are some of the world's finest art collections that offer a unique opportunity to explore history as portrayed in ancient, Byzantine, Medieval, Renaissance, European and contemporary art. Free entrance for kids under age 14 and for those accompanied by an adult there are hands-on activities, games, self-guides, puzzles and books in the Vitale Family Room.
4:30 pm. The Magnificent Mile is Chicago's famous shopping area on the 13 block stretch of North Michigan Avenue and home to more than 460 stores and boutiques, 60 hotels, art galleries, 275 restaurants, entertainment places and festivals. There is something to fit every taste and pocket book. Especially popular with the kids is the Build-a-Bear Workshop (Water Tower Place, 835 N Michigan Ave).
Dinner:
Park Grill on Michigan Avenue – Millennium Park, (11 N Michigan Ave near the Cloud Gate)
(MORE: Find great kid-friendly hotels to stay in Chicago during your visit.)
Day 2: Lincoln Park and Navy Pier
9 am. The Peggy Notebaert Nature Museum (2430 N. Cannon Drive) is a kid-friendly attraction on the beautiful North Pond and the most hands-on museum for learning about science in Chicago. Your kids will love the live butterfly haven as well as the kid-friendly and family programs geared for all ages like live animal feedings and butterfly releases.
10:30 am. The Lincoln Park Conservatory (2391 N. Stockton Ave) is right next to the zoo and offers you and the kids the opportunity to experience a beautiful free walk through four greenhouses full of exotic tropical plants and flowers. Here you can take in the fragrant orchids, palms and ferns as well as seasonal exhibitions.
11 am. The Lincoln Park Zoo (2001 N Clark St. just off Lakeshore Drive at the Fullerton Parkway exit) is a fantastic free-entrance experience where you and the kids can see wild jungle animals against a backdrop of urban skyscrapers. Here you can hear the roar of a lion, or feel like you are on a farm with domestic animals and yet you are in the heart of Chicago!
Lunch:
Park Place Café at the Lincoln Park Zoo
Afternoon: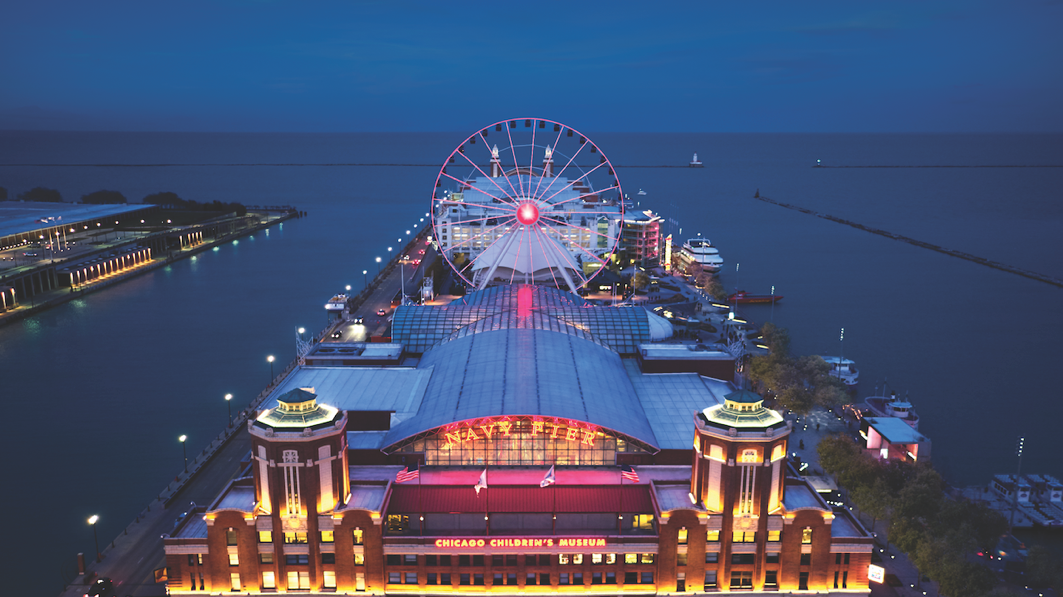 Navy Pier (Navy Pier, Inc. )
2 pm. From the Lincoln Park Zoo, head to Navy Pier (about 2.4 miles away at 600 E. Grand Ave), which has a wealth of kid-friendly outdoor attractions including a waterfront playground with a giant Ferris wheel, carousel, mini golf, jet skis, bicycle rentals, boat rides and cruises. Twice a week and on certain festive occasions, the Pier offers spectacular fireworks displays with music. In the winter, it becomes an indoor Winter Wonderfest with over 25 rides and activities.
2:30 pm. Boat Cruises are available from April to October. Seadog offers exciting speedboat rides. The Tall Ship Windy, the official flag ship of the city of Chicago, is a tall 4-masted gaff sailboat schooner that tours Lake Michigan and has programs especially popular with kids like the Fireworks Cruise and Sea Shanties and Real Pirates of the Inland Seas. Both Seadog and the Tall Ship Windy offer a 75-minute Architecture Tour that takes in Chicago landmarks with descriptions of all the historical and architectural sites. This is a real time-saving boon to see these places from the cruise.
4 pm. The Chicago Children's Museum (700 Grand Ave) is also at Navy Pier and has many educational exhibits. If you've got a wee one in tow, you will be happy to know that here you can find the baby and toddler-friendly Pritzker Play Space, Kids Town, children's pond, Big Backyard and more. It's free entrance for children under age one.
Dinner:
City Porch, Navy Pier, 600 E Grand Ave
Josephine Levin contributed this to MiniTime.