25 Reasons to Bring Your Kids to Williamsburg
By Suzanne Rowan Kelleher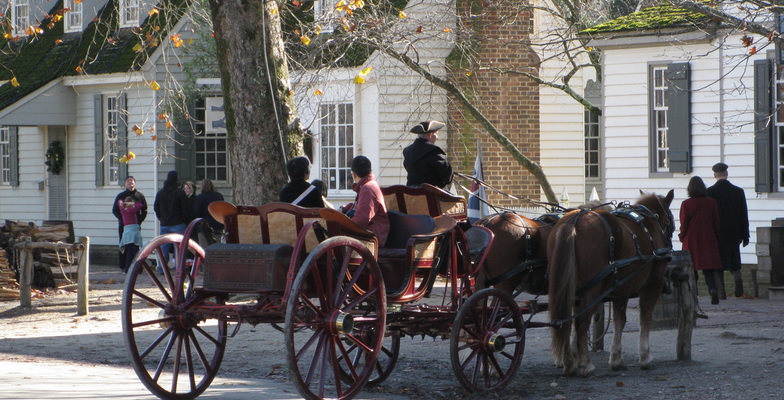 Colonial Williamsburg (Flickr: blakespot)
At the most popular destination in Virginia, a family can pack an awful lot of fun into three or four days. You can freefall 205 feet straight down on the world's tallest floorless dive coaster at Busch Gardens Williamsburg, ride a raft over a waterfall at Water Country USA, and take on a band of pirates at the Pirate's Cove miniature golf course. But surely the most memorable adventure will be traveling back in time to experience the creation of our young nation. And the best part? When you return to 21st-century life, don't be surprised if you and the kids are just a teeny bit smarter.
As the largest living history museum in the world, the meticulously restored Colonial Williamsburg just might be the perfect American history classroom. Mind you, there's no book reading, essay writing, or exam taking. No boning up on dates or memorizing facts. You and your kids don't just learn about history, you step right into it.
The British flag flies over the Capitol. Women wear long dresses and ruffled caps, men don powdered wigs, and there's not a car in sight. You can run into Thomas Jefferson at the King's Arms Tavern, sample authentic 18th-century grub, take a horse and buggy ride along cobblestoned streets, and weave in and out of shops where wigs, dresses and shoes are still made by hand.
In many ways, America was born in Williamsburg. As the capital of the Virginia colony from 1698, Williamsburg was an important hive of political activity leading up to the American Revolution. The ideas of independence and revolution were debated, discussed, and refined here by Thomas Jefferson, Alexander Hamilton, and other statesmen. These characters are alive and well in today's Williamsburg, as are the everyday residents—cobblers, farmers, coachmen, shopkeepers, slaves, and children—who go about their lives and share their experiences.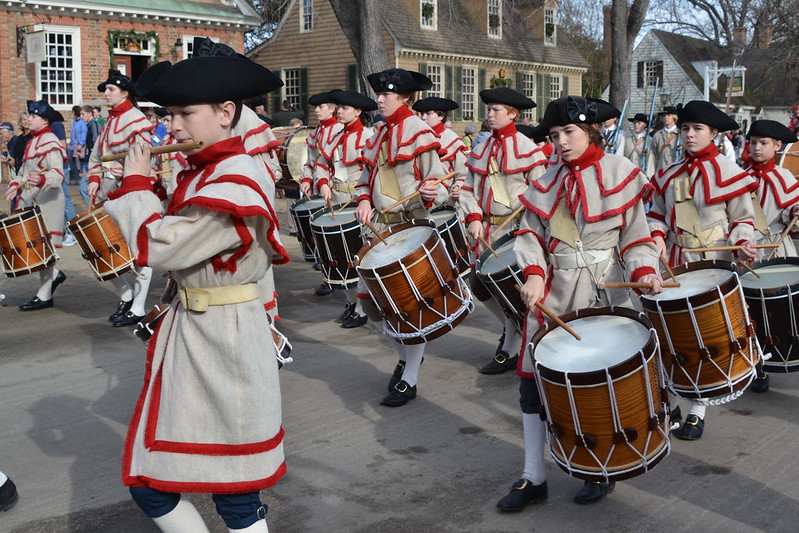 Colonial Williamsburg Youth Fife & Drum Corps (Flickr: Tobyotter)
(MORE: Browse kid-friendly hotels in Williamsburg, Virginia.)
Get the lay of the land Start out early in Colonial Williamsburg at the Visitor Center, a one-stop shop for planning your day. Pick up a current copy of This Week, an indispensable listing of special activities going on during your visit. You can buy your admission tickets, book walking tours and carriage rides, make dinner reservations in a tavern, and rent period costumes for your kids. Don't forget to exchange your modern greenbacks for the "colonial currency" accepted in the Historic Area shops and restaurants. Your admission tickets entitle you to a free shuttle bus to the Historic Area. (101 Visitor Center Dr.; 800/HISTORY or 757/220-7645; One-day admission: $36/adult, $18/child 6-17, free for kids 5 and under; Annual pass: $55/adult, $27.50/child 6-17, free for kids 5 and under)
Ride in coach class. For a fun way to get your bearings, take a carriage ride of the Historic Area. As you travel through town in an authentically reconstructed colonial-era coach or stage wagon, your coachman will tell you how it would have been used in the 18th century and who might have owned it. (Tip: Rides begin at 10am daily. Book early on the same day of your visit, since tickets often sell out.) (Book at Visitor Center, 101 Visitor Center Dr.; 800/HISTORY or 757/220-7645; Tickets: 15-minute ride, $12.50/person; 30-minute ride, $25/person)
Take it from a kid. Wary of stuffy guided tours? The free 30-minute KAPOW! Kids and Parents Orientation Walks are led by kids 10 and up. These junior interpreters, dressed in period costume, have been extensively trained about life in the colonies and stay in character as they answer your family's questions. These kid's-eye-view tours have the right mixture of youthful perspective, interactivity, and fun. (Tours offered throughout summer; check online calendar for times. Meet at John Greenhow Lumber House, Duke of Gloucester St., across from the Palace Green; 800/HISTORY or 757/220-7645)
Go Bump in the Night. Older kids and teens will love the Original Ghosts of Williamsburg Candlelight Walking Tour, still a bestseller after 18 years. As your group walks the dark streets of Williamsburg, you'll hear eerie tales and creepy folklore from Colonial times. Tours last at least an hour and are best for ages 8 and up. (Meet in front of the William & Mary/Barnes & Noble bookstore, 345 W. Duke of Gloucester St., Merchant's Square. Tours year-round at 8pm, summer only at 8:45pm; 877/62-GHOST; Tickets: $11/person, free for kids under 6)
Get in on the action Dress up. To get the most fun out of this living museum, encourage kids to play their part by renting child-sized colonial costumes—white frocks with sashes for girls; a haversack bag, shirt and toy wooden rifle for boys. Williamsburg residents will bow and curtsy to your kids, addressing them as "Little Mister" and "Miss." (Tip: Dress in comfy, cool clothes to wear underneath costumes in the summer months.) (Costume Rentals at Visitor Center and Market Square; 800/HISTORY; Price: $19.95/day with $50 refundable deposit. Price includes $2 coupon toward purchase of tri-cornered hat)
Learn a trade. Watching is okay, but doing is more fun. At the James Anderson Blacksmith Shop, artisans demonstrate the 18th-century techniques they use to create everyday products. The Apprentice! tour visits three artisanal shops to help youngsters imagine what careers they would have chosen if they'd grown up in the 18th century. Kids get to do actual hands-on work, like pouring a metal spoon at the foundry or putting together a barrel. Small groups ensure that children get undivided attention of the craftsmen, and kids get a reproduction apprenticeship contract on marbled paper to seal the deal. Recommended for kids 8 and up. (Tours offered throughout summer; check online calendar for times; 800/HISTORY; $15/adult and child 6 and up; $7.50/child 5 and under)
Join the militia. In the 1700s, being "at the ready" was critical to young America's survival. The colony's cache of arms and ammunition was stored in the Magazine and guarded by a sentry. Today, kids and parents can learn the basics of marching and presenting arms from a colonial-era drill instructor. (Daily from 2pm-3:30pm. The Magazine, Duke of Gloucester St.; 800/HISTORY)
Be a Colonial kid. Kids get to see how a middle-class family lived in the Work and Play, All in a Day Tour. In 1762, James Geddy, Sr. was the town's foremost silversmith. In the two-story family home, each of Geddy's eight children had various household responsibilities. Kids 6 and older get to assume the roles of the Geddy children, chores and all. (Tours offered throughout summer; check online calendar for times; 800/HISTORY)
Play with toys. Do you ever wonder what life would be like without GameBoys and computer games? Every summer afternoon, kids flock to the Kids Corner to try out 18th-century games like hoop rolling, quoits, and marbles. (Daily 9am-1pm and 1:30pm-4:30pm on the Palace Green; 800/HISTORY)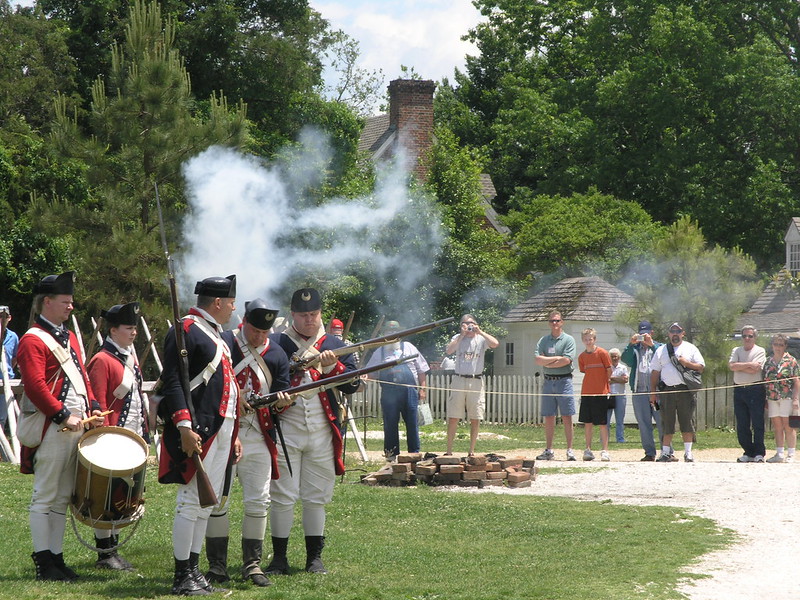 Colonial Army Drill Reenactment (Flickr: wanderingYew2)
(MORE: Find more kid-friendly things to do in Williamsburg.)
Bust a move. Want to party colonial style? Take the whole family for free dance lessons as part of the Dancing at Home program. Throughout the week, open dances are held at various locations, including Geddy House, Powell House, Wythe House, and Great Hopes Plantation. Join in and learn the latest steps. (Check online calendar for times; 800/HISTORY)
Work on a farm. Before, during, and after the Revolutionary War, most Virginians lived on a farm. Let's Go to the Farm! shows how challenging this life was. You and your kids can help work the land, tend the gardens, build barns, and take care of livestock. (Great Hopes Plantation; check online calendar for times; 800/HISTORY; Tickets: $15/adult and child 6 and up, $7.50/kids 5 and under)
Be entertained
Dine in a tavern. The elite used to meet and eat at the King's Arms Tavern, where Thomas Jefferson can sometimes be overheard giving his opinions on the state of the union. Popular dishes at this 18th-century-style chophouse include peanut soup, mushroom to game pye, and a deliciously sweet tart known as syllabub. Kid-pleasing fare includes chicken strips and baked macaroni casserole. If you're lucky, a roving musician may serenade your family with a lute. (Duke of Gloucester St.; 800/TAVERNS or 757/229-2141)
Meet a celebrity. Thomas Jefferson, Martha Washington, and Patrick Henry often gather to chat about l8th-century life as part of the Delightful Diversions for Families program held behind the Charlton Coffeehouse. A different 20-minute program is repeated three times a day. (Duke of Gloucester St., opposite Raleigh Tavern; check online calendar for times; 800/HISTORY)
Land a last-minute table. Did you forget to make dinner reservations? Head on over to Josiah Chowning's Tavern, a lively 18th-century pub that features nightly music, magic, and games starting at 5pm. Try the beef brisket sandwiches or Virginia ham and Gloucester cheese on a Kaiser roll, accompanied by Colonial Williamsburg's own draft root beer. The downside of the no reservations policy? You'll probably have to wait for a table. (100 Duke of Gloucester St.; 800/HISTORY or 757/229-2141)
Have a laugh. The Play Booth Theater and its open-air stage is a popular daytime venue for 18th-century comedies. Matinees often follow an interactive program in which members of the audience are invited on stage. Pick up a copy of This Week for the most up-to-date calendar of performances. (Palace Green; 800/HISTORY)
Capture the moment
Take your punishment. Petty theft. Cursing in public. Failing to attend church. Being drunk and disorderly. In the 1700s, these small crimes could land you in the pillories, which stand right next to the Courthouse, smack dab in the center of town. To discourage wrongdoing, the Colonists made punishments very public. The convicted was made to stand for several hours with his head and hands bound in the pillories. (Fun Fact: It's a common misconception that passerbys tossed rotten tomatoes. In fact, Thomas Jefferson wrote that tomatoes were just being accepted into the common diet and were still very rare.) These days, the pillories present Williamburg's quintessential photo opportunity. (Courthouse, Duke of Gloucester St.; 800/HISTORY)
Buy a souvenir. The shops in the Historic Area brim with fun colonial toys and games that can be purchased with colonial currency. Bring home a colonial-style drum or a set of wooden dominos, clay marbles, or "tabletop nine pins," a precursor to bowling.
Send yourself a memory. Stop by the Colonial Post Office to mail yourself a postcard. The stamp will be hand-canceled with a replica of the 18th-century Williamsburg postmark. You can also brush up on the news of the day with a 1774 edition of the Virginia Gazette. (Duke of Gloucester St.; 800/HISTORY)
Have 21st-century fun
Scream and shout. Love theme parks? Hot attractions at the Europe-themed Busch Gardens Williamsburg include the the Griffon floorless dive coaster, which makes a 205-foot vertical drop; bald eagles at the Eagle Ridge sanctuary; and the "Emerald Beat" show, which celebrates Irish dance. (One Busch Gardens Blvd.; 800/343-7946; Admission: $59.95/person 3 and up; free for kids 2 and under)
Cool off. When temperatures rise, head for the area's largest outdoor waterpark. Three dozen of the latest, greatest rides and slides are set to a retro surf theme at Water Country USA. The slew of multi-person raft rides, double flumes, and splash fountains are particularly great for families. (176 Water Country Pkwy.; 800/343-7946; $41.95/adult, $34.95/child 3 and up)
Race fast cars. Pretend you're a NASCAR driver on the four speedways at Go-Karts Plus. You can also try out the bumper boats, midway games, kiddieland, mini golf, and arcade. (6910 Richmond Rd.; 757/564-7600; Summer Hours: 11am-11pm; 20-ticket pack costs $25, 50-ticket pack costs $50; each ride requires between one and six tickets)
Play like a pirate. Take in a round of mini golf at Pirate's Cove, whose landscaping includes sunken ships, mountain caves, footbridges, cascading waterfalls, and even stray cannon fire. (2001 Mooretown Rd.; 757/259-4600; Summer Hours: 10am-11pm daily; $7.95/adult; $7.50/child)
Get out of town
See where the British surrendered. The Colonists may have declared independence in 1776, but they didn't actually achieve it until 1781, when Lord Charles Cornwallis surrendered to George Washington on the Yorktown Battlefield. Families can participate in a 25-minute hands-on artillery demo (with non-firing weapons). By completing a few fun activities, kids 12 and under can earn a Colonial Junior Ranger patch and certificate. (Colonial Parkway, 13 miles east of Williamsburg; 757/898-2410. Admission: $10/adult; nominal charge for Junior Ranger program)
See where the first settlers arrived. The Jamestown Settlement, where the first Europeans settled in Virginia, celebrated its 4ooth birthday in 2007. You can board a replica of a ship that sailed to Virginia in 1607 and kids can see how Pocahantas lived in a recreated Powhatan Indian village. (Route 31, 6 miles west of Williamsburg; 888/593-4682 or 757/253-4838; Admission: $14/adult; $6.50/child 6-12; free for kids 5 and under)
Hit the beach. Shhh—this is a secret favorite of locals. Hop on the bucolic Colonial Parkway, heading east towards Yorktown. Views along this 23-mile National Scenic Highway are protected from commercial development. After seven miles, the highway will begin to run alongside the York River, and you'll spy people sunning themselves on the sandy banks. Choose a pretty spot and stop for some down time. These no-name local beaches are great places to hang out with the kids, make sandcastles, and play in the sun.
(MORE: Find more kid-friendly historical vacations.)
Be natural. The Virginia Living Museum gives families many opportunities to get hands-on exposure to native wildlife. Kids can visit the red wolf pups, get up close with a loggerhead turtle, touch spider crabs, and put their hands in fossilized dinosaur tracks. Outdoor adventures include climbing a rocky fall line, riding a zip line, and lassoing a sturgeon. (524 J. Clyde Morris Blvd., Newport News; 757/595-1900; Open 9am-5pm; $15/adult; $12/child 3-12)