Halloween events for teens and adults
By Dave Parfitt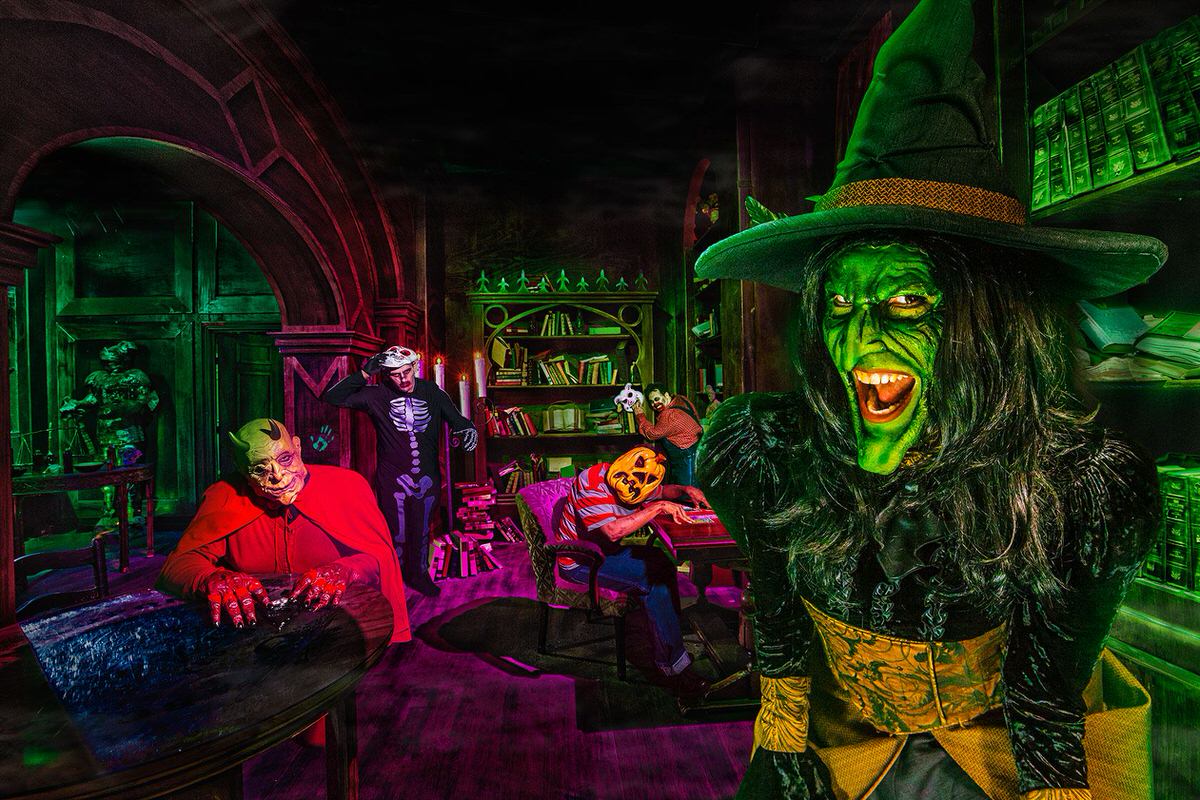 Knott's Scary Farm (Courtesy Knott's Scary Farm)
Halloween is big business for theme parks and no longer just an excuse to extend the summer season. Elaborate sets, costumed characters and movie properties transform theme parks into a devilish den of macabre. If you're the type of person who loves a good scream, then continue reading for five of the most frightening Halloween celebrations in the theme parks recommended for teens and adults.
(MORE: Book Now! Theme Park Packages for the Fall Season)
Knott's Scary Farm – Buena Park, CA
At 43 years old, Knott's Scary Farm, is one of the oldest theme park haunts in the country. Southern California's Knott's Berry Farm dials up the creepy and transforms the park into a forbidden zone with over a dozen different haunted houses, scarezones, and shows. Notable attractions include Elvira, Mistress of the Night stage show; Special Ops: Infected – Patient Zero interactive zombie hunting game; and a new haunted hospital called PARANORMAL, INC. Knott's Scary Farm runs on select nights September 24 – October 31 with tickets starting at $39.99 when purchased ahead of time.
Halloween Horror Nights – Universal Orlando, FL and Hollywood, CA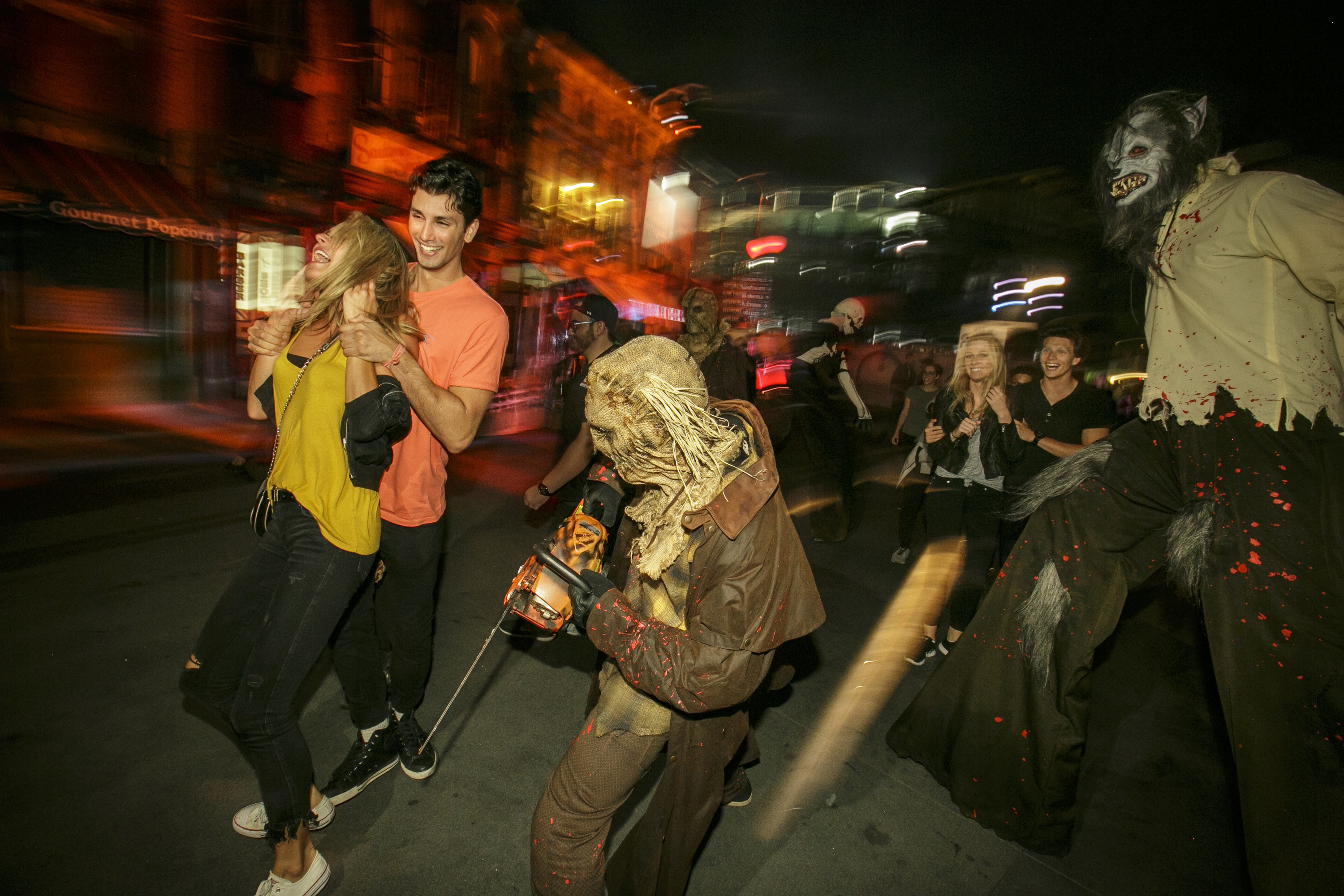 Universal Studios' "Halloween Horror Nights" (Courtesy David Sprague for Universal Studios Hollywood)
Universal Studios' "Halloween Horror Nights" is one of the nation's most extreme Halloween events, and Universal Orlando celebrates their 25th anniversary by bringing back some of their most feared characters – such as Jack the Clown. At both Hollywood and Orlando, guests walk through multiple movie-quality mazes themed around film and TV including The Purge, The Walking Dead, and Insidious. In-between the mazes are numerous scare zones meant to provoke and terrorize guests throughout the darkness. Halloween Horror Nights runs on select evenings from September 18 – November 1 with tickets starting at $49.99 with advance purchase.
Howl-O-Scream – Busch Gardens Williamsburg, VA, and Tampa, FL; and SeaWorld San Antonio, TX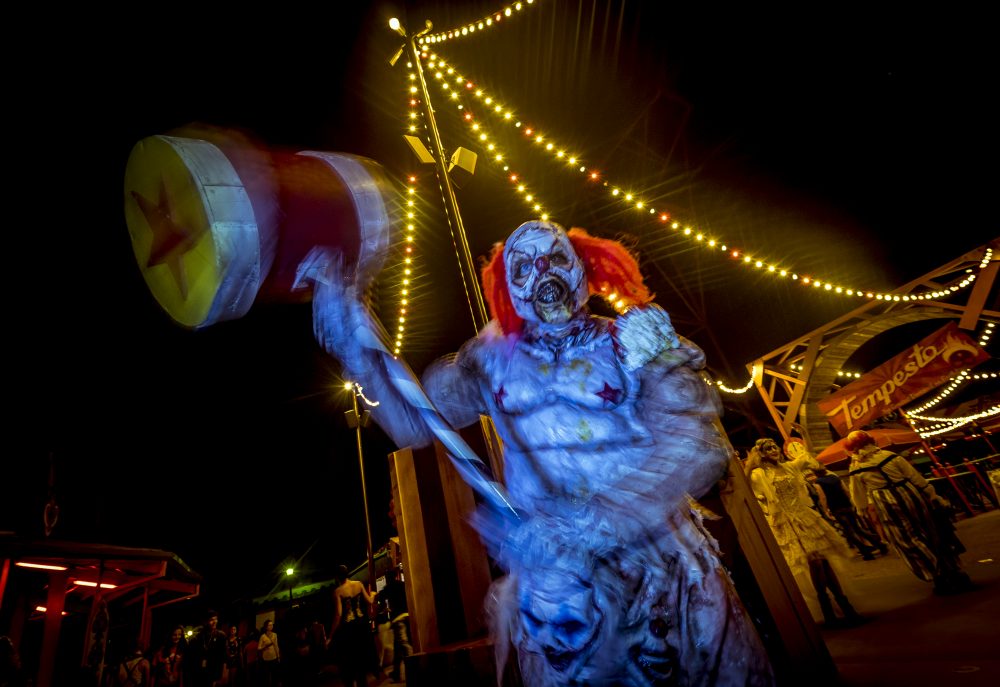 Howl-O-Scream at Busch Gardens Williamsburg (Courtesy Busch Gardens)
Howl-O-Scream Unearthed is the theme at three theme parks: Busch Gardens Tampa, Busch Gardens Williamsburg, and SeaWorld San Antonio. Howl-O-Scream Unearthed's back-story was created by independent horror film producer Robin Cowie, best known for his 1999 film The Blair Witch Project. The tale centers around Scarlett, a scornful woman brought to life after a construction crew digs too far, and set on punishing visitors with her dark, unmerciful magic. Prices for Howl-O-Scream Unearthed start at $45, and it runs on select nights from September 25 – November 1 (dates vary depending on park).
Six Flags Fright Fest – Six Flags Great Adventure, Jackson NJ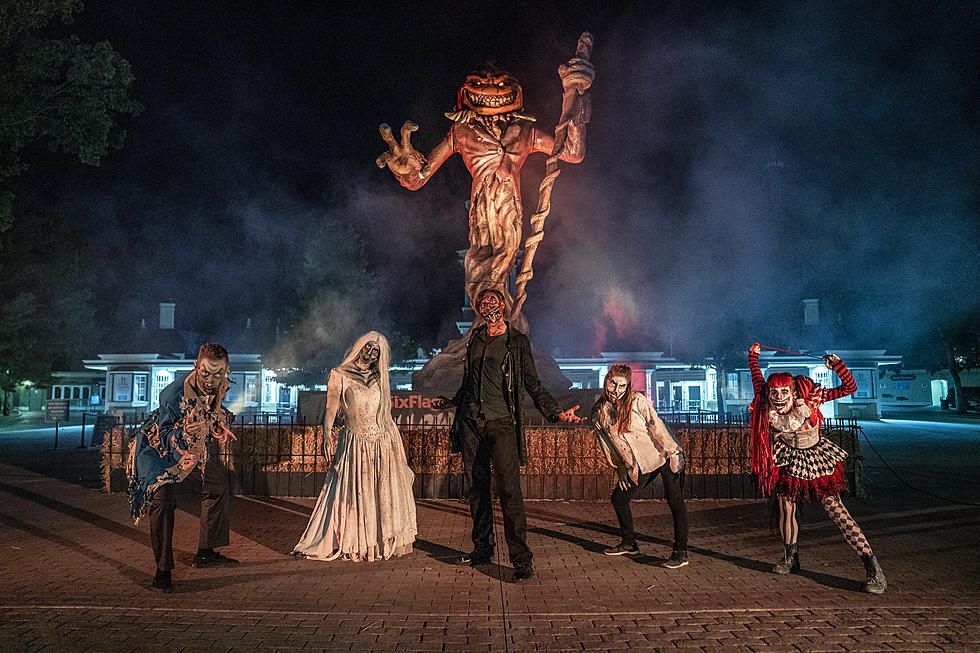 Fright Fest at Six Flags Great Adventure (Courtesy Six Flags Great Adventure)
Six Flags Great Adventure promises its biggest, scariest Fright Fest with 22 Halloween-themed attractions including three new haunts and four new shows. At 6pm, the zombie-filled "Fright by Night" begins with 200+ zombies released into the midways during "The Awakening." New haunted houses include Big Top Terror 3-D, Demon District, and Blood Shed. Fright Fest runs for seven weeks, September 19 – November 1, and is included with general theme park admission. Many of the park's roller coasters and thrill rides such as El Toro, Kingda Ka, Zumanjaro: Drop of Doom, and El Diablo also remain open during the Halloween event. Similar Fright Fest nights can be found at other Six Flags amusement parks all across the country.
(MORE: Spooky Halloween at Southern California's Best Theme Parks)
Phantom Fright Nights – Kennywood, Pittsburgh, PA
Pittsburgh's historic park opened in 1898 and is recognized as one of the best examples of a traditional preserved amusement park. However, Kennywood also keeps up with the times, and for the past 14 years has offered a terrifying Halloween event called Phantom Fright Nights. Even their classic Noah's Ark (built in 1936 and the last remaining walk-through Ark in the world) turns off the lights and tempts guests to find their way out of the "Haunted Ark" in total darkness. Phantom Fright Nights offers 10 different houses with zombies, pirates, vampires and more, while many of the thrill rides and roller coasters continue running in total darkness – so you never see what's coming. Kennywood's Phantom Fright Nights takes place every Friday and Saturday in October, and tickets cost $29.99 when purchased in advance online.
Dave Parfitt of Adventures by Daddy contributed this to MiniTime. He is a father of two and a runner with a PhD in neuroscience who chronicles his family adventures as well as offer family travel advice and escapist fun from Dad's perspective.