Local cuisine in Puerto Rico
By Sue Rodman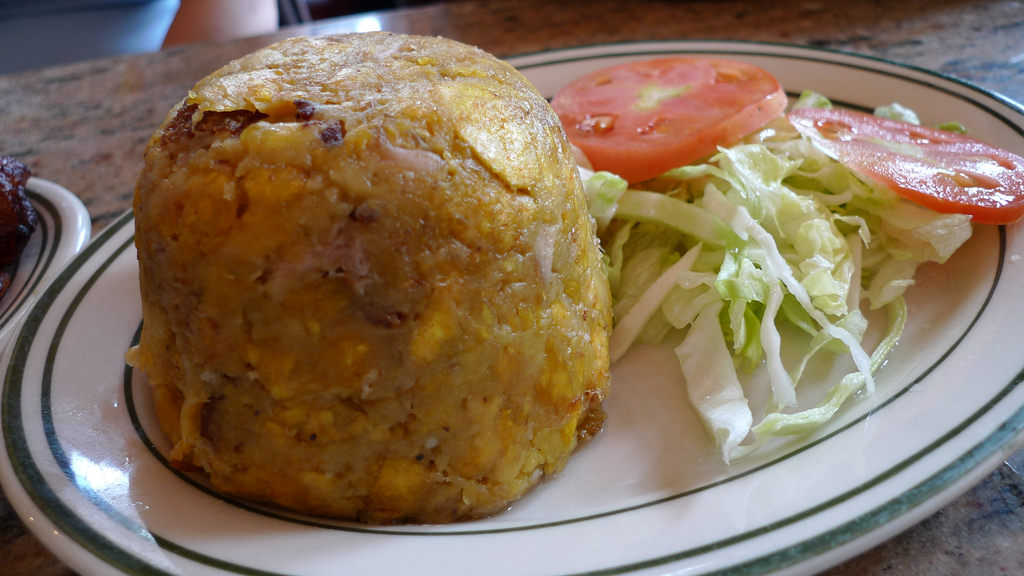 Mofongo is a local Puerto Rican dish. (Flickr: Arnold Gatilao)
A big part of travel is sampling the native cuisine of the location where you are traveling. Authentic food is part of the experience. Yet often when you travel to a resort destination, it's difficult, if not impossible to experience the local culinary culture within the resort walls.
On a trip to El Conquistador Resort and Las Casitas Village, in Fajardo, Puerto Rico, we found lots of local favorites intermingled with more traditional stateside fare. Even the Starbucks had a regional sandwich called the Guavate Special, a pork sandwich on local bread with guava sauce, to go along with the iced coffee. Here is a sampling of more traditional Puerto Rican food available at El Conquistador.
(MORE: 7 Reasons to Visit Puerto Rico with Kids)
Mofongo: Monfongo is a Puerto Rican staple. It is similar to a stuffing, but made with plantains that have been mashed and seasoned. This is a very popular dish in Puerto Rico and you'll find it on the menu pretty much everywhere, as a side dish, or main course paired with seafood, beef, chicken or vegetables. You can't go wrong with the Mofongo.
Acai: Delicious and good for you, this super food is a breakfast favorite and available at Las Brisas restaurant. The acai berry has many health benefits, but forget about that, it tastes wonderful whipped up to smoothie consistency and served in a bowl with fruit and granola. We sampled shot glasses from the breakfast buffet, but the real deal is ordering it off the menu. In addition to being tasty, it was a beautiful presentation with lots of fresh fruit on top.
Piragua: Piragua is the Spanish word for snow cone. These tasty pyramid shaped treats are served at the Coqui Water Park. It starts with hand shaved ice, then added flavorings like cherry, nutella, pistachio and more. The El Conquistador Resort even has a Piragua Concierge cart to educate guests about the local treat, as it serves up cones.
Coquito: Our trip coincided with the Christmas holidays. Given the time of year, it was only appropriate we sample a bit of Coquito, which is a traditional Puerto Rican holiday drink similar to eggnog. It's a creamy concoction made with coconut, rum, and cinnamon, and personalized with other ingredients by the person making it. In the states we bring wine to a party, in Puerto Rico, they bring coquito.
(MORE: Warmest Destinations for Snowbird Families)
Pasteles: During a dinner at Chops, Chef Fabian brought us delicious pasteles from his own kitchen. By own, I don't mean his kitchen at the Chops restaurant where he works at El Conquistador, but from his home kitchen. Pasteles is a traditional Puerto Rican food, similar to a tamale. It is generally made during the holidays. Everyone has their own recipe, and Chef Fabian makes his with vegetables. Although pasteles aren't always on the menu at Chops, the resort welcomes food requests and are happy to accommodate your wish for a home cooked meal, with a little warning of course.
Although all of these items are not always on the menu at the resort, it is possible to request any of these or other traditional Puerto Rican dishes during your visit. For those staying at the Las Casistas Villas, chefs are available to prepare a complete traditional Puerto Rican meal (or any meal for that matter) in your Villa.
For more family fun in Puerto Rico, visit Sue's post on her family travel blog Field Trips with Sue.
Sue Rodman of Field Trips with Sue contributed this to MiniTime.