Best Things to Do in Clearwater Beach with Kids
By Mimi Slawoff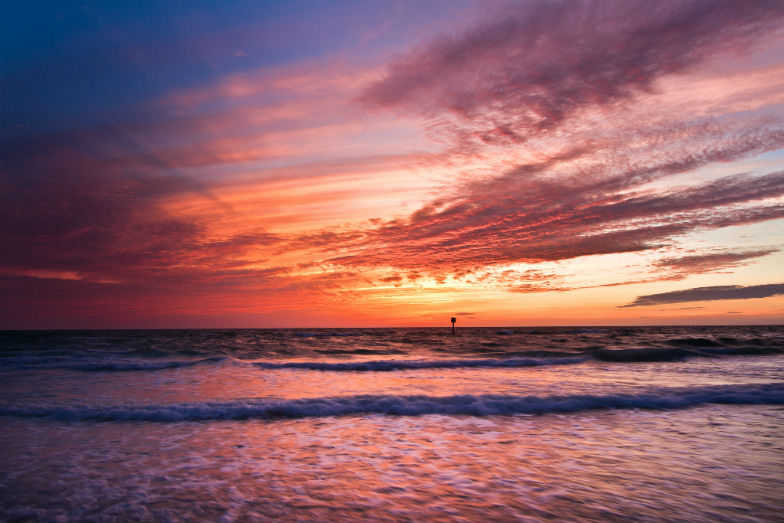 Sunset at Clearwater Beach in Clearwater Florida (Flickr: Antoine Gady)
Why Go: Rated among America's top beaches, Clearwater Beach has warm, clean water with calm surf for swimming or floating on your back and looking up at the deep blue sky. The silky white sand stays cool so you never burn your feet even on a hot day, and is perfect for building sandcastles. Small, colorful shells shimmer like jewels in the sand.
Situated on the Gulf of Mexico on Florida's West Coast, Clearwater Beach is about 20 miles from Tampa International Airport. The weather is typically comfortable year-round, making it a popular destination for numerous recreational activities. Besides the magnificent beach, Clearwater has a pedestrian-friendly waterfront filled with shops, restaurants and hotels.
Tip: Wear comfy shoes or sandals. With most places within walking distance, you'll rarely need a car.
Here's a sample of fun things to do in Clearwater Beach with kids.
(MORE: Find your home away from home in these kid-friendly hotels in Clearwater, Florida.)
Sleep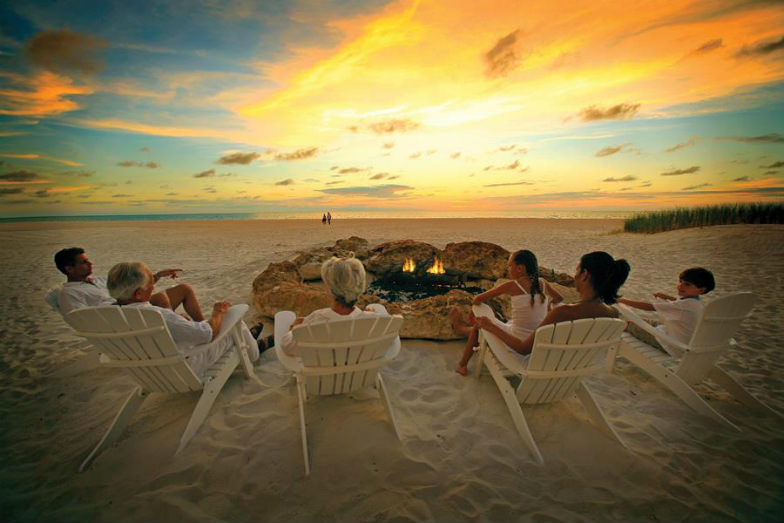 Family bonfire at Sandpearl Resort (Sandpearl Resort)
The Sandpearl Resort is a luxurious oceanfront beach hotel with a casual, friendly vibe. The elegant hotel welcomes families with many activities and amenities, including a lagoon-style swimming pool and cabanas with comfy furniture, mini refrigerators and HDTVs. Camp Ridley entertains kids ages 5 – 10 with games, a life-size chess set, ping pong, crafts and other supervised activities. That leaves parents time for the resort's daily activities (kayaking, yoga, plus more) and spa treatments (try the 80-minute Signature Perfect Massage for total relaxation).
Feed the kids at the poolside Tate's Island Grille or Caretta on the Gulf. For snacks and treats, stop by the Marketplace in the lobby. After dinner, head to the beach fire pits for family s'mores night. Spacious guest rooms have ocean views and balconies with less than three-inch gaps between rails, making it safe for kids. Complimentary cribs and wall outlet covers are available.
A silver LEED-certified resort, the Sandpearl offers free behind-the-scenes tours that show guests how the property earned this recognition.
Most Fun Way to Get Around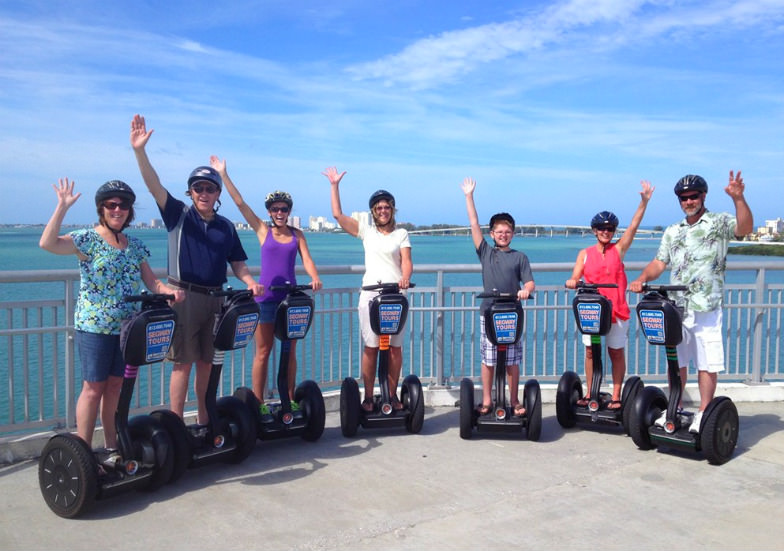 Explore Clearwater Beach on segways (The Segway Adventure)
The Segway Adventure is a fun way for ages 12 and older to explore the area. The 7.5-mile guided tours begin with instruction (it's a short learning curve, promise!) then riders cruise by beaches, up the Clearwater Memorial Causeway for panoramic views, down to the marina, and through the historic Harbor Oaks neighborhood and public fishing dock.
Tip: Be sure to bring a small camera or your smartphone.
Soak Up the Local Scene
Best wildlife attraction: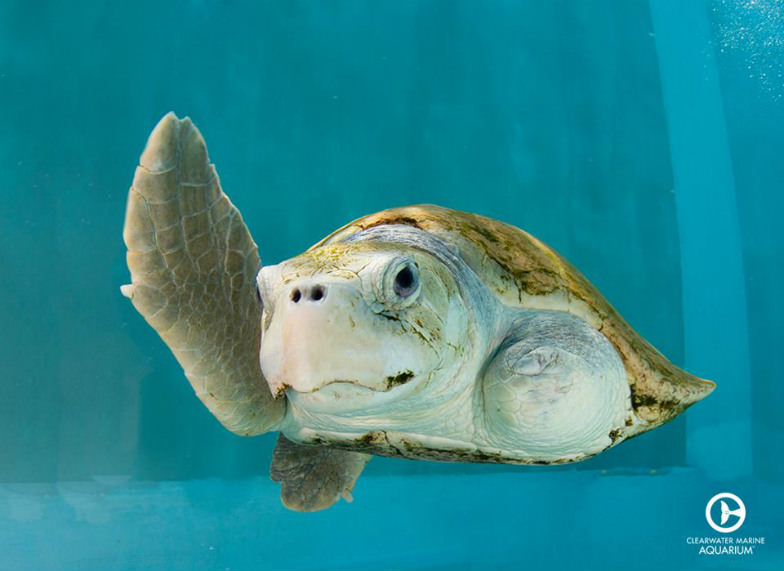 Turtle at Clearwater Marine Aquarium (Clearwater Marine Aquarium)
Clearwater Marine Aquarium. Not your typical aquarium, the facility is home to Winter, the dolphin featured in "Dolphin Tale 1" and Hope, who joins Winter in "Dolphin Tale 2" – both movies based on true stories. Winter (a rescue dolphin that lost her tail) and Hope (an orphan) both live at the aquarium, which serves as a rehabilitation facility for injured marine animals. The aquarium offers daily tours and programs with dolphins, stingrays and sea turtles.
Tip: Book a behind-the-scenes tour of the working marine hospital to learn about its mission of rescue, rehab and release.
Best outdoor family fun: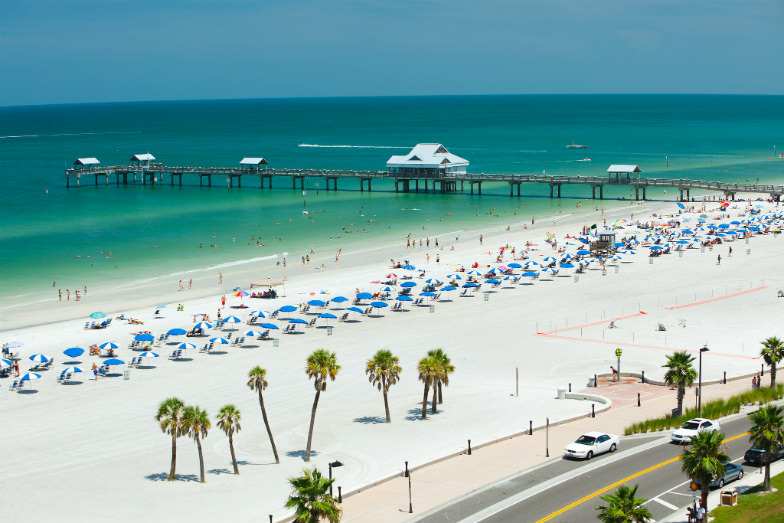 Pier 60 (Visit St. Pete/Clearwater)
Pier 60. After a day of play, join locals and visitors for free nightly family-friendly sunset festivals that feature street performers, musicians, artisans and crafters. It's a fun place to wind down the day.
Best place to walk or bike:
Beach Walk. The beautifully landscaped Beach Walk promenade is ideal for a family bike ride or stroll while enjoying ocean views. It's also a good place to buy sand toys, rafts and other beach and pool items.
(MORE: Look for more kid-friendly attractions in Clearwater, Florida.)
Eat
Best family meals:
Dress down for Tate Island Grille, located steps from the sand and pool at Sandpearl Resort. The lunch and dinner menu includes salads, burgers and sandwiches (chicken, pork, grouper and crab cakes). The children's menu offers grilled cheese, chicken, burgers and hot dogs.
Caretta on the Gulf serves an extensive breakfast buffet, lunch and dinner in the dining room and on the outdoor patio at the Sandpearl Resort. Lunch items include crab cake BLT, lobster roll and steak salad. An assortment of seafood, sushi, steaks and chicken comprise the dinner menu.
Established in 1926 and in the hands of the Hamilton family for 50 years, the Palm Pavilion is the kind of casual beach eatery where kids, parents and grandparents show up in shorts and flip-flops and blend in with the locals. Budget-friendly meals include fish tacos, burgers, steaks, ribs and crab chowder. A children's menu offers chicken tenders, sliders and macaroni and cheese. Live music, prime beach spot and amazing sunsets make this an ideal family restaurant.
Located on the waterfront, Bob Heilman's Beachcomber serves full-course steak, fried chicken and seafood dinners and a la carte items in the main dining room. The rather sophisticated children's menu includes fish, chicken, prime rib and burgers. Heilman's adjacent bistro has a more casual ambiance with a menu of gourmet pizzas, sandwiches and pastas.
Mimi Slawoff, a Los Angeles-based journalist, contributed this to MiniTime.