Runaway Bay, Jamaica
By Roberta Butterfield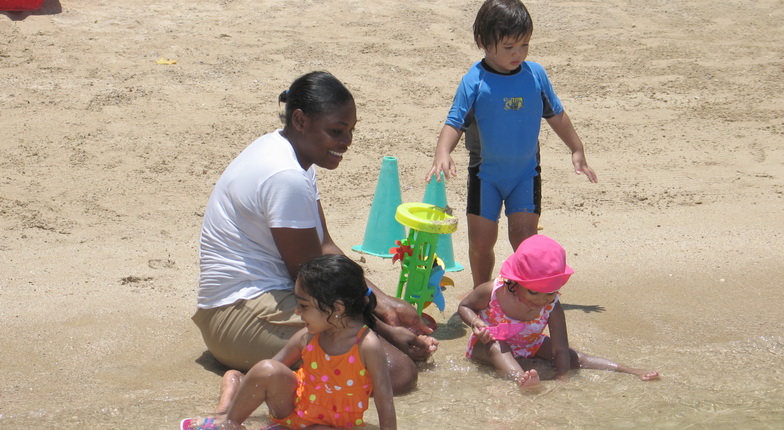 Franklyn D Resort
Why Go: Those wonderful baby-and-toddler years sure are the best of times. And possibly the worst of times to travel as a family. Sure, our darling little bundles are way too important to leave behind. But let's face it: They can be an awful lot of work. As in 24/7. Non-stop. All. The. Time.
It's during these years that taking your wee cherub on vacation may not sound very much, well, like a vacation. You dream of elegant restaurants, marble bathrooms, and gazillion-threadcount sheets, but deep down you know that those are mere wants. What you really need is an extra pair of hands. Now imagine that those hands belong to a wonderful nanny who cares for and entertains your child so that you can have a break every now and again. And what if this wonderful scenario took place someplace extraordinarily beautiful, say on a Caribbean island with turquoise water and amazing sunsets? Sigh.
(MORE: Find kid-friendly attractions in Jamaica.)
Some of the best family resorts in the Caribbean offer massive waterparks with lazy rivers and flume rides. Others wow you with terrific kids' clubs and activities-a-go-go. But for folks like our correspondent, Roberta Butterfield, who have very small children, Franklyn D. Resort offers something quite irresistible: Your very own, exclusive nanny.
We love this concept. Every day, from 9am to 4:40pm, your nanny is available to help as you need her—to look after your children, clean your room, restock your fridge, and be your guide and inside line to the resort. If you'd like her to babysit in the evening, she will happily do that, too, for a nominal charge. She may not wear a cape and tights, but she is there to save the day. (Are we the only ones who hear those trumpets?)
And it's worth mentioning that while these nannies are the stand-out feature at this resort, the entire staff is eternally good-natured and interested in children. ("The Jamaican people seem to be born with radiant smiles. The staff is very child-oriented and make your kids feel special all the time. It's so contagious that you won't shake the good feeling, even weeks after you've left.")
More pluses: The resort is compact, so you don't have to walk for miles to get to the pool, restaurant, or kid's center. ("It felt small, but in a nice way.") Accommodations are considerably larger than you normally find in Caribbean all-inclusives, with a choice of roomy 1- to 3-bedroom suites. And the kicker: All-inclusive pricing means that you don't have to worry about blowing your budget on meals, drinks, or watersports.
Getting Oriented: Franklyn D. Resort is situated at Runaway Bay, about 17 miles west of Ocho Rios, on the northern shore of Jamaica not far from where Columbus landed more than half a millennium ago. Named for its role on the old slave escape route, the bay is renowned for its calm shores. The all-inclusive rate includes free shuttle service to and from Montego Bay, about a 60-minute drive away.
The resort is located on a main seaside highway, surrounded by 6-acre grounds dotted with flowering hibiscus trees and a relatively narrow, sandy beach. While many of Jamaica's larger resorts feature high-rise hotels, Franklyn D. Resort is more homey and intimate. The architecture calls to mind the island's Spanish history with terra-cotta roofs, arched loggias, and stone balustrades. There are three restaurants, two gift shops, a small gym, a spa, two swimming pools, a game room, and a kids' activity center. A highlight for young and old is the 100-foot waterslide, nicknamed "Big Blue." There's also a playground, outdoor crafts area, basketball court, and tennis court.
Getting Around: Most families with small kids spend most of their time, if not all of it, at the resort. There are no sites or towns within walking distance, and there's no car rental desk at the resort.
Several independent companies offer sightseeing tours and fun excursions for families with school-age children, including river tubing, horseback tours, and a Jeep safari (minimum age 6); swimming with dolphins (minimum age 8); a zipline jungle canopy tour (minimum age 10); a river kayaking tour (minimum age 12); and an ATV safari (minimum age 16). You book these options at an additional cost through the front desk.
We Are Family: Little children are not just tolerated here, but welcome. Keep in mind that, throughout your stay, you're expected to rely on your nanny for orientation and information about activities. Though a schedule is posted at the Yellowbird Kids' Center, there is very little documentation provided, which Butterfield saw as a slight negative. ("I like to see maps and to have a print-out with the opening times of various amenities, a schedule of activities, and so on. Our nanny was a great source of information, but I just work better with documentation.")
While middle-schoolers and teens will find plenty to do at Franklyn D. Resort, the resort is particularly appealing for families with younger children. Butterfield estimated that roughly 80% of the families she observed had children 6 and under. Like every guest they encountered, the Butterfields became immediate fans of the nanny system. ("This was awesome, and our nanny was stellar. Four different families have tried to recruit her to return back with them to the States or Europe. This was a common theme.") And since the resort was so small and self-contained, the Butterfields felt surprisingly comfortable letting their little girls have a bit of independence. ("It was great to feel like I could let the kids dig right in to almost everything without major safety concerns. The only fear I had about them running around by themselves were the pools, even though there were always lifeguards on duty during the day.")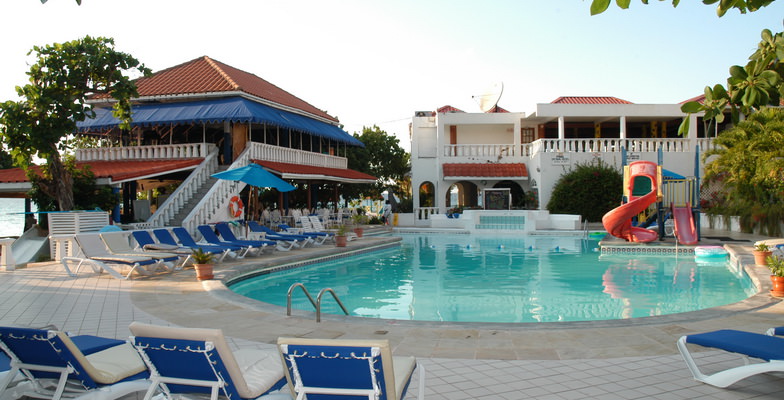 Franklyn D Resort
The approach to the pool area is charming and fun, through jungle landscaping complete with mock Tarzan vines, butterflies and dangling bananas. The main pool is rather modest in size and never deeper than 4 feet, with a large 3-foot shallow end accessible via big steps. There are two 5-foot waterslides. The pool is surrounded by plenty of lounge chairs and large shade umbrellas, and there's a constant supply of floating foam and plastic toys for all guests to share. For toddlers, the kiddie pool is no deeper than two feet, with its own mini-slide and fountain. But hands down, the biggest hit with 3-year-old Kasha and 1-year-old Zoe was Big Blue, the twisting, turning 100-foot waterslide that ends in its own landing pool. Even toddlers like Zoe, just weeks shy of her 2nd birthday, are able to come down Big Blue with an adult. And so she did, more than 40 times in four days. ("With the endless interaction with other little kids and all the activities, my kids have never slept so well.") The pool area also features a four-sided bar, where smiling bartenders are on hand to make a mean Piña Colada or whatever you like, including fluorescent non-alcoholic slushies for the kids.
For little kids who love playing in the sand and surf, there are two small "toddler beaches" created inside a pair of narrow, protected coves with jetties that keep waves from getting too big. Each beach has a gradual, nearly flat entry so a toddler can splash safely in a designated swimming area inside a floating barrier of buoys. On the jetty between the two toddler beaches, there's a raised hot tub deck that's open to guests all the time.
The hub of supervised activities for 2- to 11-year-olds is the Yellow Birds Kids' Club, which features a large selection of toys, Nintendo games, educational computer games, and childrens' movies shown on TV. The club is staffed between 7am and 10pm, and admission is relaxed, without any sign-up. Kids can visit on their own or come with their nanny or a parent anytime. ("You can even drop off a toddler, which is a huge benefit if you want to do something early in the morning before your nanny arrives.") There are scheduled activities, but also plenty of free play. Different arts and crafts activities are always going on, from tie-dying and painting to leatherwork, beaded jewelry-making, or drawing. The way kids are grouped depends on the number of participants. During busy periods, the groups are more likely to be organized according to tighter age ranges. ("We were there during a slower week, and there was usually one group with many ages of kids. The counselors seemed great at giving each individual child enough attention so that differences in skill level were not a problem.")
In addition to quiet activities, there are also nanny- or counselor-led scavenger hunts, shell hunts, fashion shows and storytelling sessions. School-age kids can take lessons in photography, videography, snorkeling, scuba, tennis, fishing, and dancing, or participate in field trips. Families can join various organized activities, such as bicycle trips where toddlers can ride with parents.
Teens may feel a bit out of place at Franklyn D. Resort, since the emphasis is clearly on younger kids. ("There were no teens there during our visit.") For 12 and ups, the program focuses on counselor-led excursions and activities outside the resort. The scheduled teen activities available on-site includes reggae lessons, bike tours, beach volleyball, tennis, crafts, and treasure hunts. Many older kids gravitate to the open-air game room to play Ping-Pong, air hockey, pool, and video games such as Xbox and GameCube. The teen room is quite small and it remained empty during the Butterfield family's visit.
The Butterfields were very impressed with the array of free watersports. The Watersports Center is open every day from 9am to 5pm. You can try scuba, snorkeling, windsurfing, kayaking, or sailing. While the nanny watched their girls, the Butterfield parents were able to get in some scuba diving (minimum age 10 for sea diving; minimum age 8 for "bubblemaker" lessons in the pool). All equipment was in good working condition, and they had a great experience ("There had just been a storm, so the coral was covered with muck. But even so, you could tell that it was normally spectacular, and the aquatic life we saw made up for the lack of brightly-colored coral.") On another occasion, they took their girls kayaking in the cove.
(MORE: Read reviews on family-friendly resorts in Jamaica.)
Having a nanny made it easy for Butterfield to take advantage of adults-only amenities, such as the well-equipped gym and its physical trainer. ("After a 20-minute arm session, I could barely get a Mud Slide to my lips, so it's hard to imagine the end result of a longer, multi-day, program.") There are also aerobic and aquacize classes available as part of the vacation package.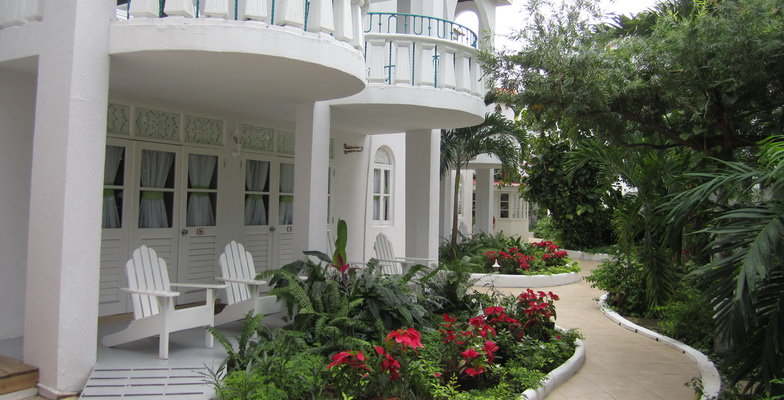 Franklyn D Resort
Butterfield was also able to indulge in a massage at the Sea Grape Spa. ("Imagine massage rooms that open to the ocean so you can have the treatment of your choice, even a 4-handed option, with real waves sloshing gently in the background, rather than a recording of ocean sounds.") Spa treatments are not included in the vacation package, but prices are reasonable.
Where to Eat: There are three oceanfront restaurants at Franklyn D. Resort. None offer gourmet dining, but food is generally satisfactory to good. High chairs and booster seats are readily available, along with a menu of favorite children's foods. You can even enjoy a candlelit dinner on the boardwalk with your toddler.
The Verandah offers copious buffets for breakfast and lunch, and an à la carte menu at dinner. The restaurant is enclosed on two sides with tables spilling out onto the boardwalk for oceanside al fresco dining ("It's especially enjoyable for dinner under the stars.") Once a week, a barbecue buffet dinner is served on the beach on picnic tables with a kids' fashion and talent show providing the entertainment. On Saturday night, dinner follows a local theme to coincide with the Jamaican show (see "Nightlife"). Wine is available with lunch and dinner. (Breakfast 7:30am-10:30am; lunch 12:30pm-2:30pm; dinner 6:30pm-9:30pm). Sea Cotton Tree Grill serves spicy jerk pork and chicken, hamburgers, fries, hot dogs and specialty sandwiches all day. We love the idea of the "Kidz Buffet" at dinner, which offers a full selection of child-pleasing fare, including pasta, pizza, crustless PB&J sandwiches, fruits, and veggies—spread out on a 2-foot-high table so that kids can proudly serve themselves. (Open 11am-midnight; Kidz Buffet nightly 5:30pm-7:30pm.) The Pier is the sole adults-only restaurant at the resort. It is open for dinner and serves Italian cuisine that's a step up from the fare at the other restaurants. Coming soon: A new Jamaican restaurant offering local cuisine was not yet completed when the Butterfield family visited.
Nightlife: Life after sundown may not be a highlight at this resort, but that suits most families just fine since they've brought their small children. ("It's a famly resort, not Studio 54.") The nightly entertainment tends to be family-friendly if a tad mediocre. On most evenings by the boardwalk, there's a live band playing or maybe a bit of karaoke. Once a week, there's a Jamaican show featuring dancers, limbo-under-fire, and a flame eater. There's also a piano bar in the pool area. The family disco was completely empty during the Butterfield family's stay. ("Lights out, with no one there even to play music.")
The most popular grown-up evening activity is simply dining out as a couple. ("But our personal favorite was relaxing in the quiet bubbling of the hot tub under an awe-inspiring expanse of stars.") Just ask your nanny to babysit. She'll likely accept since the fee is entirely hers to keep ($4/hr).
Where to Stay: The resort offers 76 very spacious 1-, 2-, and 3-bedroom air-conditioned suites. Some of the larger units are duplexes. Most suites overlook the pool area, so request an ocean view if that's important to you. In the evening, the beachfront and bar area becomes the place for music and entertainment. Book a suite far from this area if you or your kids can't tolerate noise when you sleep.
Each open-plan suite has a kitchen and dining area, a living room (with satellite TV), and either a balcony or a patio. These suites are tastefully decorated and comfortable, though not luxurious. Your nanny will restock your fridge with your favorite items, and can also procure a crib or any other baby necessity that you need. Want to check your e-mail while you're away? Just bring your laptop and take advantage of the free wireless Internet service from your room, the pool area, and everywhere else in the resort.
Price Tag: A 6-night stay at Franklyn D. Resort for a family of four can run anywhere from $3,500 to $5,300, depending on the size of your suite and the dates of your visit. High season runs from mid-December to the third week in April, with the major school breaks (Christmas, President's Week, Easter) being the most expensive times to visit.
There's a 3-night minimum stay at the resort. Children 5 and under stay free in their parents' suite. Kids 6 to 15 cost $30 to 50 per night extra, depending on season. Teens 16 to 18 cost $60 per night extra, all year round. To book a 2-bedroom suite normally requires a minimum of three paying adults. Depending on availability, however, you may be able to upgrade to a 2-bedroom for an additional $100 per night during high season, or $50 per night during low season. Note: Franklyn D. Resort often runs excellent specials to offset the cost of airfare. At press time, the web site featured a deal offering a $250 credit per adult for a 4-night stay, sliding up to $500 credit per adult for a 7-night stay.
Franklyn D. Resort is a true all-inclusive resort, and the Butterfields were particularly impressed with the staff, their nanny, and the menu of activities included in the rate, especially watersports such as scuba. ("It would be very easy to come and stay here without spending any additional money at all.")
Insider Tips:
1. Keep an eye on the resort's web site for specials. In February 2006, there was a "grandparent for free" special, which was replaced in March by a "single parent" special.
2. The poolside lounge chairs are generally claimed by 8am, so get there early to stake out yours with a towel or another belonging.
3. Bring your own stroller and car seats. Jamaica has an exceptionally high rate of auto accidents but no car seat law.