Great mountain biking areas that are kid-friendly.
By Katrina Brown Hunt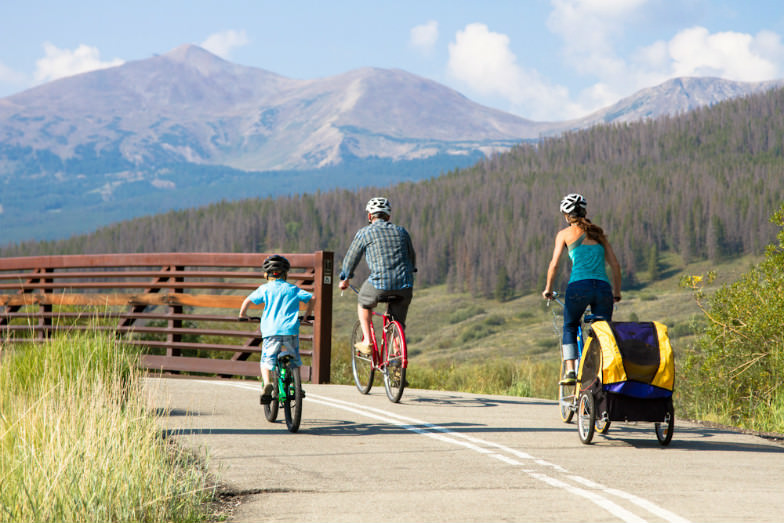 Family mountain biking fun in Breckenridge, Colorado (Courtesy of Go Breck)
It's one thing to watch your kids pedal down the driveway, and something else to go careening with them down the side of a mountain.
In summer plenty of ski resorts and state and national parks become mountain-biking playgrounds. They're not just for showboating experts. Most of these areas have low-impact, not-so-steep trails for beginners, and many resorts and tour operators rent bikes and gear to day-trippers, often with smaller versions for kids. Here are 6 great areas to give your kids (and perhaps yourself) a fun and scenic introduction to the sport:
Bay Area Ridge Trail (San Francisco Bay Area)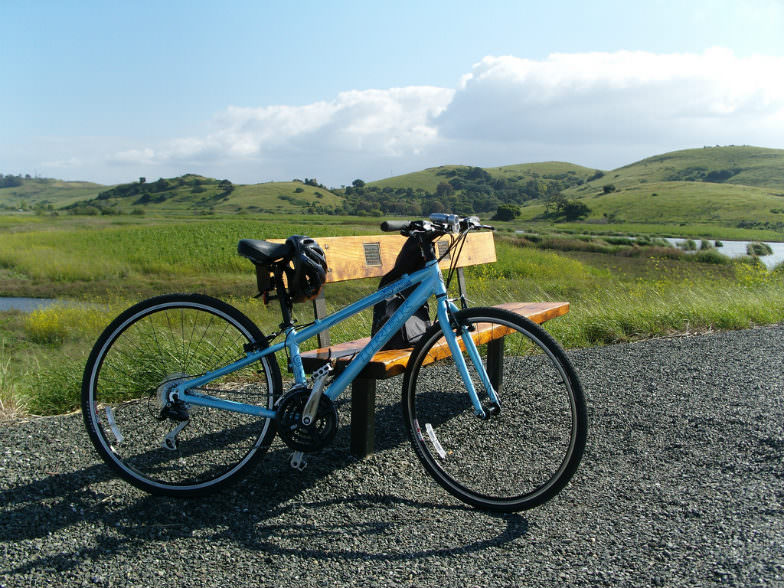 Bike on a San Francisco Bay Area ridge trail (Flickr: Nina)
It may not be deep in the wilderness—the Golden Gate Bridge and the Presidio are just a stone's throw away—but the 340-mile network of trails has a number of scenic trails for families. Try the easy Coyote Creek Trail from Stonegate Park to Anderson Dam, which winds through various neighborhoods and parks in San Jose.
(MORE: Find wonderful kid-friendly hotels to stay in the Bay Area.)
Bend, Oregon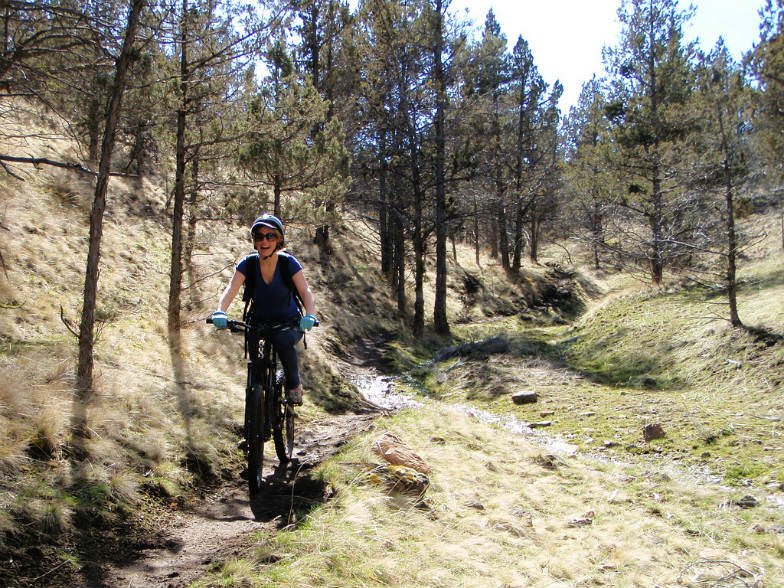 Mountain biking in Bend, Oregon (Flickr: Gabriel Amadeus)
This Oregon town is another nerve center for serious mountain bikers, with nearly 300 miles of mountain biking trails. Tour operator Cog Wild, however, does family-friendly biking tours on single and double track trails alongside ponderosa pines, with breaks for snacks or wading in the river. To dabble in road cycling, go to the Three Sisters Scenic Bikeway, where the 20-mile-plus Metolius River Loops offers mostly flat, but rolling rides.
Breckenridge, Colorado
This ski town has hundreds of miles of good backcountry trails that radiate from town—and folks here love biking so much that they now hold a Breck Bike Week during the summer (this year, Aug. 20-24), which has a range of kid-friendly activities. During the rest of the summer, the ski resort — where the trails get the same color-coded rating as ski runs — kids as young as 6 can take mountain biking lessons, play at the kid-friendly skills park at the Peak 8 base, or access the Family Trail and other beginner mountain-bike trails using either the Independence Super Chair or Rip's Ride.
Moab, Utah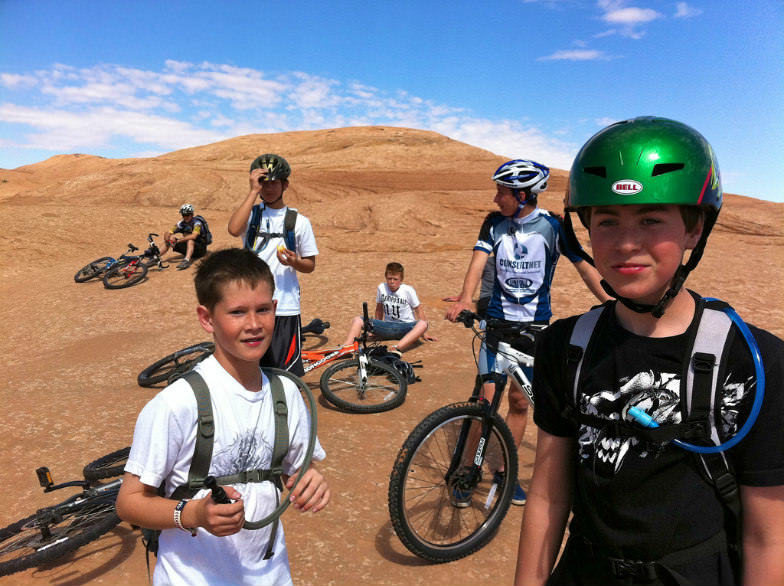 Young bikers in Moab, Utah (Flickr: Philms)
Home to two national parks, Moab is a prime spot for expert mountain bikers, but there are plenty of trails that are newbie and family-friendly, too. Check out the 8-mile Bar M Loop, which has only a little elevation gain (about 300 feet) and views of the Arches National Park; or the slightly more demanding Intrepid Trail, which has a looping single track, and views of both the Colorado River and Canyonlands National Park.
(MORE: See all of Moab's stunning landscape. Look for kid-friendly hotels there.)
Sedona, Arizona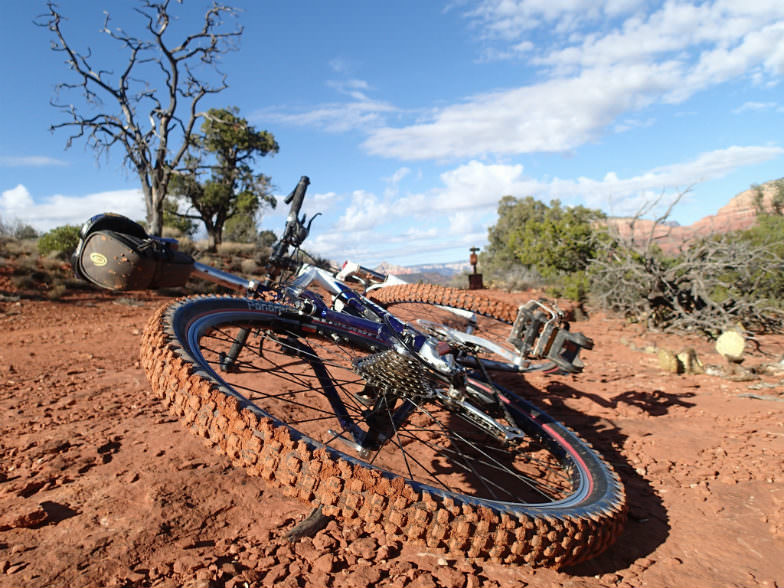 Bike on a trail in Sedona, Arizona (Flickr: Alan Levine)
This Red Rocks town has plenty of gorgeous scenery, some low-key rides and rentals from operators such as Absolute Bikes. For a nice beginner route, try the Bell Rock pathway, the Big Park Loops, or, for something a bit more challenging, the trails off Boynton Pass Road. The bonus with the Bell Rock ride: you'll get an up-close look — and feel — of one of the area's most reputed vortexes of energy.
Trapp Family Lodge (Stowe, Vermont)
Stay at this renowned resort and you can take advantage of their 20 miles' worth of beginner trails, and bike rentals that include plenty of kid-sized models. When you're ready for a break, you can take a guided stroll and learn about the practice of "sugaring," or maple-syrup making.
Katrina Brown Hunt contributed this to MiniTime.