Aulani with kids
By Michelle Rae Uy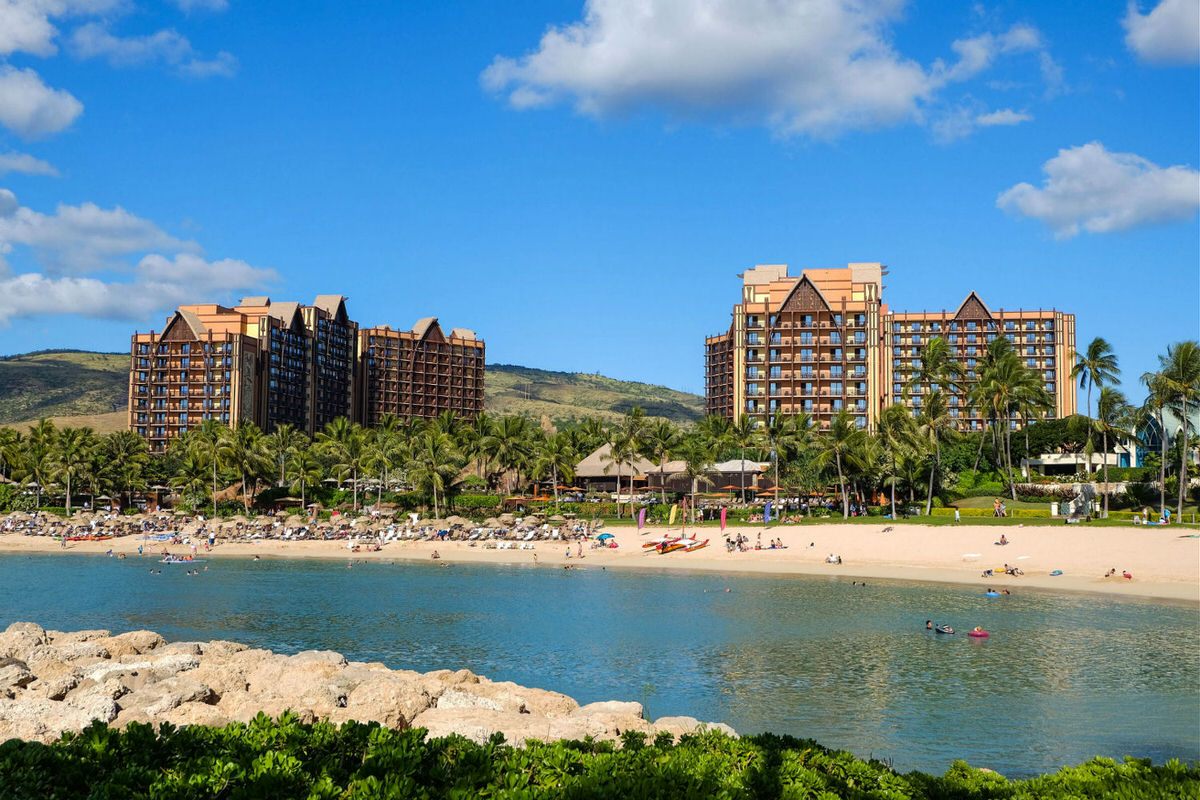 Aulani and the Ko'Olina Lagoon (Photo: Michelle Rae Uy)
As Disney's first ever resort to be completely independent from any of its theme parks, Aulani was clearly designed to shine. The beautiful, oceanfront Aulani, nestled on the quiet shores of Ko'Olina Lagoon about 30 minutes from the busy Honolulu, has all the makings of the ultimate family-friendly fun – from its small waterpark complete with a lazy river, a splash zone and pools of different shapes and sizes to the nightly entertainment ideal for kids and kids at heart. It's an undeniable paradise for kids as well as adults, which makes this Disney resort a quintessential escape for families.
(MORE: Best Kid-Friendly Attractions in Oahu)
A Polynesian Twist
While it has the Disney stamp all over it – friendly Cast Members, deluxe furnishings, vibrant décor and excellent service, Aulani also possesses an authentic Hawaiian flair. The resort revels in the culture and the spirit of the Pacific archipelago, and this is apparent from the moment you arrive at the property when you're greeted with lei and that famous Hawaiian welcome before you even enter the lobby.
Inside, the towers boast Hawaiian trimmings such as geometric patterns inspired by the Hawaiian kappa cloth; scents of ginger, pikake and plumeria wafting from its water garden; a 200-foot long mural designed as a tribute to Hawaiian history; and a massive compass etched at the center of the lobby floor that correspond to the ancient Hawaiian directions (sea, mountains, femininity and masculinity). Also, hung on the walls of the 'Olele Room are wooden carvings that depict objects and animals with their Hawaiian names.
Outside, along the Menehune Adventure Trail, Hawaii's legendary little people, the Menehune, also make "rare" appearances if you keep a sharp eye out.
The Hawaiian culture is also alive in the resort's kid-friendly entertainment and activities, which include playing the ukulele, dancing the hula (Ohana Hula, E Hula Mai 'Oe), learning to navigate the stars like the ancient Polynesians (Kilo Huku), storytelling at a fire pit under the stars (Fireside Mo'olele), and a dazzling cultural show that includes a live hula performance (Aulani Starlit Hui).
Rooms and Amenities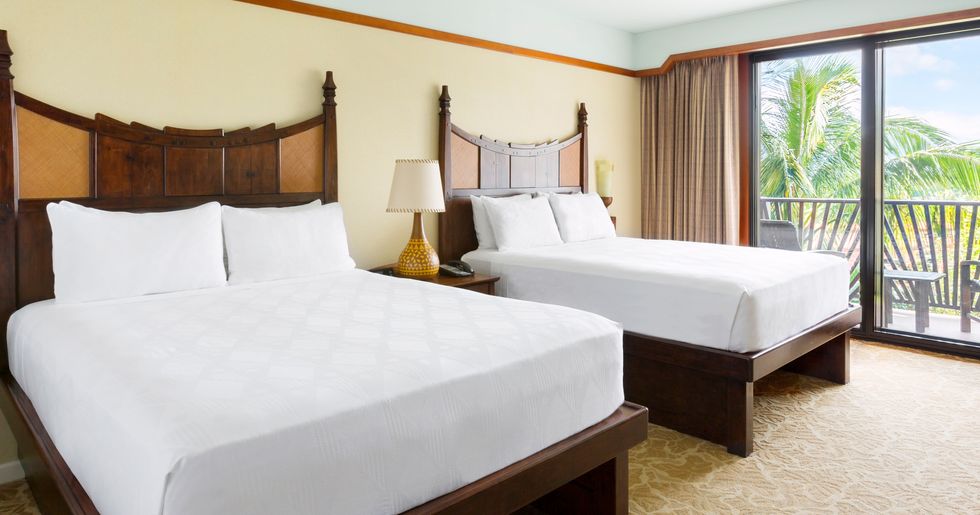 Standard room at Aulani (Photo: disneyaulani)
While it may not look as big as other resorts, Aulani does house an impressive accommodation count – 832 Polynesian-themed digs make up its two towers. 481 of these are two- or three-bedroom equivalent villas and 16 one- or two-bedroom suites, which are great for bigger families or for those who need plenty of space. The signature suites' special features include Whirlpool tub, steam shower with body jets and rain head, Mirror TV in master bathroom, and deluxe robes and slippers. The villas – with the exception of the studio ones – boast a full kitchen complete with dinnerware, which gives families the option of preparing home cooked meals while one vacation, and a washer and dryer. Smaller families, on the other hand, will find the standard rooms quite comfortable thanks to their abundant space and roomy beds.
All rooms include special amenities such as lovely-smelling toiletries, robes, a private balcony, complimentary WiFi access (a terrific but not very common perk at high-end resorts), ceiling fan/s that resemble canoe paddles, a Pack 'n Play playard, comfortable beds, and soft carpet that depicts the taro plant, Hawaii's staple food.
Laniwai Spa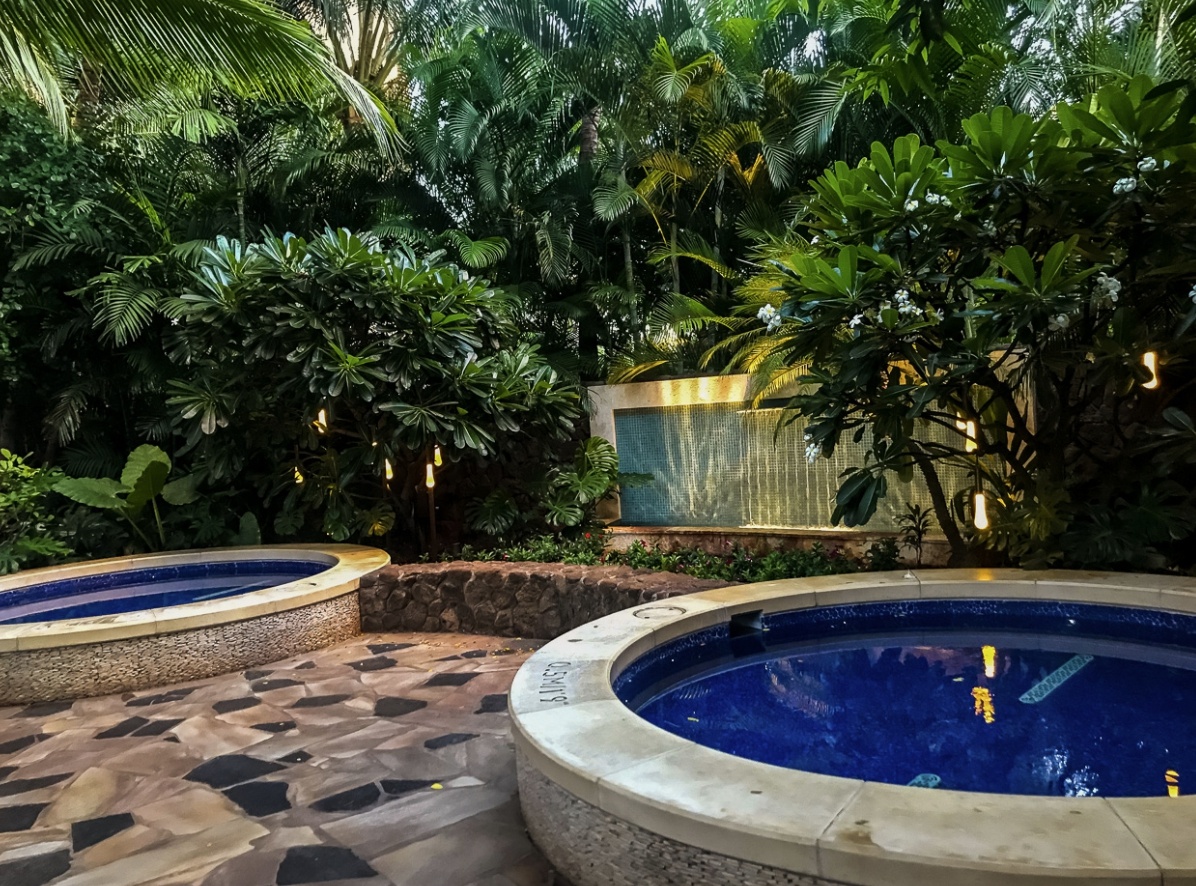 Kula Wai at Laniwai Spa (Photo: Michelle Rae Uy)
There are a lot of amazing spas out there, but Aulani's Lawiwai Spa definitely holds its own. It's certainly one of the most beautiful and luxurious we've been to, and it's very family-friendly thanks to its family treatments like Ka Makana and its Painted Sky section, which offers teen-specific treatments, programs and activities.
The spa offers Hawaiian massages and treatments such as the traditional Hawaiian LomiLomi in which your tired muscles are rhythmically kneaded either with bare hands and forearms or with sticks and warm river stones, and the Kilikili, which massages and exfoliates you with streaming water jets.
Other lovely additions include the spacious showers with shampoo, conditioner and body wash that literally leave your skin and hair soft, refreshed and smelling like a garden in bloom, as well as a big powder room complete with other toiletries such as facial moisturizer, lotion and sunscreen. There's even a swimsuit dryer in the ladies' locker room, and snacks and refreshments at the relaxation rooms.
The best part about this spa, however, is its Kula Wai. Located outdoors adjacent to the spa facility, Kula Wai is Laniwai's own hydrotherapy garden. Guests can visit this beautiful and quiet space for FREE before or after their treatments to enjoy different hydrotherapy amenities, such as a cold water therapy plunge pool, heated whirlpool jet spas, and its six outdoor showers that produce warm water and mimic different rainfalls, a feature that is similar to Disney Dream's Rainforest experience showers.
Dining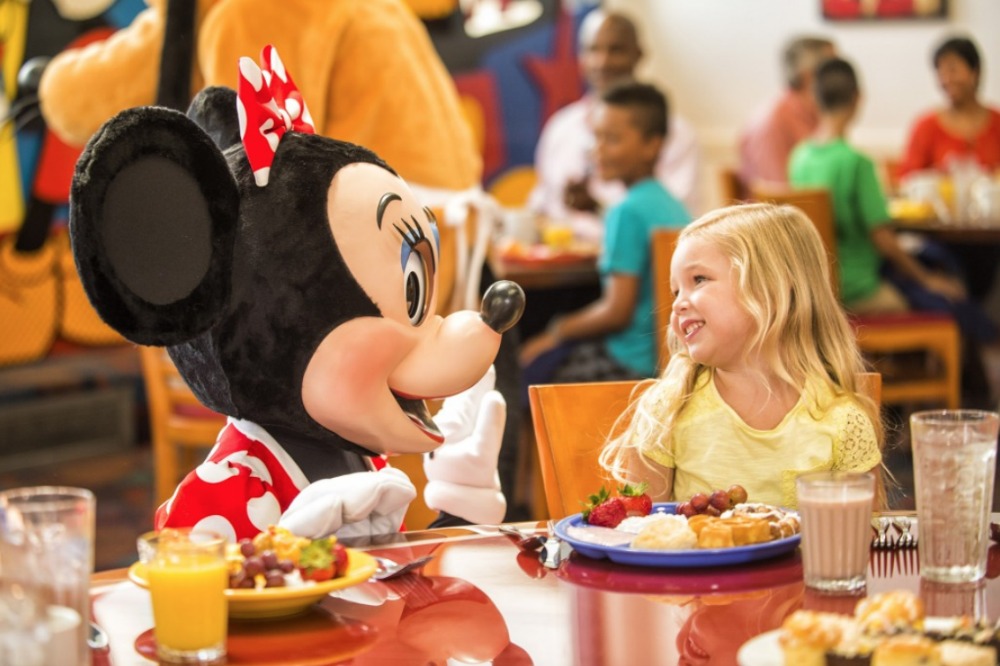 Minnie at the Disney Character Breakfast (Photo: Michelle Rae Uy)
From quick-service dining to buffet spreads, Aulani has plenty of food options for guests of all tastes, preferences and eating habits – even the littlest picky eaters in the family. There are a total of 10 dining options onsite at the resort, including pool area snack shacks for casual, poolside dining.
Start your day at the Disney Character Breakfast at Makahiki, especially when traveling with kids. The popular Disney affair includes photo ops with Mickey, a chance to meet and greet Disney characters like Goofy, Minnie Mouse and Stitch, musical interactions with Aunty, and of course a massive buffet spread that boasts everything from meats, fruits and cheeses to an omelet station. The kids will adore meeting their favorite Disney characters and have fun dancing to and singing along Aunty's ukulele performances, while parents can enjoy a relaxing breakfast with delicious food and a lovely view to boot. This experience is definitely worth it, even if you do it just once during your stay. And do remember to grab a photo package of your photo with Mickey before you leave.
Consider Mama's Snack Stop for quick eats at the pool. This small yet popular surf-inspired shack serves all-beef kosher hot dogs, chicken tenders, coconut shrimp, salads and even desert. Try the Portugues K?lua Dog topped with K?lua Pork and Pineapple relish.
Hot days deserve delicious cool downs, so stop by PaPalua Shave Ice next door for Hawaii's favorite desert. Tropical fruit flavors are available, including banana, mango, lilikoi (passion fruit), li hing mui (salted plum) and coconut. Step up your shave ice game by requesting condensed milk to your order.
For a casual dining experience at night, the 'Olelo Room is not just good for savory, Hawaiian appetizers that can be very addictive. It's also a good place to learn some Hawaiian words, thanks to its wooden carvings that feature every day objects and their Hawaiian names. Come to this kid-friendly lounge during Happy Hour for cheaper yet delicious appetizers, tropical drinks, a lovely ambiance, and Hawaiian serenades. Try the Kalua Pork Sliders, Ahi Poke, Sweet-and-Spicy Guava BBQ Chicken Wings and Garlic Fries.
Craving for a home-cooked meal while at the resort? No problem. Opt for a suite or a villa with a full kitchen or simply use one of the outdoor grills for burgers, hotdogs or steaks and veggies.
Family-Friendly Fun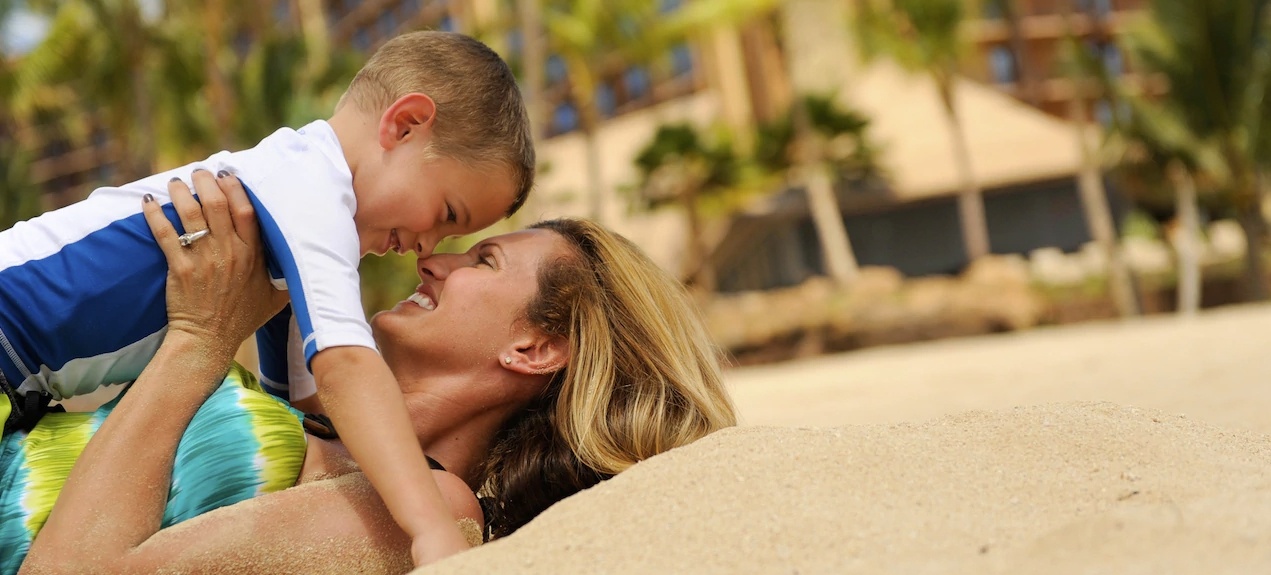 Mother and son at Waikolohe Stream (Photo: Michelle Rae Uy)
You'll never run out of activities that are catered to families with kids at Aulani. The resort is very much created to be an actual destination with a plethora of family-friendly endeavors so there's less need to leave the resort. At the beach, there's paddle boarding, kayaking, snorkeling, sand castle building, beach games, and even sailing. In the pool and water park area, there's even more. In fact, there's a lot going on that it might be impossible to do them all when you're only visiting for a couple of days.
Below are some recommended family-friendly onsite activities you must not miss at Aulani:
snorkeling in Rainbow Reef, the resort's private saltwater snorkeling lagoon;
paddle boarding or kayaking in Ko'Olina Lagoon</strong>;
Shake-A-Shaka Pool Party at Waikolohe Pool</strong>;
floating along Waikolohe Stream, the onsite lazy river;
plunging down Volcanic Vertical, the resort's tunnel body slide;
plunging down Tubestone Curl, an exciting tube slide
getting a family spa treatment at Laniwai Spa</strong>;
relaxing and enjoying the view at Ka Maka Grotto, the resort's infinity pool;
shopping;
going on a scavenger hunt on the Menehune Adventure Trail</strong>;
gathering around for the Mo'Olelo Fire Pit Storytelling with Uncle;
learning to play the ukulele or dance the hula at the Pau Hana Room;
attending the Starlit Hui</strong>;
watching Disney movies under the stars during 'Ohana Movie Nights</strong>;
learning how ancient Hawaiians navigated using the stars during 'Imi Loa N?a H?k?.
Teens Only
Teens value their time alone more than anyone in the family, so Disney always makes sure that they can have that during their vacation as well. After all, when you're used to spending most of your time with your friends or in your room, a weeklong trip dealing with the whole family isn't going to be easy. Guaranteed, teens will love and appreciate teen activities like Teen Sunset Lei Making, Teen Animation Fun and the Teen Sunset Mele. They will also adore teen-only areas like Painted Sky Teen Spa, which offers activities as well as spa treatments for teens.
Just for Kids
Most of Aulani's offerings are catered to kids, but they do have their adult-free zones as well. Aunty's Beach House, for example, only welcomes kids ages 3 through 12 and serves as a fun and safe space for kids to play with others and participate in such activities as Hawaiian arts and crafts, playing dress-up, storytelling, video gaming, and more. The Keiki Cove and Splash Zone as well as the Menehune Bridge Interactive Splash Zone are also mostly adult-free and perfect for the younger kids.
(MORE: Best of Hawaii with Kids)
Adults Only
Sometimes, moms and dads deserve some quiet time too, so Aulani has also added a few adults-only areas in the resort. These include Wailana Pool and its swim-up bar, and the two half-hidden whirlpool spas at 'Alohi Point that overlook the lagoon.
Things We Love
Ukelele and hula lessons at the Pau Hana Room is a wonderful way to immerse the kids in Hawaiian culture.
The Kula Wai at Laniwai Spa is a great place to unwind some more after your spa treatment. Try all the rainfall showers, take a dip in the cold plunge pool or the hot tub, and even have a nice, quiet lunch there.
The LomiLomi massage is perfect for those tired, overworked muscles.
Great Aulani merchandise are available at the onsite souvenir shop K?lepa's Store so you can bring home mementos of your vacation.
Waikolohe Stream is perfect for more relaxation, while waterslides Volcanic Vertical and Tubestone Curl add a bit of excitement to your lazy river ride.
Paddle boarding in the lagoon is a relaxing yet active way to get out into the water and maybe spend a quiet moment there. At $39/hour, this activity is great for families with bigger kids.
While the Rainbow Reef is small and can get crowded, it is a great AND, more importantly, very safe snorkeling experience for kids. Best of all, the water is clear and there is plenty of tropical fish so it's exciting as well. Bring a waterproof camera, as there are many, many photo opportunities.
Insider Tips
Rooms and suites offer different views. Those rooms facing the lagoon and the ocean are higher-priced than the rooms facing the mountains. If you have the budget for it, definitely get the ocean-facing rooms.
The Mo'Olelo Fire Pit Storytelling, Starlit Hui and 'Ohana Movie Nights are popular among guests. Especially during the busy season, arrive early for better seats.
Before planning your day, do check out the resort's Daily 'Iwa, which lists all the resort activities available that day. The activities calendar is available around 8 pm every night at Guest Services or at the Front Desk. Grab a copy before turning in.
Laniwai Spa is worth spending at least half a day in. Moms and dads can hire an in-room babysitting service so they can rejuvenate without the kids. Kama'aina Kids Sitters can watch babies as young as 6 weeks old and are available from 6am through 12pm.
The onsite shops may have "secret" merchandise sales so keep an eye out. You just might be able to score a $25 pair of flip-flops for just $3!
Mornings are usually best for paddle boarding, so come early as it may not be available later in the day when the waves are stronger.
Finding lounge chairs and umbrellas is hard from noon onwards and during the busy season, so reserving spots in the morning might be to your advantage.
Coffee lovers might appreciate walking across the street to Island Vintage Coffee for a cup of Island Latte.
All beaches in Oahu are public, including the ones at Ko'Olina Lagoon, so secure your belongings just in case.
If you're planning on dropping the kids off at Aunty's Beach House sometime during your stay, you must fill out an online pre-registration at least 2 days before your arrival date. Upon arrival at the Resort, stop by the beach house with the kids to complete registration.
Michelle Rae Uy contributed this to MiniTime. She is a travel writer based in Los Angeles and MiniTime's Head of Content, who spends her free time on adventures and film photography.