Highland, NY
By Suzanne Rowan Kelleher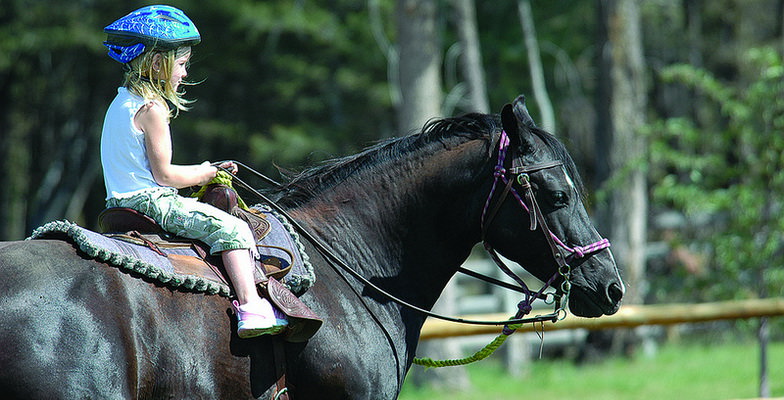 Ride horses at Rocking Horse Ranch (Echo Valley Ranch)
Why Go: If you grew up watching TV westerns, it may come as a surprise that not all dude ranches are located in the wild, wild West. For over 50 years, one of the most highly-acclaimed and kid-centric dude ranches has been welcoming little cowpokes and their parents to the bucolic hinterland of New York's Hudson Valley, within striking distance of Manhattan. (Truth be told, Rocking Horse Ranch is more of a Western-themed resort than an authentic dude ranch, but it does what it does so well that nobody really minds.) Along with typical ranch activities like horseback riding and hay rides, there is a wagonload of other fun things to do, such as rock climbing, archery, swimming, tennis, and even water skiing and banana boat rides on the ranch's private lake.
Dude ranches typically come with high pricetags and this one is no exception. In the high summer season, the nightly rate can easily top $600 for a family of four. If that seems steep, consider that this is an all-inclusive vacation with lodging, most meals, horseback riding, evening entertainment, and practically every other expense built into the cost of your room. Our correspondent, Suzanne Kelleher, and her family discovered that guests get real value-for-money at Rocking Horse Ranch—not just because of the endless opportunities for fun, but because the place is so well-run.
Getting Oriented: Rocking Horse Ranch is located in Highland, New York, a town of just over 5,000 residents located just southwest of the Catskills Mountains and east of the Hudson River. By car, it is about a 90-minute drive from Albany and just over two hours from New York City.
The ranch is spread out over 500 acres, but most guests remain within a few acres of the lodge, since the vast majority of recreational activities are centrally located and accessible on foot. Most guestrooms are located in the lodge, though some are found in an annex called the Oklahoma Building, less than a stone's throw away. The lodge's timbered lobby is gussied up with theme park-like display of cowboy gear, horse tack, totem poles, and other Wild West paraphernalia. Extensive facilities, all located within several hundred yards of the lodge, include riding stables, indoor and outdoor pools, a rock climbing wall, mini-golf course, rifle range, softball field, playground, shuffleboard, bocce, games arcade, and fitness center. There's even a large indoor "fun barn" containing a bouncy house and two-story ball pit. Guests can take out paddleboats on the small lake, grab a ride on a banana boat, or go water skiing. In the winter, guests can go snow tubing and even learn to ski at the small ski area on the resort's grounds.
Getting Around: You need a car to get to the ranch, as it is nestled in the proverbial "Middle of Nowhere," but you'll likely stay put once you arrive. There is free parking in the resort's parking lot.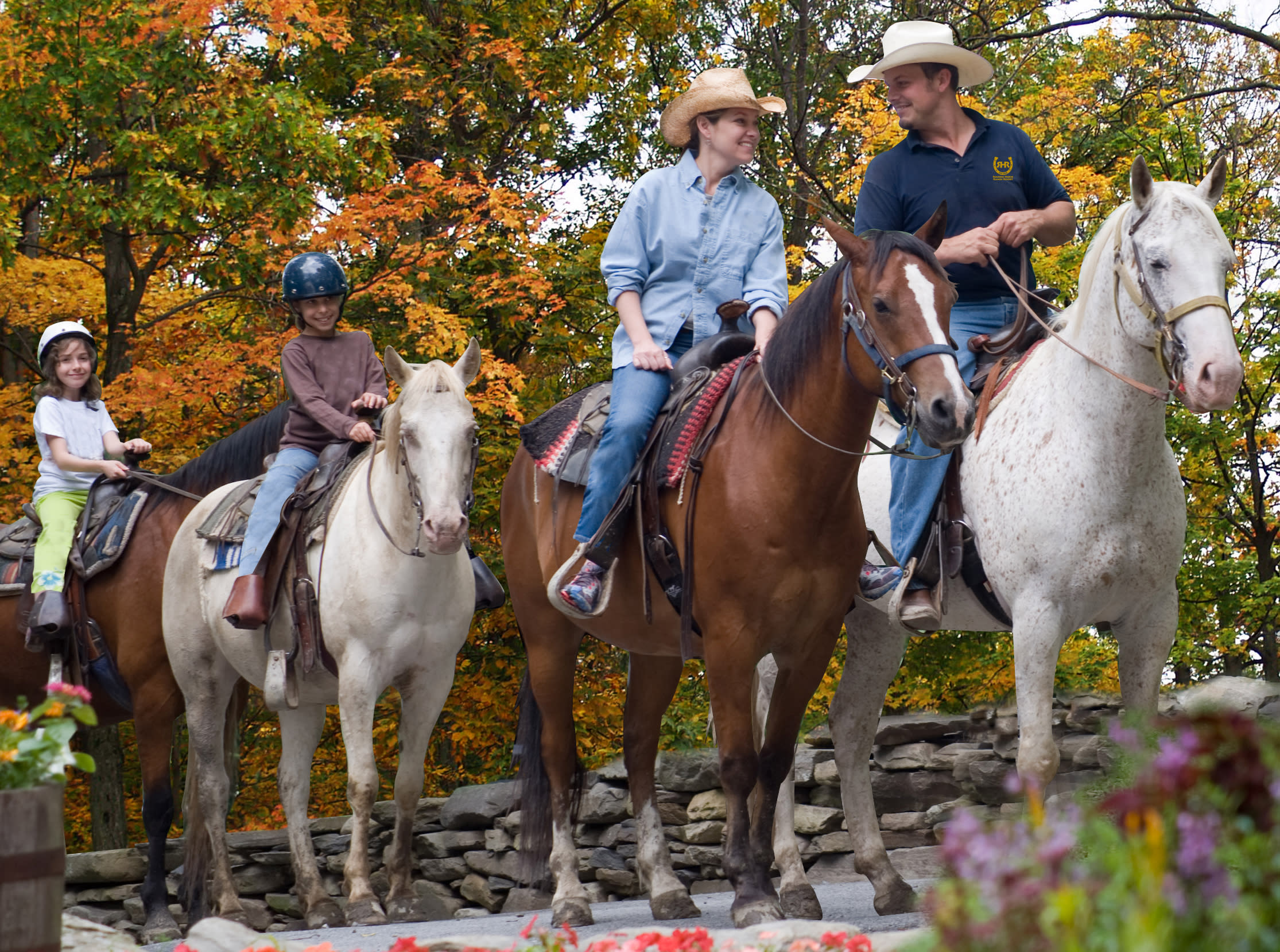 Quality time with ponies (Pink Sherbet Photography)
We Are Family: On the afternoon of your arrival, once you've settled into your room, your first stop is the sign-up room. You will choose times to take horseback rides (offered six times daily), drop your kids into the nursery or daycamp, and try watersports. Since watersports are offered at specific times, put them into your timetable first. If you want to go on a banana boat ride in the afternoon, for instance, then it makes sense to opt for one of the morning rides.
The ranch owns 135 horses, and everybody rides Western. Adults and kids 7 and up can sign up for one 60-minute trail ride per day. It's up to each guest to join the group that reflects his experience. Beginners—guests with little or no riding experience—will walk only during their ride. Intermediates—folks who have ridden a few times before—will walk and trot. Advanced riders should be comfortable walking, trotting, and cantering.
If you want additional rides, you can wait in the standby line at designated ride times. Any available horses will be assigned on a first come, first served basis. When the Kellehers visited on a busy summer weekend, there were always enough horses for standby riders. (Note: Riders are required to wear helmets, long pants and covered footwear, such as boots or sneakers.) After the wranglers match each rider to a horse and get everyone mounted and equipment adjusted, the actual riding time is about 45 minutes. Each group of riders is accompanied by several wranglers who keep an eye on things and call out directions.
Every morning at 9:30am, one of the head wranglers gives a half-hour riding demonstration in the stable area. Guests look on as the wrangler goes over the basics of how to control a horse, while providing plenty of useful information about horse behavior. ("The orientation session was excellent and should be mandatory for first-time riders. The wrangler was full of confidence-building tips. We all got a lot out of it—especially my mother and kids, who had minimal riding experience. This session showed everyone what to expect on their first ride.")
Kelleher's 70-year-old mother, 9-year-old daughter, and 7-year-old son signed up for the beginner ride, which makes a nice, leisurely loop through wooded trails and is perfect for tenderfoots. ("Because they had attended the orientation session and knew what to do, everybody was comfortable and unworried. My 7-year-old son had never ridden before but was able to get his horse to do what he wanted, when he wanted, which gave him a huge sense of accomplishment. The wranglers were careful to match kids with the gentlest horses, and they paid close attention to how they were doing during the rides.")
Kelleher had owned a horse when she was a teenager, but had only ridden a few times since then. She joined the advanced group, which followed a similar loop trail in the woods. ("There was walking, trotting, and cantering. While there wasn't a whole lot of discussion between the wranglers and riders, we each got some feedback and a few pointers, which was great.")
Kids under 7 can go on pony rides every morning from 9:30 to 12:30pm and from 2pm to 3pm. The pony corral is located near the nursery building and playground.
Rocking Horse Ranch has two swimming pools. The heated outdoor pool is open daily from 10am to at least 7pm, sometimes later in the summer. Steps lead into the shallow end, which is two-and-a-half feet deep. A huge twisting waterslide empties into the deep end, which is only four feet deep. ("The pool is loads of fun. Aside from the big waterslide, there is a DJ spinning music and games and contests happening all the time. It's very loud and lively—not a great place for swimming laps or taking a nap.") There were at least two lifeguards on duty every time the Kellehers visited the pool. There were many lounge chairs set up around the pool, with a big supply of free towels available to guests. No swim noodles, life vests, or floatation aids are available for guests' use, but the gift shop sells water wings and kids' goggles at reasonable prices.
Next to the large pool is a knee-deep kiddie splash pool with a large mushroom fountain and a slow zig-zagging waterslide for little kids. ("The kiddie pool was perfect for toddlers and preschoolers. There was even a lifeguard at the top of the slide to make sure everyone got down safely.")
The indoor pool is located in the lodge just off the lobby, open daily from 9am to 11pm. The pool is shallow, ranging from two-and-a-half to four feet deep, and there is a lifeguard on duty at all times. ("This pool is small but fun, with tipping buckets perched atop wooden posts that dump water on whoever is standing underneath. A half dozen beach balls are available for guests' use, and we had fun trying to shoot them into the tipping baskets before they overturned.")
Parents with children between 1 and 4 years old can take advantage of the nursery, which is located in a spacious building near the pony ride corral. This is one of the few services that incurs a fee ($7/hr per child). You can sign up your child for either the morning (9am to 12:45pm) or afternoon (1:45pm to 5pm) session. Kids can be dropped off for just one hour or for the entire session. ("I put my 4-year-old son in the nursery one morning while the rest of the family was on a ride. He enjoyed playing there. There were lots of different age-appropriate games, books, and toys, and there were kids his own age to play with. The counselors were very attentive and friendly, and were good at making the kids feel welcome and comfortable. They often take the group out to the playground or for a pony ride, since both activities are just steps away from the nursery.")
Kids 5 to 12 can attend the free daycamp on a drop-in basis from 9am to 5pm. The daycamp is headquartered in a very large, bright room near the pool area. Activities range from arts and crafts to playing games for prizes to swimming and other recreation around the ranch. ("The counselors were very friendly and engaged the kids in the activities that are going on. The room was full of art projects that children had made, and the mood was upbeat and cheerful.") On the day the Kellehers visited, six kids ranging from 5 to 8 years old were attending the camp. ("There is so much to do at the ranch that most families don't use the daycamp, but kids that attended seemed to enjoy it. Most of the kids in the camp were at the younger end of the age range. Kids 9 and up might feel a bit old and perhaps get bored.")
In the summertime, free watersports are a hugely popular activity at Rocking Horse Ranch, thanks to the small, private lake located just yards from the swimming pool and tennis courts. You can take a paddleboat out on the lake anytime. Water skiing is available from 9am to 1pm and from 3pm to 6pm. Banana boat rides are offered from 1pm to 3pm each afternoon. ("This was hugely popular and lots of fun. At the end of the ride, you had to jump off the banana boat while it was moving and then swim back to the dock.")
There is a wonderful outdoor playground with at least six climbing structures, slides, swings, and a whirlybird. ("The playground is bang-up-to-date and one of the best I've seen at a resort. It was a kid magnet during downtime.") There is also an indoor "fun barn," which lives up to its name with a bouncy house and two-story ball pit. Kids can climb and play among hundreds of soft foam balls, they can shoot out of air guns and fall into at the bottom of slides. ("I had a hard time dragging my kids out of there, because they were having such a blast. You could easily kill an hour in there.")
Late afternoon, from 4pm to 7pm, kids can go mining for gemstones at the ranch's Old West replica goldmine with cascading water. You have to purchase a bag of rough earth ($4/small bag, $6/large bag). Each child gets a wooden tray with a screen-strainer bottom, into which some dirt is poured. He can then shake and sift to reveal a treasure haul that includes nuggets of peridot, garnet, quartz, crystal, moon stone, amethyst, pyrite (fool's gold), and ruby. ("This is a darling activity, and my kids had a lot of fun with it. They each got a small bag to put their gems into, with a little card showing pictures of the different kinds of stones and their names. It made a cute souvenir. You don't need to buy a bag for each child—one large bag was ample for three kids.")
Every evening after the last ride comes in, guests can watch the horses leave the stables and run free out the main gate of the ranch, on their way to their night pasture across the road. ("This is a don't-miss event at Rocking Horse Ranch. Every day, guests line up behind a split-rail fence to watch. It was fun for the kids to try to spot their horses as they pranced by.")
During her family's stay, Kelleher found the staff at Rocking Horse Ranch to be friendly and helpful. ("The resort has done a good job finding people who seem to genuinely like kids. From the wranglers to the front desk staff, everyone was friendly and seemed to like working there. This makes a huge difference to the guests' experience.")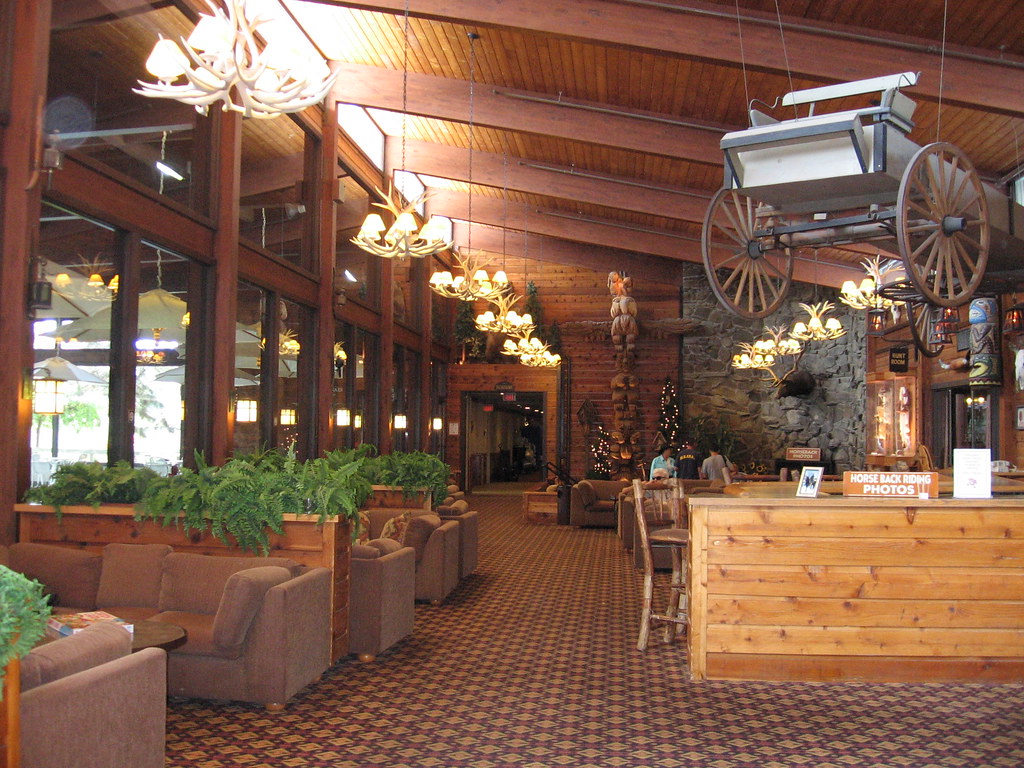 Meal time! (Suzanne Kelleher)
Where to Eat: The resort's all-inclusive pricing includes breakfast and dinner for the whole family, plus a free lunch for children, served in the dining room in the lodge.
Breakfast (8am to 10:30am) is the highlight of meals at Rocking Horse Ranch. A huge buffet features an appetizing variety of eggs, pancakes, French toast, bacon, Canadian bacon, muffins, croissants, bagels, fresh fruit, yogurt, granola, and different kinds of cereal. ("By a long shot, this was the best meal at Rocking Horse Ranch. It is also the only meal served buffet-style. The quality of the food was better than at other meals and, since service isn't fabulous, we didn't miss having a waiter.")
The children's lunch (noon to 1:30pm) is available daily in the dining room. Adults who wish to eat pay $5.50 extra. ("The kid's lunch was nothing great. On our first day, they served tacos, pizza, and hot dogs. There wasn't much available to tempt adults. We decided to skip it on our second day.")
From 11:30am to 3:30pm (and sometimes as late as 5pm), you can grab lunch or a snack poolside at the Mesquite Grill or at the Cactus Grill, a snack bar located next to the arcade in the main lodge. Both serve burgers, nachos, hot dogs, pizza, chicken tenders, chef salads (all items $2.50-$5.25).
Dinner is served in two seatings (5:30pm and 7:30pm). Like most families with younger kids, the Kellehers chose the early seating. ("Our family was assigned to sit at a large table that we shared with another family. There is a limited menu, and service is a bit rushed, so it feels a bit like a cheap banquet.") The meal begins with a choice of two appetizers, such as wonton fried shrimp or mozzarella sticks, or perhaps chicken quesadillas or baked artichoke hearts. Next comes a choice of soup or tossed green salad. The selection of four entrées changes every evening, and might include roast NY strip steak, glazed pork loin, jerked chicken and ribs, baked scrod or mahi mahi, and grilled and stuffed portabella mushroom. For kids, the choice of three entrees runs along the lines of cheeseburgers, hot dogs, chicken nuggets, spaghetti, or pasta marinara. Desserts are self-served from a buffet featuring cakes, pies, and an ice-cream sundae station. ("At dinner, the service was friendly but not particularly attentive, and the food was not great. I would say the quality was just fair. I would much rather have seen a well-executed buffet, as is offered for breakfast, than a mediocre dinner with table service. Quality is more important than quantity.")
Nightlife: Every evening, there are at least six activities to choose from. There are arts & crafts workshops in the daycamp for kids. Three evenings a week, guests can take a guided tour of the stables. Also three times a week, there are tractor-drawn wagon rides and campfires with marshmallow roasting. There are organized games of "Family Feud," ice cream socials, line dancing sessions, and Ping-pong tournaments for teens.
At 9:30 every evening, there is usually a party or entertainment geared just for adults. ("On our first night, there was a champagne party. Another night, there was a juggler. We didn't attend either because we were all so exhausted at the end of the day. But many guests had good things to say about these events.")
In-room babysitting can be arranged through the front desk staff ($8/hr for first child; $1/hr for each additional child).
Where to Stay: The 100 guest rooms in the main lodge are split into two large wings. Every room has easy access to the lobby, public areas, and key outdoor activity areas. The 20 rooms in the Oklahoma Building, less than 30 yards from the lodge, are slightly smaller and also slightly less expensive. ("About half the rooms overlook the pool area and lake, while others have views of the playground or other areas. The resort is so well landscaped that there are no terrible views.")
Guest rooms could not be called luxurious, but they are good-sized, well-maintained, and comfortably appointed. The Kellehers' room had a rather generic, non-Western decor and featured two queen beds, a pullout couch, a small table with two chairs, a TV armoire, and a dresser. There was an extra sink and vanity in an alcove off the main bathroom. ("It was a very handy layout for five people sharing a room—nothing fancy, but perfectly fine.")
There was no mini fridge in the Kellehers' room, but the resort will rent one for an extra $7 a night.
Price Tag: Prices are highest in the summer and lowest in winter, though discounted specials are offered intermittently all year. At press time, for example, there was an online special for a two-night stay in mid-February priced at $125/night per adult and $48/night per child—about half of summer prices. Nightly rates are on a sliding scale, and decrease with the more nights you stay. For a one-night visit in the summer, you'd pay $250/night per adult, $115/night for the first child 4 to 15 years old, and $100/night for each additional child. Kids under 4 stay free. For a seven-night stay, the rates fall to $175/night per adult, $83/night for the first child, and $78/night for each additional child. Most families will likely find that two or three nights is enough time to try just about everything available. For a family with two kids old enough for horseback riding, a three-day visit in the summer would cost $1,917, which works out to $639/night.
Remember that all rates include lodging, most meals, riding, plus watersports (or skiing in the winter) and more activities than your family can possibly try.
Your final bill will reflect the resort's 15% service charge and the 8.8% New York State occupancy tax.
Insider Tips:
Before your first ride, attend the excellent horseback riding demonstration held daily at 9:30am.
If your kids are not strong swimmers, consider bringing water wings, noodles, or other swim aids.