All-inclusive resort for families
By Michelle Rae Uy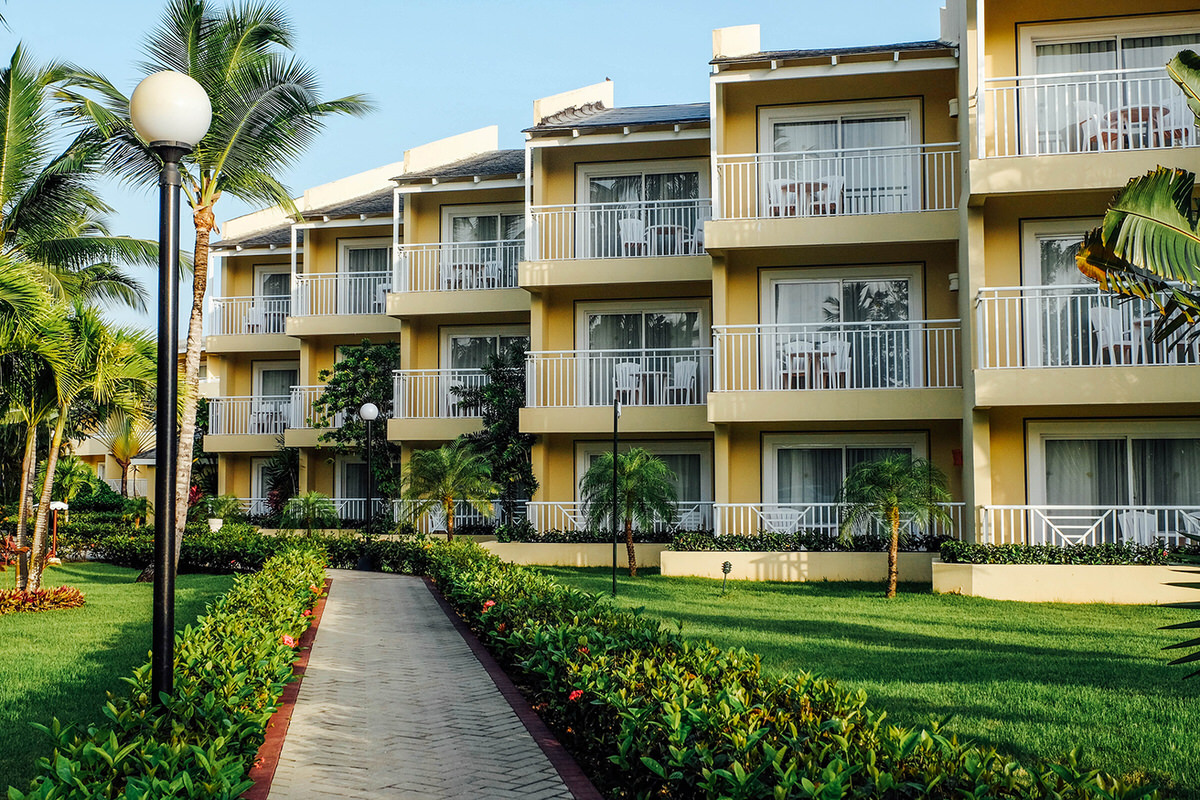 The beach house architecture of Grand Bahia Principe El Portillo (Photo: Michelle Rae Uy)
The unaffected charm of European-Caribbean luxury is evident in many resorts in the Dominican Republic, a Caribbean island nation frequented by mostly Europeans and Canadians; and Grand Bahia Principe El Portillo is no exception. In this elegant, beachfront property, tucked away along a quiet coastal road just outside Las Terrenas, authentic Dominican friendliness and service meld with elegant beach house-style accommodations, excellent food, deliciously warm, shallow waters, and of course affordability.
(MORE: 10 Things to Do with Kids in the Dominican Republic)
Beach House Elegance
The peach-yellow, three-story "towers" of Grand Bahia Principe El Portillo are very much understated, at least on the outside, dressed in beach house style architecture as is usual with many resorts in the country. On the inside is a different story. It's one of the many delightful surprises you'll find at the resort. Every El Portillo marble guest room or suite greets you with a bright, effortless elegance minus the high price tag.
Rooms & Amenities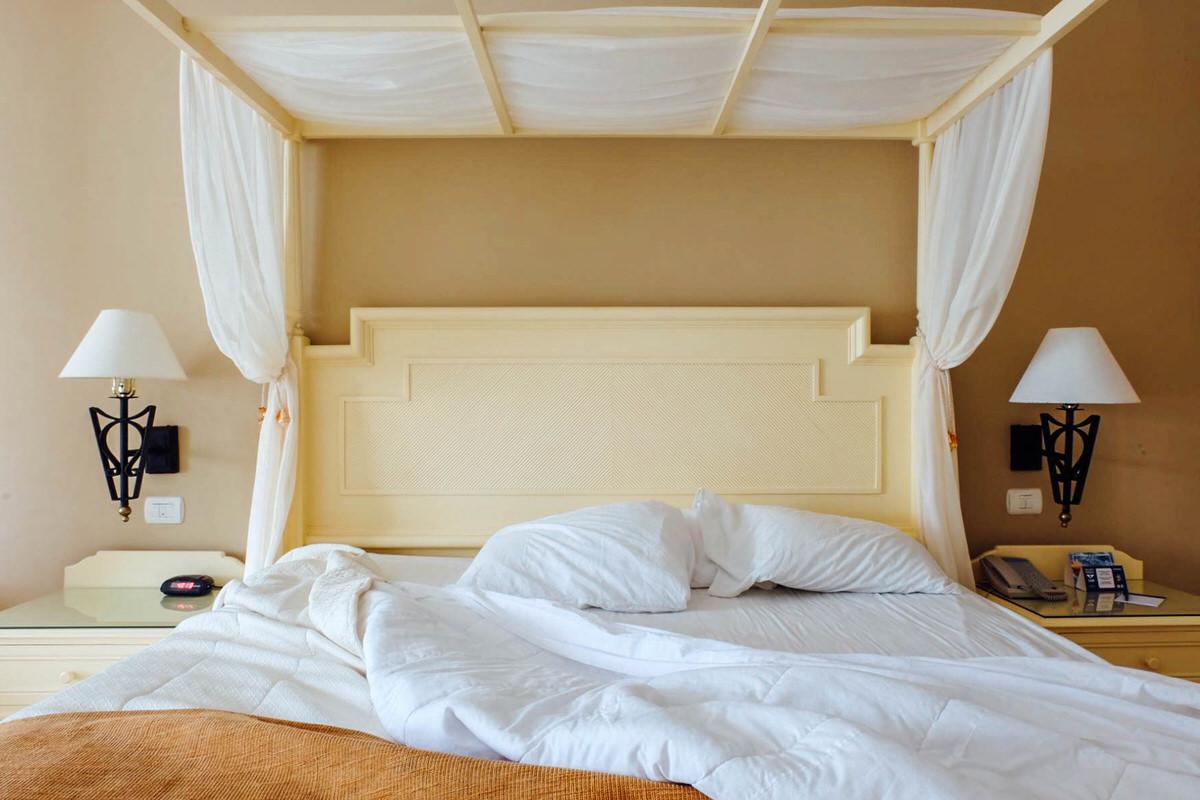 Charming four-poster king bed in a Junior Suite Club Golden (Photo: Michelle Rae Uy)
Grand Bahia Principe El Portillo has a total of five room categories, from the usual standard room to the Junior Suite Club Golden that boasts special VIP amenities. Every room boasts features and comforts such as air conditioning and a ceiling fan, a coffee machine with Santo Domingo coffee (excellent local coffee with a hint of chocolate), a flat screen satellite TV with Spanish and English channels, a balcony or terrace furnished with outdoor rattan furniture, a mini bar that may or may not be included depending on your all-inclusive package, a hydromassage bathtub, and a separate shower. The two family-friendly room categories—Family Junior Suite and Family Master Suite—include access to the water park, swings, sports equipment and exclusive buffet area; bathrobes and slippers for the whole family; kiddie welcome pack with bathroom amenities and a basket of suites; babysitting service; a baby station; and a special "all-inclusive" bracelet.
If you really want a good pampering however, a Junior Suite Club Golden might just be the right suite for you. It isn't as big as a Family Master Suite, which is essentially two rooms connected; but it is still family-friendly large enough to be comfortable for a family of 4. This beautiful, luxurious suite boasts a few extra flourishes that other room categories don't have, which is what we love most about it. There's a gorgeous four-poster bed that's essentially the suite's centerpiece (two full-size beds are also available), a beach towel, room service, VIP amenities, nightly turndown service, and bathrobes and slippers. Guests staying at the Junior Suite Club Golden also enjoy a few extra perks, including a private reception, a welcome cocktail, access to the Private Club House with free Internet and newspapers, and four à la carte dinners for every week of your stay.
Dining
Grand Bahia Principe El Portillo has six restaurants onsite. There's a main restaurant, Las Dalias, which serves international fares buffet style for breakfast, lunch and dinner; serving Oriental, Spanish, Italian, Dominican, Mexican and Canadian cuisines. There are three à la carte restaurants, Portofino, Orquídea Gourmet, El Pescador and Rodizio, which require a reservation. Waterside Rodizio Restaurant is open for dinner as well as lunch, during which international fares are served; while El Pescador is a fantastic dinner pick with its Mediterranean and seafood dishes. And finally, open from 7 am through 6 pm during high season is Los Olas, the resort Snack Bar that serves quick bites as well as midday coffee.
Family Activities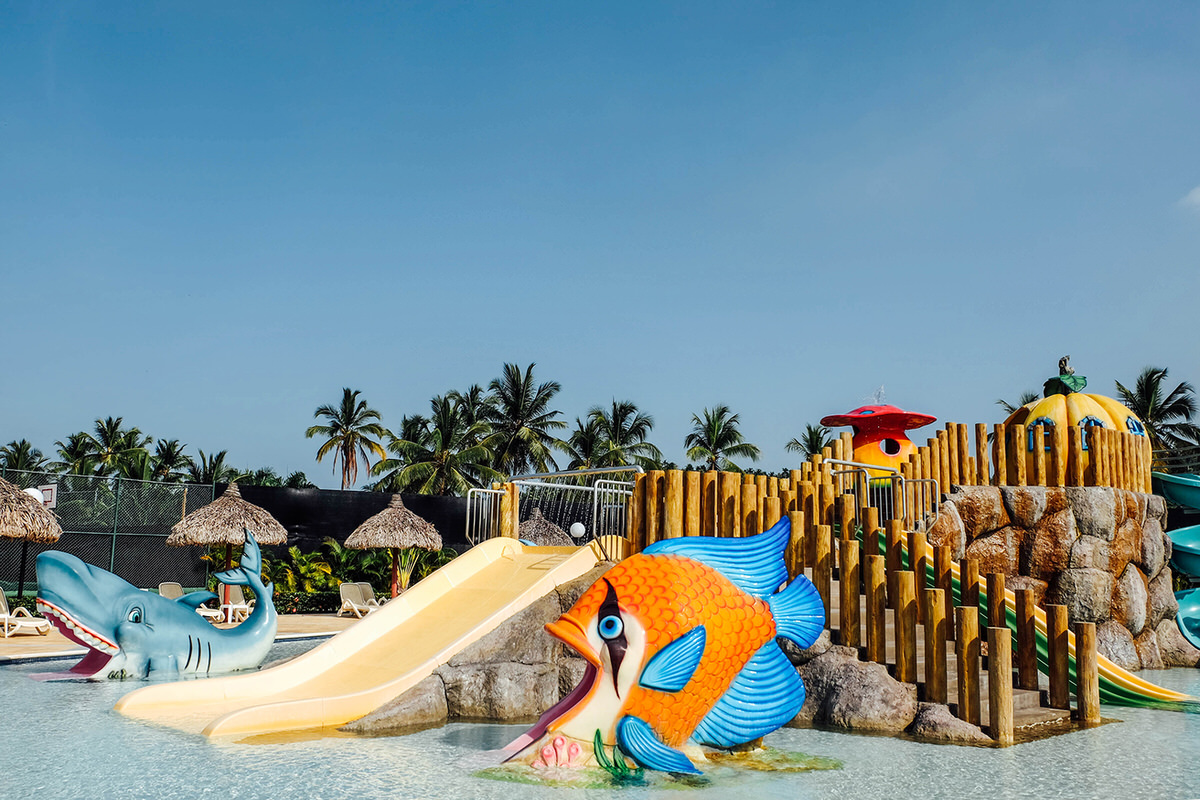 Bahia Scouts Water Park at the resort (Photo: Michelle Rae Uy)
While many of Grand Bahia Principe El Portillo's offerings are targeted towards adults, there are several family-friendly activities for families with kids too. There are the two pools as well as the Bahia Scouts Water Park that has several water slides, fun nooks and crannies, and a wading area. Right next to the water park is the Bahia Scouts Wild Fires Teen's Club where teens can play a game of pool, and a tennis court.
Venture out towards the beach where a number of family-friendly activities await. You can simply relax on beach loungers under a tree or a palapa whilst reading a book and enjoying tropical drinks, or you can take a more active approach. The turquoise waters at the resort are crystal clear, calm, sandy and shallow, perfect for kids. You can go for a swim or a nice, long dip, do some kayaking, or finally learn some paddle boarding or kayaking. The water sports center, however, does not carry actual paddle boards and use a different type of board instead so directional control may be hard. There are a few patches of reef as well so there are a few snorkeling spots, and the sand is full of live sand dollars so keep an eye out for them.
Other activities include kite boarding, beach volleyball, scuba diving and beach yoga.
Just for Kids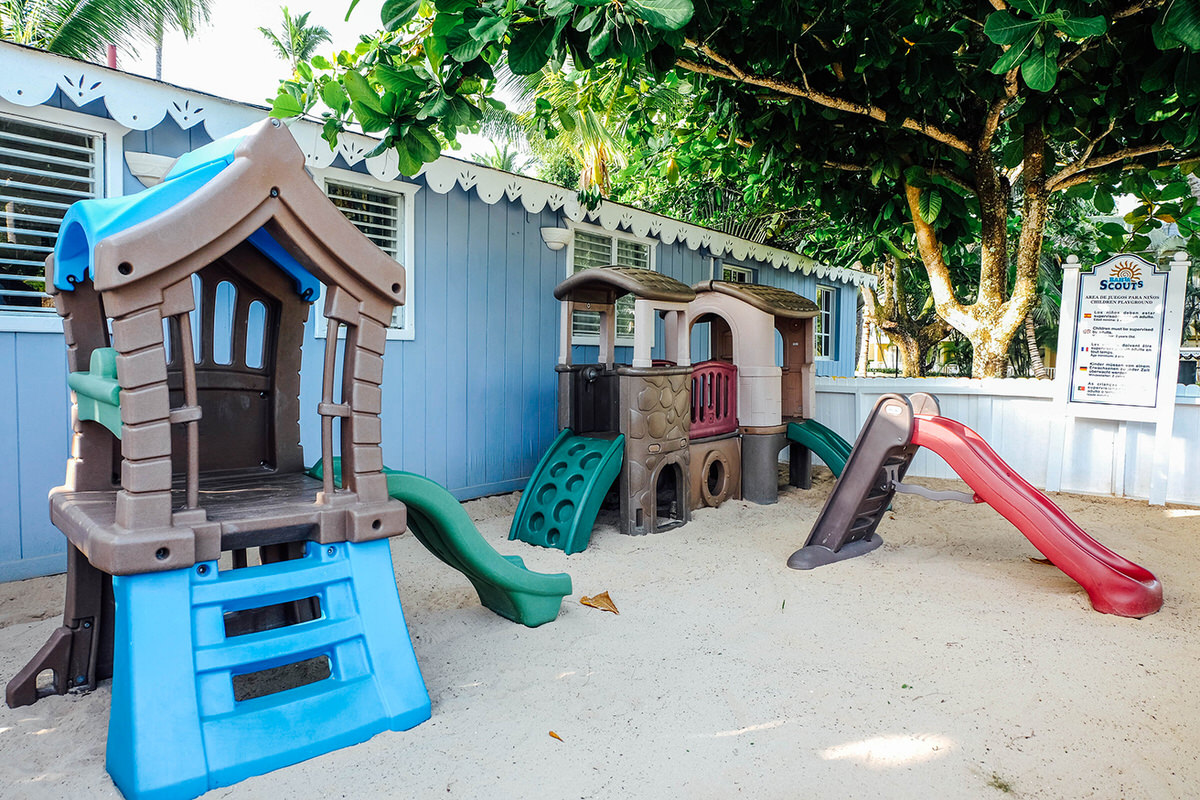 Playground at the Bahia Scouts MiniClub (Photo: Michelle Rae Uy)
While the water park may welcome everyone, including moms and dads, the Bahia Scouts MiniClub is exclusively for kids. Located in an adorable little cottage hidden away in the quieter part of the resort, this kids club has a small playground and offers plenty of activities to distract kids and expend all that extra energy (and give parents some R&R sans the kids. It's open daily from 9 am to 5 pm.
(MORE: 5 Things You Absolutely Have to Do in Punta Cana)
What We Love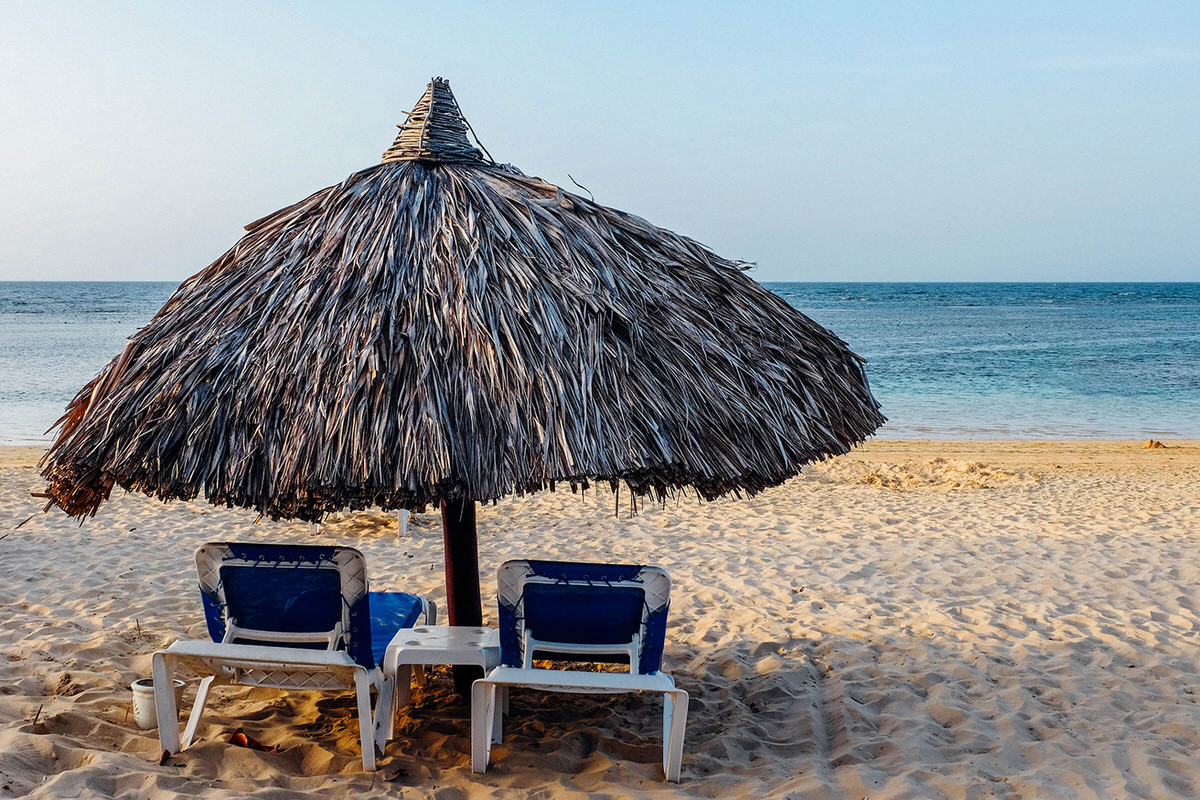 Beach loungers under a palapa ath the beach (Photo: Michelle Rae Uy)
The à la carte seafood fares are amazing and served in heaping amounts. Make sure to bring your appetite with you.
The stretch of beach, while almost always full of people, is still very relaxing. And it looks fantastic at sunrise and at sunset.
The water is addicting. You'll never want to get out.
The view from Las Olas is serene, perfect for a quick, lovely lunch after a morning excursion.
The water is sand dollar paradise. Keep an eye out for these gorgeous creatures. And with the water so clear, it's easy to spot them.
Insider Tips
The beach is public. There aren't a lot of vendors but still make sure to keep your valuables secure.
The sand can get pretty hot in the middle of the day so don't forget your flip-flops.
Slather on plenty of sunscreen, but make sure you apply and reapply copious amounts of bug spray also. There are mosquitos everywhere!
No need to rush to the beach to secure loungers in the morning. There's plenty enough for everyone!
Every guest gets one complimentary water activity with the all-inclusive package.
Remember to make reservations if you would like to dine à la carte.
Try the Mama Juana massage at the spa and make sure to spend some time at its lovely quiet area, which has a plunge pool in the middle.
Michelle Rae Uy contributed this to MiniTime. She is a travel writer based in Los Angeles and MiniTime's Head of Content, who spends her free time on adventures and film photography.