All things you need to know about Club Med Punta Cana
By Michelle Rae Uy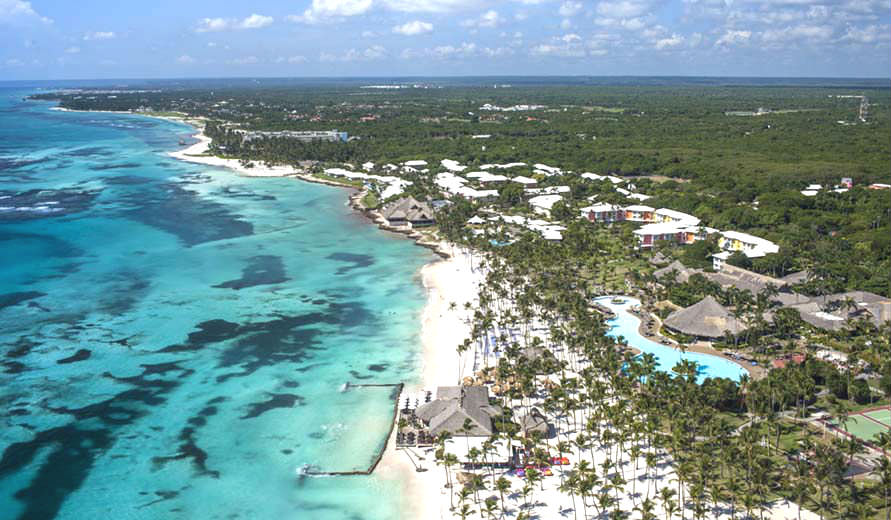 Club Med Punta Cana (Courtesy Club Med Punta Cana)
Why Go: While many have several preconceived ideas of how a Club Med resort should be – opulent and luxurious, for example – the brand's 4 Trident family-friendly resort, situated on the Atlantic shores of the Dominican Republic, slightly deviates from such ideas to match the island's laid-back but active lifestyle. And it's perfection.
Not to say that it falls short of being luxurious, of course. After all, it boasts a beautiful 5 Trident space, fittingly christened Tiara, which features a private infinity pool with sweeping views of the ocean, a dedicated concierge service, nightly turndown service, and beautiful, beachside family suites that offer ample deluxe living space for a family of four. Club Med Punta Cana, however, is more than just indulging in expensive accommodations and amenities.
With an ideal location – right next to the famed shallow reefs of Punta Cana and minutes from the Punta Cana International Airport, Club Med Punta Cana (the resort that introduced Punta Cana to the world) goes beyond the usual all-inclusive escape that mostly involve taking dips in the pool, sunning on the beach and indulging at the buffet table. With the help of its Gentil Organisateurs (GOs), the resort encourages an active and fun tropical vacation where guests partake in the many activity offerings, immerse in the local culture, make lasting friendships, and at times, push past their comfort zone, no matter their age and predilection.
Getting There: A mere 10-minute (or less) drive from the Punta Cana International Airport, which receives inbound flights from many major cities in the US and in Europe daily, Club Med Punta Cana is one of the most easily accessible resorts in the Caribbean. Grab a cab at the airport, which will only set you back $30 (up to 4 people), or arrange for private transportation.
Getting Oriented: Sitting on the shores of DomRep's longest natural reef in southern Punta Cana, the lush Caribbean resort is one of the biggest Club Med properties in the Americas. Yet, a relaxing walk around the property and about half a day there will quickly get you oriented with where most of the important spots are, like the restaurants, the main pool, the beach, the sports areas, and the new CREACTIVE play space.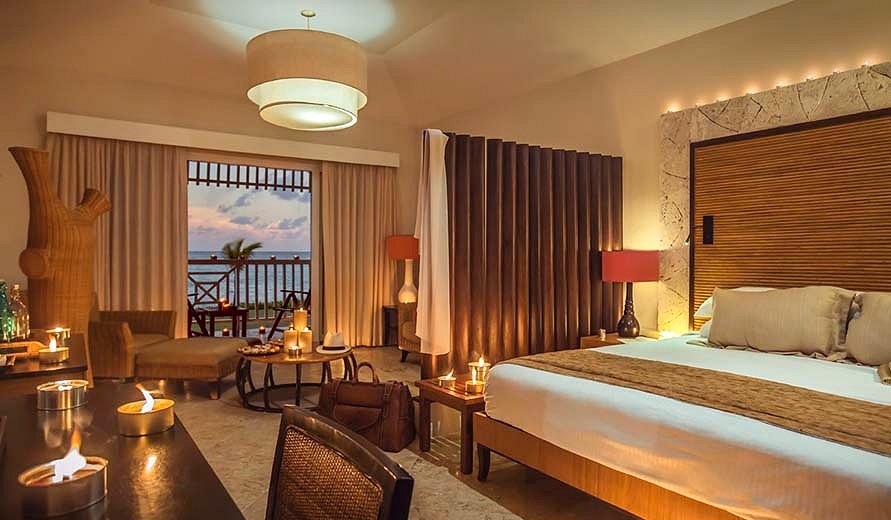 Tiara, the 5 Trident space at Club Med Punta Cana (Photo: Club Med Punta Cana)
Room Options: Club Med Punta Cana has a total of 553 rooms divided into 3 types (Deluxe, Club, and 5 Trident Space Suites) of beach house-style bungalows with unassuming yet colorful exteriors. All rooms have the usual resort features and family-friendly amenities that include air-conditioning, an espresso machine, hair-dryer, safe, iron and ironing board, and flat screen cable TVs.
Deluxe rooms vary in size, as do Club rooms, and offer different options for couples as well as families – including a 2-bedroom with a living area. The 5 Trident Suites, on the other hand, are all 2-bedroom oceanfront suites with a full bathroom and a ¾ bath, a receiving area, a living area connected to the main bedroom, a balcony that opens up to the sea, and convenient water access. If you are looking for a more luxurious option, a 5 Trident Space Suite is definitely the way to go.
In December of 2015, the resort is set to open their adult-only Zen Oasis zone to provide a perfect hideaway for couples and, of course, parents who deserve a much-needed break. Zen Oasis rooms will feature modern accents, spa-like bathrooms with rainfall showers, a terrace or balcony, outdoor daybeds, and classy L'Occitane spa toiletries, not to mention access to a lagoon pool, a wellness bar, and an adult-only beach.
(MORE: Best Family-Friendly Hotels in the Dominican Republic)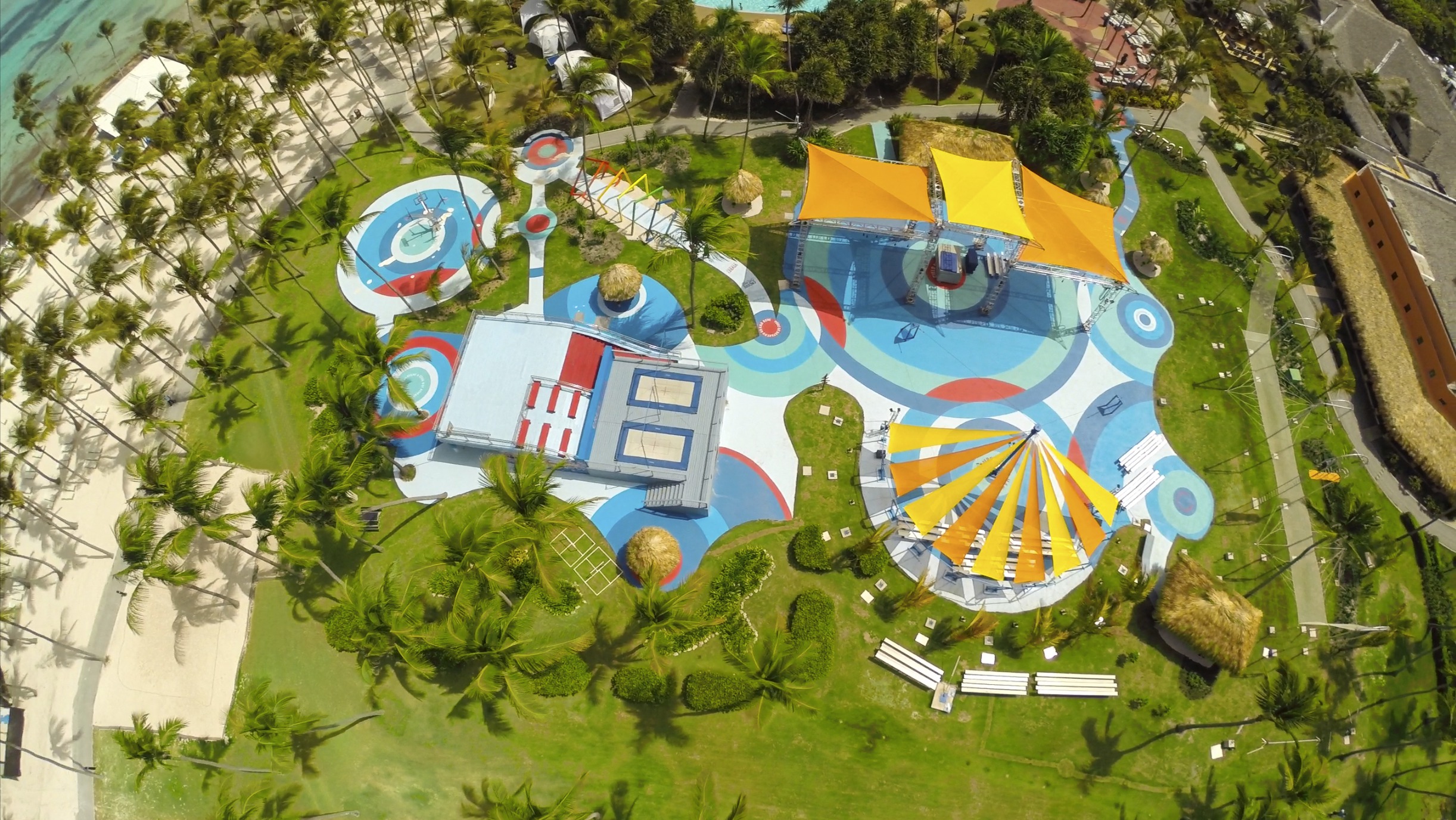 CREACTIVE is one of the newest family-friendly attractions in Club Med Punta Cana. (Courtesy Club Med Punta Cana)
For the Whole Family: Perhaps Club Med Punta Cana's best offering right now is the new Club Med CREACTIVE by Cirque du Soleil. CREACTIVE is an all-age, family-friendly outdoor play space where guests can seize a rare opportunity to be part of the circus and participate in more than 30 circus pursuits – from the swinging trapeze, tightrope and acrobatic bungee to mask making, make-up and dance. Since its launch in June 2015, it's become a big hit with kids and adults alike!
From there, the list goes on. Water lovers have access to swimming, kayaking, sailing lessons, water polo, windsurfing lessons, snorkeling (additional cost), and kite surfing (additional cost), to name a few.
Prefer to stay dry? Beach volleyball, basketball, soccer, tennis school, and fitness classes are among the many land-based activities available. Punta Cana is a golfer's paradise, with two world-class courses featuring 12 seaside holes between them less then 10 minutes away from the resort, so if you have an avid golfer in the family, make sure to sign him or her up for coaching sessions with Happy Golf at the southwestern end of the resort.
End your day with an amazing L'Occitane Spa treatment on the beach at sunset. Is there anything more relaxing than getting a full-body massage while listening to the sounds of the waves?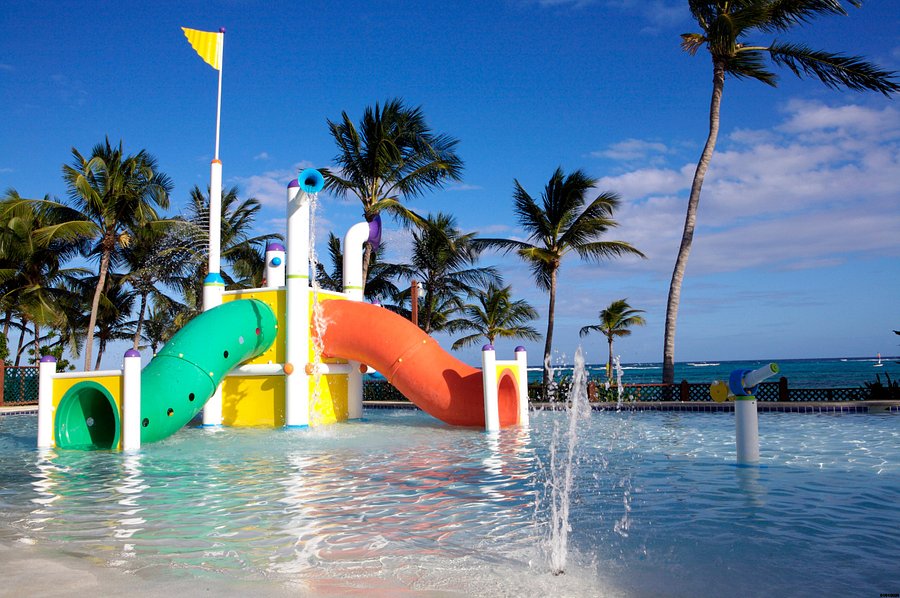 Kids' pool at the kids' club. (Courtesy Club Med Punta Cana)
Just for Kids: Much like the resort, the kids' club and childcare at Club Med Punta Cana is centered on keeping kids occupied and entertained while parents enjoy some R&R. Daily schedules are curated to include not just indoor activities, pool time and afternoon snacks, but also stimulating activities such as the trapeze (kids ages 4 and up), archery, acrobatic bungee, kayaking, and sailing (6 and up). There are even special themed days, so there's never a dull moment.
The club is divided into four categories based on the kids' ages – Baby (4–23 months), Petite (2-3 years), Mini (4-10), and Passworld (11-17), enlists especially-trained GOs, and has special considerations in place like allergy lists and sign-in bracelets to ensure the kids' health and safety.
(MORE: Fun Things to Do in Punta Cana for Families)
Cuisine with the whole family at the resort. (Courtesy Club Med Punta Cana)
Where to Eat: Delectable options, both buffet and a la carte, are offered at the resort. International cuisine is the theme of its two buffet restaurants – waterside Hispaniola, which offers lovely views of the reef, and Samana, located near the pool and bar Cielo that offers non-alcoholic drinks and snacks to kids – to cater to every taste.
For breakfast, a must-try is the White Chocolate Bread (Pain au Chocolat Blanc), a Club Med exclusive pastry that will keep you and the kids coming back for more.
If you're staying at one of the 5 Trident Space suites, welcome the day with a terrific basket of mini pastries, a plate of fresh fruit from room service and freshly-prepared hot chocolate made from local cacao, enjoyed on your sea-facing, private balcony. The tropical ripe mangoes are unforgettable!
Grab a quick snack at the Celeste Snack Bar to refuel between activities.
Insider Tips:
Club Med Punta Cana now offers paddleboarding tour that takes participants along the reef to a lagoon teeming with wild stingrays. $50 per person.
CREACTIVE by Cirque du Soleil is a perfect multi-generational recreation; so make sure to take the whole family, including grandma and grandpa, to test their acrobatic and creative skills. Included with your stay.
Near Samana are some shopping options, especially for families who are not planning on leaving the resort. Make sure to purchase some local goods to enjoy at home or bring back to your friends and family. Coffee drinkers will love Café Santo Domingo, which offers a smooth and mildly sweet blend, and hot chocolate drinkers will truly appreciate Cacao JLC.
Make sure to check out some of their nighttime shows, specified on the Daily Activities sheet.
The resort usually has an evening dress code. It's non-mandatory, but a lovely tradition to participate in. Check with the resort before your visit, so you know which outfits to pack!
Going in the summertime? Slather on plenty of sunscreen and re-apply as necessary. And don't forget the bug spray.
Michelle Rae Uy contributed this to MiniTime. She is a travel writer based in Los Angeles and MiniTime's Head of Content, who spends her free time on adventures and film photography.