An age-by-age guide to cruising
By Suzanne Rowan Kelleher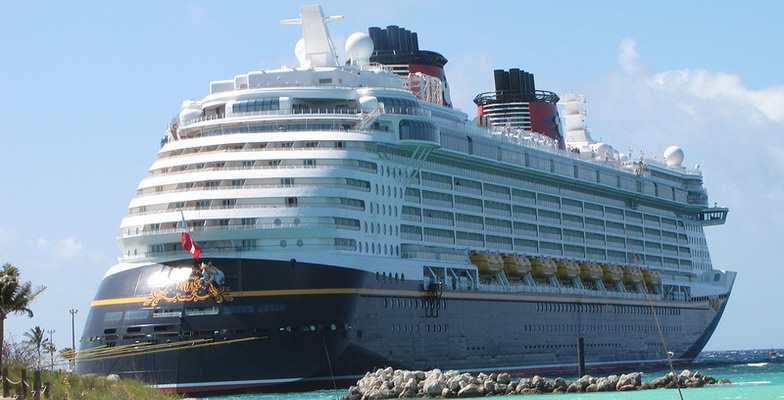 Disney Cruise ship (Flickr: DebMomOf3)
Cruise lines promise low-stress, big-style fun, with a wonderful balance of family togetherness, kids-only time, and grown-up downtime. Other positives to cruising: Getting to visit different destinations without the packing-schlepping-unpacking cycle, and not having to worry about finding somewhere to eat or how much dinner will cost.
But with so many ships out there promising a kid-friendly experience, finding one that's right for your family can take time. The first step: Consider what you want to get out of your cruise. How much time, if any, will the kids spend in the kids' clubs? Will you require onboard babysitting services? Is there a good mix of kid appeal and adult activities? The most family-friendly ships boast truly amazing facilities, quality entertainment, and state-of-the-art kids' clubs. Conversely, the lack of childcare facilities is a giant signal of child-unfriendliness, so cross these luxurious lines off your list: Regent Seven Seas, Silversea, Windstar, Seabourn and SeaDream.
Here's our age-by-age guide to choosing a family-friendly cruise, which we compiled with input from our cruise-going readers.
Baby, Let's Cruise
Thinking of bringing your tiny bundle on a cruise? More and more families are setting sail with babies and toddlers in tow, with several cruise lines reporting more than a 50% increase in under-3 cruisers in the past decade. The major cruise lines have made enormous leaps in the last decade in what they offer families with small kids. Their dining rooms provide high chairs, wonderful children's menus, and amazingly kid-friendly and indulgent waiters. There's 24-hour room service for necessities like milk, finger sandwiches (no crust, please), and healthy snacks. Toddler-specific play areas have popped up on some ships, and much more attention is being paid to the needs of the under-3 set.
Even so, if you're considering cruising with your baby or toddler, we recommend waiting until your child is at least 3. Even better, wait until kindergarten. The best reason to put off your cruise is simply that your family will get more bang for your buck. Cruise lines have designed their kids' programs so that the vast bulk of activities and facilities are targeted at school-age kids. They pull out all the stops with activities-a-go-go: Scavenger hunts, tee-shirt painting, bingo, rock wall climbing, basketball tournaments, art and crafts, big-screen computer games, under-the-stars movie nights, pizza parties, and lots of water play in state-of-the-art pools and aqua parks. You'll all get much more from the cruise experience when your kids can get in on the action.
In the grand scheme of all vacation possibilities, cruising is simply not a particularly baby-friendly way to travel. All the usual hassles of traveling with infants and toddlers are amplified on a ship, where your family is squeezed into tighter-than-usual quarters. Did you hear the one about the stateroom so small, you have to go outside to change your mind? The cruise industry's love affair with bigger ships is great for families with older kids, but terrible for families with babies and toddlers. Waiting in line to do just about everything is a fact of life on the largest, most-crowded ships. You typically line up to get into the dining room, to get into the shows, to disembark at ports, to get back on the ship. Then there's the hassle of navigating an enormous ship with a tyke in tow, down endlessly long decks and up countless stairwells. With a stroller, you're forced to rely on elevators—which also require waiting.
Still not convinced? Look at something as basic as swimming pool policies. Most cruise lines will not allow your toddler in the pool until she's potty-trained—even if she's wearing swim diapers—and for very good reason. Swimming pools on a ship share the same filter system, so an accident in one is a problem for all. All four Disney ships and Norwegian Cruise Line's Epic do offer separate, small splash pools for toddlers wearing swim diapers.
It sounds so wonderfully family-friendly when cruise lines offer childcare facilities for under-3s. In reality, that means either group babysitting in a drop-off playroom or in-cabin babysitting, which is not offered by all cruise lines. Always check to see which services are available for your sailing. Typically, the nursery service operates with a sign-in sheet and the most popular evening times can fill up completely even before the ship sets sail. Conversely, if your sailing has fewer tots than normal on board, nursery hours might be curtailed.
Finally, when you cruise with very young children, it can be difficult to get out and enjoy the ship's nightlife. On several lines, including Carnival, Royal Caribbean, and Norwegian Cruise Line, the group babysitting service is only available in the evening, after dinner hours. So you have to take your little one to eat with you first and then bring her—presumably asleep in a stroller—to the nursery. Disney's nursery program has the most impressive evening hours, running from 6pm until midnight. And there's a quiet room and an activity room, which solves the problem of most group nurseries: little cherubs not being able to get any shut eye. If you're looking for flexibility and nighttime privacy, in-cabin sitting is the way to go. In addition to nighttime group babysitting, Royal Caribbean offers the most extensive in-cabin babysitting service afloat, an all-day-and-into-the-night stretch from 8am to 1am.
If you're heartset on taking your little one on a cruise, choose wisely. These four cruise lines make the biggest effort for the under-3 crowd:
Best for Babes
Disney Cruise Line is the most baby-friendly of all. Flounder's Reef Nursery accepts babies as young as 3 months and is perhaps the best equipped nursery afloat, featuring cribs, a good selection of age-appropriate toys, bottle warmers, and refrigerators for storing milk and snacks. Its smart layout features both an activity room and a "quiet room" for sleepyheads; both rooms are supervised. In the evening, the nursery is open during dinner hours—something very few lines offer. More big pluses: Disney's staterooms are among the largest at sea, and they feature mini fridges and bathtubs (most cruise ships only have showers).
Royal Caribbean International has a terrific babysitting set-up for babes at least 12 months old. With a daily 17-hour stretch of in-cabin sitting time available, you have the most flexibility of all—opening up the possibility for you to catch a daytime class, an adults-only meal, or a slice of the nightlife. And because toddlers need a social life, too, we love the daily Royal Tots and Royal Babies programs. These 45-minute, parent-and-child play sessions are led by counselors who use age-appropriate music, movement, and storytelling and incorporate a fun array of Fisher-Price products, from walkers to Little People characters. Sessions are divided into two groups: Royal Babies, for kids 6 to 17 months, and Royal Tots, for the 18-month to 3-year-old crowd.
Carnival and Norwegian Cruise Line can be good choices if you have a very independent 2-year-old. Each offers a kids' camp for 2- to 5-year-olds. Even so, ask yourself how willingly your toddler will go into a supervised program without you. It's great, in theory, that toddlers can participate in a kids' club, but we think grouping 2-year-olds, who are not yet preschoolers, with kindergarteners, is too wide. One key difference between the two lines: Carnival's counselors change diapers. On NCL, the counselors beep you when your child needs a fresh one. The entertainment program on Norwegian's newest ship, Epic, includes Nickelodeon at Sea, featuring meet-and-greets and character breakfasts with Dora the Explorer, SpongeBob and other favorite characters.
Explore the Caribbean with the Royal Surf Caribbean Cruise (Flickr: David Spinks)
3 to 12: The Wonder Years
These days, practically every cruise line offers up some sort of kids' program with a wide array of organized activities and facilities for children. The question is: How do you separate the best from the rest? We identified three key areas that make a difference:
Tight age groupings: Kids' clubs are always organized by age, but spans can range anywhere from two to five years. Because kids' developmental and social skills can vary so much, we like it when clubs include tighter age groupings of three years or less. Activities that go beyond the run-of-the-mill: Face painting? Roger that. Scavenger hunts and tie-dying tee-shirts? Gotcha covered. Truth is, all shipboard kids' clubs do fun stuff with kids. But we give kudos for offering educational, stimulating, creative activities that are genuinely enriching and memorable. Each of our picks for the top three cruise lines for 3- to 12-year-olds stand out from the pack in this area. Terrific counselors: It's standard operating procedure for cruise lines to hire counselors with a college degree in education, recreation, art or a related field, or with substantial experience working with children. In most cases, they are certified in CPR and basic first aid. Beyond those qualifications, attitude and TLC counts for a lot.
(MORE: Find the best cruise destination for the whole family.)
First Class For School Kids
Royal Caribbean International is the only cruise line to organize its kids' clubs in tight, three-year increments all the way from 3 to 17 years. Its mega ships offer the widest array of family activities and entertainment at sea (including the "DreamWorks Experience" with Shrek and KungFu Panda). Royal Caribbean's kid's programming is particularly well-conceived and enriching. Consider Adventure Science, which is all about fun, age-appropriate, hands-on experiments with names like Fossil Fever, Wacky Water Workshop, Space Mud, and Gummy Candies. Adventure Art by Crayola introduces local cultures through engaging arts like making tribal masks, fish kites, and pottery. Counselors get raves from our readers for being upbeat, enthusiastic, and "fantastic with kids," with a reputation for "going out of their way" to make kids feel special and included. Which ships? The most spectacularly equipped ships for families are in the Freedom and Oasis classes. Like floating theme parks, they are loaded to the gills with ultra-cool attractions like the FlowRider surf park, cantilevered whirlpools, an ice-skating rink, full-size boxing ring, H2O Zone waterpark, and more. The largest ships to date—Oasis of the Seas, Allure of the Seas, Freedom of the Seas, Liberty of the Seas, and Independence of the Seas—feature Flowriders, ziplines, Aqua Theaters, carousels, and more.
Disney breaks its kids' clubs into three age groups (3 to 7, 8 to 12, 13 to 17), with most activities are led in tighter groups of two- and three-year increments. Disney has become more flexible about letting siblings of different age groups spend time in each other's clubs. The creative touch reigns supreme, with daily programs often tied into Disney characters and stories. Think storytelling, dress-up and performing, animation, cooking classes, computer software games, and science experiments, sometimes with the help of Captain Hook, Snow White, or some other enchanted personality. Kids 8 and up can learn a thing or two about cruise navigation and do interactive science experiments in the Oceaneer Lab, quite possibly the coolest educational play center afloat. The counselors are kid-friendly and "relentlessly cheerful, in a Disney kind of way." Nice touch: Parents get a pager while their kids are in the club. Which ships? There are four ships. Two sister ships, the Magic and Wonder, launched in 1998 and 1999, respectively. The larger Dream and Fantasy (launched in 2011 and 2012, respectively) feature more elaborate kids' clubs and the AquaDuck, a raft ride that lets folks travel in a clear tube out over the ocean. Together, the ships offer sailings to the Caribbean, Alaska, Mexican Riviera, and Europe. The most popular Disney cruise vacations combine several days at Walt Disney World in Orlando with three or four days at sea.
Carnival, the world's largest cruise line, is known for delivering value for the mass audience—with all the pluses and minuses that brings for families. Its ships may have fewer kid-friendly bells and whistles than Disney and Royal Carribean, but its newer ships feature enormous, bright, and interactive play spaces. Carnival divvies up its pre-teen programming into three-year spans: 6- to 8-year-olds and 9- to 11-year-olds. We'd like to see a tighter age span for the youngest club (2- to 5-year-olds). While deserving of its reputation for plain old fun (make-your-own-sundaes, scavenger hunts, movie nights, tee-shirt decorating), Carnival has also ramped up its program to include more educational offerings. EduCruise focuses on interactive projects involving the culture, history, and geography of destinations to which Carnival sails—for example, making "dream catchers" like Native Americans or creating richly colored maps of the Caribbean. H2Ocean leads kids in fun, hands-on science projects, such as making ice cream or building miniature hovercrafts. Counselors are roundly praised as "friendly," "good with kids," and "energetic." Which ships? Thanks to Carnival's vigorous new-build program, the fleet now includes 23 ships, including the newest Dream class, featuring the Dream, Magic and Breeze.
Norwegian Cruise Line wins families over with its "Freestyle Cruising" concept, which lets passengers eat what they want, when they want, where they want, and wearing what they want. Its Kid's Crew program is broken down into four age groups: 2 to 5, 6 to 9, 10 to 12, and 13 to 17. Readers tell us that counselors (many of them recent college grads with majors in education or recreation) are "enthusiastic and fun" and "really seem to love their jobs." The program offers a nice blend of age-appropriate activities, from storytime and painting for little ones to pizza parties and parades, specialty classes, sports, video games, and team-building workshops. Which ships? The star of the "youngest fleet on the planet" is the Epic, which features family-friendly interconnecting staterooms, 20 places to eat, entertainment by Blue Man Group and the Second City comedy troupe, a huge waterpark, climbing and rappelling walls, mood-lit bowling alleys, and kids' clubs that feature the lastest in interactive games. The entertainment program on Epic also includes Nickelodeon at Sea, which features meet-and-greets and character breakfasts with favorite Nick characters and Slime Time live shows in the theater.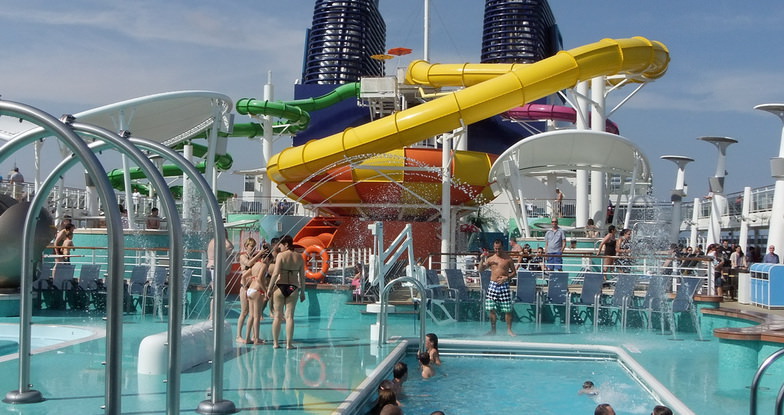 Norwegian Epic (Flickr: Stephen & Katherine)
Swells Like Teen Spirit
What ingredients make a cruise awesome for teens? Other teens to make friends with. A place to hang out. Some independence. The major cruise lines understand this, and have created teens-only lounges and activity centers where the 12-to-18 set can meet up on board. There's no shortage of organized pool parties, dance nights, and karaoke contests. Yet for jaded teens, too much forced, phony enthusiasm can ruin a good thing. Truth is, a lot of teens just don't want to hang out at the teen center all day. They want a place to meet friends, yes. But then they want to be able to explore the ship and have a wider experience while enjoying some freedom from their parents and younger siblings.
To strike the right balance, come up with a pre-cruise game plan that will let your teen enjoy some independence without sacrificing the "family" in family vacation. Let her hang out with her new friends, but always know where she is. Nake use of ship-provided walkie-talkies so that you can touch base. You need to know that teens can, and do, get into trouble on ships. The drinking age onboard ships varies (usually 18 or 21), and underage drinking is an ongoing problem.
In choosing a ship, look for a wide spectrum of facilities where teens tend to congregate: Hot tubs, rock-climbing walls, death-defying waterslides, mini-golf courses, basketball and volleyball courts, video arcades, and late-night eateries.
Tops for Teens
Royal Caribbean International offers the most exciting amenities for teens. RCI's two Oasis-class ships are the biggest cruise ships afloat and feature multiple teen-only hangouts and spectacular, new, adrenaline-pumping activities like bungee jumping and Flowrider surfing machines, café-style hangouts, no-booze discos, and chic sundecks. One cruise-loving reader raved that "the huge size of the ship gave my 17-year-old many more places to hang out and more things to do with his friends."
We give high marks to RCI and Carnival for dividing their teen clubs into two age groups: 12- to 14-year-olds and 15- to 17-year-olds. By contrast, Disney, NCL, Princess and Holland America mix 13 year-olds with 17 year-olds, unless large numbers of teens sign-up.
The newest ship in Norwegian Cruise Line's fleet, the Epic, features a trendy teen lounge called Entourage for 13-to-17 crowd. During the day, it is all about play with PlayStation, air hockey, pinball, foosball, a video jukebox and nine large flat-screen televisions. In the evening, Entourage turns into a teens-only nightclub with a space for dancing to a video jukebox and seating arrangements for just hanging out.
Disney ships feature teen hangouts that resemble hip coffee houses and serve non-alcoholic drinks. They're loaded with computers, video games, mood lighting, and DJ booths with sophisticated sound systems. Disney offers some counselor-led shore excursions that are exclusively for teens. On the line's private Bahamian island, Castaway Cay, there is a separate teen beach. Also on Castaway Cay, teens can also opt for the Wild Side Adventure where they bike, snorkel and kayak in a mini triathalon. On the line's seven-day Caribbean cruises, teens can participate in the Teen 12-meter Regatta in St. Maarten, where they implement what they've learned about sailing by racing each other. Three- and four-day cruises often feature teens-only floating dance parties in Nassau Harbor.