Here's an in-depth review of one of Cancun's finest resorts.
By Holly Rosen Fink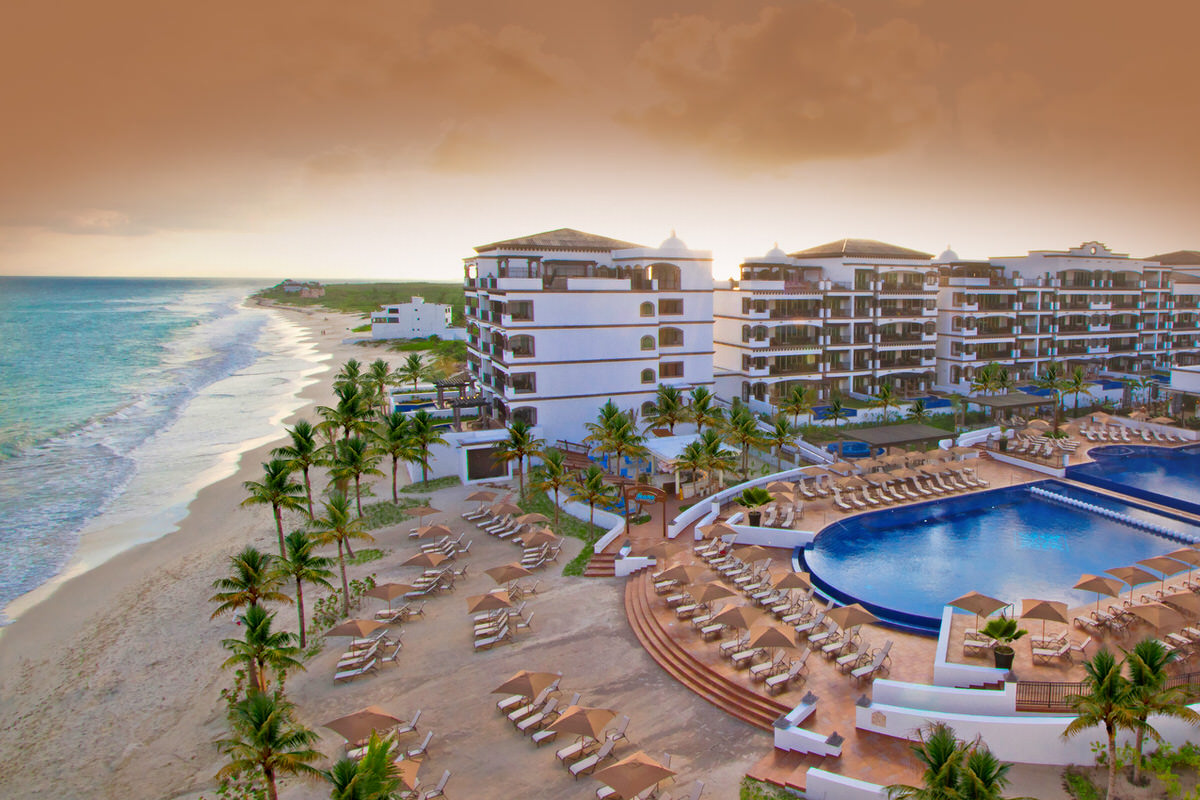 Grand Residences Riviera Cancun (Courtesy Grand Residences Riviera Cancun)
Why Go: Grand Residences Riviera Cancun is a five-star, Leading Hotel of the World property. Located between Cancun and Playa del Carmen, just 30 minutes from the Cancun airport, it's the newest addition to the Royal Resorts family.
The resort is luxurious but still maintains a strong sense of Mexican culture. It has a first-rate staff and amenities to make every traveler, both young and old, happy – from their complimentary sunset cruise to an aqua-aerobics class to a spa treatment to a tea tasting session with a professional sommelier to a bike ride into Puerto Morelos, a nearby fishing village.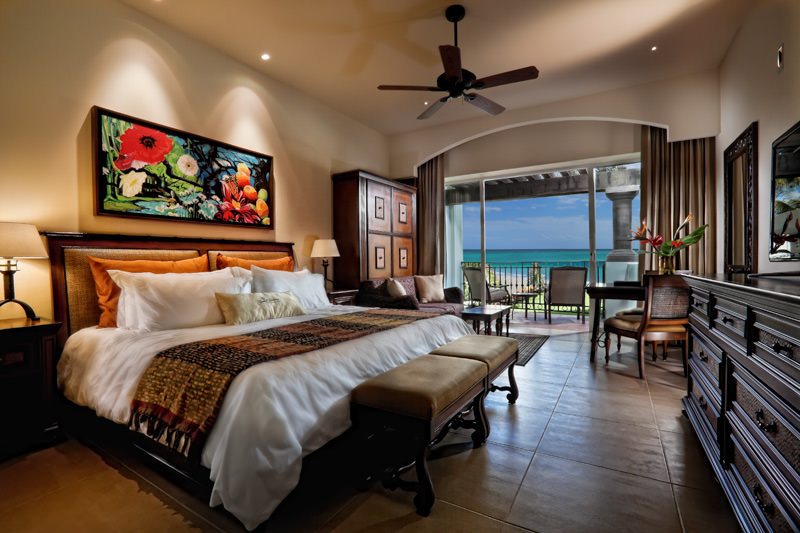 Junior Suite Beachfront (Courtesy Grand Residences Riviera Cancun)
Room options: The 103 suites at Grand Residences range from the 646-square-foot Junior Suite, which is really a couple's cozy haven with a private outdoor Jacuzzi to a 1,862-square-foot, 1-bedroom Master Suite to the more-than-spacious 8,816-square-foot, 4-bedroom Penthouse Presidential Suite made for up to 13 guests.
Each suite is comfortable and spacious for a family, particularly the Master Suite, blending all the comforts of home with the amenities of a five-star hotel and featuring a fully equipped kitchen, living room with two single murphy beds, dining room, full bathroom, a half bathroom and laundry room. They also have every modern feature kids could ask for – a flat-screen TV, DVD player, iPod dock and several outlets for charging tech. But the dessert topping is the lovely private balcony facing the ocean, equipped with a hot tub.
Just for Kids: There is much for parents to love about the resort. When you stay at The Grand Residences Riviera Cancun, you get a daily activity calendar that features activities for the entire family, mostly free, some with a nominal cost. The hotel offers daily programs for children such as a kids' pool, tennis, snorkeling, Bingo, games and more.
For parents looking for a real break, they offer a complimentary Kids Club for kids ages 4-12 with a kids' pool, playground, treasure hunts and more. The Kids Club entertains children with pool games, sandcastle building competitions, treasure hunts, beach walks, piñata games, bracelet making, board games and traditional Mayan games. For parents with older kids, they have a Teens Club.
The hotel offers very tight security in both clubs. Not only does the staff take your phone number, they also give you an iPad to carry with you that shows what your kids are doing at all times. In addition, kids will also love the resort for its ability to run around in safely. As a precaution, the hotel has a big team with extra security.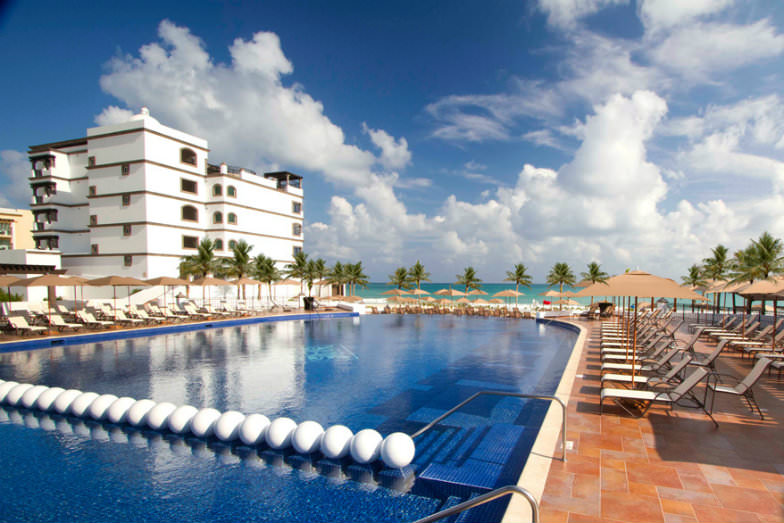 Pool at Grand Residences (Courtesy Grand Residences Riviera Cancun)
What to Do: The resort is located between Cancun and Playa del Carmen, protected by a coral reef and National Marine Park nearby. While you can indulge in beach strolls, snorkeling or swims in their life-sized pools, you can also leave the resort and stroll around Puerto Morelos, a fishing village where the pace of life still moves to the gentle rhythm of the tides, captivating a community of artists, musicians, marine biologists and expats. Or you can venture a bit farther to Playa del Carmen for a bit of shopping and a meal. Kids will love having the option to stay busy or simply relax at the property. They might just want to take a dip in the ocean and collect seashells. The concierge can also advise on daytrips to see ancient Mayan ruins or white-sand beaches.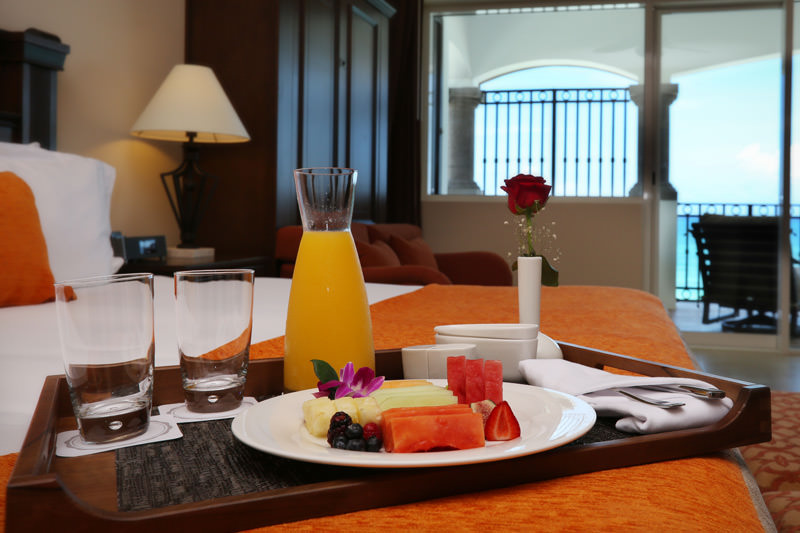 Room service (Courtesy Grand Residences Riviera Cancun)
Where to eat: Where to eat: The Grand Residences offers various options all over the resort, from fish tacos and margaritas down at the pool bar by the beach during sunset to room service to coffee at the Lobby Cafe and Bar to El Faro Grill, a luxurious restaurant open for all meals. El Faro offers fresh seafood, meat and salads. They offer a buffet choice during breakfast and dinner or a la carte items at all times, along with a kid's menu. You can sit either inside in an air-conditioned space or outside on a deck facing the ocean. They often have live music accompanying dinner patrons at night.
Additionally, Chef Yann Cozic prepares authentic Mexican dishes with a twist – for example, he puts apple and pomegranate in guacamole and makes pina colada soufflé. He also offers cooking demos on various days of the week.
(MORE: 5 Kid-Friendly Cancun Resorts)
Getting There: Grand Residences Riviera Cancun is 25 minutes by car from the International Airport. The hotel offers complimentary shuttle service both ways.
Getting Oriented: The resort is very low key, with a gentle staff that is happy to introduce you to the island they love. There are all sorts of Mexican touches throughout the resort, from the décor to local staff who can tell you where to go and what to do. Guests wear bracelets, which power their doors and reduce worry about holding keys.
Insider Tips: If you're planning to visit Grand Residences, be strategic to get the best rates and go at the best time. Low season is typically May – July. The resort also offers all-inclusive packages throughout the year, which are cost-effective and sure to ease your stay.
If parents can break away for an hour, the spa is glorious, offering massages, facials and body wraps exclusively created for Grand Residences guests, each one carefully chosen to restore balance and harmony.
Holly Rosen Fink of The Culture Mom contributed this to MiniTime. She is the founder of Pivoting Media who blogs about her love of culture and travel.