All-inclusive resort for families
By Michelle Rae Uy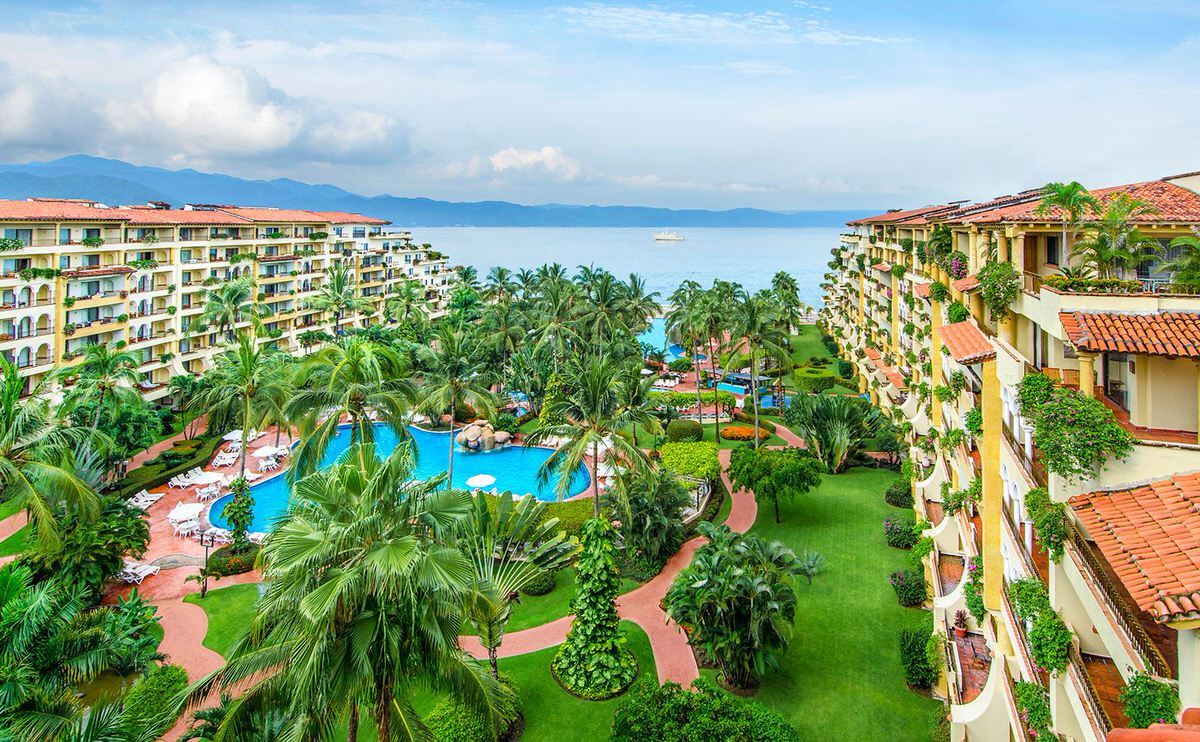 Velas Vallarta (Credit Velas Vallarta)
The yellow balconies decorated with pink bougainvillea glow with the golden light of the sunset as an afternoon hush sweeps over the usually lively main pool area. For a moment, you think that another fun day has ended at the all-inclusive Velas Vallarta</a>; but as soon as you move to the open-air lobby where talented local performers and an exceptional Mariachi band are entertaining guests, you realize that fun at this family-friendly resort, much like the drinks (and the food), flows like water.
The Mexican hacienda architectural style of the resort, its beautiful tropical gardens complete with koi ponds and free roaming peacocks, and it beachfront location all lend a picturesque setting to your vacation; but Velas Vallarta's terrific offerings of activities, entertainment, and food and beverages are what make that ideal family getaway you've been dreaming of all year a reality, minus of course the splurging.
(MORE: Wonderful Outdoor Adventures in Puerto Vallarta for Kids)
Affordable Luxury
Although it's the most affordable of all the Velas Properties in Mexico, Velas Vallarta doesn't scrimp on its amenities and services. This is evident not just in the quality of delicious food and beverages they offer – buffet and a la carte options are available to all guests, no matter what time of day and what type of cuisine they currently serve – but also in the facilities they have onsite, from the spacious and carefully-maintained suites that boast nice furnishings and fully equipped kitchens to the big outdoor pools that welcome all ages down to the highly effective and environment-friendly trash sorting process they implement behind the scenes.
And while most resorts spend millions of dollars updating and renovating dated areas in their properties, this family-friendly resort spends money every day on the frequent maintenance of their suites, gardens, other facilities and even the small details, giving guests the assurance of quality no matter what time of the year they come.
Rooms & Amenities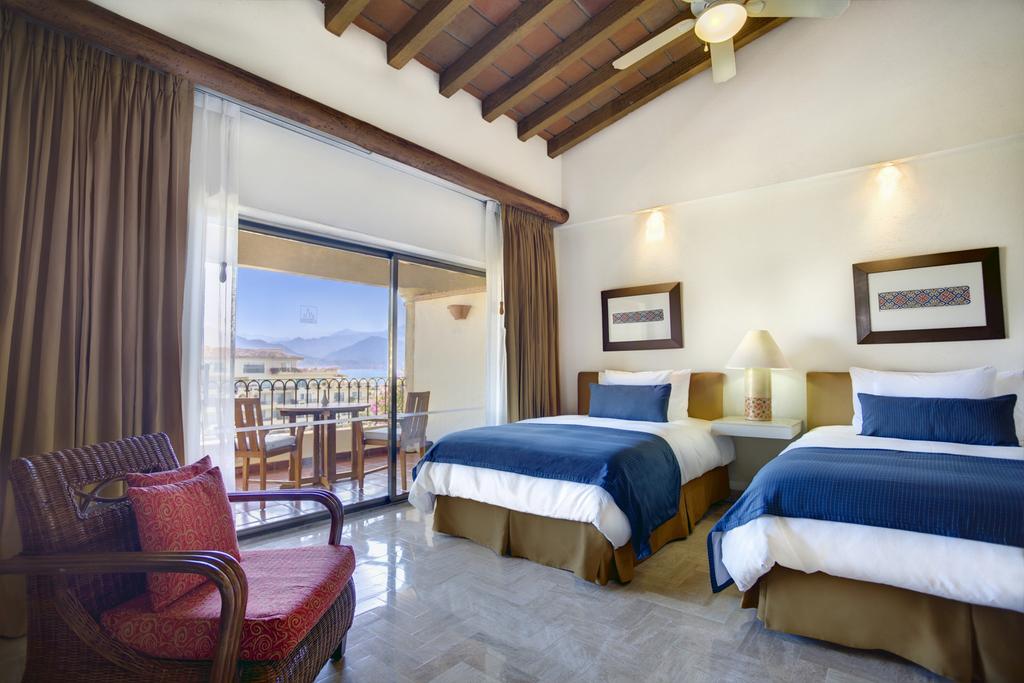 Suite at Velas Vallarta (Credit Velas Vallarta)
Located in an exclusive neighborhood only five minutes from the airport and 15 minutes from downtown Puerto Vallarta, Velas Vallarta's 345 studios and suites cater to families of all sizes, the biggest of which is the oceanfront Presidential Suite with four bedrooms and its own private pool. Whether you're traveling with the kids or with extended family, there's a spacious suite to meet your needs, complete with a fully furnished kitchen, a living room or sitting area, and a bougainvillea-adorned, furnished balcony that opens to views of the beautiful tropical garden below and the Pacific beyond.
Every suite at Velas Vallarta feels like home. In-room features and amenities include plush beddings, marble tile flooring, flat screen TV in every bedroom and living room, a full-size refrigerator with complimentary water, sodas and alcoholic beverages (for the adults), roomy bathrooms with lovely toiletries, soft bathrobes and slippers, complimentary coffee and tea, complimentary milk and breakfast cereals, complimentary nuts and chips for midafternoon or late night snacking, nightly turndown service and 24-hour room service – basically everything you need and more for a comfortable stay.
The All-Inclusive Plan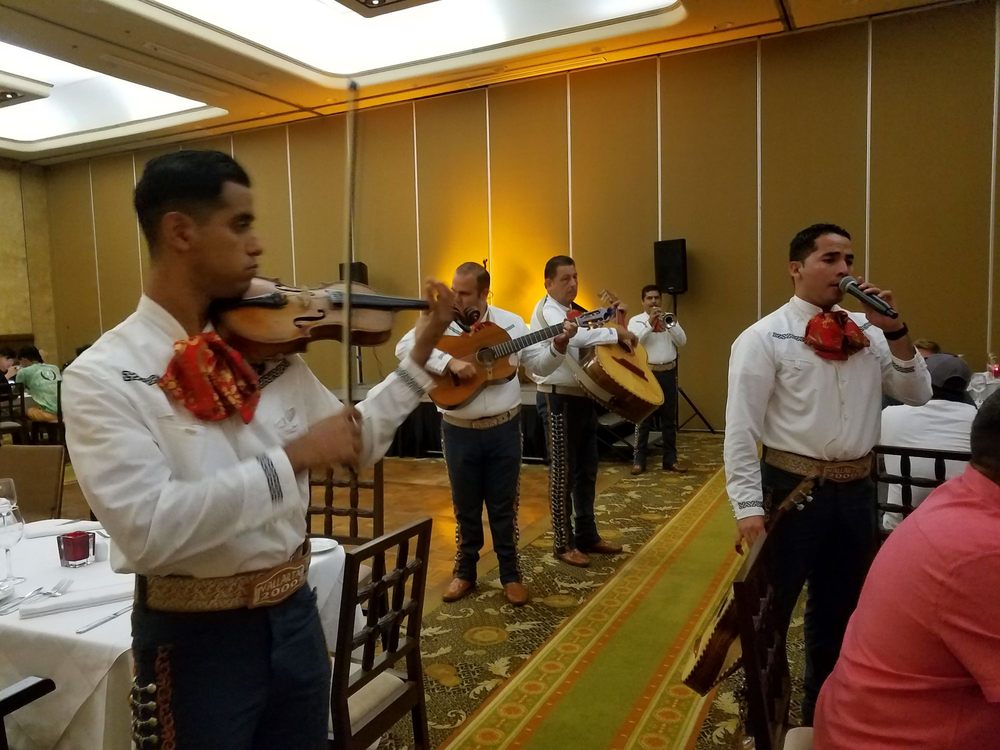 The mariachi band at Andrea Restaurant (Credit Velas Vallarta)
At the all-inclusive Velas Vallarta, you need not worry about going over your budget at the end of your stay, thanks to the resort's all-inclusive plan that includes breakfast, lunch, dinner, snacks, drinks and some activities.
Unlike other all-inclusive resorts however, this one goes far and beyond its all-inclusive service. Its onsite restaurants (Andrea, La Ribera, and Alejandra) for example, allow guests to order any dish from any cuisine they want a la carte, even on themed nights. Additionally, delicious grab and go dishes like taquitos and quesadillas are available for poolside dining from oceanfront La Ribera. Twenty-four hour room service is also available for in-suite dining for anytime of the day!
The Spa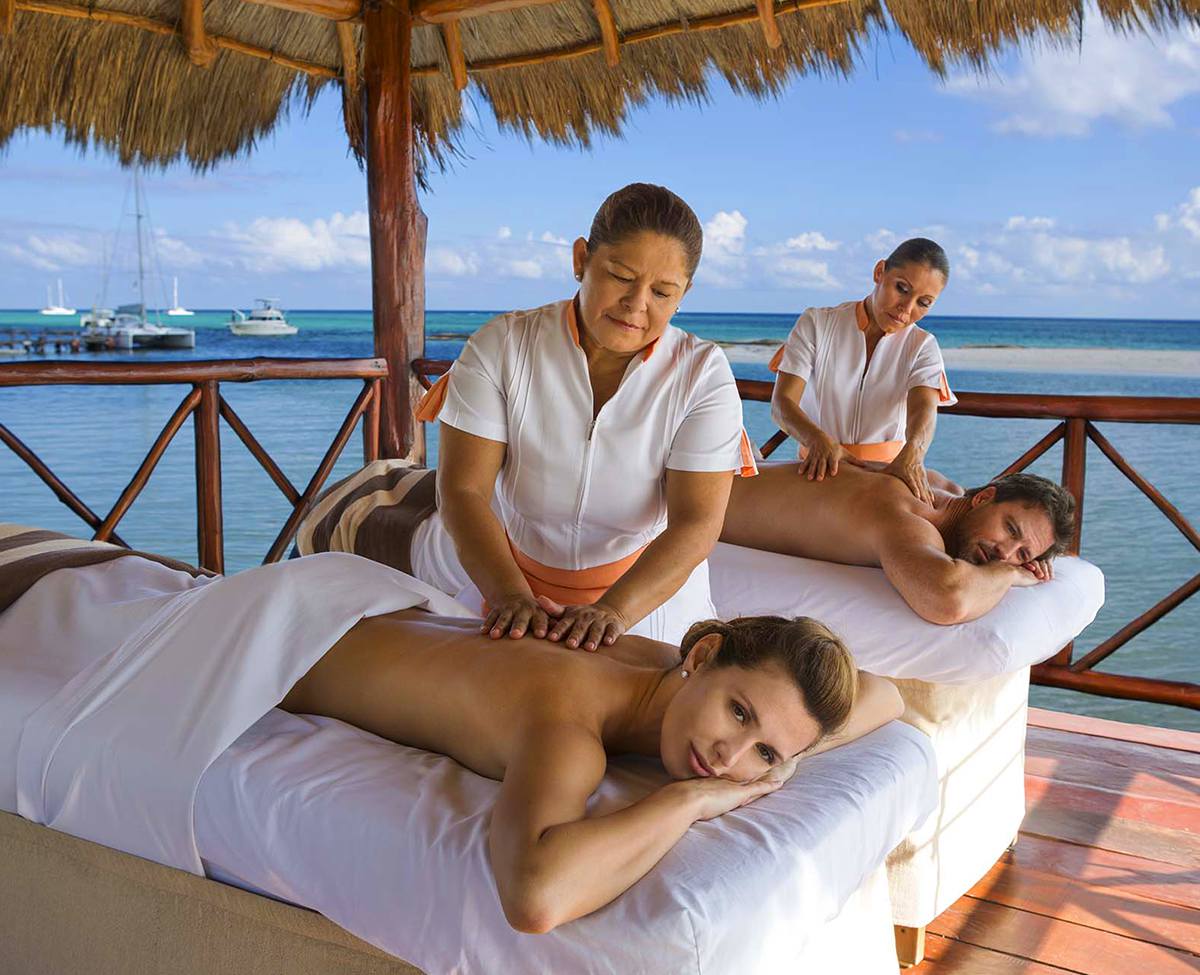 Spa treatment on the beach (Credit Velas Vallarta)
Picture yourself lounging on a plush spa bed in an open beautiful white canopy on a grass-covered jetty that juts out into the sea, falling asleep to the sounds of the waves as your masseuse works on the knots in your body, and breathe. This is the SPA at Velas Vallarta's signature treatment; a wonderful full-body massage that works on all your senses for the ultimate relaxation.
Other lovely treatments are also available: Moonlight Massage, Seaweed Salt Treatment, Volcanic Mud Wrap, Hydracure, and Hydrotensor-Hyaluronic Facial are among the other attractive options on the menu. There's also the Marine Algae Treatment, Deluxe Grape Wrap, Lymphatic Drainage, and Organic Facial.
Recreation
Puerto Vallarta is a destination for a more active type of vacation, so while there are a number of things to do onsite so that you'll never have to leave the resort, there are also a host of activities offsite that are very family-friendly and easily arranged through Velas Vallarta's Travel Agency, namely scuba diving, snorkeling, kayaking, bird watching, sport fishing, golf, swimming with dolphins, canopy ziplining, excursions to neighboring towns and villages, and more.
Huge, outdoor pools connected by a shallow water path similar to a lazy river (one of which has a swim-up bar that serves both alcoholic and non-alcoholic drinks and a pool volleyball net); ping-pongs tables; a gym; a basketball and three tennis courts that are open at night; live cooking demonstrations; Taco & Hot Sauce Tastings at the Pool; evening entertainment; yoga on the beach; and swimming and sunning at the beach are among the many family-friendly offerings at the resort.
(MORE: 16 Under the Radar Spots for Families in Mexico for 2016)
Just for Kids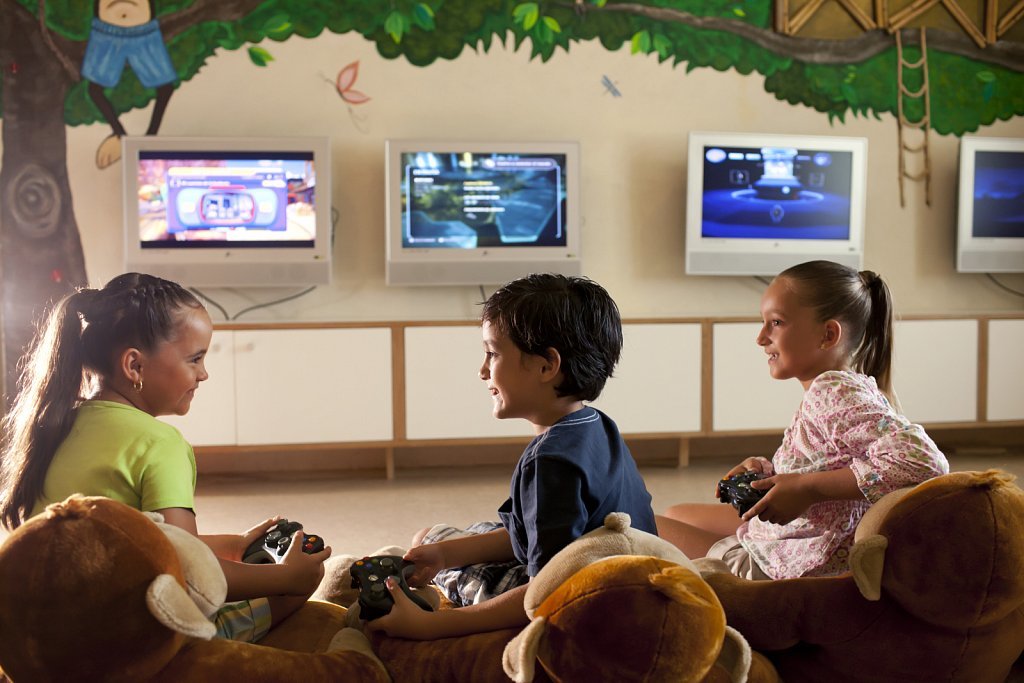 Kids Club at Velas Vallarta (Credit Velas Vallarta)
Kids 5 through 12 will love the sunny and vibrant décor of the resort's adorable kids club, which comes complete with its own kids pool, playground and even kiddie size toilet. The indoor space is colorfully furnished with kiddie tables, chairs and plush sofas as well as quirky artwork and a flat screen TV that plays children programming, while the trained staff is there to safely implement and supervise the club's special programs that include board games, fabric painting, tennis lessons, arts and crafts, kickball, soccer, treasure hunt, movie nights, video games and more. Seasonal activities such as bonfires on the beach and sand castle building during Summer Camp (from July through August), Easter Egg Hunts, tree decorating and letter writing to Santa during the Christmas season, and a New Year's Eve dinner are also available.
Things We Love
On certain days, the resort holds early morning yoga classes on the grass-covered jetty on the beach. It's the perfect and energizing way to start your day.
All suites come with fully furnished kitchenettes, so a home-cooked dinner is easy. The resort also has a small, onsite grocery store for supplies.
A lovely, private dinner for the whole family, prepared by Executive Chef Jorge Sierra and his carefully selected kitchen staff, may be arranged, especially if you're celebrating a special occasion.
The unforgettable Snorkeling/Kayaking + Yelapa excursion that may be arranged through the resort's Travel Agency in the lobby is a must, if you're looking for something fun to do with the kids outside the resort.
Sometimes, little things do make a big difference. At Velas Vallarta, even the smallest amenities are delightful. We especially love the complimentary welcome amenity Paleta Fruit Chillers, a popular fruity ice pop and drink treat, and the delicious turndown amenity, Dessert Taco, for VIP guests.
The mariachi band is an absolute delight, and listening to them play is a wonderful way to cap the night off.
Wild iguanas roam the resort grounds, and sometimes you may even catch them going for a swim in one of the pools.
The behind-the-scenes eco tour of the resort will not only showcase the resort's terrific green initiative to the guests, it will also give the kids a chance to meet some baby peacocks and see the protected turtle nests on property.
Insider Tips
The beach area is public, so keep your valuables safe and within your line of sight at all times.
If you're going on a boat tour, make sure to pack some Dramamine, especially if it's yours or the kids first time on a boat.
Keep an eye out for the albino peacocks that roam the grounds.
The Presidential Suite is perfect for large, multi-generational families.
High tourist season at the resort is usually from late December through March. To avoid the crowds, Puerto Vallarta is a sunny and warm destination year round so book anytime outside the busy season.
Michelle Rae Uy contributed this to MiniTime. She is a travel writer based in Los Angeles and MiniTime's Head of Content, who spends her free time on adventures and film photography.