Crowdsourced Cape Cod
By the MiniTime Community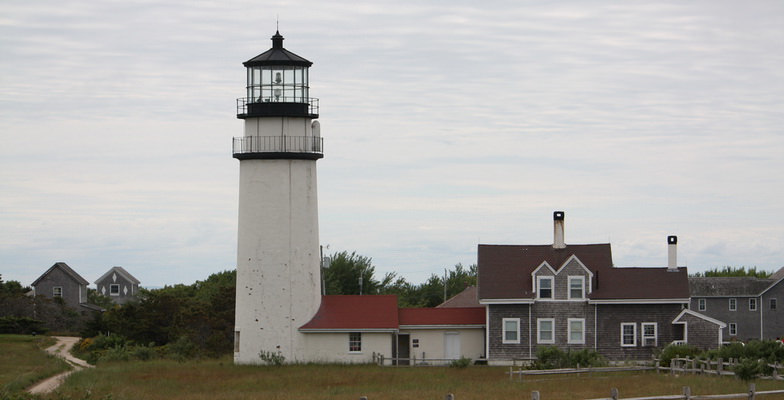 Highland Lighthouse in Cape Cod (Flickr: anneh632)
Why Go: Hermit crabs, mussels, and fireflies. Scents of salty air, freshly mowed grass, and honeysuckle. Going barefoot and swinging in a hammock. Days filled with long bike rides, sandcastles, and mini golf. Evenings spent watching drive-in movies and amateur baseball games.
There's something so comfortingly timeless about Cape Cod, with its 15 yesteryear towns seemingly plucked from a Norman Rockwell painting. The Cape Cod National Seashore has ensured that precious little development has been allowed on almost 30 miles of the Atlantic coast. In the off-season, it's possible to walk for half a day along this stretch of pristine beach and see little or no trace of humankind. In many of the picture-postcard towns, an awful lot remains the same from one generation to the next, thanks to designated National Historic districts that preserve architectural integrity. And best of all, the Cape is accessible and user-friendly. Well-marked trails have turned a vast area of the peninsula into a pedestrian's and cyclist's paradise, allowing an up-close look at the amazingly diverse topography of pine forests, marshes, cranberry bogs, and over 150 exceptional beaches.
Can't make it this summer? There's plenty of appeal long after the summer crowds have disappeared. In the fall, prices are lower and the bay water often stays warm enough for swimming as late as October.
Sleep
Best hotel or inn:
See our review of Ocean Edge Resort in Brewster.
See our review of Winnetu Oceanside Resort on Martha's Vineyard.
Best motel:
Viking Shores Motor Lodge (Rte. 6, North Eastham; 800/242-2131). Expect "basic but clean rooms, a free continental breakfast, and a great location between the bay side and the ocean side." Plus: The grounds include a pool, picnic tables, and charcoal grills. "Thumbs up for the in-room fridge, WiFi Internet access, and cable TV with HBO." Closed late October through mid-May.
Captain's Quarters Motel (Rte. 6, North Eastham; 800/327-7769). Rooms are "clean but generic in décor," with a good location between the ocean and the bay. You also get cable TV, an in-room refrigerator and coffee-maker, plus a heated outdoor pool, two tennis courts, and beach volleyball and basketball courts.
Eagle Wing Guest Motel (Rte. 6, Eastham; 800/278-5656). "If you're traveling with teens on the northern stretches of the Cape, this is a great choice. The owners, a congenial couple, don't allow young kids to stay at their motel, which means the rooms are in excellent condition and the place is super-quiet. Furnishings and amenitites (free continental breakfast, cable TV) are a cut above those at comparably-priced motels in the area." Open seasonally.
Get Your Bearings
Cape Cod is famously shaped like an arm jutting into the Atlantic, elbow bent and fist turned back toward the mainland. Habitués speak of the Upper Cape (shoulder), Mid Cape (bicep), Lower Cape (elbow), and Outer Cape (up to the fist), but wherever you are, you're never far from water. Cape Cod Bay washes gently over the western shores, the open Atlantic Ocean pounds the Cape's eastern coast, and Nantucket Sound laps up against the southern beaches.
Pick up a copy of Kids on the Cape, a free publication available at many shops, hotels, and attractions. Inside you'll find listings for many kid-friendly attractions and eateries plus dozens of money-saving coupons.
Most fun way to get around:
Bicycle. A family bike ride along the 25-mile Cape Cod Rail Trail is one of the most scenic ways to explore. The trail runs from South Dennis to South Wellfleet, following the now-paved route of the long-defunct Penn Central Railroad along terrain that's "generally flat, so it's great for kids." Along the way, you'll pass salt marshes, cranberry bogs, and ponds. Temptations for a detour off the trail include Nickerson State Park, which has its own bike path and "some great catch-and-release fishing." You needn't ride the entire trail. There are conveniently located parking lots in Harwich (on Pleasant Lake Drive), in Brewster (at Nickerson State Park), and in Eastham (at the Salt Pond Visitor Center). You can rent bikes from various shops near the trail in towns such as Dennis, Brewster, and Eastham.
Car. A favorite drive is along the north shore's Route 6A (a.k.a. Old King's Highway), through some of the Cape's oldest towns dating from the mid-1600s. "It's eye candy for the eyes and soul."
Best view:
Cape Cod Highland Lighthouse (Highland Rd., North Truro). The Queen Ann-style lighthouse has been in operation since 1857, though it was moved back from the cliffs in 1996 because of erosion. It's the tallest lighthouse on the Cape and offers "achingly beautiful views of the Atlantic" from the 120-foot observation deck.
Province Lands Visitor Center (Race Point Rd., Provincetown; 487-1256). "The upper observation deck has a 360-degree view" from which "you can sometimes spot whales!"
Scargo Tower (Scargo Hill Rd., East Dennis). This observation post sits atop the highest hill on the Cape. "Climb it and you'll enjoy a spectacular view of Cape Cod Bay."
Sunrise from an east-facing beach. "Nauset Beach, in Orleans, is spectacular."
Sunset from a west-facing beach. "A great choice is First Encounter Beach, in Eastham." Another good pick on the bay is "Duck Harbor Beach, in Wellfleet. You can watch the sun set over the water, which is calm and perfect for little swimmers."
Soak Up the Local Scene
Don't miss events:
Wellfleet Drive-in Theater double feature (Rte. 6, between Eastham and Wellfleet; 349-7176). Built in 1957, this movie-lover's delight hosts an enormous screen measuring 100 feet by 44 feet "and a state-of-the-art FM stereo sound system." You can enjoy "first run double features most every night," where there's typically a G-rated family flick, followed by something more grown up. Kids will love that "there is a playground and snack bar, too."
Cape Cod Baseball League game (nightly at various venues; games most often start at 5pm or 7pm; mid-June to mid-August). Every summer since 1885, this amateur league offers the chance to watch the boys of summer in an uncommonly enjoyable setting. "Some first-class ball" is played by "top-ranked college players and class-act up-and-comers." Many major leaguers got their start here, including former Red Sox players Carlton Fisk and Mo Vaughn. Admission is free, though some teams may ask for a small donation. Don't have a favorite team? Go to one of the more evocative ballparks. Favorite viewing areas include "sitting in the bleachers at the impeccably-kept Eldredge Park, in Orleans," or "plunking your lawn chair or blanket behind the backstop at Chatham's Veterans Field." For kids, the highlights will certainly be "chasing down foul balls" and "feasting on scrummy ice cream and hot dogs."
Pirate Adventure Cruise (Ocean St. Dock, Slip 4, Hyannis; 394-9100; $21/person; mid-June through Labor Day). Wanna play pirate? Six times a day, the skull-and-crossbone festooned Sea Gypsy sets sail in Nantucket Sound, where you can "have a pirate adventure looking for treasure." There's an hour or so of onboard fun, including "treasure maps, face painting, pirate sashes, squirt guns, floating skulls, and a terrifically engaging staff." Book a few days in advance.
Let the Fun Shine In
Doane Rock (Nauset Rd., Eastham). This favorite picnic spot is near the homestead site of John Doane, the first of the Plymouth settlers to make his home on the Cape, in 1644. A unique feature is a huge exposed boulder that was transported to the spot by glaciers. There are picnic tables and hiking trails.
Best public beach:
Everybody's got a personal favorite. Yours will depend on what kind of beach experience you're looking for and, to some extent, how old your children are. For the classic Cape Cod beach—humongous dunes, huge waves, chilly water, and miles of uninterrupted sand—head to the Cape Cod National Seashore on the Atlantic coast. West-facing beaches generally have the sandiest shores, gentlest waves, and most temperate waters. Southside beaches on Nantucket Sound are known for their gently rolling surf. And don't forget inland. There are said to be 365 freshwater ponds on the Cape, one for every day of the year, with clear, warm water and sandy beaches that are ideal for small kids. Here are some of the most beloved beaches on the Cape:
Coast Guard Beach, Eastham. A favorite among the many quintessential dune-backed beaches that make up part of the Cape Cod National Seashore. "Coast Guard Beach has been cited by the Travel Channel as one of the most beautiful beaches in the US." During the summer, there's no on-site parking; you catch a shuttle bus from the Little Creek parking area, across from the Doane Area.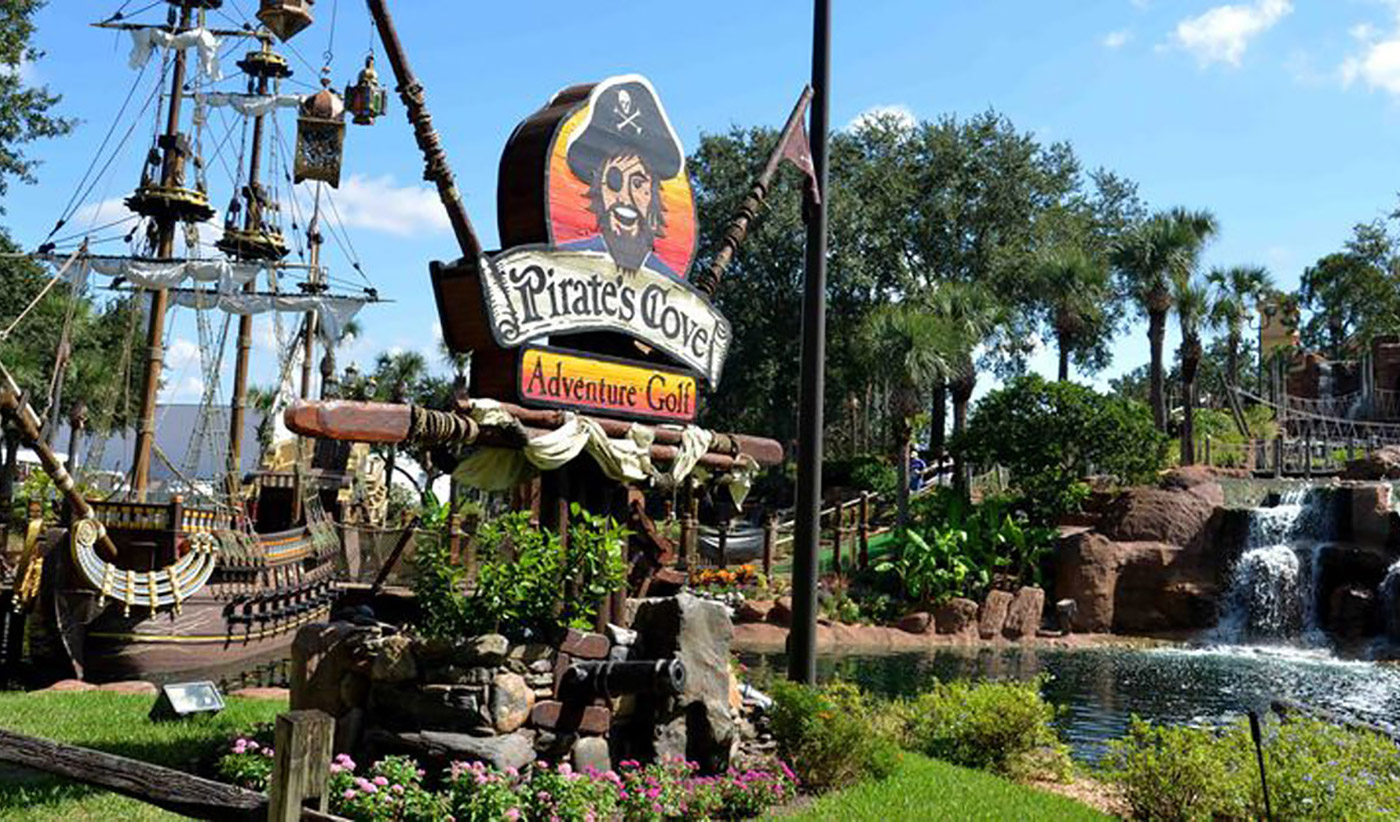 Kid-friendly attraction Pirate's Cove Adventure Golf (Pirate's Cove Adventure Golf)
Nauset Beach, East Orleans. A "beautiful town-managed beach" with a nice boardwalk and snack bars." It's "great for a long beach walks, but even a short walk will take you beyond the crowded area. You may see seals in the water."
First Encounter Beach, Eastham. At low tide, the beach is at its most dramatic. "The sand seems to stretch on forever and you can walk out up to two whole miles!" The tidal flats harbor a multitude of interesting treasures to collect and "the water is quite warm when the tide comes back in because it passes over the heated sand." Bring pails and minnow nets.
West Dennis Beach, West Dennis. Long and wide, with pristine marshland and "awesome for windsurfing." Families love it because there's a playground, snack bar, and restrooms.
Best fun attraction:
Red Barn Pizza & More (4180 Rte. 6, North Eastham; 255-4500). "Fun for tots and teenagers alike." There is an outdoor mini golf course and an air-conditioned indoor arcade with plenty of fun games. "You'll also find a huge selection of candy that you mound into a basket as selections are made—a fun way to shop!"
Pirate's Cove Adventure Golf (728 Main St., South Yarmouth; 394-6200; $7.95/adult, $6.95/kid). "The best place for mini golf on the Cape" offers two 18-hole swashbuckling courses "for the most over-the-top putt putt experience."
Bud's Go-Karts (362 Sisson Rd., off Rte. 28, Harwich Port; 432-4964). "Kids love getting behind the wheel and going really fast" around the track at Bud's, "a must stop in Harwich."
Cartwheels (11 Gages Way, South Dennis; 394-6755). A fun place for the whole family to spend a few hours. There are "top-of-the-line go-karts, batting cages, and an arcade."
Cape Escape Adventure Golf (14 Canal Rd., Orleans; 240-1791; $7.50/adult, $7.00/kids 12 and under). This particularly lovely mini golf course "not only is a lot of fun, but it delivers an authentic Cape ambience." Decorations include real fishing boats, a live koi fishpond, and pretty waterfalls.
Meet Flippered Friends
Best for whale watching:
Dolphin Fleet Whale Watch (132 Bradford St., Provincetown; 800/826-9300 or 349-1900; $39/adult, $31/kids 5 to 12, free for kids 4 and under). These "excellent four-hour trips" feature narration by marine biologists from the Center for Coastal Studies. You might spot humpbacks, minkes, finbacks, or dolphins. "It's incredible to watch a whale surface!" Book in advance, and "check the web site for online discounts."
Hyannis Whale Watcher Cruises (Barnstable Harbor; 1-888/WHALE-WATCH; $45/adult, $26/kids 4 to 12; free for kids 3 and under). This is the only whale watching outfit on the Mid Cape. Cruises last three-and-a-half hours, with commentary from expert naturalists and a good chance at seeing humpbacks, finbacks, and other species. "During the summer, tickets are first come, first served."
Best museum for kids:
Cape Cod Museum of Natural History (869 Rte. 6A; Brewster; 896-3867; $8/adult, $3.50/kids). Kids can learn "everything there is to know about lobsters, crabs, clams, mussels, starfish, frogs, turtles," and more. There's also "an impressive list of excursions that teach kids about the Cape's natural environment."
Whydah Pirate Museum (MacMillan Wharf, Provincetown; 487-8899;$10/adults, $8/kids) "You'll discover much about local seafaring history through artifacts from the pirate ship Whydah," which sunk off Marconi Beach on Cape Cod in 1717.
Cape Cod Potato Chip Company (100 Breed's Hill Rd., Hyannis; 775-7253). Nevermind that it's not a conventional museum (you say potayto, we say potahto), because "your kids will still learn a little something." Best of all: After a short factory tour where you see how potato chips are made, "you get some yummy free samples."
Heritage Museums & Gardens (67 Grove St., Sandwich; 888-3300; admission $12/adult, $6/kids 4-16; free for kids 3 and under). Set on 100 acres of "beautifully landscaped grounds with rhododendrons blooming everywhere from mid-May through mid-June" this complex includes three museums. The Shaker Round Barn is an auto museum which showcases vintage and classic cars, including "an old Model T that kids can climb on and pretend to drive." The American History museum is known for its collection of military artifacts. The Art Museum houses Native American arts, antique toys, and even a carousel that's "for riding, not just for looking." Families should inquire at the ticket office for Family Funpacks with children's activities, or the Clue tours, which are "cool scavenger-hunt games for exploring the grounds." In the summer, "Fridays are a great day to visit. There's a concert, magic show, or other live performance in the gardens from 11am to noon, followed by a children's craft project that kids can take home."
Salt Pond Visitor Center (Doane Rd., off Rte. 6, Eastham). The "gateway to the Cape Cod National Seashore" offers "a brief film on how Cape Cod was formed through the ages with interesting time-lapse photography comparing the beach in summer versus winter." There is also a museum and a gift shop "with lots of interesting books for children about Cape Cod."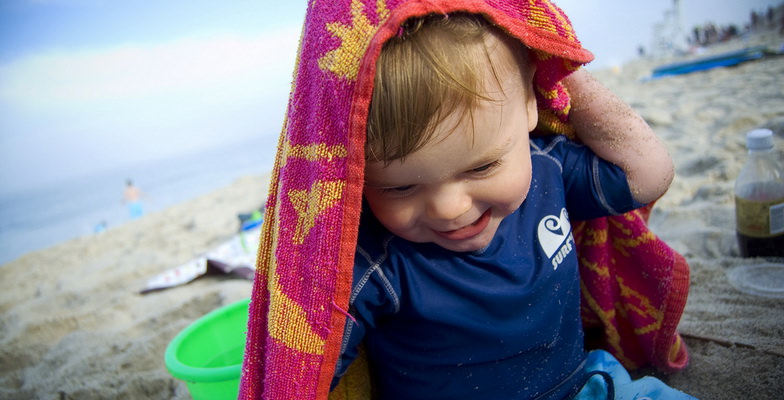 Nauset Beach in Orleans, MA (Flickr: djs1021)
Eat
Best bakery:
Jams (14 Truro Center Rd., Truro; 349-1616). This bakery-cum-deli is a perfect place to stock up on picnic provisions, with pastries, cookies, rotisserie chicken, and much more. "Try the to-die-for freshly baked pizzas."
Cottage Bakery (5 Cottage St., Orleans; 255-2821). "Hands down, the very best bakery on the Cape," providing everything from croissants to dessert cakes. "If you go for breakfast, don't pass on a Dirt Bomb, which is a cross between a doughnut and a muffin, completely smothered in cinnamon sugar." "You'll get addicted to the dirt bombs."
Best pizza:
Red Barn (Rte. 6, North Eastham; 255-4500). "Fabulous pizza and terrific ice cream." This place is "a godsend when children get tired of eating seafood."/p>
Best clam shack:
The Friendly Fisherman (4580 Rte. 6, North Eastham; 255-6770). "Absolutely, positively the best lobster roll on the Cape. Big sweet chunks and just a tad of mayo to hold it together. Well worth the $16.50 price." The adjacent shop next door has "many varieties of super-fresh fish to bring back to your cottage and throw on the grill. There are also fresh vegetables and homemade pies, all top quality." Outdoor seating only, " with a small playground, and a table with coloring books and crayons for kids." Open seasonally.
Cobie's (3260 Rte. 6A, Brewster; 896-7021). This is what every clam shack should be: "Nothing fancy, but they've got fabulous lobster rolls and fries," not to mention the fried clams, burgers, shakes, and foot-long dogs. Cash only.
Cooke's Seafood (Junction of Rte. 6A and Rte. 28, Orleans; 255-5518). This casual, family restaurant "has the ambiance of a Howard Johnson's, but oh mama—those lobster rolls are delectable!"
The Clam Shack (Off Scranton Ave., Falmouth Harbor; 540-7758). "This classic is perched right on the edge of the water," and serves up "reasonably priced fried seafood with all the fixin's." You and the kids can "dine happily and no-frills," on picnic tables beside the counter or better yet, "right on the rooftop, for the most fantastic view of the harbor."
Cap't Cass Rock Harbor Seafood (117 Rock Harbor Rd., Orleans; no phone). You can't miss this shack, which "looks untouched since the 1950s" and is covered in colorful, salvaged lobster buoys. That's your first clue to the freshness of what's inside. Order the "amazingly sweet fried scallops", which come in "simply prepared, huge portions." Cash only.
Arnold's Lobster & Clam Bar (3580 Rte. 6, Eastham; 255-2575). "Prepare to wait in line" at this "big and bustling" place known for it's "amazing, totally high cholesterol meals." Faves include fried oysters, fried onion rings, fried shrimp, fried lobster, and of course fried clams. "Order the whole clams, not the strips." There are "lots of outdoor and indoor seating options for large groups and restless kids," plus an outdoor walk-up window for ice cream.
Jerry's Seafood and Dairy Freeze (654 Main St., off Rte. 28, West Yarmouth; 775-9752). Go for the "wonderfully fresh clams" and "it rates tops for soft ice cream, too."
Moby Dick's Restaurant (Gull Pond Rd., off Rte. 6, Wellfleet; 349-9795). "The menu at this lovely shack goes on and on, with plenty to interest the whole family." Kids get "crayons and placemats to color."
Best dessert:
Marion's Pie Shop (2022 Rte. 28, Chatham; 432-9439). For about 50 years, this is where the cognescenti come for best pies, be it "life-altering lemon meringue for dessert to the sea-clam pot pie for dinner." Closed Mondays in winter.
Best ice cream:
Sundae School (Locations at 381 Lower County Rd., Dennisport; 606 Main St., Rte. 28, Harwich Port; 210 Main St., East Orleans). The three locations at this "slice of nostalgia" serve up ice cream that's "pure nirvana," along with real whipped cream, and old-fashioned sarsaparilla and cream sodas.
Emack & Bolio's (Rte. 6A, Oracle Sq., Orleans; 255-5844. Other locations: 2 Kent Pl., Chatham and 117 Main St., Wellfleet). Located in a Victorian-era house with a wide front porch and tables inside and out, this quaint shop offers options that are creative and change often. "A double scoop of Serious Chocolate Addiction is worth a drive from anywhere on the Cape."
Buffy's (456 Main St., Chatham; 945-5990). Serves "decadently rich ice cream, fresh-squeezed citrus rickies and delicious fruity smoothies."
Hallet's Store (139 Hallet St., Yarmouth Port; 362-3362). In operation since 1889, this "darling country drugstore" dispenses fabulous ice-cream from its marble soda fountain with swivel stools.
Best for a splurge:
Chatham Bars Inn (297 Shore Rd., Chatham; 945-6704). "If you feel liking dressing up for a meal, this is the place to go. The main dining room and menu were remodeled in 2007. Now both are much more welcoming to kids. They even have a kids' menu. Meals are expensive but inventive and delicious."