No-surprises pricing? Terrific kids' programs? Yes, please.
By Erin Gifford on Nov 9, 2016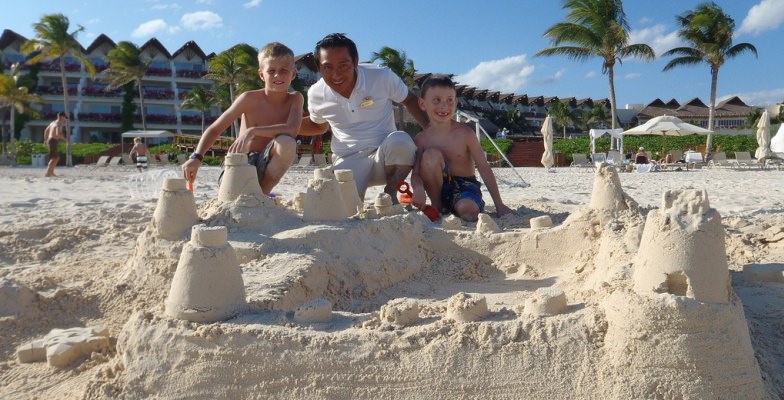 Build sand-castles with the kids at Grand Velas Resort. (Grand Velas Riviera Maya Resort)
With its white sandy beaches, fantastic snorkeling, and a sprinkling of archeological ruins, it's no wonder that the Riviera Maya is a paradise for families. Stretching along the coast just south of Cancun, a number of all-inclusive resorts offer fun, family programs that go way beyond coloring pages and trips to the pool. We've picked six standout Riviera Mayan all-inclusives with top-notch children's programs.
(HOTEL DEAL: Offer_Kids_Club_Package Breakfast for the kids and more in the Caribbean and Mexico CODE* MAJ (Valid through 11/10/16, See Landing Page for Terms and Conditions))
Grand Velas Riviera Maya Resort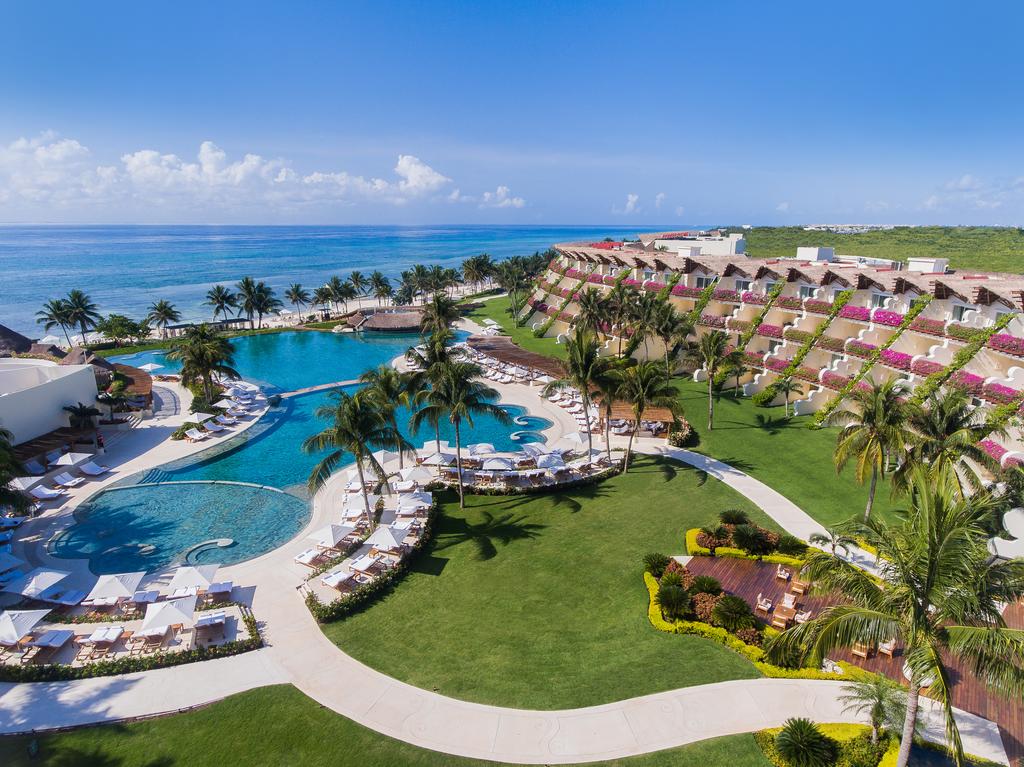 This all-suite resort in Playa del Carmen is divided into three separate "ambiances," including two for families. Zen is for those preferring the flora and fauna of the tropics, while Ambassador units are oceanfront for those families that want to hit the beach early and often. The Ambassador pool is also a popular spot for families to spend sunshine-filled days. Mom and Dad will love the spacious suites as well as complimentary butler-concierge service. Kids will love making piñatas, designing their own jewelry and flying kites out in the sand. Tip: Take advantage of the free hotel shuttle to nearby Playa del Carmen for shopping, diving and exploring local marine animals and wildlife.
Grand Sirenis Riviera Maya Resort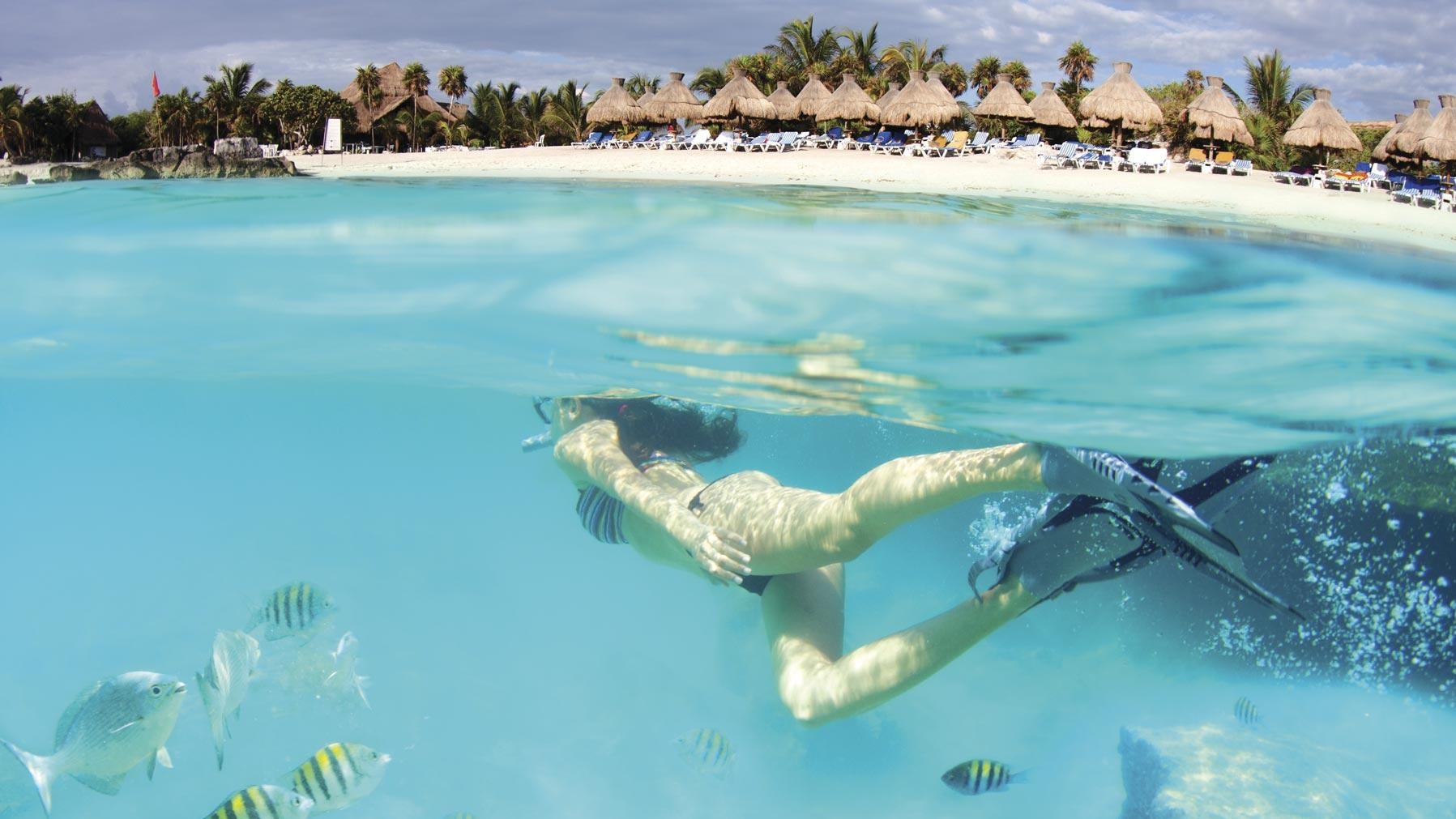 Snorkel and see the vibrant marine life at Grand Sirenis. (Grand Sirenis Riviera Maya Resort)
The lobby this kid-friendly resort in Akumal evokes a Mayan pyramid, paying homage to the nearby ruins of Tulum and Coba. Inside, you'll find plenty of open spaces before you head out to enjoy the beach, lazy river, botanic gardens and pools just for kids. Staff at the Kids Club is top-notch, continuously engaging kids with everything from Beach Olympics to trips to the ice cream parlor for sundaes. Connecting suites make it easy for families to stretch out and relax. Tip: Traveling in the off-season? Bargain hunters may consider requesting an ocean view upgrade upon arrival instead of when booking. It can land you the same room for less.
Grand Palladium Riviera Resort & Spa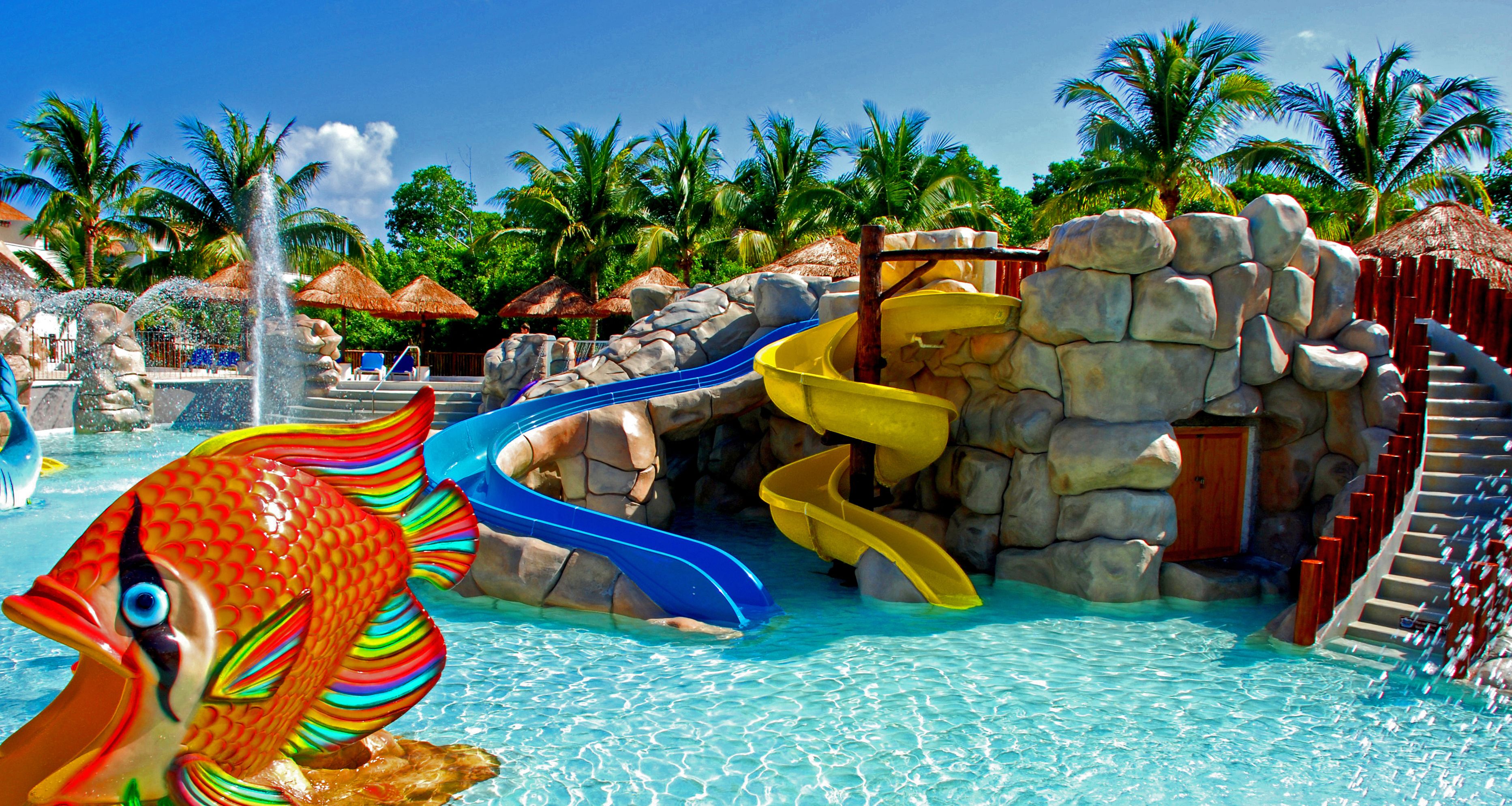 Aquapark at Sandos Caracol (Sandos Caracol Eco-Resort & Spa)
This sprawling resort in Akumal is a great pick for families with little ones thanks to the launch of "Play at Palladium with Raggs," a new children's program featuring a colorful, likable dog and his four bandmates, who sing songs and entertain children in weekly shows and dance parties as well as at a character breakfast included in the all-inclusive rate. Young children will love the Mini Club and Baby Club with daily themes such as Eco Kids Day, as well as a new kids' pool with slides and waterfalls. Older kids will enjoy the pool and video games at the club for teens and tweens. Tip: There are no elevators in the villas, so parents with small children might consider requesting a room on the ground floor.
Azul Fives Hotel by Karisma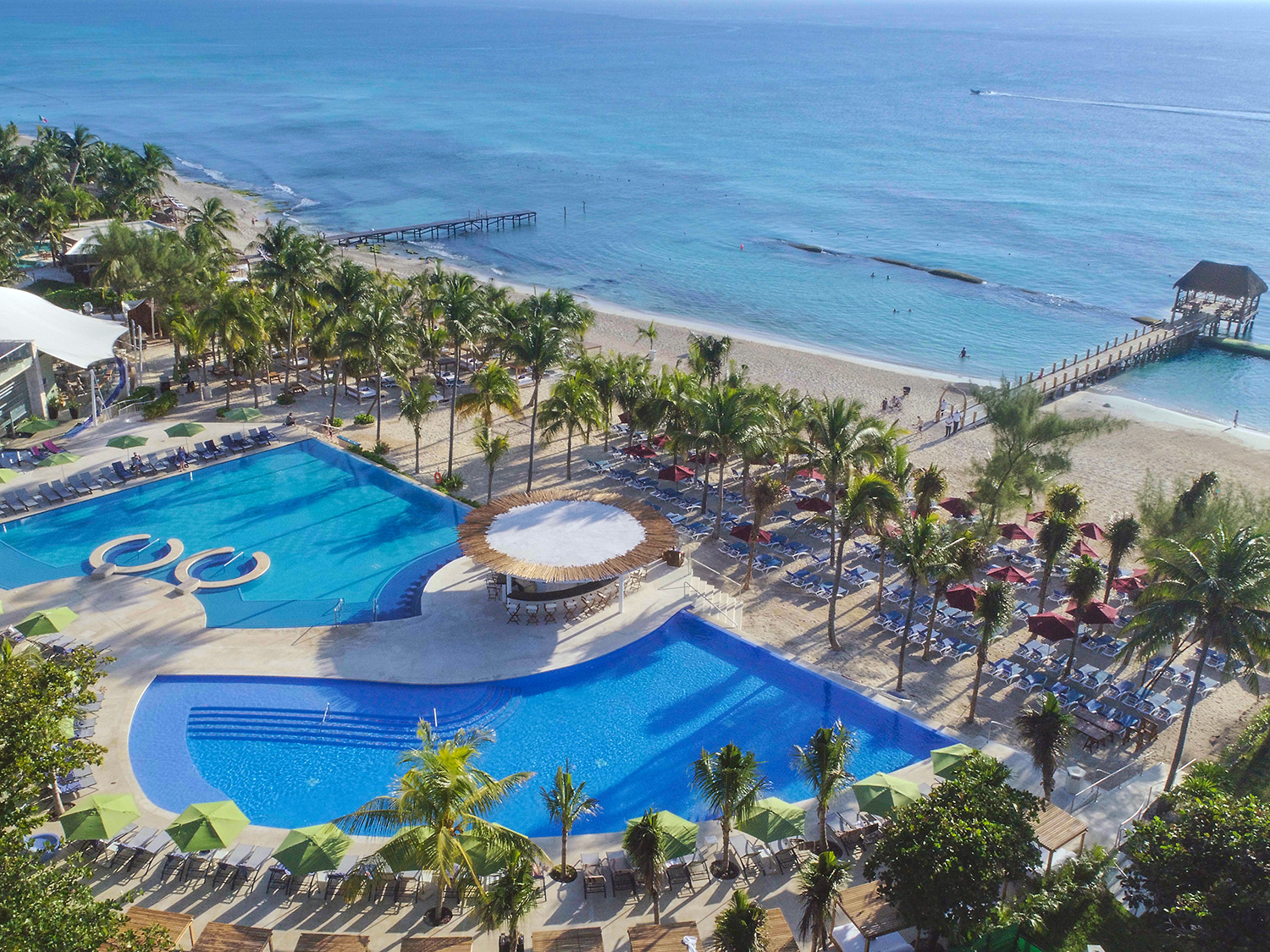 Infinity pool at Azul Fives (Azul Fives Hotel by Karisma)
This all-inclusive boutique resort just outside Playa del Carmen has a luxurious feel, from the eye-catching infinity pool to the drop-dead-gorgeous private beach to the jumbo-sized suites, each of which features a living room with pullout sofa, full kitchen, dining area, modern bathroom with Jacuzzi tub, and a balcony or terrace. It's a particularly great choice for families with little ones, thanks to the excellent Azulito kids' club and loaner program for baby and toddler toys from Fisher-Price. There is also a supervised activity program for kids ages 4 to 12, who will also love the enormous free-form pool that meanders throughout the property. Tip: In addition to the all-inclusive plan, the resort offers a flexible meal plan options. Since suites have full kitchens, this can be a budget-friendly option for families willing to prepare some of their own meals.
(HOTEL DEAL: Offer_Tots Travel Too – We've got you covered with travel cribs, tub toys, outlet covers, bibs!)
Barcelo Maya Beach Resort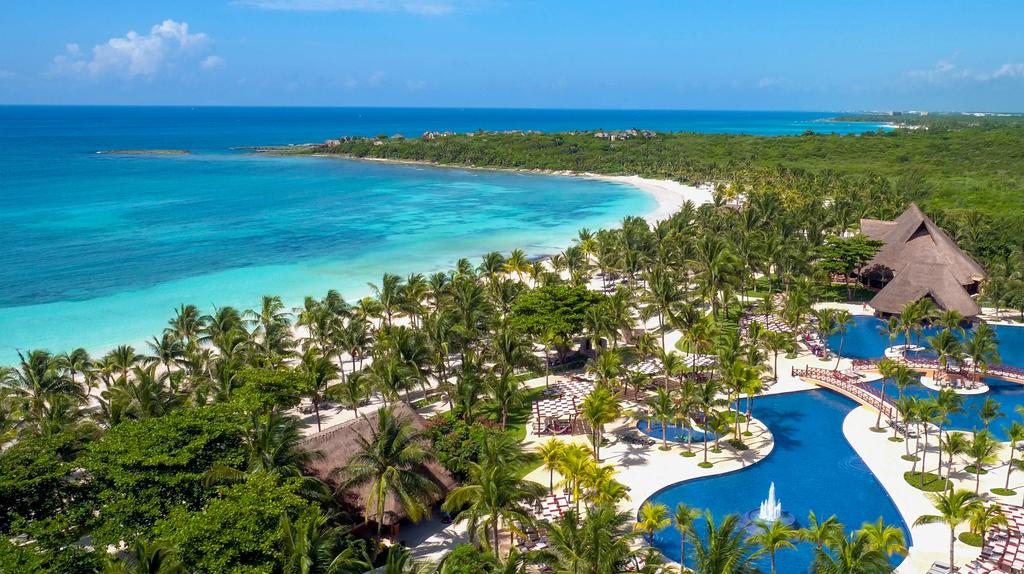 Every room at this property just south of Playa del Carmen is a suite or junior suite, giving families plenty of room to spread out—not that you'll spend too much time in your room, what with myriad activities ranging from tennis to water sports and beach volleyball. School-age children will love U-Spa for Kids, offering up-dos, manicures, massages and facials. Cookie-making classes with resort chefs have also proven to be a hit with bakers-in-training staying at Barcelo. And, of course, kids can spend their time at the Barcy Kids Club for plenty of sandcastle building, beach walks, and dance classes. Tip: The complimentary snorkeling is popular but equipment is limited. If you're keen to go snorkeling during your stay, bring gear with you.
Sandos Caracol Eco-Resort & Spa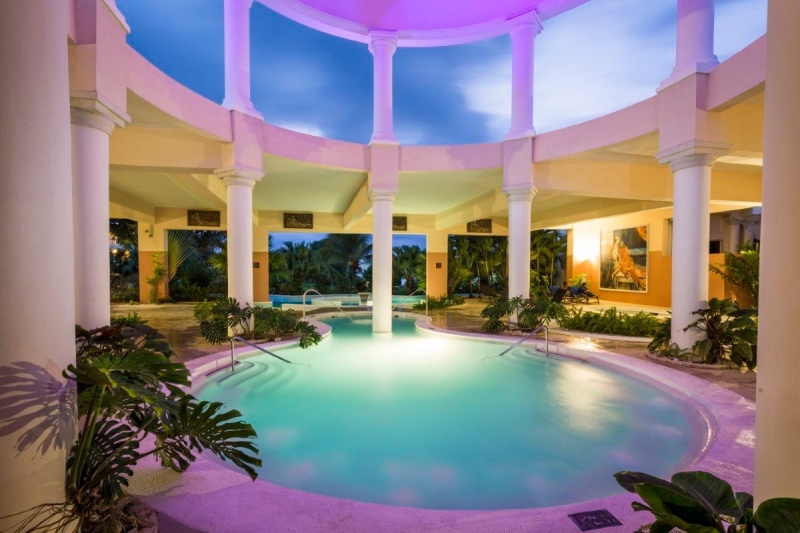 Extensive pool at Grand Palladium (Grand Palladium)
Eco-conscious families will appreciate solar-powered rooms, an on-property windmill and programs designed to protect the tropical environment. This resort just outside Playa del Carmen has three separate resort zones, including a section just for families. Kids will love the aquapark with 17 water slides, as well as the kids' club with its rock-climbing wall and trampoline. There's also an eco-zoo with donkeys, peacocks, and marine turtles, and even mini yoga for kids. A baby club for not-yet-potty-trained tykes is a nice perk, too. Tip: A behind-the-scenes tour of the resort's conservation efforts debuted in late 2013; it's a great way for families to learn more about preserving the environment.
Erin Gifford of Kidventurous contributed this to www.MiniTime.com.