Advice from folks who've been there
By the MiniTime Community
The Bean at Millenium Park (Flickr: Wright Way Photography)
Why Go: Perched on the southwestern tip of Lake Michigan, Chicago is the wild and windy epicenter of the Midwest. It's a sports-loving, festival-mad, culture-rich city with something for every family, whether your tastes run toward world-famous museums or amusement park rides. Your biggest challenge will be packing it all in, as the roster of can't-miss attractions presents an ambitious to-do checklist. Along with Navy Pier, the Chicago Children's Museum and the John Hancock Building, the city boasts not one but two wonderful zoos, a planetarium, and the incredible Field Museum. Thirty-one miles of Lake Michigan shoreline create an enviable playground of beaches, picnic-perfect parklands, shopping, cafés, and water sports galore. The backdrop for all this fun is the Chicago skyline—a huge draw in its own right—where bold, statement-making architecture defines "the Loop." Finally, no trip to Chicago is complete without a stroll along the Magnificent Mile, a salubrious stretch of Michigan Avenue between the Chicago River and Oak Street.
(MORE: View a family trip plan: 4 days in Chicago with kids.)
Sleep
Best hotel:
Homewood Suites Chicago (40 E. Grand Ave.; 800/CALL-HOME and 644-2222; suites from $139). Along with a great location just off the Magnificent Mile, this all-suite hotel offers a lot for families. Each one- or two-bedroom suite is "much more spacious than a regular hotel room" and features a small kitchen, "which can be big money-saver when you've got hungry kids." Plus, the downstairs dining room offers a complimentary buffet breakfast each morning and free beverages and snacks in the evening. There's also a fitness room and small indoor pool.
Embassy Suites Chicago Downtown (600 N. State St. at West Ohio St., North Side; 800/EMBASSY or 943-3800; suites from $299). This branch of the family-friendly all-suite chain has a great location near the Magnificent Mile and enough space to let your family spread out. Suites have a two-room layout: One bedroom with either a king or two double beds, plus a living room with a pullout sofa, dining table, and wet bar with a small fridge and microwave. Downstairs, there's an indoor pool and small gym.
Get Your Bearings
There's water, water everywhere. The Chicago River cuts a Y through the city, dividing it into the North Side, South Side, and West Side. Lake Michigan is to the east. Even if you don't visit the beach or take a cruise, you'll like spend a lot of time along the lake, visiting the touristy-but-fun Navy Pier and the huge, grass-covered Museum Campus, with its trio of top-flight museums: the Shedd Aquarium, Adler Planetarium, and Field Museum.
If you're planning on a lot of sightseeing, consider buying the Chicago CityPass. It lumps the admission fees of five major attractions (Shedd Aquarium, Field Museum, Adler Planetarium, and Museum of Science and Industry, and Hancock Observatory, or the Sears Tower Skydeck) into one price ($59/adult, $49/child 5-17), resulting in a 50% savings if you see all of them. Another key perk: You can jump to the front of all the lines, which is a huge benefit during high tourist season. To figure out whether the CityPass makes sense for you, do the math. In general, it's a bargain if you're planning to visit at least three of the five included sites.
Most fun way to get around:
"The El," Chicago's elevated train. Hop on the southbound Brown Line from any stop north of Merchandise Mart "to see why they call downtown Chicago 'the Loop.' The train will take you in a not-quite-complete circle. Look out the window and you'll see it all—the Chicago River, phenomenal architecture, and Chicagoans out and about, doing their thing. It's fun to peek into windows as you whiz by."
Chicago Water Taxi (Stops at Madison St., LaSalle/Clark, Chinatown, Michigan Ave., and River East Plaza; $2/ride, $4/all-day pass). This friendly service travels on the Chicago River, offering "a super, river's-eye view of downtown." It's "not just for tourists. Locals like it, too."
Best local tour:
Wendella Boats (Wrigley Building, 400 N. Michigan Ave.; $23/adult, $11/child 3-11, free for under-3s). Since 1935, Wendella Boats have been showing off Chicago from the water. The 90-minute tour begins on the Chicago River, giving "a great look at the city's architecture. It's fun when the boat goes under bridges." Near the end of the cruise, you're taken out on Lake Michigan for "an amazing look at the entire Chicago skyline. Going through the locks from the river to the lake is really cool." The boats have bathrooms and a small snack bar on board.
Windy Tall Ships (Navy Pier, 600 E. Grand Ave.; 595-5555; $30/adult, $20/child under 12). These breathtaking tall, four-mast schooners are "one of the most delightful sights at Navy Pier." Up to five times a day, 90-minute cruises depart from Navy Pier for a memorable trip into Lake Michigan. "Passengers can even take turns helping the crew raise and trim the sails, if they like." "The view of the city is wonderful, especially if you go at dusk or in the evening when city lights start coming on."
Best view:
Hancock Observatory (John Hancock Center, 875 N Michigan Ave., enter on Delaware St.; 888/875-VIEW or 751-3681; $15/adult, $9/child 5-12; free for under-5s). Perched high above famous Michigan Avenue, the observatory on the 94th floor of the city's third-highest skyscraper offers "an absolutely spectacular view that takes in the wonderful Lake Michigan shoreline and stretches across three state lines." Venture out on SkyWalk, the open-air viewing deck, and "you'll appreciate why they call this 'the Windy City'." Note: Admission is included in the Chicago CityPass.
Ferris Wheel at Navy Pier (600 E. Grand Ave.). The 150-foot wheel is a landmark at Navy Pier. Climb aboard and "enjoy stunning views of the lake and the city's magnificent skyscrapers."
Monroe Harbor (100 N. Harbor Dr.). The docks hold hundreds of small leisure boats and you'll spy plenty of fishermen trying their luck. Bring your camera for "classic views of the prominent city skyline."
(MORE: Read reviews on family-friendly attractions in Chicago.)
Soak Up the Local Scene
Best weekend family hangout:
Lincoln Park (Lake Shore Dr. north of North Ave.). More than 150 years old, the city's largest park is also its most beloved. Lincoln Park is long and narrow, hugging the shoreline for several miles above North Avenue. Its 1,200 acres are jam-packed with fun possibilities: two zoos (including a great one just for kids), a famous conservancy, a golf course, meadows, harbors, lagoons, fishing piers, and "a wonderful lakefront path that goes on for miles." You'll find all forms of recreation here, from jogging, cycling, and inline skating to tennis, soccer, basketball, baseball, rowing, and more.
Best sightseeing attraction:
Navy Pier (600 E. Grand Ave.; 595-PIER). This 3,300-foot pier was a training center for pilots during World War II, though any trace of military influence is long gone. This is Chicago's answer to Boston's Quincy Market—a tourist magnet with a food court, small amusement park, and dozens of colorful craft stalls, souvenir shops, and eateries of all kinds. "Fun for kids and grown-ups alike, though it can get very crowded." The adjacent 50-acre lakefront is home to the Chicago Children's Museum, a 3-D IMAX theater, an ice-skating rink, and the Chicago Shakespeare Theatre.Note: Every Wednesday and Saturday night in summer, Navy Pier puts on a showy display of fireworks. Watch from the pier or along the waterfront.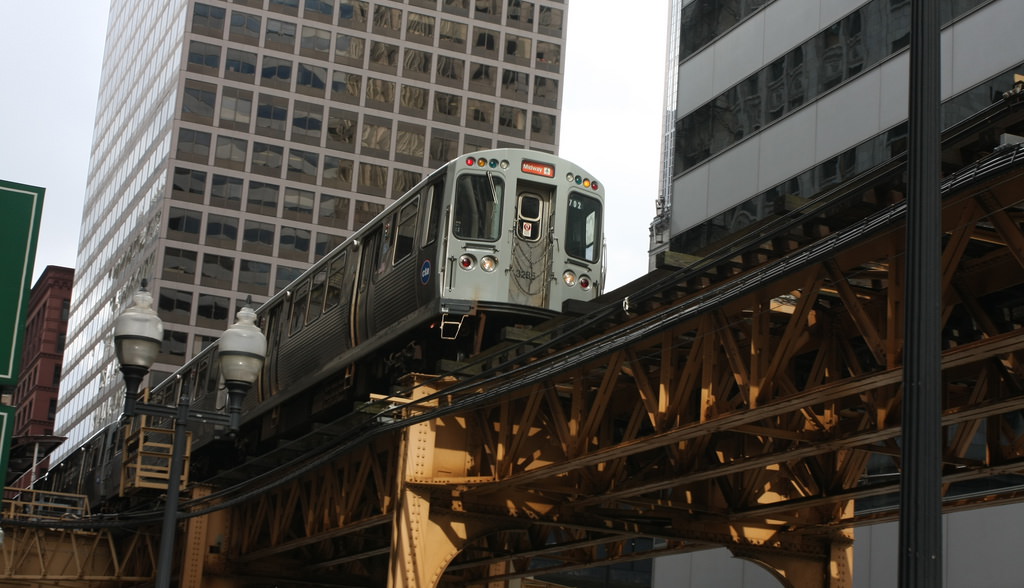 Chicago's L train (Flickr: ReneS)
Let the Fun Shine In
Best park:
Lincoln Park (Lake Shore Dr. north of North Ave.). "The park is huge, with tons of open space, playgrounds, and fun things to do. My family spent an entire day here."
Best picnic spot:
Lincoln Park (Lake Shore Dr. north of North Ave.). "Find a grassy spot near the lakeside path for a nice view of the boats in the water."
Best playground:
DayFrog (1919 N. Seminary Ave., Lincoln Park; 742-7787; All-day pass: $15/first child, $11/additional child). This "super clean and colorful" 4,000-square-foot indoor play center is located right off Michigan Avenue. "Besides the bright play structures and slides, there is an art room and lots of props for pretend and dress-up play." "It's a wonderful place to let your kids use up energy on a rainy day." "Perfect for preschoolers, but older kids would probably be bored."
Adams Playground (1919 N. Seminary Ave., Lincoln Park; 742-7787). Tucked in Lincoln Park, this recently-revamped playground is "great for all ages, from toddlers to tweens." There's "a rubbery, cushioned ground surface underneath swings, slides, and jungle gyms," plus a big sandbox, funnel ball, and a few see-saws. In the summer, kids can play in the shallow splash pool, which features fountains, slides, and interactive water toys. Also on-site: A small field house with bathrooms.
Walk on the Wild Side
Best animal experience:
Brookfield Zoo (8400 31st St.; 708/485-0263; Admission: $11/adult, $7/child 3-11, free for under-3s). Chicago's major zoo sprawls out over 216 acres and holds thousands of animals in creative indoor/outdoor viewing areas resembling their native habitats. The Africa exhibit alone comprises 30 acres, including "a cool monkey exhibit where you peek at them from treetop level." The "adorable" Hamill petting zoo is a great hands-on stop for little ones (extra fee: $1.50/adult, $1/child).
Lincoln Park Zoo (2200 N. Cannon Dr.; 742-2000; free). "Wow—a free zoo!" Yep, the nation's oldest zoo is one of the last remaining free zoos in the US, and also one of the only zoos to remain open 365 days a year. "The zoo is small but beautiful—wonderfully landscaped with lovely, verdant pathways, Georgian Revival architecture, and an abundance of flower gardens." The wildlife exhibits are well-selected and excellent, featuring giraffes, hippos, rhinos, chimps, gorillas, and the ever-popular sea lions, who have a pool at the center of the zoo.
Pritzker Family Children's Zoo (Lincoln Park Zoo, 2200 N. Cannon Dr.; 742-2000; free). This zoo-within-a-zoo was designed to give children an up-close, hands-on look at the animals that live in the North American woods—from bears and beavers to otters and wolves. "A big highlight is the indoor Treetop Canopy Climbing Adventure, a 20-foot tree built of wood, fabric, and netting that kids can climb up and down." "There are some really great, interactive stations where kids can see turtles, frogs, and snakes. On weekends, zookeepers often bring out some animals for the kids to touch." Don't miss Farm-in-the-Zoo, a working reproduction of a Midwestern farm. Kids can visit the barnyard and chicken coops, and watch demonstrations of cow milking, weaving, and butter churning. There are livestock, including cows, sheep, and pigs. The Main Barn is filled with more interactive exhibits, including "a huge John Deere tractor that kids can pretend to drive. This makes a nice photo opp."
John G. Shedd Aquarium (Museum Campus, 1200 S. Lake Shore Dr.; 939-2438; All-exhibit pass: $27.95/adult, $20.95 child 3-11, free for under-3s. Admission to aquarium and oceanarium only: $24.95/adult, $17.95/child 3-11, free for under-3s). The largest indoor aquarium in the US is housed in an octagonal marble building with a stunning Beaux-Arts rotunda. The Caribbean Coral Reef tank contains nurse sharks, barracudas, stingrays, and a hawksbill sea turtle. "There are roving cameras inside the tank that give you an up-close look at the sea life inside. Try to catch one of the daily feedings. A diver wearing a microphone swims around the tank and tells you about the eating habits of the animals inside." Another highlight is the dolphin shows in the oceanarium's amphitheater, "which can fill up quickly, so get a seat early." "Sunday morning is a great time to go—hardly any crowds!" Note: Admission is included in the Chicago CityPass.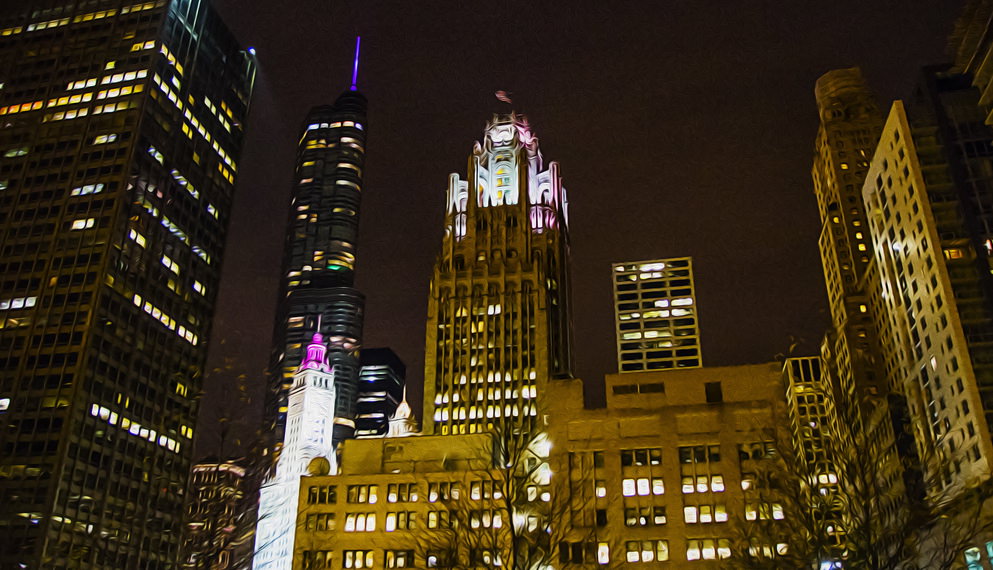 The city's skyline at night is one of Chicago's many attractions. (Flickr: Patrick Emerson)
Feed your Culture Vulture
Best museum for kids:
Chicago Children's Museum (700 E Grand Ave., Navy Pier; 527-1000; Admission: $9/person, free for infants under 1). "You could easily spend two or three hours" in this huge, dynamic wonderworld aimed at preschoolers up to 10-year-olds. For starters, kids can explore every inch of a three-story schooner, from crow's nest to galley to gangplank. The Dinosaur Expedition exhibit encourages budding paleontologists to set up camp in the Sahara and dig for fossils. For the under-5 crowd, there's Kid's Town, a city scaled down for wee folks complete with buses and buildings. "Call ahead to see when arts and crafts workshops are scheduled. They are fabulous!" Note: Admission is free for everyone on Thursday evenings from 5pm to 8pm. Admission is free for kids 15 and under on the first Monday of each month.
Field Museum of Natural History (Museum Campus, 1400 S. Lake Shore Dr.; 922-9410; Admission: $14/adult, $9/child 4-11, free for under-4s). This 9-acre gargantuan museum is famous as the stomping grounds of Indiana Jones and as home to the most complete fossil of a T-Rex (named Sue) ever unearthed. Head downstairs for "the superb Egyptian exhibit" and for Underground Adventure, "a supercool theme park-like exhibit of robotic bugs, worms, slugs, and other subterranean creatures" (extra fee: $7). Note: Admission is included in the Chicago CityPass.
Museum of Science and Industry (Museum Campus, 5700 S. Lake Shore Dr.; 773/684-1414; Admission to museum: $13/adult, $9/child 3-11, free for under-3s; Admission to museum and IMAX: $20/adult, $14/child 3-11, free for under-3s). This enormous building houses thousands of interactive exhibits that your family can explore together, including a replica of a 1930s coal mine and a real German U-boat (extra fee: $5). There are fun exhibits on every kind of transportation imaginable—planes, trains, and automobiles— as well as a fairytale castle and a mock business center. "If you spring for the extra fee at the IMAX theater, the space shuttle simulator is brilliant!" Note: Admission is included in the Chicago CityPass.
Adler Planetarium (Museum Campus, 1300 S. Lake Shore Dr.; 922-STAR; Admission: $10/adult, $6/child 4-17, free for under-4s; Admission plus one show: $19/adult, $15/child 4-17, free for under-4s). Impressively, the Adler was the first planetarium built in the Western Hemisphere. "Definitely go see one of the interactive virtual-reality shows in the Definiti Theater, an incredible 360-degree immersion theater." that "has better special effects than any video game!" Note: Admission is included in the Chicago CityPass.
Eat
Best pizza:
Caponie's Trattoria (3350 N. Harlem Ave. at Roscoe St., North Side; 773/804-9024). "Mama Mia! The pizza is delectable" at this family-owned restaurant in the heart of Little Italy that "that oozes old-world charm." The menu includes a nice variety of appetizers and pasta ("those little toasted raviolis are to die for!") but the specialty here is "the most killer deep-dish pizza in Chicago, cooked in the largest brick, wood-burning pizza oven in Chicago." "Be sure to save room for some yummy gelato—a real Italian treat."
Gino's East (633 N. Wells St. at Ontario St., North Side; 943-1124; no reservations). Of all the famous pizzerias in this pizza-loving town, this is the most revered. "It's all about Chicago-style deep-dish here, with a nice, thick crust. A small pie is plenty for two people." Since each pizza is cooked to order, you can wait a long time—up to 40 minutes. "It's a good idea to call ahead and pre-order if you have little kids with you. It'll really cut down your wait time." (Note: Pre-orders are not accepted on Friday or Saturday.)
Best hot dogs:
Portillo's (100 W. Ontario St.; 587-8910). The hot dog was introduced to civilization at the 1893 Chicago World's Fair, so it's unsurprising that this town takes its dogs seriously. Served up steaming since 1963, "the dogs at Portillo's are impossible to put down." The location is "right in the middle of everything—five blocks west of Michigan Avenue and six blocks north of the river." Locals swear by the "totally awesome, delicious-but-messy chili dog," which shares the poppy seed bun with chili con carne, onions, and cheese.
Murphy's Red Hots (1211 W. Belmont Ave., at N. Racine Ave.; 773/935-2882). Located in Lakeview, not far from Wrigley Field or Lake Michigan, this pleasingly old-style place oozes mom-and-pop appeal with wooden floors, diner-esque red-vinyl tablecloths, and "the best-ever beef hot dogs. Get the char dog with everything, fries and a root beer." Or consider "the beef dog with cheddar cheese, which is sheer perfection! And that's coming from a true hot dog fan!"
Superdawg Drive-in (6363 N. Milwaukee Ave., northwest side of city; 773/763-0660). This back-to-the-future drive-through—think two dancing hot dogs on the roof dressed like Tarzan and Jane, and plenty of neon—"is something of a legend," having opened as a humble hot dog stand in 1948. Call for a Superdawg into the microphone and you'll get a beef hot dog on a poppy seed bun, dressed to the nines with golden mustard, tangy piccalilli, dill pickle, chopped onions, and hot pepper. The whole thing comes in a takeout box, served on a bed of Superfries, "which are deservedly famous in their own right." In true flashback fashion, 1950s-style car hops bring your order to your car.
Shop
Best souvenirs:
City of Chicago Store (Water Works Visitor Center, 163 E. Pearson St. at Michigan Ave.; 742-8811). This shop's inventory of "full of really cool, authentically Chicago-related items" includes retired pieces from the municipal system, like parking meters and "lots of signs."