Cabo with kids
By Michelle Rae Uy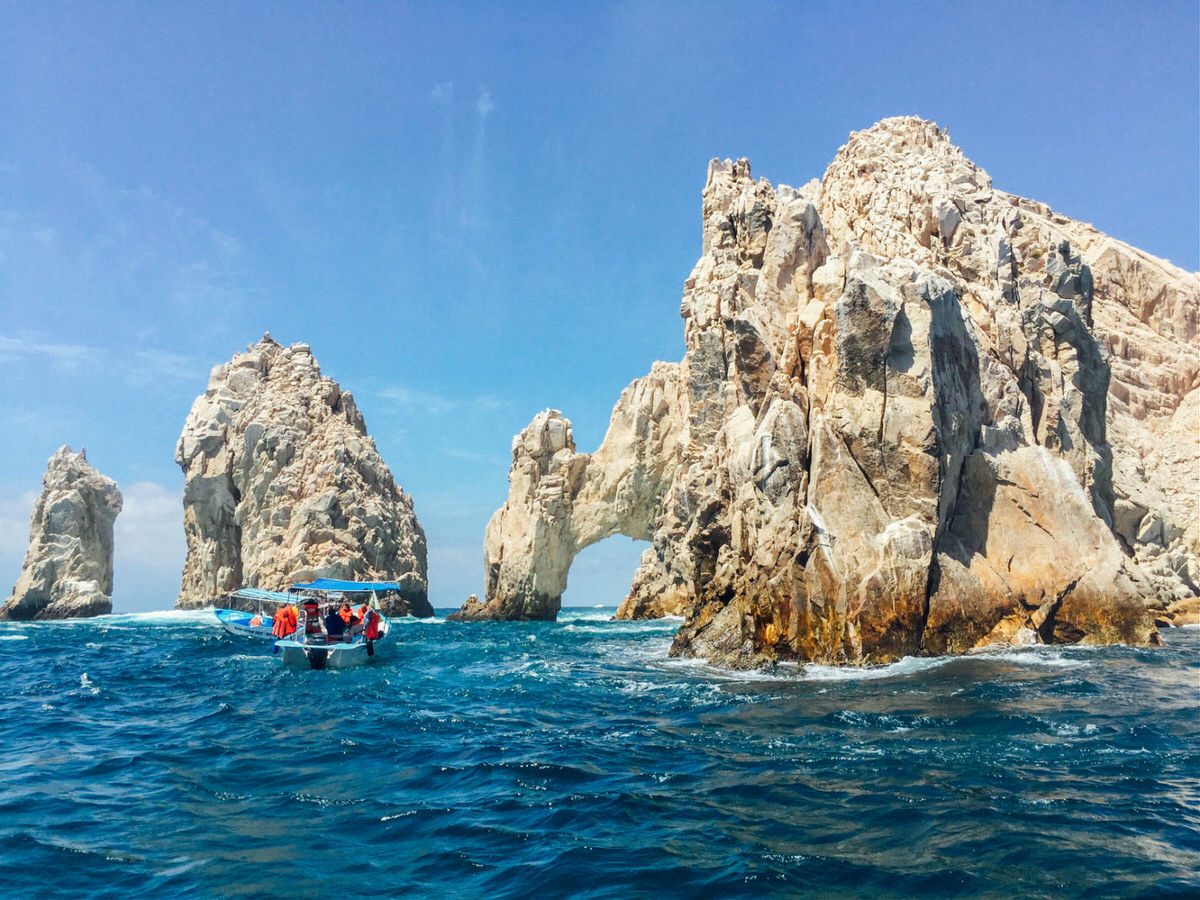 The famous Cabo arch (Photo: Michelle Rae Uy)
Apart from its golden beaches and bustling party scenes, Cabo's wriggling coastline is also dotted with fantastic sights and breathtaking recreation that make it incredibly family-friendly. There are unforgettable animal encounters, deliciously warm waters, historic spots, excellent restaurants, and even some of Mexico's best point breaks.
This quick guide to such a dynamic destination will get you on your way to a spectacular Cabo vacation.
(MORE: Best Excursions for Families in Cuba)
Get Your Bearings
Situated at the tip of Baja California and lapped by both the Sea of Cortez and the Pacific, Los Cabos is really two cities: lively Cabo San Lucas in the West and the more tranquil San Jose del Cabo in the east. Cabo San Lucas is where the two renowned bodies of water meet; and between the two towns are 20 miles of arid desert land and sprawling resorts offering world-class accommodations.
Sleep
Best Family-Friendly Hotels: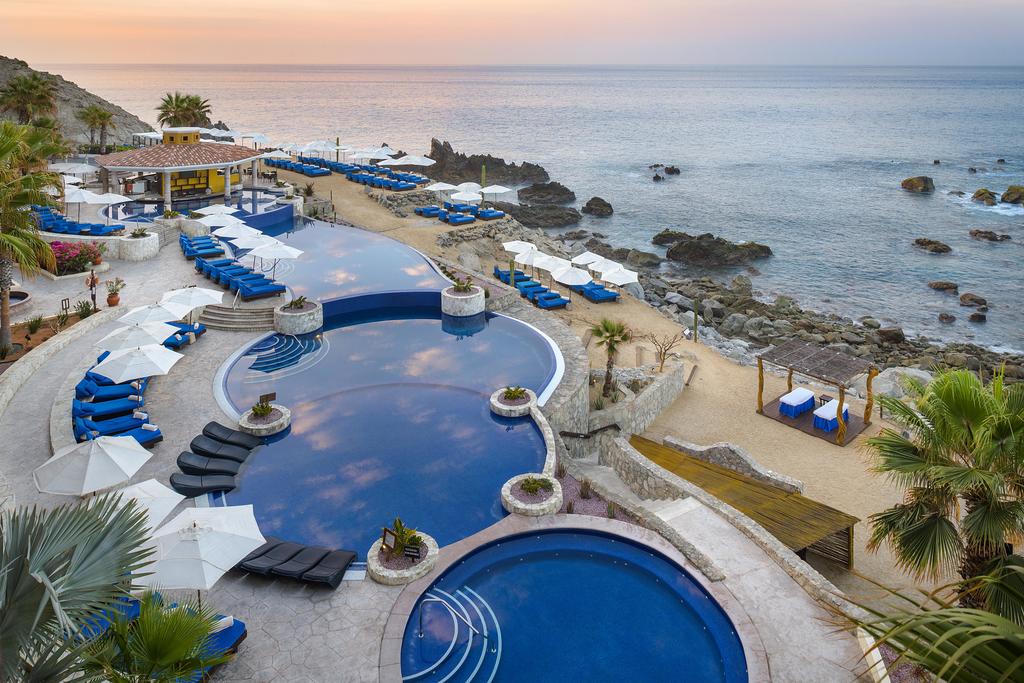 Hacienda Encantada (Photo: gites.fr)
Hacienda Encantada Resort & Spa. With four different areas offering several types of accommodations, families of all shapes and sizes will find the perfect vacation digs at this sprawling resort—from standard rooms and one-bedroom suites to presidential suites and large villas with their very own private hot tubs and plunge pools. An all-inclusive plan is optional and may be purchased as one-day passes, so there are many family-friendly package options. But the best part, perhaps, are its sweeping views of the coastline. Rates start at $230 per night for double occupancy, non all-inclusive.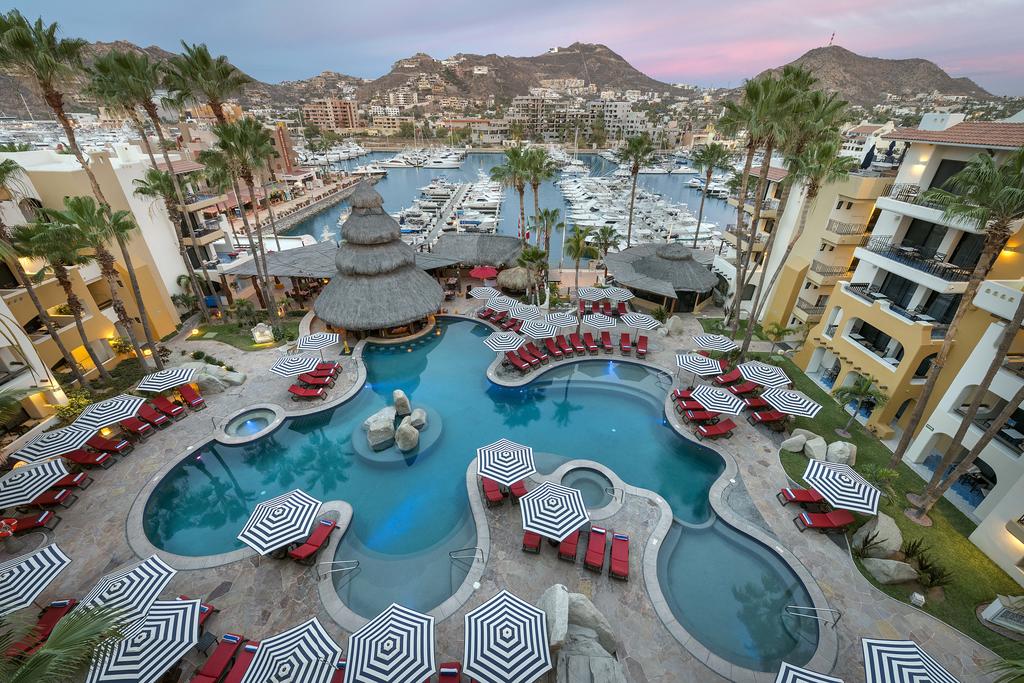 Marina Fiesta Resort & Spa (Photo: Marina Fiesta Resort & Spa)
Marina Fiesta Resort & Spa. Hacienda Encantada's sister property may be located right in the midst of Cabo San Lucas' busiest area, but it's also tucked away so that once inside, you'll feel like you're far from the mad dash. Families will adore its pretty adobe architecture, its vibrant yet intimate rooms furnished with private balconies and its exclusivity. Much like Hacienda Encantada, the resort also boasts gorgeous views, several room and suite categories, excellent pools, and the optional all-inclusive plan.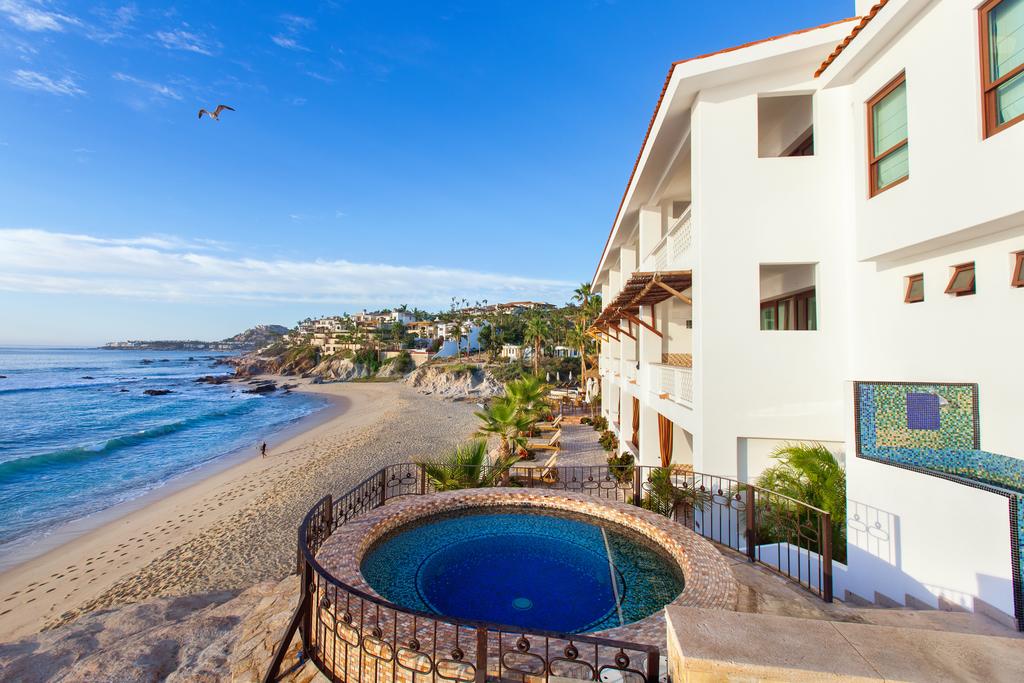 Cabo Surf Hotel & Spa
Cabo Surf Hotel & Spa. Located right in front of Acapulquito, the destination's go-to point break for beginner surfing lessons, the 5-star Cabo Surf Hotel is popular with many surfers who visit and/or frequent the area. It's also home to the famed Mike Doyle Surf School, which welcome even the youngest surf enthusiasts. But the hotel is not just all about surfing; families will also find an onsite restaurant, an onsite spa, and bright rooms with terrific views of the Sea of Cortez.
Best Way to Get Around
The two cities are about 30 minutes from each other, so a car is the best and most convenient way to get around. However, cabs are numerous and buses run all day at intervals. Many locals, transplants and frequent visitors take the buses, which are super safe and quite reliably; but if you have the budget and would rather not wait, cabs are preferred. Just have enough cash for the fare as none of the cabs take card.
Soak Up the Local Scene
Best Tour: Whale-Watching. December through April are when several species and pods of whales make their way across the waters of Cabo for their annual migration. During this period, many local operators offer whale watching tours that take visitors very close to the action.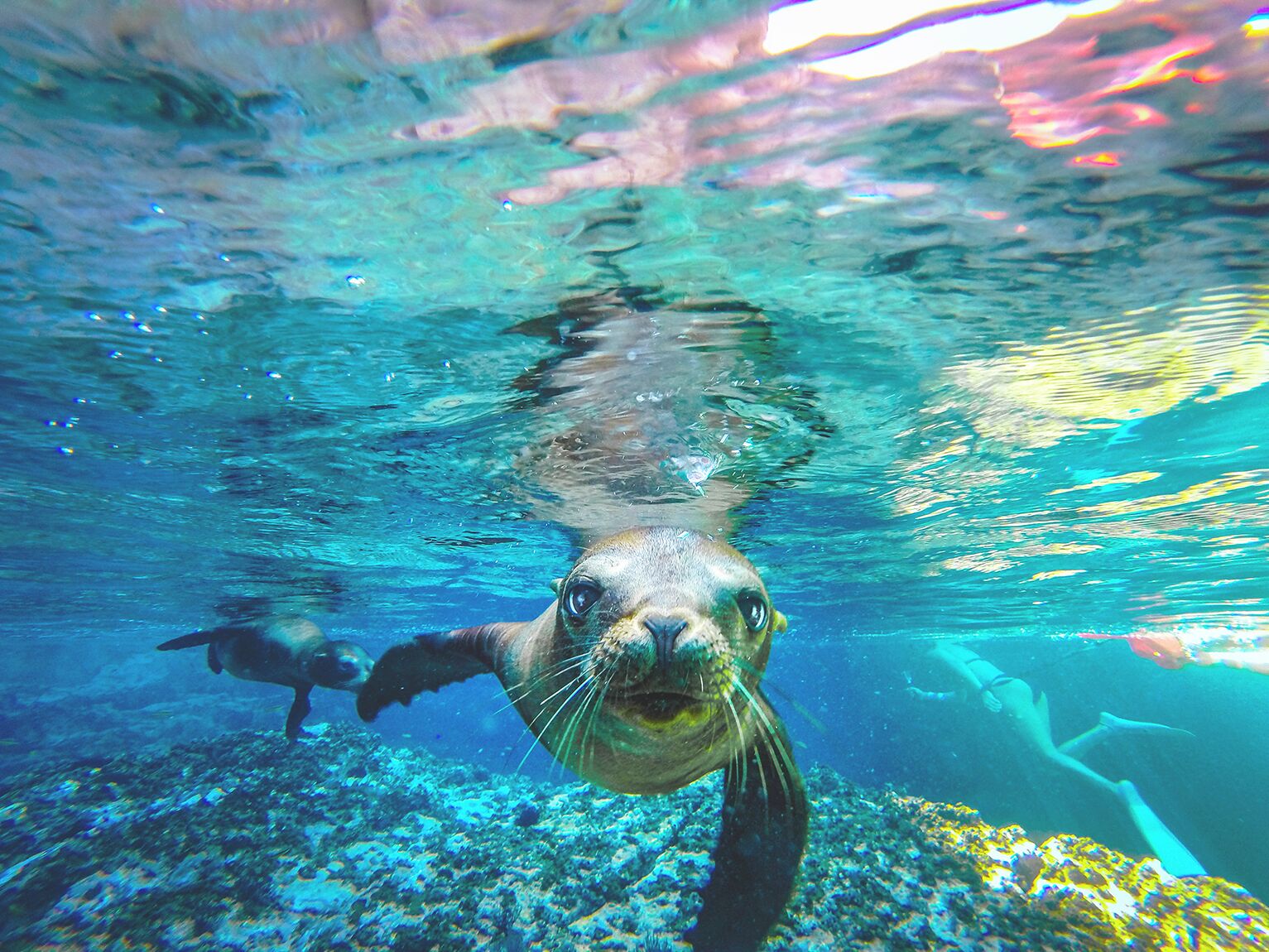 Underwater world in the Sea of Cortez (Courtesy Сabo-Adventures)
Best Water Activity: Snorkeling. While diving may be the best way to see the rich and diverse underwater ecosystem in the Sea of Cortez, snorkeling may be the easiest and cheapest option as you don't need to get certified. It's also the most kid-friendly. See many different species of fish, eels and rays; and do keep an eye out for manta rays leaping out of the water into the air.
Best Water Sports: Surfing.Much like in Hawaii, surfing is a way of life in Cabo, thanks to its many excellent breaks for all skill levels. Even pro surfers visit the area often. Kids as young as four years old can learn how to ride the swells at Acapulquito; just make sure you hire a trusted instructor to teach them. Mike Doyle Surf School and Costa Azul Surf Shop are the trusted surf schools in town, and they're within a few minutes drive of each other.
Best Historic Attraction: Iglesia San Jose. Cabo, San Jose especially, has its share of historical attractions, so squeeze in a bit of diversity in your itinerary. The Iglesia San Jose may not be as impressive in stature as Cathedral Basilica of St. Joseph, but this lovely colonial-style church's history dates all the way back to the 1700s.
Best Day Trip: Todos Santos. Todos Santos is one day trip you wouldn't want to miss during your Cabo vacation. Rent a car and drive about an hour north to this magical town for a visual and culinary treat in an idyllic setting. There are some good surfing spots nearby, and you'll also see local fishermen haul in their daily catch.
(MORE: Tips for Traveling in the Riviera Maya with Kids)
Eat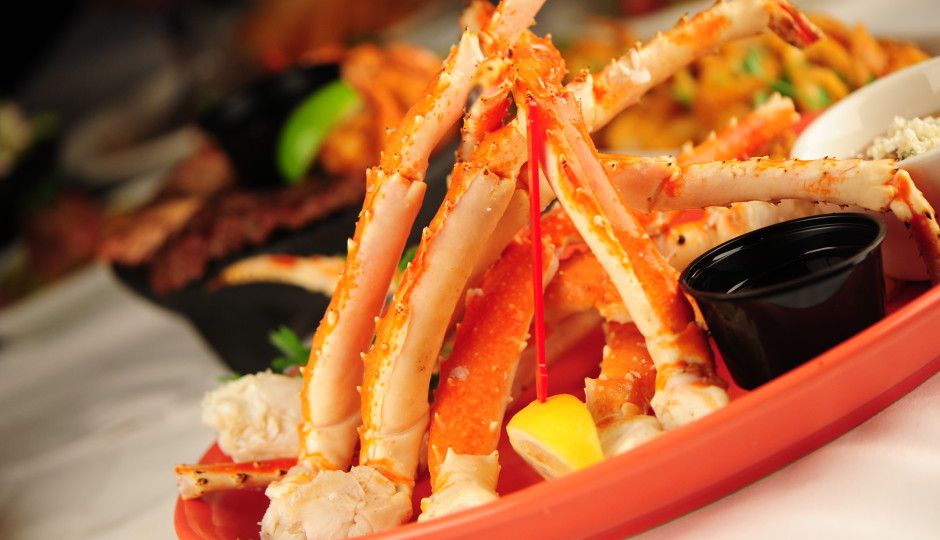 Seafood feast at Baja Lobster Company (Photo: Rocking Baja Lobster)
Best Seafood Restaurant: Baja Lobster Co. Splurge a little and treat the whole family to a delicious seafood feast at the Baja Lobster Company. Sample oysters, shrimp ceviche, calamari, seared tuna, octopus tacos, lobsters and much, much more! The restaurant is part of Hacienda Encantada and Marina Fiesta's optional all-inclusive plan with a dine out option.
Michelle Rae Uy contributed this to MiniTime. She is a travel writer based in Los Angeles and MiniTime's Head of Content, who spends her free time on adventures and film photography.