Advice from folks who've been there
By the MiniTime Community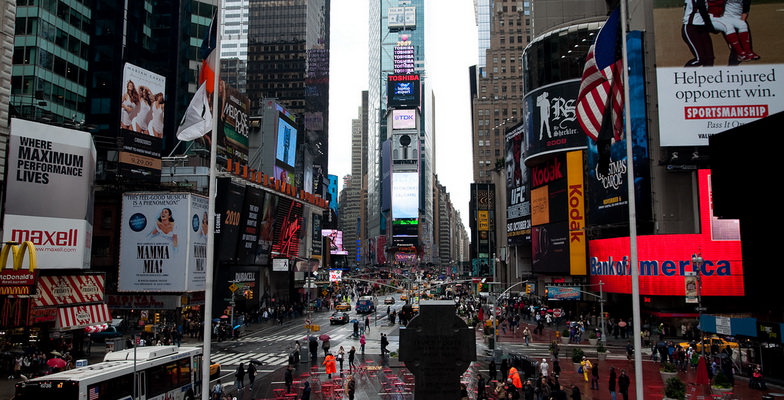 Times Square in NYC (Flickr: Mihai Bojin)
Why Go: Ask a group of New York parents for their take on raising a family in the Big Apple, and chances are excellent that you'll get an earful. How everything is done bigger, bolder, and better in New York City. How they wouldn't, couldn't, not ever in a million years, imagine living anywhere else but "The City."
This is a fantastic time to visit, locals are quick to say. And they're right. Crime is down. (In fact, New York City is the safest large city in the US, according to the latest FBI crime statistics.) Tourism is way up. And, hey! Don't believe what anybody tells you about how expensive life is in Manhattan. You just gotta have some insider information and learn how to work the system. After all, real New Yorkers know where to get a fabulous $2 hot dog. Half-price theater tickets. And an up-close view of the Statue of Liberty from the absolutely free Staten Island Ferry.
See, in this town, taking a bite of the Big Apple is the same as taking a bite of life. And, as one famous New Yorker used to say, "How sweet it is!"
Sleep
Best hotel:
Doubletree Guest Suites Times Square (1568 Broadway, entrance on Seventh Ave. at 47th St.; 800/222-TREE or 212/719-1600; suites from $349). This branch of the all-suite chain has "a super location in the heart of the theater district" (and near the mammoth Toys R Us megastore) and accommodations large enough for your family to really spread out. A standard suite contains a living room with sofabed and a spacious bedroom, separate bathroom and vanity area, two TVs with movies and Playstation, and a wet bar with a small fridge and microwave. Fresh-baked chocolate chip cookies are served upon arrival.
Hilton Garden Inn (63 W. 35th St., between Fifth and Sixth aves; 212/594-3310; rooms from $279). Location is key. "You are just steps from Macy's Herald Square, the Empire State Building, and midtown Manhattan. This hotel is new and rooms are in very good condition. In-room amenities include high-speed Internet access, flatscreen TV, microwave, mini refrigerator, coffee maker, and hair dryer. The beds are incredibly comfortable and the hotel is so quiet." There is a little restaurant and bar downstairs, plus a helpful on-site concierge.
Hotel Metro (45 W. 35th St., between Fifth and Sixth aves; 800/356-3870 or 212/947-2500; family rooms from $255). This central midtown find offers "a cool vibe and larger rooms than you usually get for the price," including some family rooms that are actually two-room suites. The hotel's rooftop terrace offers a stellar view of the Empire State Building and rates include a complimentary breakfast buffet.
Travel Inn Hotel (515 42nd St., at 10th Ave.; 800/869-4630 or 695-7171; $125-$300/night, depending on dates). This midtown hotel is "a great find. You get a fantastic location and very reasonable rates." Most rooms feature mini refrigerators and microwaves, "which makes it easy to keep food costs low," plus you can expect a flatscreen TV, well-equipped fitness room, and "very nice indoor pool." Another huge plus: "This is the only midtown hotel I know of that offers free parking. This alone will save you hundreds of dollars in just a few nights."
(MORE: Find a family-friendly hotel in NYC.)
Get Your Bearings
New York City is made up of five boroughs, but out-of-towners overwhelmingly stick to the smallest, Manhattan, where most major sights and attractions are located. Manhattan is a finger-shaped island that juts southwest into New York Bay, with Harlem to the north, the Hudson River to the west and the East River to the east. Getting oriented is a snap because most of Manhattan's streets are laid out on a logical grid system. Streets run east-west. Starting with 1st Street, just north of Houston Street (pronounced "House-ton"), streets are numbered consecutively as you head north.
Avenues run north-south (or uptown-downtown). Most are numbered, with First Avenue on the far east and Twelfth Avenue on the far west. Fifth Avenue divides the East Side from the West Side. Be aware that, for some reason, many avenues have two names. Avenue of the Americas is also known as Sixth Avenue. North of 59th Street, Eighth Avenue becomes Central Park West, Ninth Avenue becomes Columbus, and Tenth Avenue becomes Amsterdam. The only major avenue that does not run north-south is Broadway, which carves a diagonal northwest-southeast path across the island. As it crosses major avenues, it creates squares. For example, Times Square is the intersection of Broadway and Seventh Avenue.
You'll need a good map to explore Lower Manhattan, below 14th Street, because these oldest neighborhoods—SoHo, Greenwich Village, TriBeCa, Wall Street, Chinatown, Little Italy—sprang up before the grid system.
Tip: New Yorkers (and savvy tourists) always give addresses with cross streets. The exact number of a building is less important than the block it's on. Your cab driver will appreciate hearing it this way: "201 West 83rd, between Amsterdam and Broadway."
Trip Itineraries
Whether it's your first time in New York, or you've been there before and looking for a more specific type of visit this time around, we have some fantastic suggested itineraries our family travel experts have created for you.
For your first visit in New York with the kids, top attractions of the city are a must. See which ones travel expert Rowena Carr-Allinson recommends: 2 Days in New York with Kids – Top Attractions.
If the kids love art and are interested in the city's vibrant culture, she also has some terrific suggestions: 2 Days of Culture in NYC for All Ages.
And lastly, outdoor lovers will be happy to know the city has a plethora of activities outdoors and expert Karen Hayoun has some wonderful ideas on how you can spend your visit: 3 Days Outdoors in NYC with Little and Big Kids.
Best way to get around:
Walking. "You can't appreciate New York from the inside of a subway or a cab. Getting to know one neighborhood on foot will make you feel like a local." Always be aware of traffic flow and what's happening around you. "Besides car traffic, also watch out for bicyclists, who can reach crazy speeds and don't always follow traffic rules."
NYC Subway ($2 fare; kids under 44″ tall ride for free). "Say what you want about the subway, but it's the fastest way around town." "The Pay-Per-Ride MetroCards are the best way to buy subway fares for a family. You can swipe it up to four times in a row, for up to four people traveling together. And remember, little kids ride for free—just tell them to slide under the turnstile!"
Yellow Taxi ($2.50 initial fare plus $2/mile). "Riding in a yellow cab is must when you visit the Big Apple. My kids were amazed that there was a TV in our cab!"
NY Water Taxi (Stops at Hunter's Point, E. 34th Street, Red Hook, Brooklyn's Fulton Ferry Landing, South St. Seaport, Pier 11 at Wall St., Pier A in Battery Park, the World Financial Center, Pier 45, Chelsea Piers, and Pier 84, W. 44th St.; 742-1969; 1-day pass: $20/adult, $15/child. 2-day pass: $25/adult, $15/child). Big yellow catamarans carrying up to 74 passengers provide a hop-on, hop-off water ferry service. Boats pick up twice an hour at each stop, going in each direction. "A fun and stress-free way to get around, especially in the summertime."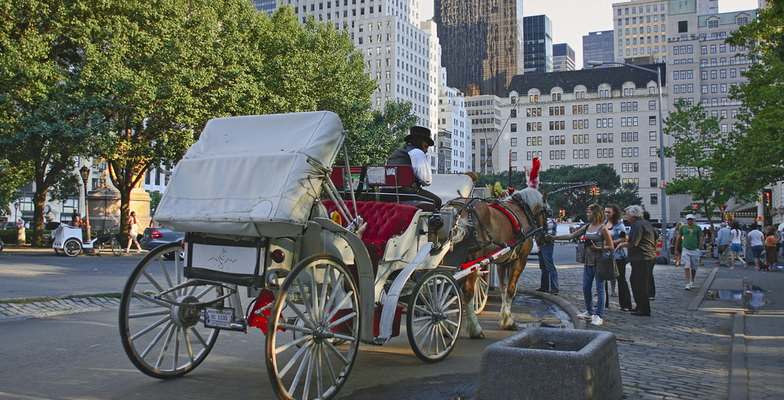 Ride a Carriage in Central Park (Flickr: Tomas Fano)
Best local tour:
New York Splash Tours (Times Square, Broadway between 47th and 48th sts; 888/8-DUCK-0; $29/adult, $20/child 3-11; operates mid-March through October; min age: 3). This one-hour tour takes place aboard an ambibious "duck boat" manned by a captain and first mate who double as tour guides. First, there's a quick tour of the Times Square district, followed by a splashdown and cruise in the Hudson River, and finally a motion-simulated ride recreating Hudson's voyage. "This was a hoot! Quite touristy but also very popular with New Yorkers." "Be one of the first to board and sit in the front rows if you want to be sprayed." Tip: There are no bathrooms on the boat, so do a bathroom run before you board."
Shark Boat (Pier 16, South St. Seaport; 866/925-4631; $21/adult, $15/child; must be 40″ tall; daily Memorial Day to Labor Day). This 149-seat speedboat with a friendly shark face painted on the bow zips around New York harbor, taking in the sights for about 40 windswept minutes. "You literally roar out of the South Street Seaport and get to the foot of the Statue of Liberty in minutes." "This was exhilarating. Be prepared to get very wet! A great way to cool off when it's 90 degrees in August!" Tip: You'll save $2 per ticket if you buy in advance online.
Circle Line Sightseeing Cruises (Departing from Pier 83, at W. 42nd St. and Twelfth Ave. Also departing from Pier 16 at South St. Seaport, 207 Front St.; 563-3200; $20-$29.50/adult, $12-$17/kids under 12, depending on cruise length). An oldie but goodie. This famous cruise line has been around forever, and now offers four itineraries of varying lengths, ranging from 75 minutes to three hours. "The commentary can be somewhat canned, but these cruises are an excellent way to see the city from a different perspective. You get truly wonderful skyline vistas from the water."
Venetian Gondola Tour around Central Park Lake (Boathouse, 72nd St. and Park Drive N.; 517-2233; $30/ride for up to 6 people; must reserve in advance). Andres, Central Park's very own gondolier, can take your family on a 30-minute spin around Central Park Lake. "Relaxing and very beautiful, especially on a lazy summer afternoon or evening." "What a fantastic memory of New York to cherish."
Horse & Carriage Rides (Central Park South, between Fifth and Sixth aves; 736-0680; $34/20 mins., $10 for each additional 15 min., $6-$10 tip). "Though pricey, nothing beats a ride in a horse-drawn carriage around Central Park on a summer's evening." "The wait can be a few minutes or an hour, depending on when you go. The worst time is early evening."
On Location Tours (Location and length of tour varies; 209-3370; $18-$42/person, depending on tour). This company specializes tours that visit sights made famous in film and television, such as recognizable locations from Sex and the City, the Sopranos, and Gossip Girl. "We took the 'New York TV & Movie Sites Tour,' which lasted over three hours and visited locations from TV shows and movies filmed in NYC, like Friends, Ghostbusters, When Harry Met Sally, Sex and the City, and many more. It was a ton of fun and good value."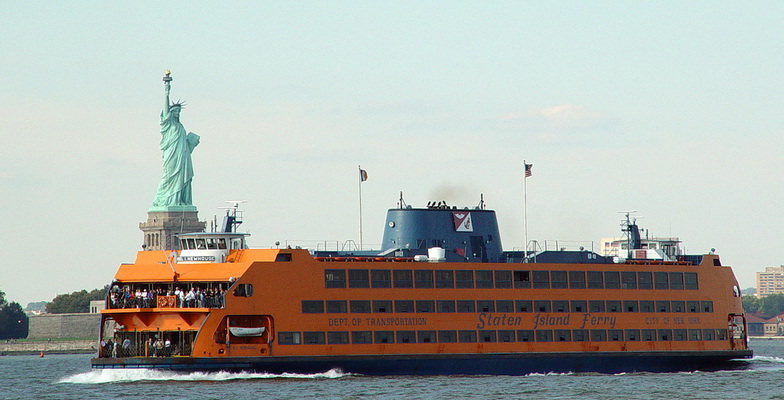 Staten Island Ferry (Flickr: nycstreets)
Best view:
Empire State Building (350 Fifth Ave., at 34th St.; 736-3100; $19/adult, $17/teen 12-17, $13/child 6-11; see combo ticket with NY Skyride, below). The views from the observation platform on the 86th floor of the Empire State Building are "fabulously incomparable." "One of those things you just gotta do when you're in New York. On a clear day, you can see all the way to New Jersey." The best time to go? "Dusk, when the lights all over the city come on. It's a magical moment."
Staten Island Ferry (Departs from Whitehall Ferry Terminal, southern tip of Manhattan; 718/727-2508; free). It may not be glamorous, but this famous ferry, which turned 100 in 2006, "is New York's best freebie." The hour-long roundtrip from Manhattan to Staten Island "takes you into New York Harbor for a terrific up-close view of the Statue of Liberty, for free, which is a real New York thing to do." "This is important: Don't take one of the newer white boats. Make sure you get on one of the old orange-and-green boats, so you can go out on the decks! The new boats have enclosed decks and the experience is just not the same."
Top of the Rock (30 Rockefeller Plaza, 49th St., between Fifth and Sixth aves; 698-2000; observation deck: $17.50/adult, $11.25/child 6-12). You know it as the home of NBC and the famous ice-skating rink, and 30 Rockefeller Center has something else going for it: Fabulous views of the city from its three-floor observation deck on floors 67, 69, and 70. "Impressive, 360-degree views, and a very classy place!" "Get there early in the morning and wave to the 'Today Show'!" "If you visit at sunset, the views are incredible but there's a downside: Adult ticket prices go up $10!"
Gantry Plaza State Park (Hunter's Point, Long Island City, Queens). Take the 7 train to the Vernon-Jackson Avenue station, then walk along 48th Avenue to the river. The waterfront has been "masterfully developed into a lovely park with spectacular views of the Manhattan skyline." "Be sure to take a photo of the giant Pepsi sign—a remnant from the days when the bottling plant was there." Otherwise, "grab an ice cream cone and enjoy the view!"
Sheep Meadow (Central Park, west side between 66th and 69th sts.). The great expanse of green grass is every kid's delight, but parents will likely revel in the view. "I could never get tired of seeing the skyline rise above the meadow. To me, this is quintessential New York."
Soak Up the Local Scene
Best weekend family hangout:
Central Park. "More specifically, the southeast section of Central Park, along Fifth Avenue from 59th Street to 74th Street, is known as the 'children's section.' The Central Park Zoo and Tisch Children's Zoo are in this area, as is the Dairy (information booth), Carousel (at about 64th St.; $1.50/ride), the boat pond and the beloved statues of Hans Christian Anderson and Alice in Wonderland. The statue of Balto is also on the east side of the park, about level with 67th Street." At the boat pond, you can rent remote-controlled boats from a concession stand and race them, just like in 'Stuart Little.'
Best sightseeing attraction:
South Street Seaport (At Water and South sts; 748-8600). New York's answer to Faneuil Hall is a complex of restaurants, bars, and shopping, set on and around Pier 17, near the Brooklyn Bridge. "In the summer, it's especially fun due to the street performers, outdoor concerts, and al fresco dining." "Kids always like watching the different kinds of boats passing by."
NY Skyride (2nd floor of Empire State Building, 350 Fifth Ave., entrance on 33rd St.; 279-9777; online prices: $25.50/adult, $18.50/teen 12-17, $17.50/child 6-11; combo ticket with Empire State Building Observatory: $38/adult, $30/teen 12-17, $29/child 6-11). This virtual aerial tour over New York takes place in a special high-def IMAX-style theater with motion-simulated seats and is narrated by actor Kevin Bacon. "It's a really thrilling ride, whether you're a native New Yorker or a tourist." The whole experience takes 25 minutes but the skyride itself is "over much too quickly, in just 12 minutes." In the remaining time, visitors watch two other short, static films about the Empire State Building and other New York attractions. "If you buy a combo ticket for the NY Skyride and Empire State Building Observatory, you not only save money but you can skip the long line for the observatory after the film."
(MORE: Read reviews written by parents on kid-friendly attractions in NYC.)
Let the Fun Shine In
Best park:
Central Park. Take your pick or do them all: The zoo (see Best Animal Experience, below), the carousel, or a ride on a Venetian gondola around Central Park Lake (see Best Local Tour, above).
Tompkins Square Park (East Village, bordered by Ave. A, 7th St., Ave. B, and 10th St.). More than a decade of gentrification has cleaned up this once-dodgey 16-acre park, but "it still has a pleasingly edgy East Village vibe." Along with plenty of green, leafy spaces, there are three large, modern playgrounds with rubbery ground cover, basketball courts, sprinklers, and paths for jogging and Rollerblading.
Best picnic area:
Wagner Park (North of Battery Park, just west of Battery Pl.; 267-9700). Near the bottom of Manhattan, this "awesome little park" overlooks the Hudson River. "There is a nice mix of open lawns, meticulously-tended flowering gardens, and walking paths" but "the main selling point is the killer view of the Statue of Liberty."
Riverside Park. This West Side gem stretches four miles along the Hudson from 72nd Street to 158th Street. "Nice paths wind past gardens and through tree-dotted lawns, and the river views are simply wonderful. Plus, there always seems to be a puppet show, concert, or other fun kids' event going on at Pier 1 in Riverside Park South."
Best playground:
Heckscher Playground (Midwest Central Park, at around 62nd St.). This "very impressive" playground is the largest in Central Park. There is a "great little area just for toddlers, with sandboxes, small climbing frames, and a swingset with toddler-sized bucket seats." During the dog days of summer, "fun sprinklers spout from various climbing frames to cool everyone off." On the west side, there is a "large boulder-like mountain that older kids can play on."
Imagination Playground (South Street Seaport, John St. between South and Front Sts). Need a place to burn off energy downtown? Head to this colorful, new playground with modular equipment that lets kids create as they play. "This is an awesome place to relax and cool off on a hot summer day. There are a lot of interactive water fountains and sprayers. Next time, I am going to bring an extra change of clothes for my son."
River Run Playground (West 83rd St. and Riverside Dr.). "There's a really nice replica of the Hudson River here, with plaques showing all the towns that line its banks. The playground has all the standard equipment, plus a fun whirl-go-round, on which you have to hold on tight to fight centrifugal force. On a hot summer's day, the best place to cool off is the big splashpad with jetsprays and sprinklers."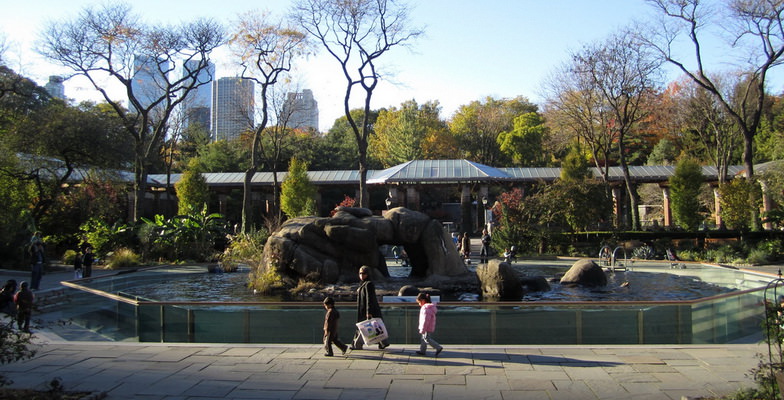 Central Park Zoo (Flickr: La Citta Vita)
Walk on the Wild Side
Best animal experience:
Bronx Zoo (830 Fifth Ave., at 64th St.; 439-6500; $8/adult, $3/child 3-12; free for kids under 3). The granddaddy of American zoos was founded in 1899 and remains the largest urban animal park in the US. "You could easily spend several days exploring" the more than 4,000 animals living on its 265 acres. The Wild Asia Complex is perhaps the most intriguing areas of the zoo, with its enormous enclosures of free-roaming Serbian tigers, red pandas, and Congo gorillas. From April to October, the Children's Zoo is open, winning over the youngest visitors with its "well-executed petting zoo," camel rides, and Skyfari aerial tram. "Come early morning on a weekday to beat the crowds and the heat."
Central Park Zoo/Tisch Children's Zoo (830 Fifth Ave., at 64th St.; 439-6500; $8/adult, $3/child 3-12; free for kids under 3). Sea lions and polar bears and monkeys—oh my! This "cute little zoo" within Central Park is a sure-fire hit with young and old. "It takes about 90 minutes to walk through and see everything." "Leave extra time for the adorable sea lions and the large penguin enclosure." The tri-level Tropic Zone is "another real highlight, with its rainforest creatures like snakes, exotic birds, and cheeky Colobus monkeys." For the under-5 set, the Tisch Children's Zoo offers plenty of opportunity for petting goats, pigs, llamas, and more.
Staten Island Zoo (614 Broadway, Staten Island; 718/442-3100; $8/adult, $5/child 3-14; free for kids under 3; free for all on Wednesday afternoons). "Getting there is half the fun! Take the ferry for free, then bus S48." Besides the well-regarded reptile wing, families love the petting zoo and intimate exhibits that let kids get up close to the animals.
Feed Your Culture Vulture
Coolest place to catch a movie:
Movies with a View at Brooklyn Bridge Park (Empire-Fulton State Park, Brooklyn; Thursday evenings in July and August). By subway, take the A or C to High Street; the 2 or 3 to Clark Street; or the F to York Street. "This free summer film series is a huge hit with families. The movies are great, and the backdrop is Manhattan."
Best museum for kids:
American Museum of Natural History (Central Park West, at 79th St.; 769-5100; admission to museum and Rose Center: $15/adult, $8.50/child 2-12; museum admission plus Cosmic Collision film: $22/adult, $13/child 2-12). This enormous museum is "chock-a-block with interesting and impressive exhibits about the universe." The hottest ticket is the Robert Redford-narrated, IMAX-style space show, "Cosmic Collison," playing in the Hayden Planetarium in the museum's Rose Center for Earth & Space. And from October to May, "don't miss the marvelous Butterfly Conservatory," a walk-in enclosure housing some 500 colorful tropical butterflies. "If you want to see the butterflies, go online and get a ticket package that includes admission to the conservatory." Last but not least, check out the schedule of special children's programs "that make learning about the world into a super experience."
New York Hall of Science (47-01 111th St., Queens; 718/699-0005; Hall admission $11/adult, $8/child 2-17; Science Playground fee: additional $4/person). You have to take the 7 Train from Manhattan into neighboring Queens (Get off at 111th St. stop in Flushing Meadow, then walk three blocks south) to get to this "amazing interactive science museum" with "the best collection of hands-on exhibits for kids in the city." There is also a "really great preschool area and a super outdoor science playground" that's open March to December, weather permitting, to children of all ages with adult supervision. "My 9-year-old's favorite section is the astronomy discovery lab." Tip: From September to June, admission is free from 2pm to 5pm on Fridays and 10am to 11am on Sundays.
Sony Wonder Lab (56th St., at Madison Ave.; 833-8100). This technology and entertainment workshop "is all about interactive, creative learning. It's a museum for all the senses—you watch HD, make your own movies, create your own electronic music, and play awesome video games!" "My boys love this museum and it's free. Just get timed-entry tickets in advance by going online or calling ahead."
Ellis Island (Ferry from Castle Clinton, at southern tip of Battery Park; 363-3200; free admission. Ferry: $12/adult, $5/child 4-12). From 1892 to 1954, Ellis Island processed some 12 million immigrants. Today, 4 out of 10 Americans can trace their lineage to someone who came through. To visit, you take a ferry from Battery Park to Liberty Island and Ellis Island, then "you enter the immigration hall through the baggage room, as immigrants did," before proceeding to the grand registry room with its vaulted ceiling. "The site does a good job in relating the immigrants' experience through photos and personal artifacts. It is really quite moving."
Children's Museum of Manhattan (212 W. 83rd, between Broadway and Amsterdam Ave.; 721-1234; $9/person; free for babies under 1 year). This interactive museum delivers a lot of hands-on fun for preschoolers and young elementary-school kids. There is "a really fun workshop on how to make videos" and "cool science exhibits about the human body." Toddlers and preschoolers have their own section. Note: Admission is free on the first Friday of each month from 5pm to 8pm.
Best theater for kids:
Theaterworks NYC (121 Christopher St., between Bleecker and Hudson sts; 279-4200; $25/seat). This theater company is known for taking its highly-acclaimed shows on the road. On weekends, however, it plays to the home crowd in its Greenwich Village theater. These wonderful shows are often based on children's classics such as Junie B. Jones, Charlotte's Web and Harold and the Purple Crayon. "Top-notch family-friendly theater at a great price!"
New Victory Theater (209 W. 42nd St., between Seventh and Eighth aves; 646/223-3010; $13-$35/seat). This cozy 500-seat theater provides a "real Broadway experience just for kids" in this "beautiful landmark theater with not a bad seat in the house." Productions tend to be "easy-to-follow, wonderfully-acted fare" and the staff is known for its helpfulness, "even bringing booster seats to small children who can't see."
Shakespeare in the Park (Delacorte Theater, Central Park. Closest park entrances are at 81st St. and Central Park West or 70th St. and Fifth Ave.; 539-8500; season runs end-May to mid-August). All summer long, every evening except Monday, Joe Papp's award-winning Public Theater company puts on excellent, FREE performances of works by Shakespeare and modern playwrights in Central Park's amphitheater. "This is one of those must-experiences if you visit New York during the summer." "Kids love outdoor setting, and it's a wonderful way to bring a little culture into your visit."Tip: Free tickets to same-day performances are available at the Delacorte Theater beginning at 1pm, "but you should line up at least 45 minutes early." There is a two-ticket limit per person.
Eat
Best brunch:
Café Lalo (201 W. 83rd St., between Amsterdam and Broadway; 804-9024; cash only). "We always go here for breakfast. It is tight on space but loaded with charm, and there are great desserts. It is close to the American Museum of Natural History."
Best burgers:
Shake Shack (Madison Square Park, corner of Madison Ave. and 23rd St.; 889-6600). "The best burgers in the city" and "delectable shakes" are served al fresco under the trees in this pretty leafy park. "The best midtown burgers, and the dogs are good, too!"
3rd Ave Blue 9 Burger (92 Third Ave., near 12th St; 979-0053). A favorite of NYU students, this East Village counter-service eatery is famous for its "cheap, never frozen, and cooked-to-order burgers, great fries, and awesome shakes." "Don't expect ambience," just "very good and affordable fast food under fluorescent lights."
Paul's Place (131 Second Ave., near St. Mark's Pl.; 529-3033). Another East Village favorite, this diner has a "terrific menu featuring more than 20 delectable burgers-to-go" that are "perfect for a picnic in Tompkins Square Park, just a few blocks away."
Best deli:
Katz's Delicatessen (205 E. Houston St., at Ludlow St.; 254-2246). Opened by Russian immigrants in 1888, this is "still the best deli because has always remained authentically old-style." "Order something quintessentially New York, like a reuben made with the best corned beef you'll ever experience."
Best event dining:
Jekyll & Hyde Club (1409 Ave. of the Americas, between 57th and 58th sts; 541-9505). This haunted house-cum-restaurant serves up a full menu of American casual fare (think BBQ wings, burgers, salads) with a cast of characters that includes ghouls, skeletons, and mad scientists. "It is fun but a little spooky for some kids." "My whole family really gets a kick out of this place, but it's best for kids 7 and up."
Best pizza:
John's Pizzeria (260 W 44th St., at 8th Ave.; 391-7560). Housed in a deconsecrated church, John's delivers a wow experience complete with stained-glass windows, religious sconces, and a lovely stained-glass rosette on the ceiling. "The pizza here is fabulous—my kids said it was the best they've ever had—and the setting is just so cool." "Awesome pizza, a very memorable building, and a big step up from the usual greasy pizza place!"
Lombardi's Pizzeria (32 Spring St., at Mott St.; 941-7994). It all began here, folks. America's first pizzeria opened in 1905 in Little Italy. The "best pizza in the city" is still baked in coal-fired ovens today.
Ray's Pizza (27 Prince St., between Elizabeth and Mott sts; 966-1960). There are dozens of New York pizza joints named Ray's. You got your Famous Ray's, World Famous Ray's, Original Ray's, Famous Original Ray's, Real Ray's and even the One and Only Famous Ray's. "Fuggedabout all those. This one is the original, founded circa 1959, and it's always been streaks better than all those pretenders."
Joe's Pizza (7 Carmine St., at Bleecker St.; 255-3946). This popular place is "great for a quick slice when you're in the Village" and is known for its "thin crust and perfect cheesiness." It gets crowded, so "be prepared to eat your slice outside, standing up, the New York way."
Best diner:
Ellen's Stardust Diner (1650 Broadway, at 51st St.; 956-5151). This 1950s retro diner is "so much fun! The waiters burst out into song periodically during your meal and perform a variety show. The food is good, too!"
Best hot dogs:
Gray's Papaya (2090 Broadway, at 72nd St.; 799-0243). A genuine New York institution, "Gray's is legendary for its great, cheap grilled dogs and yummy papaya drinks." "This is all about cheap hot dogs. There is no place to sit and eat. It is very gritty, but good for food-on-the-go, and the kids like it." It is "definitely one of those New York things to do" to "ask for your dog covered in the onion mix—very addictive!"
Crif Dogs (113 St. Mark's Pl., between Ave. A and First Ave.; 614-2728). Go for the "el-cheapo $2 dogs, served with any topping you want." "My personal favorite is the 'Chihuahua,' which comes with bacon, avocado, and sour cream."
Best Mexican:
Cowgirl (519 Hudson St., at W. 10th St.; 633-1133). Do your kids love Mexican food? Olé! This popular place has a fun "Kidtown menu" that features Tex-Mex favorites, chicken tenders, and drinks like sarsparilla and lemonade. "The Mexican food is delicious, and the western decor and country music make for a really fun atmosphere. There's a 'General Store' where you can buy inexpensive cowboy hats and penny candy." "Come on the weekend—the brunches are great!"
Best desserts:
Serendipity 3 (225 E. 60th St., between Second and Third aves; 858-3531). This iconic Upper East Side place (Andy Warhol and Jackie O. were both fans) is an old-fashioned ice cream parlor and sweets shop. "The food is just so-so. Everyone is there for the amazing desserts." The most famous item on the menu is the frozen hot chocolate, "a decadent cross between a chocolate milk shake and a slushie that is completely out of this world." "All the desserts are to-die-for, especially those that involve chocolate fudge or chocolate sauce." "The drink concoctions are amazing, but the food is awful. If you do eat here, stick to the hamburgers."
Alice's Tea Shop (102 W. 73rd St., at Columbus Ave.; 799-3006. Also: 156 E. 64th St., at Lexington Ave.; 486-9200). Parents love the great teas and a light, healthy menu. Kids love the heavenly desserts and fairy-tale setting. "Very cute place. Makes me wish I had girls…."
Caffé Palermo (148 Mulberry St., between Grand and Hester sts; 431-4205). This cozy café in Little Italy makes "the best cannolis ever, crisp on the outside and creamy on the inside, the way they are supposed to be." You can sit inside, or "grab a table on the sidewalk and do some New York peoplewatching."
Best ice cream:
Tasti D-lite (3rd Ave. and 29th St., plus two dozen other locations in Manhattan). "Awesome ice cream, fluffy and light frozen yogurt, and fantastic milkshakes."
Shop
Best toys:
FAO Schwarz (767 Fifth Ave., at 58th St.; 644-9400). "Simply the best, most wonderful toy store on the planet." "The displays are incredible, and the collection of overized stuffed animals will leave you speechless." "Plan to spend a few hours here, as there are many toys for kids to not only look at, but play with. Our favorite is the giant keyboard from the movie 'Big.'" "A traditionalist's dream store, full of old-fashioned classics."
Toys "R" Us (Times Square, 1514 Broadway, at 44th St.; 800/TOYSRUS). There are several branches of Toys "R" Us in New York City, but the one in Times Square is the most spectacular. Aside from the huge collection of toys, this store is famous for the 60-foot Ferris wheel that operates just inside the entrance and the 20-foot animatronic T-Rex from "Jurassic Park" that towers over shoppers. "Get there early if you want to ride the Ferris wheel, since the line gets longer as the day goes on. It costs $4 to ride." Everything is done in a big way here: The "R" Zone is 5,000-square-feet of video games and electronic entertainment, while Barbie's Dollhouse is two entire floors dedicated to the famous mini blonde. "You could spend a day here. All my kids could say, over and over, was 'Wow!'"
American Girl Place (609 Fifth Ave., at 49th St.; 371-2220). This megastore is a 43,000-square-foot shrine to the American Girl series, with a café, theater, and bookstore. "Book ahead if you want to have a meal in the café" and "don't forget to have your daughter bring her own doll if she wants to get a doll makeover at the salon."
Best souvenirs:
Grand Slam (Times Square, Broadway between 46th and 47th sts.; 708-9400). "This is the all-under-one-roof place to shop for New York souvenirs. We got Yankees gear, FDNY shirts, and a Broadway street sign. The prices were much lower than I was expecting for such an obviously touristy store."
MoMA Store (Museum of Modern Art, 11 W. 53rd St., between Fifth and Sixth aves; 708-9400). This shop is full of "really fun, interesting, designer items you won't find anywhere else." The selection includes "stylish accessories for kids's bedrooms, children's clothing, and toys."
NBA Store (666 Fifth Ave., at 52nd St.; 515-6221). This triple-story emporium has NBA merchandise for every team and is "a must stop for every kid who loves hoops." "Check the web site before you come to find out if and when player appearances are scheduled. You might be able to snag an autograph or signed item."
Dylan's Candy Bar (1011 Third Ave.; 646/735-0078). Who knew candy could be so groovy? "There is something very Willy Wonka about this place where colorful packaging and imagination run wild. A must for every sweet tooth in your family!" "You can't actually eat here. It is just an awesome candy store."