Road Trips: How Much Will I Spend on Gas?
By Suzanne Rowan Kelleher
Road trip tip: save money on gas (Flickr: mwichary)
Q: I'm budgeting for a family road trip to Philadelphia over spring break, and I want to get a handle on what I will spend on gas. I have seen several gas calculators on the web, but they are giving me different estimates. (They all ask what I drive. It's a 2007 Honda Odyssey.) Which calculator is the best, in your opinion? – Mykaela from Chicago, IL
A: You would think that it's getting easier all the time to estimate your road trip expenses, with a growing number of online gas calculators promising to take the guesswork out of budgeting for gas. As you've seen, they take into consideration your route, the current price of gas, and the make, model and year of your car. Sounds wonderful, but do they work?
If you input the same information into different gas calculators, you'd expect similar results, right? So let's test three popular gas calculators using your upcoming trip from Chicago to Philadelphia in a 2007 Honda Odyssey minivan. Of course, until you actually take that trip in that car, we won't know which calculator is truly the most accurate. Still, we can draw a few conclusions from our little experiment. Here are the results:
Cost2Drive: 760 miles each way. Estimated round trip gas spend: $219.08.
AAA Fuel Calculator: 758 miles each way. Estimated gas spend: $300.12.
GasBuddy: 759 miles each way. Estimated gas spend: $223.02.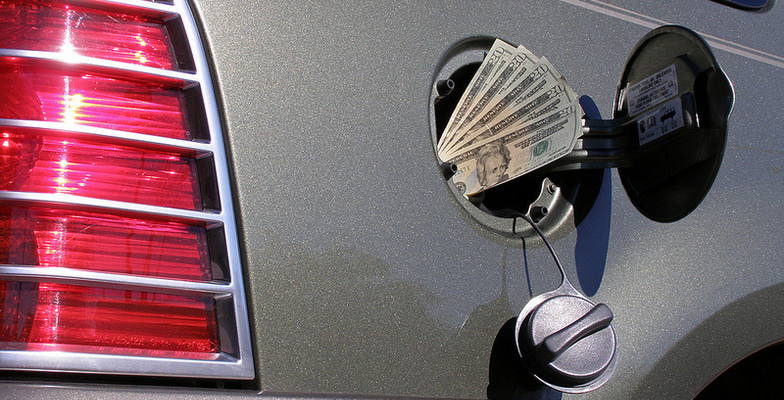 Use a fuel calculator to budget your gas money. (Flickr: Chris Potter)
Hmmm.
The AAA's famous fuel calculator, the granddaddy of them all, seems a bit dated nowadays. While it takes into consideration that the average price of gas varies considerably in different regions of the country, there is a huge drawback: you are limited to major cities when running your numbers. If you're not doing a city-to-city trip, you'll need to guestimate anyway. Boo.
New-kid-on-the-block Cost2Drive has a design that's shiny and fresh, and the site even calculates your trip's carbon footprint and shows the comparative cost of flying based on data imported from Kayak.com. For families, the "Want to Fly Instead?" number will only reinforce what we all already know: driving is cheaper when traveling with more than one person. Cost2Go's results seem reasonable for the Chicago-to-Philly itinerary, but when I plug in another set of variables—for a road trip I plan to take this summer from my home in Saratoga Springs, New York to Yellowstone National Park—the site tells me it does not recognize the location I entered. Drats.
To my eye, the results from GasBuddy instill the most confidence, which is why I use the GasBuddy app during my own road trips. I really like that GasBuddy goes a step further than the other calculators, using the current prices from gas stations along your route. It even estimates where you'll need to refill your tank and even lets you know which gas station in that vicinity offers the cheapest gas prices. Nifty. But when I try to run the numbers for my summer trip to Yellowstone? This buddy "could not compute directions between the locations." Sigh.
It looks like online gas calculators are neither an art form nor a science. At least not yet.
Based on current gas prices, I think you'd be safe in assuming that your gas spend will be under $250. I'd love to hear back from you after your trip to find out your actual spend.
Have a great trip!