Jekyll Island, Georgia
By Nadine Burke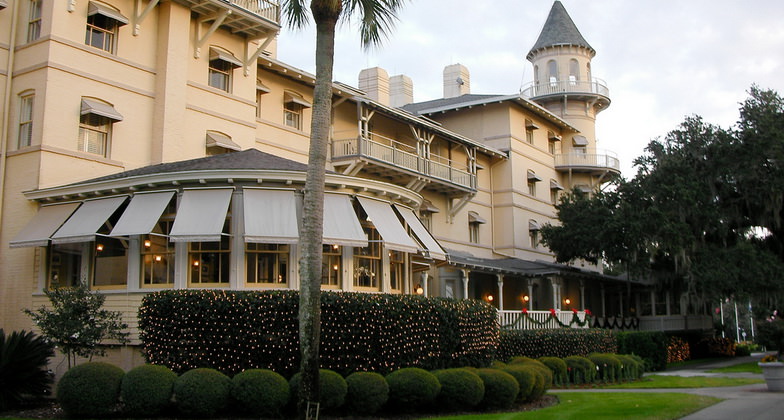 flickr:39528135@N02
Why Go: A century ago, the Jekyll Island Club was the pinnacle of America's most gilded social era, once described as "the richest, the most exclusive, the most inaccessible club in the world." Today, this historic and still-oh-so-grand resort makes for an easygoing family vacation, even if your name isn't Astor or Goodyear.
Jekyll Island Club was founded in the 1880s, a time when American industry was booming and iconic business leaders were building their immense fortunes. The club's charter list of 53 members reads like a Who's Who of 19th-century tycoons, philanthropists, and robber barons, including Joseph Pulitzer, John Rockefeller, Marshall Field, Henry Hyde, William Vanderbilt, JP Morgan, and Vincent Astor. Up went a grand Queen-Anne style clubhouse and a quartet of mansion-sized "cottages" to serve as winter retreats for the wealthiest of members and their extensive staffs (one cottage boasted 25 rooms). For this elite group of millionaires, escapes to Jekyll Island meant yachting, swimming, and hunting, as well as lavish dinners and parties. Interestingly, Jekyll Island Club was more family-oriented than other social clubs of the day, and women were encouraged to join in on the fun—even the traditionally male hunting parties.
The club's heyday continued for over a half a century until the Great Depression, when fortunes shrank, priorities changed, and membership dwindled. The death knell sounded during World War II, when the island was evacuated due to a threat of enemy submarines just off the coast. After the war, the state of Georgia bought the entire island and turned it into a state park. A private investment firm later leased and restored the club's main buildings and transformed them into what is now one of the country's most famous grand hotels. It was designated as a National Historic Landmark in 1978 and has been consistently rated as one of the world's top resorts by publications such as Travel & Leisure.
These days, guests can stay in rooms once occupied by Morgan or Macy, and dine in the same grand room where millionaires enjoyed so many exquisitely prepared meals. Jekyll Island Club has retained its well-heeled vibe while also offering plenty of family-friendly attractions either on or just off its grounds. The island is blessed with a lovely eight-mile beach and 20 miles of bike and hiking paths, as well as a fun-packed Summer Waves waterpark and the Georgia Sea Turtle Center.
When our correspondent, Nadine Burke, arrived with her husband and three young children, she had few preconceived notions but was intrigued by the island's history and natural setting. Once there, the Burkes were charmed by the mellow character of the old club. ("It was relaxing, comfortable and somewhat luxurious, but not pretentious.")
The Burkes found the service excellent throughout their stay, and liked how the resort felt old but also new. ("We expected the room would be smaller and more outdated than it actually was.") They liked the traditional resort activities such as tennis, golf, croquet, and swimming, and with the varied dining options, the Burkes were able to keep their dining costs under control. Their only complaint was that the children's program didn't extend to kids under 5, leaving out their youngest child, 4-year-old Isabel.
If you like the idea of a classic resort with a refined flavor, Jekyll Island Club is a great choice. ("A family looking for a relaxing yet upscale resort would like it here. There's plenty to do. We loved riding bikes, visiting the Sea Turtle Center, and going to the beach and waterpark. It's also great for families interested in American history.")
Want to play mini golf, explore the island by bike, or go on a carriage ride? Partaking of the many amenities available at this hotel means dipping into your wallet again and again. Still, we're impressed with other ways Jekyll Island Club lets families keep their costs down. For starters, there are well-priced packages created with families in mind that include ample-sized accommodations, breakfast, and other nice extras. And importantly, Jekyll Island Club offers a nice range of dining options—from fancy to dirt cheap—so families don't have to drop a bundle on their food bill if they don't want to. (It would be a crying shame to miss a meal in the grand dining room, though. Families on a budget should opt for lunch, when prices are lower.)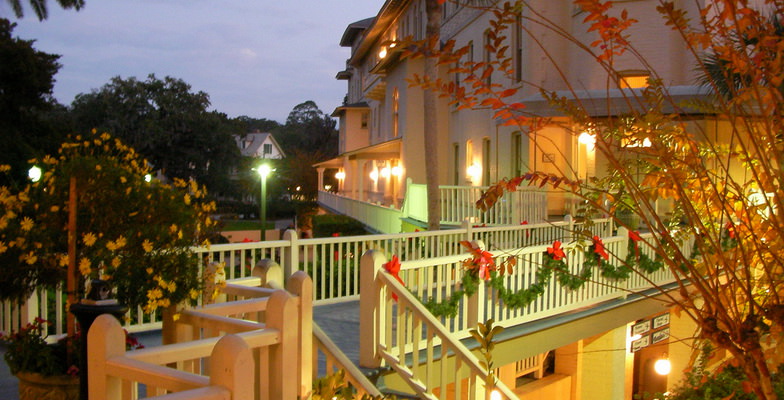 flickr:laurahendersondesign
Getting Oriented: Seven miles long and about 1.5-miles wide, Jekyll is the smallest of the four "Golden Isles." It lies six miles off the coast and is one of only four Georgia barrier islands accessed by a paved causeway. The 5,700-acre island is blanketed with tidal marshlands and is home to loggerhead sea turtles and alligators galore. Its history goes back to the 1500s, when the island was settled by Guale Indians, followed by a succession of Spanish explorers. British settlers later named the island Jekyll after an English politician.
Jekyll Island is roughly equidistant from the airports in Savannah and Jacksonville, each about an hour's drive away. The much smaller Brunswick Golden Isles Airport, a half hour away, offers daily flights on Delta jet service through Atlanta only. Airport shuttles are available from all of the area airports, but the prices may make you think hard about renting a car: a one-way transfer for a family of four costs $150 from JAX and $180 from Savannah. A cab from JAX would have cost the Burkes about $95 each way, so they opted for a rental car instead.
Jekyll Island Club is located along an intra-coastal waterway known as Jekyll Creek, near the midpoint of the island. The 200-acre resort makes up the Jekyll Island Historic District, anchored by the four-story, double-winged original clubhouse with its famous five-story turret. Surrounding the clubhouse are 33 buildings from the late 19th and early 20th centuries, including the four jumbo "cottages," which reflect Queen Anne, Victorian and Mediterranean styles. The main gathering area is the pool and large courtyard. ("The courtyard definitely is the main hub of activity. There are tables where you can sit and read the paper or eat a pastry, or you can sit in a rocking chair on the porch.") Less than a mile from the resort, the Jekyll Island Tennis Center has 13 clay tennis courts. Golf enthusiasts can choose between three 18-hole golf courses and a 9-hole course on the ocean that dates from 1910. Greens fees start at $43.
Getting Around: Once you arrive at the hotel, there are compelling reasons to stay put on the island. ("It would be very easy to never leave, since the island is so small and intimate that it's easy to explore. You can ride bikes everywhere on the island.") One evening for dinner, the Burkes drove to nearby St. Simons Island, about 20 minutes away. You can't rent a car at the resort, but you can rent an electric Red Bug car, which resembles an oversized golf cart, at Brunswick Golden Isles Airport for rates starting at about $50 a day.
We Are Family: Jekyll Island Club offers all the classic resort activities—golf, tennis, swimming, croquet—and fun but low-key adventures just off the grounds; almost all activities incur extra costs. During their early-July stay, the Burkes estimated that about 60 percent of guests were families, and the rest were couples of all ages.
The hotel's kids' program, Club Juniors, was great for the Burkes' two school-aged kids. The program is for kids 5 to 12 and is offered only in the summer, from 9am to 4pm daily. Prices range from $34 to $58 per child, depending on the particular day's scheduled activities. (Note: The hotel sometimes offers family packages that include free admission to Club Juniors. See Price Tag, below.) We think the base fee, at less than $5 an hour per child, is quite reasonable. Club Juniors costs more on days when an excursion is planned because the fee includes admission to the nearby waterpark, mini-golf course, or sea turtle center. Back at the resort, typical activities include group games, swimming, and arts and crafts.
There's no advance sign-up. You come to the lobby at 8:30am to fill out forms, get your child's wristband, and choose his or her lunch. On the day the Burke kids attended the camp, the choice was a variety of sandwiches with chips; on another day, there was a pizza party. The Burkes thought the sign-up process was a little disorganized. ("The Palm Court became a bit noisy and was difficult for older visitors walking through to the lobby.")
On the day the Burkes' two older kids, 8-year-old Tommy and 7-year-old Sophia, attended the Club Juniors program, the participants spent their time painting ceramic ornaments, playing bingo, mini-golfing, and swimming. (You can see a listing of daily activities on the hotel web site at www.jekyllclub.com/activities.) On that day, there were 22 kids in the program and three counselors to watch them. ("The counselors indicated this was more than average and they were at their maximum limit. On a typical day, they averaged around 15 kids.") The Burkes observed that the majority of kids were in the 7 to 9 range.
The Burkes felt that the program was fairly loose in some ways. Nobody checked the bracelets when kids were picked up from the program, for example. When the group arrived at the pool for swim time, some kids worked their way out of the group and mingled in with other guests in the pool. ("The three female counselors seemed somewhat laid-back. When the group came to the pool, two counselors joined the kids in the pool and the other remained out of the pool. At this time the pool was very crowded with other guests and some children seemed to leave the group and start playing with family members who were there.") Even so, Tommy and Sophia had a good time. ("Our children said they really enjoyed the day and each made a friend or two. They would have liked to go another day if we had more time.")
The camp operates as a large group, with all the participants doing the same activities together. Trouble is, what's interesting for a 6-year-old is often boring for an 11-year-old. This set-up tends to work out better for kids at the younger end of the spectrum, and we would have liked to see the counselors divide the kids into smaller age groups.
During the Burkes' visit, the pool was a popular hangout. ("It was fairly crowded, but large enough, and you could always find a chair.") It's a rectangular classic with steps to enter the shallow end. Families with young children, take note: there is no kiddie pool here and the pool's 4-foot shallow end is deeper than most resort pools. Consider bringing your child's swim bubble or other flotation aid if needed, since none are provided by the hotel. Towels are provided for free and the adjacent pool bar has a good menu of drinks, burgers and salads.
Overall, the hotel has little to offer parents with kids under 5. There's no organized children's program for this age group, though the front desk can help you contact a babysitting service if you need one. Bottom line: If your kids are preschoolers, it can be hard to get adult down time.
Likewise, teens don't get any special programs, and there's no arcade or game room, either. ("We did notice a few teens with their families eating, swimming or bicycling. My husband also saw some teens golfing with their parents.")
Happily, there are plenty of activities that everyone in the family can do together. There are plenty of great ways to explore the island, from an old-fashioned carriage ride (45 minutes, $15/person) to renting bikes through the front desk (half-day, $9/bike; full day, $18/bike). You can also rent ride-along bikes or trailers, and helmets are free. The bikes were a big hit with the Burkes. ("The bike paths that lead around the whole island are great! We only had to ride our bikes on the road for maybe 500 yards at one point to get from one path to another, and there was very little traffic.") One easy destination is the miniature golf center ($5/person; under-4s are free), which also has a toddler-friendly playground.
You can make the 1.5-mile trip to the beach by bike, free hotel shuttle, or even on foot if you don't have too much to carry. Towels, chairs, and umbrellas are available to guests at no charge at the Jekyll Island Club Beach Pavilion. The Burkes found the beach roomy and pleasant, but noticed that there was no lifeguard. ("The beach was quite wide even at high tide, and good for all ages. The water was very calm when we were there and apparently tends to be so.")
There are no watersports available at the beach, but you can rent canoes or kayaks at the nearby Tidelands Nature Center, one of two nice attractions on the island for nature-loving families. After taking time to look at fish and reptiles, you can join a kayak tour, or paddle around the 17-acre saltwater pond (admission: $2/person; kayak tours $65/two people; canoe and paddleboat rentals $5/hour). Just steps from the hotel, the Georgia Sea Turtle Center features a rehabilitation center for rescued sea turtles. ("There is a large viewing window where you can see veterinarians caring for sick turtles. The center also offers nighttime education programs including trips to the beach to look for turtle nests.")
The biggest kid-pleaser, though, has got to be Summer Waves Water Park, one mile away from the hotel, featuring waterslides, a wave pool, lazy river, and kiddie pool (admission: $19.95/person; $15.95/child under 48 inches tall; free for under-4s).
In addition, Jekyll Island Club offers occasional family-friendly events at the hotel itself, though none happened during the Burkes' stay. (These events often take place on Fridays.) During July and August, for instance, special events included a hayride, puppet show, pirate show and a kids' cooking class, with fees ranging from $5 to $10 per person. (Check the resort calendar at www.jekyllclub.com/events to see what will be going on during your stay.)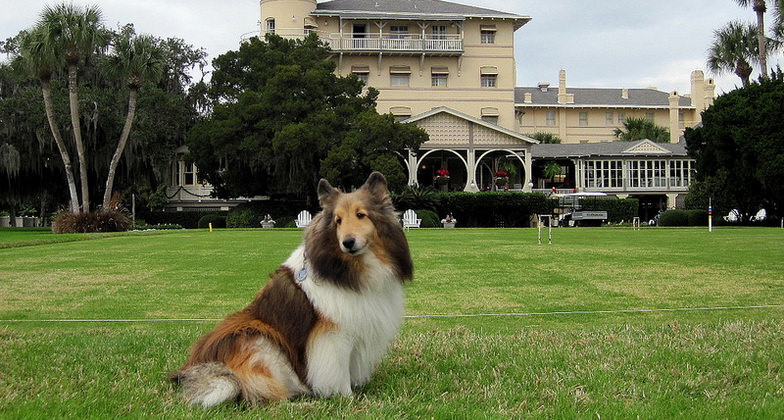 flickr:moondance38
Where to Eat: Dining options run the gamut from the club's historic grand dining room to hot dogs on the beach. The Burkes found the quality of food and service to be high everywhere they went, and the range of possibilities made it possible to keep their dining expenses in check.
The Grand Dining Room is a Victorian showpiece with white columns, carved fireplaces, and enough floor space for a dinner dance. Lunch here is surprisingly affordable. Men are asked to wear collared shirts, pants or nice jeans, but the Burkes didn't find it stuffy during dinner. ("It was definitely a formal dining room, but there was a nice kids' menu-cum-activity sheet, and the wait staff was friendly to the children.") (Open breakfast daily, brunch Sun, lunch Mon-Sat, dinner daily. Breakfast: dishes $10-$13. Sun brunch: $29/adult, $14.50/child 12 and under. Lunch: appetizers $5-$12, entrées $9-$15. Dinner: appetizers $8-$12, entrées $24-$35. $8 kids' menu offers fried shrimp, burgers, chicken fingers or mac 'n' cheese, served with fries or fruit. High chairs and boosters are available.)
The Courtyard at Crane Cottage is a Mediterranean-style bistro set outside one of the historic cottages, and perfect for al-fresco dining when the weather's nice. (Open lunch daily, dinner Sun-Thurs. Lunch: appetizers $5-$15, entrées $10-$15. Dinner: appetizers $5-$15, entrées $25-$30.)
Café Solterra is an all-day bakery and New York-style deli offering casual fare such as soups, salads, sandwiches, wraps, and pizza. At breakfast time, it's a good bet for pastries or your Starbucks fix. The Burkes had three breakfasts and one lunch here. ("Options for children were great—pizza, sandwiches, cereal, fruit, yogurt and pastries. A large pizza for $12.95 fed my three children easily.") (Open daily 7am-10pm. Items from $2.)
You can also grab a quick bite when you're at the pool or beach. Prices were a little cheaper at the beach pavilion than at the pool (a burger cost $6.75 at the beach versus $8 at the pool).
Venturing off the hotel grounds for food is easy, too. ("One evening we walked across the street from the hotel to Jekyll Wharf and ate at Latitude 31, a casual and kid-friendly restaurant with a great sunset view.")
Nightlife: The Burkes found Jekyll Island Club's evening scene pleasant but quiet. There were no scheduled after-dark activities at the resort or by the pool. The two bars were open—an English-style pub and the well-preserved Lobby Bar, featured in the movie "The Legend of Bagger Vance"—but these weren't kid-friendly options. You can ask the concierge to contact a local babysitting service, but the Burkes would have preferred if the hotel had offered a supervised evening camp or children's dinner and a movie. ("It would have been great to go to a nice adult dinner together or have a drink in the pub and know the kids were having a fun time. Instead, families came to the courtyard area to grab a light bite or dessert. While we were there we noticed people enjoying evening walks, playing mini-golf, and having ice cream.")
Where to Stay: The 157-room resort has lodging options in all five main buildings, each built during the heyday of the original club and remarkably intact. Most rooms and suites are in the main Clubhouse, while eight suites are in the Annex (built in 1901, and the first club building to have indoor plumbing); 24 rooms are in Sans Souci (French for "without a care"); 13 rooms and suites are in the Italianate Crane Cottage; and 10 are in the villa-style Cherokee Cottage. Rooms and suites come with full, queen, or king beds, or some combination thereof.
The Burkes stayed in a "double/double suite" in the Clubhouse (called a Club Suite on the web site). The suite's entry led to a living room area that featured a queen sleeper sofa, two straight back chairs, coffee table, dresser, a flatscreen TV and DVD player, non-working fireplace and mini-bar refrigerator. Off the living area there was a bedroom with two double beds, a wardrobe, dresser, and another flatscreen TV and DVD player. There was an armoire instead of a closet, but the Burkes had ample room for their belongings. The bathroom had double sinks and a separate door to the toilet and tub shower.
Their rooms, like others at the resort, had an updated traditional style; the hotel completed a furnishings renovation this past spring. ("The reproduction furniture was very nice—new, yet in keeping with the period of the building. On the walls were reprints of historical pictures.") The Burkes' view overlooked the courtyard. Other rooms and suites have views of the river, croquet lawn or—least desirable—the back of the hotel. All rooms have free wireless connection, and you can also get a crib for free; rollaway beds cost $25 a night. You can rent a movie at the front desk for $7.95, or rent unlimited movies for 24 hours for $11.95.
The Burkes were happy with their suite, letting the kids sleep in the double beds while they set up camp on the pullout sofa so that they could stay up later. ("The room we had was perfect for our family. If we returned, we would probably request the same type of room in the main building as it was the most convenient.") The Burkes didn't sense that the other buildings were inferior, just different. ("I think it really depends on the size of your family and whether you like to be in the center of everything or if you don't mind a short stroll.")
Price Tag: Room rates run from $189 to $419 a night during the summer; winter rates start at $149. The Burkes' double-double, or Club Suite, is priced at $329 a night in the summer and $289 during the winter.
The hotel's web site (www.jekyllclub.com) usually offers package deals that can bring down your price. At press time, we found a Summer Family Getaway Package that starts at $719 for three nights, or about $239 a night—a huge savings off the regular rate. It includes a double-double room, breakfast buffet for four, and the Club Juniors program (excluding some excursions). We also found a year-round Family Bed and Breakfast special that includes a double-double room, buffet breakfast for four, and beach towel and toys, starting at $189 a night (both package prices are before taxes and resort fees). You can also book meal plans starting at $68 per person for two meals a day and $98 for all three meals (perhaps not a great deal for kids).
The Burkes appreciated that the pleasures at Jekyll Island Club were simple but excellent. Their one regret was that, traveling with a preschooler, there was no opportunity to get time alone as a couple for dinner or golf. Even so, their family time was great. ("We really enjoyed renting bikes and spending time at the beach and pool. As adults we liked learning about the history of the island, and the kids loved the waterpark. I feel we slowed down to southern island time, and truly had a relaxing, special time as a family.")
The Burkes felt that Jekyll Island Club delivered good value, and that they would definitely like to return. ("We felt overall that prices were reasonable for a resort of this caliber, and that there were additional things to explore.")
A final word: It's so nice to find a genuinely grand and historic hotel that doesn't pummel its guests with obnoxious hidden fees, as do so many less impressive and more expensive properties. There is a $10 daily resort fee (plus tax) that covers your housekeeping tip, two bottles of water a day, in-room coffee packets and a daily edition of USA Today. As much as we hate resort fees in principle, this isn't highway robbery. There's no parking fee, even for valet parking. If you want to save on tips, you're welcome to self-park behind the Clubhouse. Crane Cottage has its own parking lot, too.
Insider Tips:
1. Rent bikes at least for half a day to tour the island. ("It is worth the price to enjoy the bike trails and scenery at a leisurely pace, and the kids love it.")
2. You can save on in-room movie rentals by bringing a few DVDs from home.
3. Be sure the visit the Sea Turtle Center, and don't miss the carriage ride for a scenic overview of the historic district.
4. Be sure to pack your child's swim bubble or water wings if she needs it to stay afloat in the pool. The shallow end is quite deep relative to most pools and the resort doesn't offer flotation devices.
5. If you golf, don't bother bringing your own clubs—you'll only get hit with extra baggage fees by the airline. Rentals at the main island course cost only $15.