Kid-friendly activities and offerings
By James Holland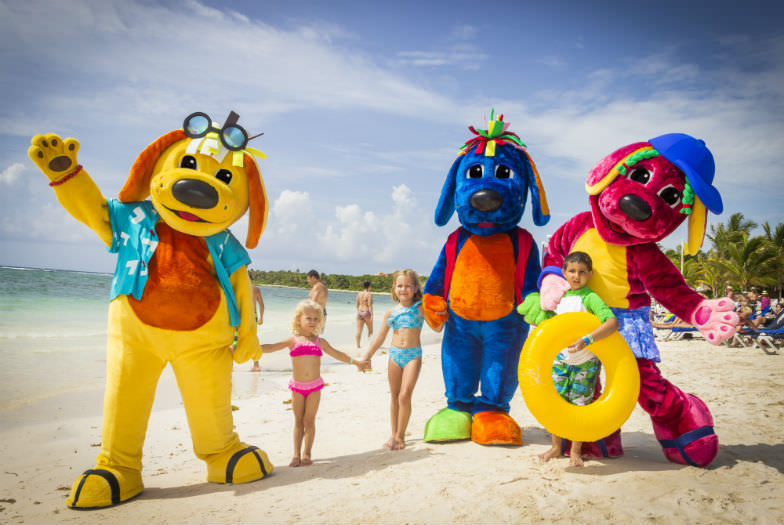 Hanging out with the Raggs squad is just one of Grand Palladium White Sand Resort & Spa's many kid-friendly offerings. (Courtesy Palladium Hotel Group)
The all-inclusive Grand Palladium White Sand Resort & Spa, in the heart of Riviera Maya, is a treasure trove of kid-friendly activities and amenities. Not only is this beautiful resort perfect for family-friendly fun, but it's also great if you need some R&R even if your children are ready for some excitement.
Here are some of what to expect families with kids can expect Grand Palladium White Sand Resort & Spa for kid-friendly fun.
(MORE: Hotel Review: Grand Palladium White Sand Resort & Spa)
Kid-Friendly Activities with Raggs
The PBS kids show Raggs has a special presence on Grand Palladium properties. Your kids might come across one of the characters at the beach, the perfect photo opportunity. Or they might attend a Raggs character breakfast where the food is arranged to look like smiley faces. Visit the Raggs pirate show – one of the best kid-friendly activities on property as well as a perfect way to end the night. There is also a Raggs Luau as well as pool parties on offer. Make sure to check the schedule you receive upon check in when the little ones will also receive a special welcome gift of color pencils, a backpack, a hat, and a shirt.
Kid-Friendly Spaces
Grand Palladium boasts not one but three kids clubs. There's the baby club for children 1 to 3 years old. It's equipped with age appropriate toys as well as a nap room with cribs.
Sharing the facilities is the El Ranchito Mini Club for kids between 4 and 12. Both clubs are in a clubhouse with an outdoor space for supervised kid-friendly activities such as volleyball, a playground, and more. The little guests might even get special visits from their favorite Raggs characters while hanging out in the clubs.
The Black and White Club is perfect for teens. All parents know that they need something a little different to stay engaged, and this club designed specifically for them is just the place. Several activities are available including video games, foosball, and twice a week scheduled events like karaoke, music lessons and disco. There's even a music room for those who music fans.
Kid-Friendly Food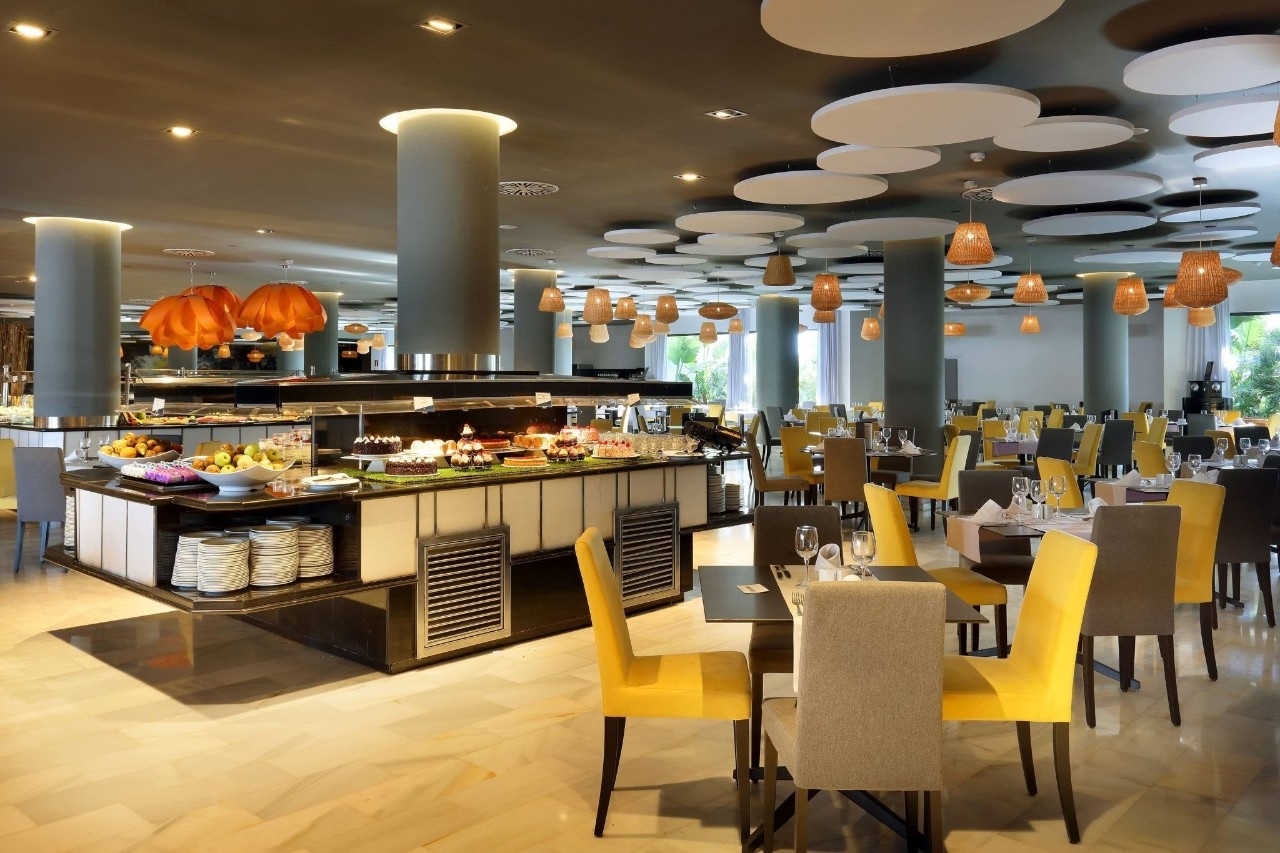 Kid-friendly dining is what the resort does best! (Courtesy Palladium Hotel Group)
Grand Palladium is replete with kid-friendly food options for every palate, making its restaurants especially well-suited for families with kids. The resort has several buffet restaurants located throughout the property with a plethora of options. Whether you're at Kabah or La Hacienda, you'll find a pizza bar, pasta station, hamburgers, crepes with nutella, and even a hot chocolate station. Of course, both come with a healthy selection of desserts as well as ice cream and assortment of cakes and candies.
For dinner, you might want to try the new Thai restaurant or sample Japanese food. And whether your children are picky eaters or not, you can still go. One of the special features of Grand Palladium's a la carte restaurants—besides the fantastic food—is that regardless of where you go, kids menus are always available. Some kid-friendly dinner favorites such as spaghetti and chicken nuggets are available for order and come served in the shape of happy faces. Make sure to ask for the kids menu regardless of where you are; your children will thank you for it.
Kid-Friendly Amenities
There are some essential amenities worth mentioning. For newer parents visiting the resort, Grand Palladium offers baby food room service. That's something you'll be hard pressed to find in other resorts. In fact, most baby supplies at the resort can be delivered to the room regardless of what you might need. Family prep rooms are available throughout the resort as well.
In addition, those families with older kids that need a little more independence, connecting suites can be reserved.
There are seven freshwater pools and a family-friendly saltwater pool on-site. Some of the pools are adults only (so check your map), while others are perfect for kids and come with zero-entry access and slides. They make great additions to every family's list of kid-friendly activities. Make sure to visit the saltwater pool near the northern edge of the property, which is fed by the ocean and provides a unique experience – you might even be swimming with fish.
(MORE: Family-Friendly Things You Must Do In The Riviera Maya)
Grand Palladium also has a private beach available to hang out at. You can grab food or drinks there or take advantage of the available kid-friendly activities like snorkeling and kayaking. Note that some—scuba diving and deep-sea fishing, for example—come at additional.
Active families that need a diverse selection of kid-friendly activities need not worry; all sorts are available on site. There's even a dedicated area where you can do archery, soccer, tennis and more.
Lastly, while traversing the property, you might see plaques and signs popping up. These belong to the kid-friendly eco-tour that's perfect for families that enjoy learning. Similar activities are also on offer including science classes and cooking classes.
James Holland of Another Spur on the Road contributed this to MiniTime.