Carlsbad, California
By Katrina Brown Hunt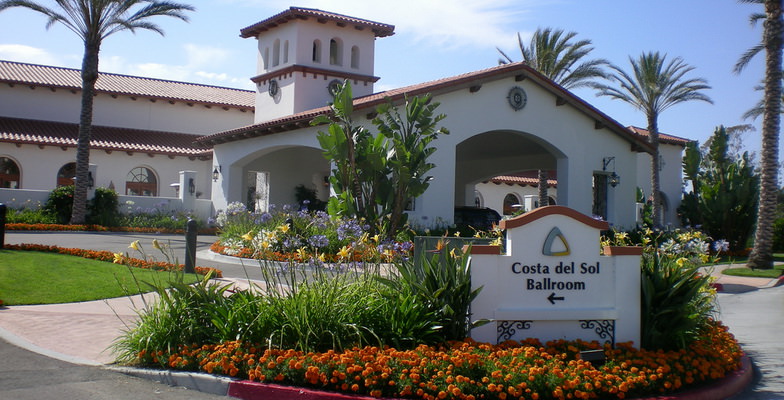 flickr:ckramer
Why Go: When La Costa Resort & Spa opened in the mid-1960s, it became an instant classic as a Southern California playground—but one that was created just for grown-ups. It boasted two PGA championship golf courses, 21 tennis courts, and an enormous state-of-the-art spa that put La Costa on the map as the first destination spa resort in the US. That spa (and its 42 treatment rooms) has been a huge part of the resort's cachet ever since. In 2002, La Costa enhanced the zen atmosphere by adding the Chopra Center, a yoga and wellness center founded by Deepak Chopra. The resort has been listed among the top five American hotel spas by Travel+Leisure and it won a readers' poll by Condé Nast Traveler.
And yet for parents, there was always something missing. If you can't indulge in a property's best assets because you have kids in tow, what good are they?
Such concerns disappeared in 2006, when La Costa launched a children's program and 4,000-square-foot activity center called Kidtopia, accompanied by a teen club called Vibz. A year later, the resort unveiled a family-friendly pool area called Splash Landing that features three pools, three water slides, and an interactive waterplay zone. Soon afterward, The Travel Channel named La Costa one of the Top 10 Fun Family Resorts in the US.
When our correspondent, Katrina Hunt, visited La Costa with her husband and two preschool-aged daughters—Mirabel, 4, and Caroline, 2—she was looking forward to visiting a resort with such a great reputation. ("I assumed that the kids' program would be good but not overwhelm the resort. And I really wanted to check out the spa. Coming here and not using the spa seemed like going to Coney Island and not riding a rollercoaster.") She was pleasantly surprised at how family-friendly the resort was, especially in the pool area, and by the resort's colorful, pedestrian-friendly setting. ("It was like a gorgeous little village—not as fancy as I thought it would be, but extremely civilized, and with a lot of well-groomed character.")
The Hunts did encounter some sour notes, however. Service was uneven, and the prices for add-ons varied between very reasonable ($2 for a huge kid's milk at dinner) to laughable. ("One day I wanted to take a dip in the spa's pool, but not badly enough to pay the $60 extra fee.")
Indeed, while La Costa is less expensive than the neighboring Four Seasons Aviara, it's not for the budget-minded. You can have lots of fun here, but you pay extra for almost everything. (Meanwhile, if you're used to a Four Seasons-level of service, you might be let down occasionally.) Even so, for a family looking for a hotel that caters to kids but also lets grown-ups experience a raft of resort amenities, this is a solid choice.
Getting Oriented: Set on the northern side of San Diego County, Carlsbad is 35 miles north of San Diego's Lindbergh Airport and 50 miles south of Orange County's John Wayne Airport. The resort doesn't provide an airport shuttle, but a cab from San Diego's airport would run about $100 one way, while a Cloud 9 shuttle would cost about $30.
Located less than two miles off San Diego's main freeway, La Costa is a sprawling, 400-acre Spanish Colonial-style compound with 610 rooms and suites. The lodgings, restaurants, spa, Chopra Center and shops are spread throughout 10 white-stucco buildings, each two or three stories high with a red-tiled roof and staircases made of colorful Mexican tiles. The buildings are connected by wide walkways that criss-cross through lushly landscaped gardens dotted with blooming marigolds, park benches, shaded tables, and the occasional porch swing or hammock. Depending on which side of the resort you stay, the focal point will be the spa, golf course, tennis courts, or the new family-friendly pool area. The latter is set next to the main building, giving it prominence. But every clutch of buildings has its own pool, bringing the total number of pools to eight.
The main building has a grand-dame vibe, with a dark-wood staircase and ornate, Spanish-style chandeliers. It houses the main restaurant as well as the lobby bar, the fitness center, golf pro shop, the Kidtopia and Vibz centers, and the Marketplace (containing a gift shop, TCBY, Starbucks and sandwich counter). Across the way is the Plaza, which carries a few pricey hotel boutiques, and beyond that is the 28,000-square-foot spa. The resort feels quite large—it would take a good 10 or 15 minutes to walk from one end to the other—but its village ambience makes it manageable. ("We always saw people milling around, or sitting and talking in public spaces, but it never felt crowded.")
Getting Around: The roster of on-site activities and services could easily convince you to stay put for days, but many families also come for the big-name attractions close by. And to visit any of these, you'll need a car. LEGOland is located within 10 minutes of La Costa, while the San Diego Zoo and SeaWorld are about 40 minutes away. A 30-minute drive to the east would bring you to Wild Animal Park, a huge spin-off of the zoo. Head one hour north and you'll be at Disneyland. And, of course, there's always the beach. La Costa offers a free hourly shuttle to Ponto State Beach, a nearby public beach that's popular with locals and surfers.
The resort's front desk staff can provide information on the various zoos and theme parks, but be forewarned: Regular admissions prices to local attractions are steep. The zoo's admission costs $34 for adults and $24 for kids 3 to 11, while LEGOland costs $60 for adults and $50 for kids 3 to 12. ("But a really nice staffer told me that there are always discounts and specials going on.") If you want to rent a car for a day trip or two, there is an on-site Hertz counter, where rates start at $60 a day.
We Are Family: During her July visit, Hunt estimated that about two-thirds of the clientele was made up of families with kids ranging from infant to early teen—with the rest comprised of conference groups and boomer-aged couples. At check-in, the Hunt girls were each given a VIK ("Very Important Kid") goodie bag including a juice box, granola bar, small coloring book and crayons, mini-deck of cards, and a coupon for a free poolside drink or scoop of ice cream with dinner (the resort had asked for the girls' ages at booking).
A look at the daily schedule (available in guestrooms and the lobby) shows that there is something going on at almost any hour: a guided morning walk, exercise classes, tennis clinics, yoga, kids' golf camps, arts and crafts, and even meditation. The majority of activities can be joined at the last minute (two notable exceptions are golf and tennis), and most are either free or cost less than $10 (though a few cost as much as $125). A classic massage at the spa, meanwhile, costs $155.
For many parents, the most enticing amenity may be Kidtopia, the children's program that runs from 9am to 4pm every day—after all, no one needs a 3-year-old tagging along to meditation class. ("I spoke with one mom who said that Kidtopia was the only way she could use the spa.")
Kidtopia is open to kids as young as 6 months and as old as 12 years, though kids under 3 can stay a maximum of two hours a day. As children's programs go, Kidtopia is pricey. A full day (including lunch) costs $80, and a half-day (9am-1pm or noon-4pm, also including lunch) costs $50. You can also sign in your child for smaller chunks of time at $15 an hour. ("A lot of people seemed to book Kidtopia for a few hours rather than a full day.") Kidtopia staff recommend that you book up to a week ahead, but note there is often last-minute availability, especially after 11am. The day is filled with games, crafts, and free play in the morning, followed by lunch, pool time and a movie. For lunch, there is a choice of mac 'n' cheese, turkey sandwich, hot dog, or noodles. Pretzels and goldfish crackers are offered as a snack at other times of day. Kids don't have to swim if they don't want to, and counselors evaluate every child's skills before they get in the water, and give floaties to those who need them.
Kids under 3 are typically grouped together, while 4- to 12-year-olds are divided into factions if there is a large enough group to merit it. There is a 2-to-1 ratio of counselors to kids for the under-3 crowd, and a 5-to-1 ratio for the bigger kids.
The Hunts booked their girls for one day at Kidtopia. Mirabel, almost 4, spent a full day there, while 2-year-old Caroline was booked for 11am to 1pm. ("I dropped off Mirabel a little after 9am. When I came back with Caroline at 11am, Mirabel was happily heading outside with her counselor and a few other little girls, carrying hula hoops and balls. When I came to get Caroline at 1pm, there were a half a dozen kids there, and the two counselors were sitting on the floor with them, painting faces. Mirabel was very excited to show me the coloring she had done, and Caroline just didn't want to leave.")
The big, colorful main room is lined with shelves of toys and games, and one whole corner has giant blocks. There is a large tree-shaped slide and light-up dance floor game, as well as a few computers with large screens. There are also cribs and high chairs for wee ones. Most toys seemed to be geared toward kindergarteners and younger: LEGOs, crayons, and kid-sized foot-powered cars. ("Mirabel loved the treehouse slide, which was definitely sized for a preschooler, not a gradeschooler.")
Most of the counselors were college-aged or a little older, and Hunt found them friendly but not gushy. ("I liked that when I came back at 11am, the counselor was already addressing Mirabel like they were old friends.") The counselors indicated that the number of participants can vary a lot—from about 60 kids on a holiday weekend to just a few children on a typical weekday. On a different day, Hunt observed about 15 kids in attendance, mostly around age 6.
As impressive as Kidtopia is for young children, it would likely bore kids 8 and up. Still, there are other options for them. Depending on the time of year, kids ages 6 to 14 can participate in kids' golf camps that can last three hours a day (about $25 an hour). The Junior Tennis program, for kids ages 4 to 17, offers classes starting at $60. During summer, there are also half-day surf camps; the $120 rate includes gear, transportation, group instruction and a box lunch.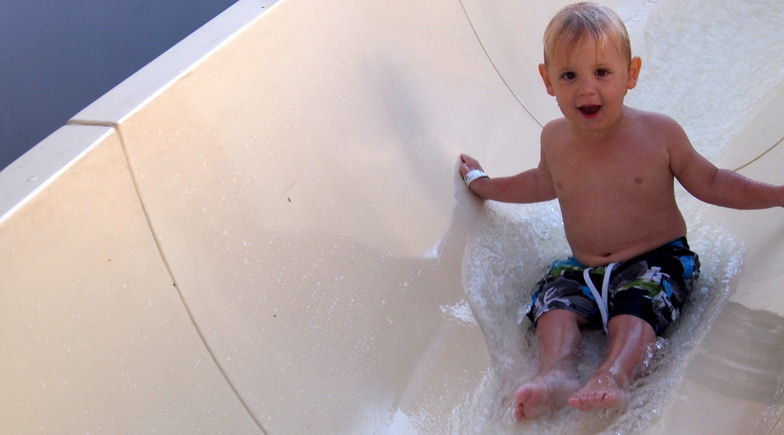 flickr:roebot
Most kids at La Costa, however, seemed to always be at the main pool area with its three water slides. A pair of two-story spirals feed into one small round pool, and there's a gentler slide for little kids. Between the two slide areas is a splashpad with showering palm trees and water cannons.
The main pool area also features a round pool with step entry, ranging in depth from three-and-a-half to five feet (and perpetually filled with grade-school kids tossing nerf balls) and a larger "family" pool that's wonderful for preschoolers, with a sand-beach entry and shallow water that ranges from one foot to three feet deep. ("Mirabel is still pretty nervous in pools, but she loved walking 'laps' in this large but shallow pool. It was the first time I have seen her act confident in water.") You could buy floaties or little inflatable vests for as little as $4, but there were also some stray noodles and balls for community use. Lifeguard stations are located in each pool area, and there were always staffers manning the tops of the slides to direct traffic. ("The staffer at the little slide was affable but firm about making the kids go feet first.")
If grown-ups want solo swim time, there is an adults-only pool at the spa, and three medium-sized pools set near the villa buildings. The Hunts saw some older kids at the villa pools, which each go up to eight feet deep. ("The main pool area wasn't chaotic. We never had a problem getting a chair and an umbrella, but there was music playing and plenty of people. The other pools were definitely quieter.") Six hot tubs were scattered around the different pool areas. The posted minimum age was 14, but Hunt often saw younger kids in the tubs, though no one seemed to mind.
There is no teen program at La Costa. The so-called teen space, called Vibz, is open from 10am to 10pm. It's a large TV room and arcade featuring an Xbox corner, pool table, air hockey, foosball, pop-a-shot, and various arcade games. Some games are free, while others require 75 cents to $1.75 per round. Whenever the Hunts cruised through Vibz, there was usually a mix of younger teens on their own and school-age kids with their parents. ("It was a fun environment. It wasn't teens-only, but it didn't seem like the littler kids were keeping teens away. Most teens seemed to be hanging out at the pool, though, and we heard a few talking about having been to the beach.") On Sundays, teens can also use the spa.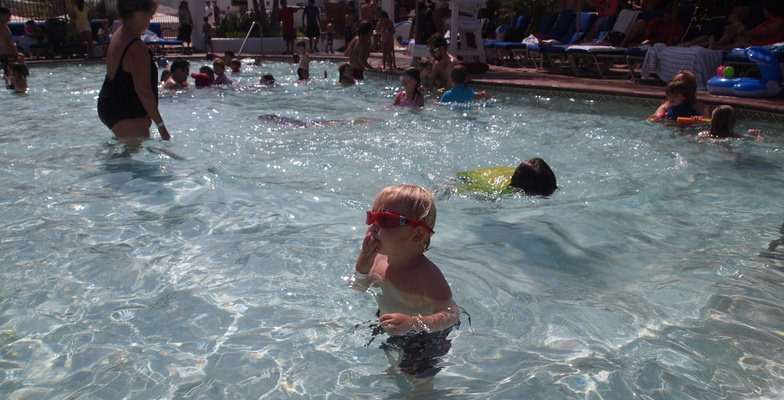 flick:roebot
Where to Eat: There aren't many dining bargains at La Costa, but the Hunts thought the food was exceptionally good. On every menu you could see the spa's influence, with lots of lean meats, fish, and fresh produce. On the kids' menus, PB&J sandwiches are made with wheat bread unless you ask for white, kid burgers come with turkey, beef or veggie options, and fresh fruit is usually offered before fries.
As good as the food was, dining at La Costa exposed a recurring problem with service. While most waiters were friendly and warm, they also seemed overtaxed. On more than one occasion the Hunts had to ask repeatedly for an umbrella, a glass of water, or an extra spoon. One morning, breakfast for just Katrina and Caroline took over an hour with various delays.
Legends, a bistro-style restaurant overlooking the golf course, was the Hunts' favorite eatery at La Costa. The big patio, with umbrellas in the morning and heaters in the evening, was elegant but mellow. Highlights at breakfast included a great Chopra Granola topped with fresh berries ("the best granola I ever had") and fluffy kid-sized pancakes. For dinner, there were perfectly grilled steaks, a seared sea bass with olive risotto, and a delicious kid's cheese pizza. (Breakfast entrées, $7-$19. Average lunch entrée, $14. Average dinner entrée, $28.)
Splash Café is a good bet for a delicious lunch. ("My chicken sandwich was wildly better, and fresher tasting, than the dry, generic version you find so many places.") The menu also featured burgers, sandwiches, and salads, with kids' options such as hot dogs and sandwiches. (Lunch dishes, $6-$13.)
Blue Fire Grill is the top-tier restaurant, serving California cuisine with an Asian flair—think fish and meat accented with foie gras truffles, curries and coriander. Soft candlelight, plush banquettes, but no kids' menu. (Average entrée, $33.)
Spa Café is an option only when you're using the spa. The menu focuses on salads and sandwiches. (Average dish, $13.)
Nightlife: After the sun goes down, things get mellow but not dead quiet at La Costa. Friday and Saturday nights in the summer feature dive-in movies, a family-friendly flick shown by the pool. Friday night also means free s'mores outside the Marketplace. Many guests seemed to eat late, and the Hunts always saw plenty of folks milling around the lobby or playing games in Vibz. ("We saw lots of families with little kids up too late, just like ours. But everyone seemed pretty happy.")
On weekend evenings, Kidtopia offers a supervised Night Camp from 6pm until 10pm for kids 3 to 12. Night Camp costs $55 and includes dinner. Like the day program, it's a pricey option, particularly when you consider that the scheduled activities are rather generic. Kids spend the four hours playing games, doing crafts, and watching a movie. On weeknights—or if your kids are under 3—you can arrange through the front desk to hire a babysitter through an outside service. While this is also a steep option, it's still considerably less expensive than Night Camp. ("For my two girls, hiring a babysitter would have cost $19 an hour, with a 4-hour minimum, plus $6 for gas. So that's $82 plus a tip.")
Where to Stay: There are eight levels of rooms and suites at La Costa (nine if you count the one Presidential Suite), named for their location within the resort. Plaza rooms, located right between the main building and spa, have views of the Plaza courtyard. Spa and Garden rooms are between the spa and the villas, while Resort rooms (sometimes called Golf rooms) are just beyond the pool area and line the golf course. The suite varieties include La Costa suites, with golf course or garden views; some villa-style suites with fireplaces and kitchen. A Family suite is a La Costa suite connected to a Resort room.
Location counts for a lot at sprawling La Costa, and the outermost accommodations mean an awful lot of walking. Initially, the Hunts were given a spacious Spa room out in one of the furthest villa buildings. It had two queen beds, a huge bathroom with double vanity, tub and shower, a table with two chairs, a vaulted ceiling and a view of garden pools. But it had no balcony or patio, so the Hunts asked if they could move to a room with some outdoor space, so that the grown-ups could hang out after the little ones went to bed. Without any problem, they were moved to a slightly smaller room with a patio in what the bellman called one of the Golf buildings. ("I was relieved to move—the second room was only a few minutes' walk to the pool and kid areas, while the other room was about a 10-minute walk. The bellman told us most families stay in the Golf area. Plus, our new room looked out onto a grassy area that drew an almost constant stream of cottontail rabbits munching grass. The girls went nuts over that.")
There was a plasma TV, but no DVD player (you can rent one for your entire stay for $45). The cable service includes the Disney and Nickelodeon channels, and you can rent pay-per-view shows (an episode of Hannah Montana or Little Einsteins was priced at $2.99). If you rent a player (or bring your own, or a laptop) you can borrow kid movies from Kidtopia for free.
The room also featured a coffee maker and small fridge—though, in the second room, the fridge was so well camouflaged as dresser drawers that Hunt had trouble finding it. You can borrow a crib for free or rent a rollaway cot for $35 a night (to be safe, book ahead).
Even in the smaller room, Hunt felt they had enough space, and found the Spanish-meets-contemporary décor—pale golds and sage green—comfortable. ("Not luxurious, but very nice. We loved that the French doors had a screen panel, so we could get fresh air and cricket noises at night.")
Price Tag: Year-round, a basic room at La Costa starts at about $319 a night, while a two-bedroom villa-style suite can be $900. You can usually find specials online, though, as well as discounts if you stay a minimum of a few nights. We also found a "California Playground" package that includes breakfast and two daily amenities, such as Kidtopia or a spa treatment, starting at $565 a night.
Guests at La Costa aren't so much nickel-and-dimed as they are slowly bled dry, starting with the $22-a-day resort fee to cover Internet access, gym, and daily newspaper—amenities that less-pricey hotels manage to give you for free. Then there are the whopping fees for Kidtopia ($50 for a half day, $55 for Night Camp), and the fact that so many requests incur a significant extra cost (cue $35 for a rollaway cot). Drinks are a predictable gotcha at $4 for a soda by the pool, or $10 for the most basic glass of wine. There are some nice freebies, such as a complimentary yoga class, a daily craft for kids, a weekly reptile show and the Friday night s'mores, but these do little to erase the overall burden of so many charges and surcharges. ("La Costa could go a long way by adding just a few more of those perks—even upping the frequency of the s'mores night—to make you feel like you're getting more value.")
Insider Tips:
Before you book, check out the packages online. There are always some deals, and you can often save by bundling amenities.
Reserve what you can in advance. Book Kidtopia up to a week ahead, spa treatments by at least a few days, and dinner by mid-afternoon. Hunt didn't have trouble getting a same-day spa treatment, but it was on a Sunday.
Plan on taking advantage of the free classes and activities, to make up for all the times you'll pay through the nose.
You can save on in-room pay-per-view charges by bringing your portable DVD player or a laptop and a few DVDs from home.
When you book your room, ask about balconies or patios—not all rooms have them. If you're bringing a stroller, ask for the ground floor, since not all buildings have elevators. And, of course, request a location close to the pools and Kidtopia.
If you plan to use the spa, be sure to bring your swimsuit. While many upscale spas have separate gender areas for the steam room, sauna and whirlpools, this one has enough co-ed areas that no one goes au natural.
Pack layers. Evenings here can get chilly, even in the summer, so you might want a pair of jeans, pants or a light sweater.
Even if you're not a yoga person, don't miss the Chopra Center. Yoga classes are friendly and usually geared to beginners, and some offerings are free (like a meditation class and a Family Yoga class where kids are welcome).
Whether or not you use Kidtopia, check out its collection of movies and games, which you can borrow for free.