Punta Cana, Dominican Republic
By Melanie Monroe Rosen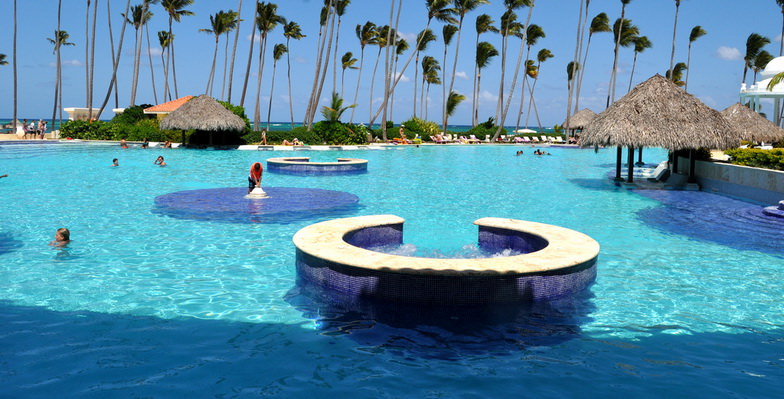 Paradisus Palma Real Resort (Flickr: Sarah_Ackerman)
Why Go: Known for its spectacular white sugary beaches and turquoise waters, Punta Cana runs along the easternmost tip of the Dominican Republic and is one of the Caribbean's fastest growing vacation spots. But it wasn't always this way. Just 40 years ago, the terrain was covered in sugar-cane plantations and pastureland and the coastline dotted with fishing huts when a number of European hotel developers set their sights on the area. Today more than a dozen big hotels and resorts now compete with palm trees for space along Punta Cana's miles of silky-fine sand beaches, and the clientele is still over two-thirds European and Latin American. Among these resorts is the Paradisus Punta Cana, whose tagline is the "exclusive all-inclusive."
The Paradisus Punta Cana is owned and run by Sol Meliá, a Spanish hotel company with over 300 hotels in 30 countries. The resort has been around for over a decade and recently opened a newer, more luxurious section called The Reserve, billed as a "brand new resort-within-a-resort."
(MORE: Read reviews on kid-friendly hotels in Punta Cana.)
Our correspondent, Melanie Monroe Rosen, arrived with her husband, toddler, and few pre-conceived notions, having visited neither another Sol Meliá property nor the Dominican Republic. During a March stay, Rosen (then six months pregnant), her husband, Sam, and their 22-month-old son, Ben, had an enjoyable and relaxing time, due in large part to the resort's all-inclusiveness. ("We were constantly surprised by just how much was included in the package—including all non-motorized water sports, horseback riding, tennis, golf, all-day drop-in/drop-out childcare, tons of lessons and activities, and all the food and drink one could possibly consume. It was great to not have to carefully weigh how much we really wanted to try something. We just explored new activities freely according to how we felt, not how light our wallets felt.")
The resort offers the proverbial something for everyone, starting with a great beach dotted with tons of comfy padded lounge chairs, Bali beds, and thatched umbrellas. There are also many recreational possibilities, thanks to multiple pools, a climbing wall, bike rental, batting cages, beach volleyball, water volleyball, Ping-Pong, bocce, beach soccer, yoga, plus a casino, spa, and up-to-the-minute fitness center. ("Sam was really delighted to find what he described as the one of the top facilities he'd seen at a resort, with a wide array of equipment and an attentive staff.") There is also an exhaustive list of classes and workshops available for adults, from salsa and snorkeling to sushi, spinning, and Spanish. ("There was so much to do, it was almost overwhelming. For most activities, you could just show up at a specified time without an advance reservation, which we liked. We didn't feel tied into doing anything in particular and could just go with the flow of our days.")
At one time the children's program at Paradisus Punta Cana was only available to kids 5 to 12, but the resort recently built a new clubhouse, called Kids Zone, and extended its programming to babies, toddlers, and preschoolers. ("For us, Kids Zone was a major reason for choosing Paradisus Punta Cana, as many resorts' kids' programs have a minimum age of 4 or 5 years old. Being six months pregnant with a toddler at home is exhausting, and in order for it to really feel like a vacation, we knew that we would need some time to decompress while knowing Ben was in good hands.")
Getting Oriented: The 96-acre resort is located on Playa Bávaro, about a 25-minute drive from Punta Cana International Airport, the second most heavily trafficked airport in the Caribbean, after Cancun. Though the open-air airport was a bit chaotic, the Rosens found it easy enough to land a taxi on their own. ("Plenty of drivers were clamoring for our business and even though we don't speak Spanish, they recognized the name of the resort.") Expect to pay around $35 for the trip to the resort.
Paradisus Punta Cana is divided into two areas: the original main resort and the Reserve. The central reception area in the original resort is a major hub of activity. It features small fish and turtle ponds (a big hit with the Rosens' toddler), gift shop and jewelry store, small banking window, restaurant, bar, counters for booking off-site excursions, casino, theater, business center, and a sitting area with plenty of couches, chairs, and chaise lounges.
Swimming pools and recreational pursuits are scattered throughout the resort. Most of the restaurants are located in the main resort area near the beach. ("On nights when we didn't have reservations at a specific restaurant, it was nice to be able to wander among the restaurants near the beach since they were all so close to each other.") The Adventure Park, which features two batting cages, bike rentals, a climbing wall, foosball table, and darts, is also located in the main resort.
The Rosens stayed in the Reserve, which they found both luxurious and less crowded than the original resort. Although newer and more luxurious than the main resort, the Reserve has one downside: it is further from the ocean, with a 15-minute walk to the beach. Of nearly 700 suites at the resort, just over 130 are located in the Reserve. More than a third of these units are Paradisus Family Concierge Suites, advertised on the resort's website as "renowned for their comfort and irresistible array of family friendly amenities."
The Reserve's lobby is much smaller and quieter than the one in the main resort area. It features comfy couches and chairs, two flatscreen televisions, a gigantic Nespresso machine (great for early risers), a table with breakfast treats or snack foods, and several concierges. There are also several pools and two restaurants located in the Reserve.
Getting Around: There's no real town in Punta Cana, and nothing much within walking distance of the resort, except for a small shopping area about a 10-minute walk on foot. Most guests stay put at the resort during their stay. On the drive from the airport, the Rosens observed that much of the area was rather impoverished and sometimes desolate.
Getting from one end of the resort to the other means either walking or hopping on the resort's tram that stops at several spots in the Reserve, at the main lobby, and a handful of other stops around the property. The trams are said to run approximately every 10 minutes, but the Rosens found these guidelines to be very loose. ("One morning we waited over 20 minutes for a tram to the beach, until a sympathetic golf cart driver stopped and let us climb aboard.") If you're staying in the Reserve, you can ask a concierge to call for a tram, but the Rosens found it hit-or-miss whether a concierge would be on hand when they needed one. ("Overall, we didn't mind the distance from the beach, especially since the Reserve was less-populated and therefore less hectic than the main resort. The rooms were newer and nicer, but it did mean that a 15-minute walk could turn into an hour's leisurely stroll if our son insisted on walking and stopping at every statue, sprinkler, and palm tree along the way.")
Paradisus Punta Cana offers a handful of free excursions, including a group bike trip that Rosen's husband joined ("and regretted, as the route followed the same roads from the airport—full of potholes, dust, and lots of traffic"). There is also a free shuttle to a new shopping area, the Palma Real Shopping Village, which includes a Hard Rock Cafe. For an additional fee, other available excursions range from snorkeling and diving to ATV ($90/person or $110/couple) and buggy rides ($75/person). If you golf at the Sol Meliá-owned 27-hole Cocotal Golf Course & Country Club, greens fees are included in the all-inclusive price, but it's extra for cart rental ($37/person) and club rental ($47 for 18 holes or $31 for 9 holes). There is also a free shuttle to Manatí Park (admission: $30/person; $15/ child under 8), where you can see dolphins, sea lions, a dancing horse show, and even swim with dolphins ($95/person).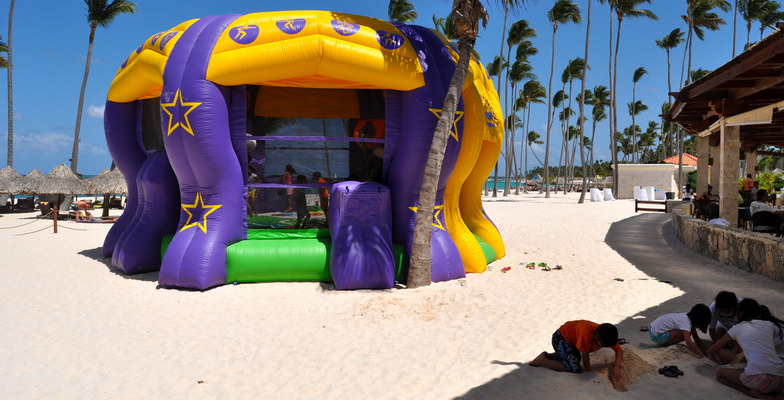 At the resort's beach in Punta Cana (Flickr: Sarah_Ackerman)
We Are Family: In keeping with Punta Cana's international origins, the resort plays host to folks from around the globe. In addition to Americans, the Rosens met families from Latin America, Canada, England, France, and Russia. Guests without children included an ample number of retirees, some honeymooners, and a few corporate groups. But there was also a healthy number of families, most of whom were staying in the Reserve with kids 12 and under.
Although the resort's web site says that the Kids Zone welcomes children from 0 to 17, several counselors told Rosen that the age range is actually six months to 12 years. There is no programming specifically aimed at teens, though many of the resort's activities will likely appeal to them.
The children's program is included in the all-inclusive rate. The advertised hours are daily 10am to 10pm, but Rosen learned that it often opens as early as 9am. This worked well for the Rosen's toddler, who gets up early and goes down for a nap before noon. The early opening time allowed for a few child-free hours in the morning, when the Rosens could hit the gym or read on the beach uninterrupted. The Kids Zone operates on a drop-in/drop-out basis, so parents are free to bring their children and pick them up according to their own schedule. On the first day, parents fill out a registration form including information on allergies and contact numbers (families staying in a Reserve Family Concierge Suite are given a cell phone for the duration of their visit). After that first day, it's just a matter of signing your child in and out.
One room is designated for children from six months to 3 years, which is separated from the rest of the Kids Zone by clear glass doors. There are low tables for kids as well as kid-sized ottomans. The tables were often set up with crayons and coloring books or age-appropriate books in a handful of languages (Spanish, English, and French). The room is packed with wooden puzzles and other toddler-friendly toys such as a plastic kitchen set and Little Tikes car. Just off the main room is a restroom and a napping room that is kept dark and features a handful of port-a-cribs, a changing table, and a few walkers and strollers. Overall, the Kids Zone space is relatively bright and cheerful, with natural light. There is a spacious covered porch attached to the back of the Kids Zone, which has a lounge area with couches and magazines ("this seemed to be one of the more appealing areas for older kids") as well as air hockey and foosball tables.
There is also a large, fenced-in outdoor play yard that features a sandpit with a Dora the Explorer outdoor playhouse, and a large climbing structure with ball pit.
During the Rosens' stay, there weren't any babies and just a few toddlers. Much of the time, Ben seemed to have his own counselor tending to him. Although babies and toddlers are generally kept separate from older kids, there were times when the Rosens came to pick up their son and found him participating in an activity such as arts and crafts with older children. Most of the children at the Kids Zone ranged in age from 4 to 10. In Kids Zone's space for older kids, there is a large flatscreen TV (with DVDs in a number of languages), some larger tables and chairs (the kids eat lunch in this space as well), and another games area including video games, a small pinball machine, and a fridge for storing bottles and snacks.
The activities for the 4-and-up group varied every day and included movies (available in English, Spanish, and French), board games, video games (Wii, Xbox, and PlayStation). The group goes swimming, on nature walks, and to the mangrove swamp to feed the fish and turtles. There were also trips to the Adventure Park, where children could rock climb, get face-painted, do arts and crafts, and paint t-shirts (additional $10 fee), and take turns on the EuroBungy (open to kids 4 and up). ("In addition to the activities listed on the Kids Zone schedule, one mom with four kids between 3 and 7 said that her kids had dressed up as pirates and gone on a fun treasure hunt through the resort one morning.")
The Rosens experienced a rotating cast of counselors, with two to four on duty at a time. Not all the counselors spoke fluent English, with some more confident in their language skills than others. ("Overall, the counselors seemed good, but not great—though a few notable exceptions stood out in their enthusiasm for kids. Ben's favorite counselor was a very friendly young woman named Nathali who always asked him for a hug and a kiss when he arrived and departed. On Ben's last day, Nathali left a really sweet note in his backpack, saying how much she had enjoyed spending time with him and that she hoped to see him again.")
The kids 4 to 12 were not broken into smaller age groups, although certain activities had a minimum age, like horseback riding (8 and up) and tennis lessons (5 and up).
One of the main complaints of parents to whom Rosen spoke was that the Kids Zone's published schedule of activities was not always followed, which made it difficult for families to plan their day. ("I received a schedule only when I started prodding one of the counselors about the kinds of activities available, but then learned from other families that what's promised on the schedule isn't necessarily what's delivered. For Ben, that wasn't a huge deal because we didn't hype up any particular activities in advance of his arrival each day. But for older kids it would be harder. I could see getting them excited about face painting at 11am, for example, only to learn that face painting has now been switched with 'X' activity that day.") Both lunch and dinner are served at the Kids Zone from the room service menu.
Overall, the Rosens felt that the children's program worked well for their son. ("The Kids Zone gave us some alone time and together time as a couple while Ben had fun with the counselors and other kids. He enjoyed the sand pit, playing with toys, and going to feed the fish and turtles. But, the flexibility, which we liked, could be a major drawback for families with older kids who need more structure.")
Meanwhile, kids who didn't attend the Kids Zone seemed happy to play on the beach and in the pools. They could also play games like Ping-Pong and visit the Adventure Park to climb the rock wall. ("We didn't meet any families who had gone on any of the local excursions, but if we were to go back, I think we would check out Manatí Park and maybe a glass bottomed-boat ride, as Ben is an aquarium addict.")
Free-form lagoon-style pools are scattered all over the resort. The Reserve features three pools: one main lagoon-style pool (up to five feet deep), a splash pool for babies and toddlers (less than a foot deep), and a kids' pool with a handful of small waterslides (at its deepest around three-and-a-half-feet deep). The Kids Zone is conveniently located next to the kids' pool.
The resort's largest pool is located at the main resort and features a couple of zero-entry areas for young children as well as a volleyball net for water volleyball and goals for water polo. ("It might seem counter-intuitive to have both an area for small children and a space for water polo and water volleyball in the same pool, but because of the pool's irregular lagoon-style shape, the groups didn't crowd each other.") The main resort features yet another splash pool, another larger pool near the spa, and an adults-only pool in the Royal Service section (an adults-only area in the main part of the resort). None of the resort's pools had a diving board (the deepest pool was only five feet deep) and the Rosens never saw a lifeguard on duty.
There was food-and-beverage service available at the pools in the Reserve and at the main pool in the resort, as well as at the adults-only Royal Service pool. At check-in, guests are given cards which can be exchanged to get a pool or beach towel. There were sometimes pool toys, like beach balls and inflatable floaties, available to borrow from the towel huts. ("We didn't realize that it was possible to borrow a floatie, so we bought one from the gift shop for $15.") Life jackets and water wings were not for sale, but some folks had brought theirs from home. Additionally, most of the towel huts had a collection of reading material available for borrowing, as well as a handful of sunscreen bottles that could be applied at the towel hut.
The beach, which lies on the Atlantic side of the Dominican Republic (and not the calmer Caribbean side), was lovely, and the sand was super-soft white powder. During the Rosens' stay it was particularly windy, and water sports were canceled on some days. The beach at the Paradisus Punta Cana is divided into three areas: one for guests of the main resort; one area for those staying in the adults-only Royal Suites; and one for Reserve and Family Concierge guests. A few guards were stationed along the perimeter of the resort along the beach, stopping anyone who was not staying at the resort from entering the property. Runners from the resort regularly walked through the beach, calling "Drinkytime!" and taking drink orders. Non-aggressive vendors strolled across the sand, hawking everything from cigars and cigarettes to local artwork.
There was a roped-off swimming area and a flag indicating the roughness of the surf (it was red for most of the Rosens' stay), but there was no lifeguard on duty. ("We found that the area in front of the Reserve seemed to be the windiest and have the roughest waves, perhaps because of the natural curvature of the beach. We took Ben in the water with us a bit, but it just didn't seem that safe for such a little guy.")
For those who wanted to get out on the water, there were a wide variety of activities available, most of which were arranged through the water sports center on the beach. Free activities included rental of catamarans, kayaks, and pedal boats; windsurfing and body boarding; and a snorkeling excursion to the coral reef. Activities available for a fee included an all-day trip to Catalina Island for snorkeling ($100/person) or SCUBA diving ($151/person); glass bottomed-boat excursion ($50/person; $35/child 3-12; free for kids under three); parasailing ($85/couple); and swimming with stingrays and sharks ($83/person; arranged through the activities counter in the main lobby).
Although all of the resort's guests can take advantage of most of the resort's all-inclusive features, guests at the Reserve also can take advantage of a very nice concierge service. Though the web site bills it as a "Family Concierge Service," in reality it is the same service for all guests at the Reserve. There were three concierges working in the Rosens' building, and any of them could be asked for help. Like all guests at the Reserve, the Rosens received a cell phone pre-programmed with the numbers of all the concierges in their building.
Most families used the concierges to make reservations—everything from dinner and spa reservations to off-site excursions to reservations for beach and pool cabanas. They could help families borrow games and DVDs from the resort's collection. They would also happily escort kids from their rooms to the Kids Zone or arrange for an in-room babysitter. ("The concierges are quite helpful for families. We didn't end up using ours as much as we could have—in part because at first we didn't know just how much she could do for us. But she was helpful in borrowing some beach toys for sand castle-making. She had also taken the liberty of making dinner reservations for us at a few restaurants before our arrival to ensure that we wouldn't get closed out of the reservations, which tend to get booked quickly each week.")
The family concierge service also arranged for milk and cookies to be delivered nightly for the Rosens' son, as they do for all children. For families with young children, a number of amenities are placed in the room for the kids (among some of the sillier offerings: a kids' scented pillow menu). For little Ben Rosen, there was a little backpack containing a "Paradisus Kids" t-shirt and disposable camera. In the bathroom, a collection of Johnson & Johnson toiletries had been laid out, in addition to a child-size toothbrush, Barbie and SpongeBob toothpastes, and Banana Boat SPF50 sunscreen. ("While Ben was delighted by the disposable camera, he truly loved the set of bath tools he received—a loofah fish, a scrubby, and a massage roller that he insisted we use to massage his back. He also adored the toddler-sized robe and slippers left for his use during our stay; he insisted on wearing them both after every bath.")
Where to Eat: Paradisus Punta Cana boasts 10 a la carte restaurants and two buffets, offering a variety of cuisine styles. In general, the Rosens were pleased with the food at the resort. ("Sometimes it was better than what we expected. On a few occasions, it was worse.") Because the resort wasn't near full-capacity during the Rosens' stay, the resort sometimes closed down some of the buffets for dinner service. There was usually (but not always) a sign up at the Rosens' family concierge desk indicating which restaurants were open that evening. The restaurants included:
El Romantico: French (reservations required)
Luna: Seafood
Fuego: Latin Bistro
Qi: Chinese
Sakura: Japanese (reservations required)
Dolce Vita: Italian
Terra: Steakhouse (reservations required)
Hybiscus: International buffet
La Palapa: Grill buffet (lunch only)
Vento: Contemporary Mediterranean Cuisine (reservations required)
Rodizio: Brazilian
Gabi Club: buffet and a la carte (on a few nights)
(MORE: Find family-friendly attractions in the Dominican Republic.)
The Rosens ate most of their breakfasts and lunches at Gabi because it was the most convenient, offered the best food, and was the least chaotic. The Rosens' a la carte dinner there was second only to their dinner Vento. ("Overall, Gabi was definitely our favorite; the wait staff were great with Ben and very attentive — even blowing up balloons for him or playing with his toy cars at the table, and the food was consistently good. The fact that it was a buffet also meant that we could move through the meal at our own pace and not rely on potentially slow table service.") The breakfast buffet always included fresh fruit as well as a smoothie bar, pancakes, waffles, a few different kinds of sausages, a couple of traditional Dominican dishes, plenty of bread products, eggs, a few sugary kids' cereals, charcuterie, yogurt, and eggs made to order. Lunch offered composed salads, sandwich options, plenty of hot options like chicken, fish, pork, beef, cooked veggies, dessert, and meat cooked to order ranging from seafood choices like salmon, sea bass, and calamari, to chicken, lamb, and beef. Caviar was offered at dinner buffets.
Dolce Vita was fine for basic pasta, but far from anything to write to Mario Batali about. ("According to Sam, it was some of the best frozen pizza he'd had in a while. Ben liked it a lot, and it has the benefit of being open from noon onward, so you can catch an early dinner there with young kids. The rest of the restaurants didn't open until 6:30pm or 7pm.") Dolce Vita sits over water, which meant mosquitoes but also the chance to spy on the four flamingoes who hang out there and call to each other. ("Ben loved it.")
Room service is available 24 hours a day and is included in the all-inclusive package. The restaurants always had high chairs available.
Nightlife: At night, the emphasis is on adult entertainment rather than kid-friendly shows. The casino in the main lobby is open in the evenings. Nightly shows (with themes like "Latin Rhythms" or "the 70's") started around 10:15pm (too late for the Rosens, whose son rises at 6am), but they were able to catch some local musicians playing jazz standards that had a bunch of guests up and dancing around 8:30pm one evening. ("The Paradisus has a really cool vibe. There are lots of lounges and spots to hang out for hours with friends and drinks. The bars always seemed fairly active.")
The main pool closes at 6pm. Although there weren't signs posted in the Reserve, a pool attendant told the Rosens that the Reserve pools close around 7pm. They did see a few adults swimming past that hour in the Reserve, but it wasn't common.
In-room babysitting services are available for $10 an hour (paid in cash directly to the sitter) by regular employees of the Paradisus Punta Cana. The Rosens had the same woman come to babysit for their son on two different nights; she was a Family Concierge in another building on the Reserve. The Rosens found that they could arrange for a sitter during the afternoon immediately prior to the evening they needed one. Additionally, the Kids Zone stays open until 10pm. Dinner is served there at 7pm, followed by a storyteller or mini disco, and topped off with a movie.
Where to Stay: The 132 rooms in the Reserve are newer and nicer than those in the original resort. Buildings in the main resort have two stories, and buildings in the Reserve have three stories. None have elevators, so if stairs are an issue (or if you have a stroller), be sure to request a ground-floor room.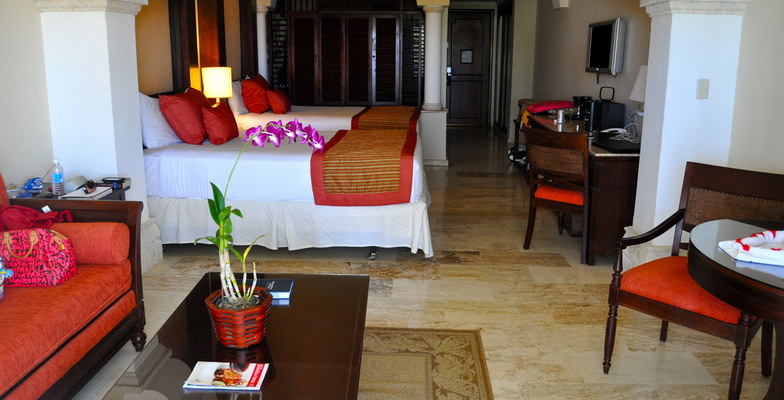 Room with ammenities at Paradisus Palma Real (Flickr: Sarah_Ackerman)
In the main resort, there is one category of room (excluding the Royal Service area, which is adults-only). All Deluxe Junior Suites with a Garden View are 504 square feet and come with or without a Jacuzzi (those with Jacuzzi are slightly more expensive). Each room has one king bed or two queen beds and a balcony or terrace, and comes with a mini bar and coffeemaker.
In the Reserve, there are three room categories, ranging in size from 613 square feet to 1,495 square feet. Rooms in the Reserve all come with one king or two queen beds, sofa bed, dining set, two-person Jacuzzi, balcony or terrace, and mini bar and coffeemaker.
The Rosens booked a Reserve Family Concierge Suite, which was 613 square feet with one king bed and a garden view. They were happy with their room, which had marble floors and sliding frosted glass doors that separated their bedroom from the living room, which meant that they could stay up past Ben's bedtime without being concerned about waking him up. There were flatscreen TVs in the living room and bedroom, both with cable featuring Spanish and English language programming. ("The room was very comfortable and modern looking; the décor reminded us of an upscale hotel you might find in Miami. The bedding was white and soft, and the chocolate and aqua accent colors were far more appealing to us than the ubiquitous tropical flower motif we've seen in other Caribbean resorts.")
The bathroom was large and luxurious. Sound could be piped into the bathroom so that one could see and listen to the TV from the Jacuzzi. ("The Jacuzzi was really big and would definitely fit two adults comfortably. Ben liked to 'swim' around in it.") The toilet was in a separate room that could be closed off by a frosted glass door. There was a double vanity, and a separate shower stall.
Very few rooms at the resort have an ocean view; most have a "garden view," which could mean anything from overlooking the pool, as the Rosens did, to overlooking a road. If the Rosens were to come back, they would request a room in the same part of the Reserve—facing the interior of the Reserve, closer to the Kids Zone than to the restaurant and lounge. ("It never got super loud at night, but I wouldn't want to risk being kept up by night owls at the bar.")
If you're traveling with a baby or toddler, you can request a crib in the room. The Rosens did so in advance of their arrival, but discovered that the sofa bed had been made up for their son instead. After notifying their family concierge, the sofa bed was tucked away and a crib was delivered by that evening.
Price Tag: Top-notch service doesn't come cheap, and staying in the Reserve is twice as expensive as staying in the main resort. The least expensive room category in the Reserve is the Reserve Family Concierge Suite. For a one-week stay for a family of four (including one child infant to 12 and one child infant to 4) this suite would cost about $3,900 in mid-June or $7,300 in late December.
Comparatively, the least expensive room in the main resort, a Deluxe One-Bedroom Garden Suite for a family of four (including two children from infant to age 12) would cost about $2,100 in mid-June or $3,100 in late December.
All gratuities and taxes were included in the Rosens' rate, but the Rosens tipped extra when they felt the received great service. ("It's conceivable that you wouldn't spend any serious money beyond the all-inclusive rate, unless you purchased off-site excursions.")
Overall, the Rosens felt like their vacation was a good value, considering that all meals, beverages, kids' activities, and non-motorized water sports are packed into the all-inclusive rate. They liked the polish of the Reserve and would request a room there again should they return.
Insider Tips:
All planes disembark directly on the tarmac at Punta Cana International Airport, where it can be 80-plus-degree weather. You'll be more comfortable if you can strip off a layer of clothing upon arrival, especially if you end up having to wait on the tarmac.
At the airport, you'll need to pay a $10-per-person US tourist fee (be sure to have cash on hand)
Make sure to bring sunscreen ($20-25 in the main gift shop) and any baby or diapering items you might need (they're sold in a little shop in the Kids Zone, but at a huge mark-up).
The mosquitoes can be rather vicious, perhaps because of the mangrove swamp on the property; be sure to bring bug repellent and anti-itch cream.
Make dinner reservations immediately upon arrival. If you're staying in the Reserve, your Family Concierge can do this for you. Because not all restaurants are open every night and because prime slots get taken quickly, be sure to tackle this early on so that you're not stuck at the buffet for three meals a day, every day.
Men should bring at least one pair of long pants as most of the restaurants that require reservations also require long pants.
Avoid the bike excursion "unless you're looking for a good scare!"
Use the Family Concierge to reserve beds or lounge chairs on the beach each morning or covered beds or loungers by the pool. The Rosens learned this a few days into their trip, and it made all the difference in getting a good spot (without having to race down to the beach at 8am).
If you plan to bring your own computer, bring a surge protector as well. The power went out very briefly on two occasions during the Rosens' stay, and they were glad that their new laptop survived any potential power surges.