Discover the Alaskan wilderness in this family-friendly cruise.
By Mimi Slawoff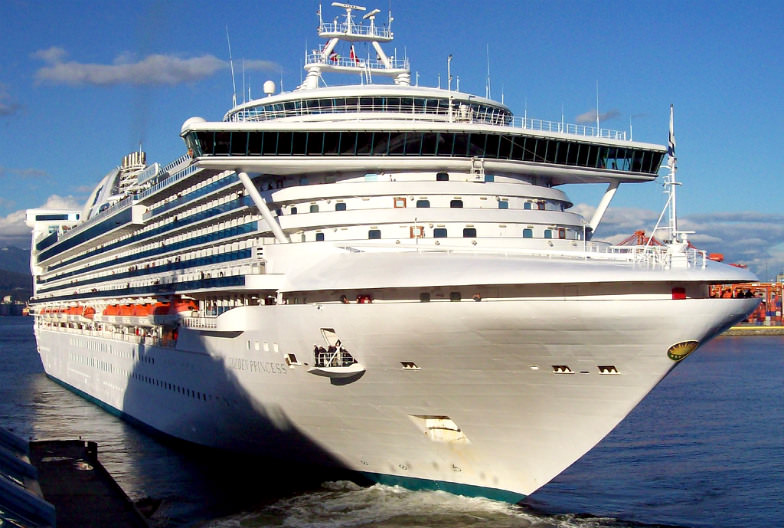 The Golden Princess en route to Alaska (Flickr: James Z)
Why Go: Glaciers, waterfalls, fjords, forests, wildlife, and frontier-era towns make Alaska a spectacular US destination. Travel in comfort on board a pristine Princess ship, decked out with children's programs, several dining rooms, numerous daily activities, and an engaging naturalist.
Princess, the third largest cruise line in the world, has a fleet of 17 vessels. For Alaska's Inside Passage, the Golden Princess departs from Seattle, WA. The seven-night roundtrip cruise visits Glacier Bay and takes in the port cities of Juneau, Skagway, Ketchikan and Victoria, British Columbia.
Book shore excursions in advance on the Princess website or in ports. If exploring on your own, be sure to get walking maps from each city's visitor center.
Good to know: Wear layered clothing and good walking shoes; bring light rain jackets, mittens and hats.
(MORE: Find other family-friendly cruises for an adventure at sea this summer.)
Golden Princess
Expect superb service from the crew (your cabin steward will be your new best friend). Family amenities include children's programs for ages 3 – 17, movies under the stars, swimming pools and hot tubs. For adults, there's The Sanctuary (pool area), fitness center, and the Lotus Spa. The Italian-inspired piazza is a fun place to regroup, listen to live music or compete in a goofy contest (like balloon juggling). For dinner, choose from traditional or anytime dining hours. There's also a delicious buffet and poolside grill. Don't miss thrilling nature presentations about whales, bears and more by renowned naturalist Michael Modzelewski in the Explorers Lounge.
Good to know: Consider booking a family suite and mini-suites, which have sitting areas, flat-screen TVs, mini fridges, roomy baths, and balconies. Also, have camera and binoculars in hand. The onboard naturalist gives excellent advice about when and where to see wildlife.
The Ports
Juneau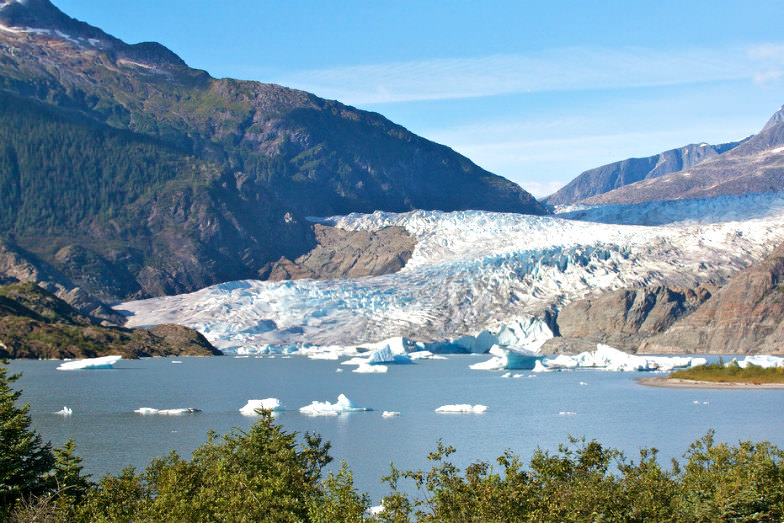 Mendenhall Glacier (Flickr: Jay Galvin)
From the pier, buy $20 roundtrip tickets for the Mendenhall Glacier Express (runs every 30 minutes) for direct transport to the top attraction: Mendenhall Glacier. Watch for bald eagles along the way. The glacier is visible from the visitor center but you'll get much closer by walking the two-mile roundtrip trail to majestic Nugget Falls in the lush Tongass National Forest.
Back in town, peruse shops and ride the tram (on a clear day) to Mt. Roberts. Have a meal (try the fish and chips) at Hangar on the Wharf and watch float planes take off and land.
Good to know: While sailing into Juneau, be out on deck or your balcony for a good chance to see numerous humpback whales and maybe even an orca or two.
Skagway
In the late 19th century, prospectors made the long trek into Canada's Yukon Territory seeking Klondike gold. Retrace their steps on foot, by train or van. On the Chilkoot Trail Hike & Float Adventure, hike two miles along the famous path, then pull on boots and life-jackets for rafting on the Taiya River.
Exploring on your own? From the ship, it's about a 10-minute walk to town. Get maps and watch a short video at the visitor center. Notice a huge watch painted on the mountainside above town (an early ad for a long-gone watch-repair shop), visit the small but interesting Skagway Museum & Archives and grab a meal and yummy chili fries at the popular and kid-friendly Skagway Brewing Company (the signature Spruce Tip Blonde is brewed with spruce tree tips).
Good to know: Skagway is the most scenic sail-away port. See amazing colossal waterfalls and the town of Haines.
Glacier Bay National Park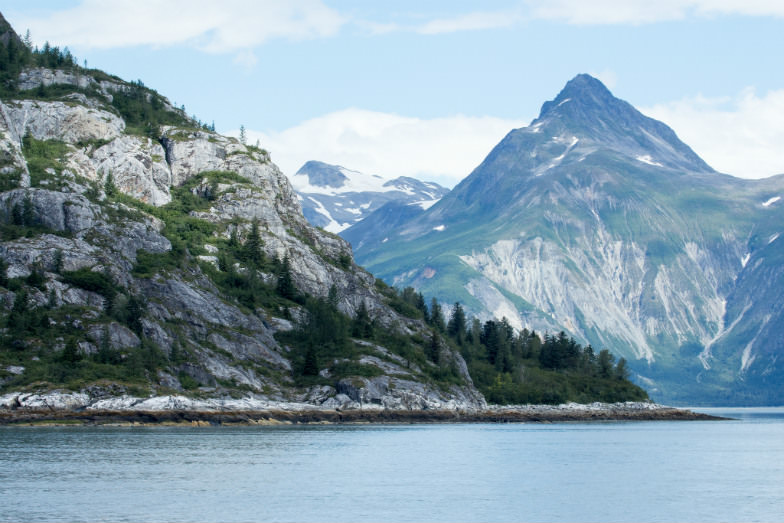 Glacier Bay National Park (Flickr: Mark Byzewski)
First one ice chunk then another come into view as the ship cruises through bay waters so calm you see the reflection of mountains, glaciers and clouds. Soon, the entire bay is dotted with icebergs and floating ice. Watch for sea otters swimming by as you sail to three tidewater glaciers: Reid, Margerie and Lamplugh. The ship stops at Margerie, where you can hear glacier calving (sounds like gunshots). If you're lucky, you'll see sections of glacier splashing into the bay with a boom.
Good to know: Park rangers board the ship for family-friendly nature presentations.
(MORE: Look for more kid-friendly things to do in Alaska.)
Ketchikan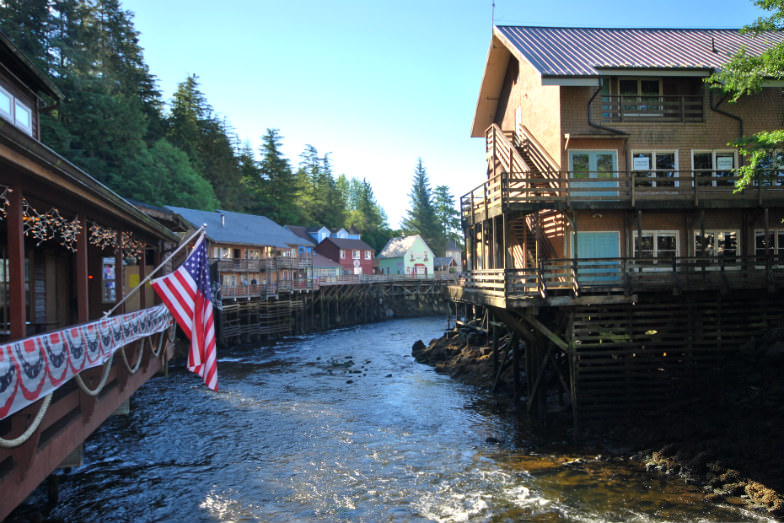 Ketchikan (Credit: Mimi Slawoff)
From the picturesque marina, walk to Creek Street, composed of historic buildings. In the early 1900s, this was Ketchikan's red light district. Today, it's filled with shops and cafes. Walk along Ketchikan Creek through a forest and by a salmon ladder. Turn right and walk the short distance to the Totem Heritage Center ($5 admission, cash only), which houses a collection of rare 19th-century totem poles recovered from remote Tlingit and Haida villages. Try reindeer sausage at Salmon, Etc., a good place to buy packaged salmon.
Good to know: A free, city-operated shuttle bus visits sights around town.
Victoria, British Columbia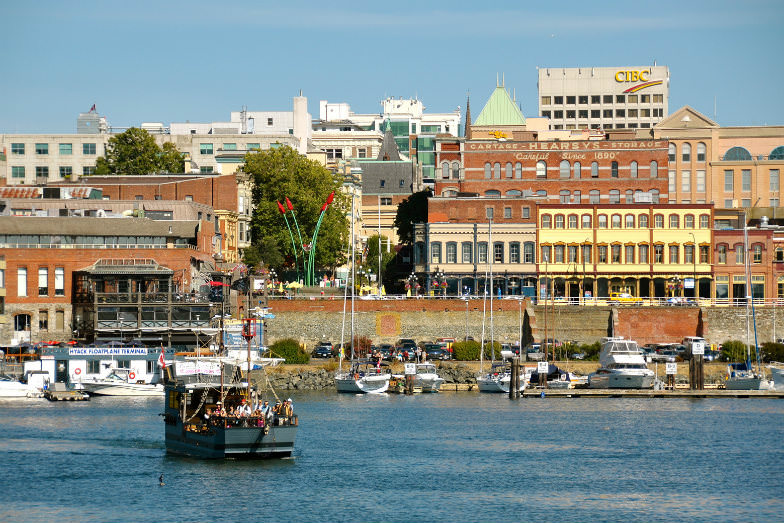 Victoria, British Columbia (Flickr: Faungg's Photo)
With limited time in this beautiful port city and a mile-plus walk into town, it's a good idea to buy $10 roundtrip bus tickets from the ship's tour desk. The top attraction here is Butchart Gardens. Or, explore the lovely marina and downtown on your own. If traveling with teens 19 and older, listen to live music in Victoria's charming pubs.
Mimi Slawoff, a Los Angeles-based journalist, contributed this to MiniTime.