Orlando, Florida
By Aimee Martin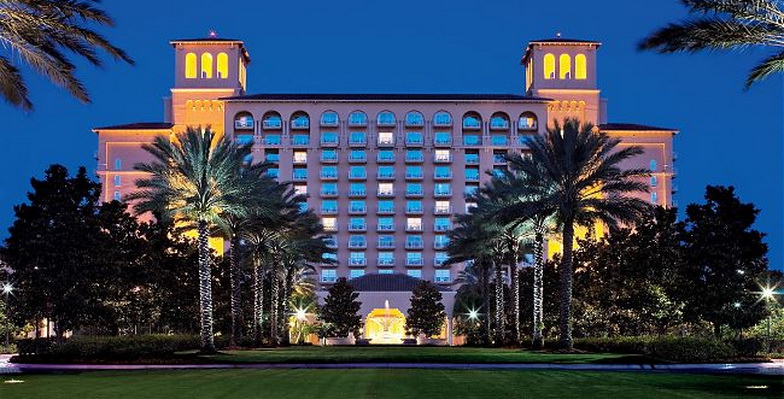 courtesy:grandelakes
Why Go: The Grande Lakes resort in Orlando offers up an interesting concept: Two luxurious resort hotels, the Ritz-Carlton and JW Marriott, sharing lavish 500-acre grounds and a raft of amenities, including a first-rate fitness center, a 40,000-square-foot state-of-the-art spa and an 18-hole Greg Norman signature golf course. For children, there are two marvelous pool areas, an arcade, a playground, a kids' club, and many fun diversions. Guests at either hotel have free use of all the public areas at both hotels, effectively doubling the possibilities for dining, shopping, and recreational pursuits. The 584-room Ritz is big but not overwhelming, and it definitely feels more intimate than the 1,064-room Marriott. While both hotels deliver very upscale experiences, the Ritz is the more luxurious of the two hotels.
Inspired by the grand palazzos of Italy, the Ritz-Carlton Orlando makes great use of romantic Mediterranean architectural elements like balustraded loggias, elegant archways, and intimate patios and courtyards. The lobby is dramatically clad in wall-to-wall and floor-to-ceiling marble and features massive columns, a stunning coffered ceiling, gilded chandeliers, and many comfortable sitting areas for an intimate conversation or even a meal. The public areas and grounds exude an understated elegance, from the spectacular ornamental flower gardens to the manicured lawns and well-maintained trails that meander through grassy fields and woodlands of pines, palmettos and live oaks. Guest rooms, especially those on Club Level, are luxuriously decorated and extremely well appointed.
After having visited half a dozen Ritz-Carlton resorts in the United States, our correspondent, Aimee Martin, was already a big fan of the chain's nothing-is-too-much-trouble service. She rates the top-notch staff at the Orlando property as one of the top reasons to choose this resort for a family vacation. ("The service is absolutely spectacular, so you always feel completely relaxed. The entire staff is so pleasant and everyone bends over backwards to ensure that your needs are met. The Ritz continues to exceed our expectations, which is why we are willing to pay to stay at their chain again and again.") As a repeat guest, Martin was most looking forward to spending time in the spa ("Heaven on Earth"), while her kids couldn't wait to swim in the pools, take advantage of the many recreational offerings, and participate in the hotel's children's program, Ritz Kids.
Though the Ritz's staff is very welcoming to families, the resort caters to a decidedly sophisticated clientele. ("The service is refined but not at all stuffy, however I would think that some laid-back families might find it on the formal side.") Martin noticed that even the youngest children were very well behaved. ("If you're a family that likes to let your kids run up and down the hallways and jump on the beds, this is probably not the right resort for you.
Choosing this resort can make a lot of sense if you're yearning for a tranquil family break away from the theme parks. ("It's not at all a noisy place. If you're a family that wants some peace and pampering on vacation, this hotel delivers and then some.") On the other hand, if visiting theme parks will be the primary focus of your trip to Orlando, the advantage of staying at Grande Lakes diminishes, particularly when you weigh in the costs associated with transportation and parking. (See Getting Around, below.)
Getting Oriented: The Grande Lakes resort complex is enormous, comprising two large resort hotels on 500 lush acres in central Orlando, conveniently located two miles east of International Drive. SeaWorld and Disney World are three and six miles away, respectively.
The walk from the Ritz to the Marriott takes about seven minutes, through a series of linked courtyards and public areas. Each hotel has a distinct pool area. Between the two hotels is a beautifully landscaped courtyard where the marquee amenities, such as the spa and the fitness room, are located. A large wing of each hotel is dedicated to meetings and conventions. Beyond the immediate hotel area are expansive grounds, which include the golf course and hundreds of acres of meadow and marshland, much of which can be explored on foot or bike via a well-maintained nature trail. ("There are several lakes throughout the property, which makes for a gorgeous setting.")
Getting Around: The Ritz does not offer a dedicated shuttle service for the 15-minute ride to and from Orlando International Airport. The concierge can book you a town car for $40 one way or, for slightly less, you could simply grab a cab from the airport. Surprisingly for an Orlando hotel, the Ritz does not provide a shuttle to any of the area's theme parks. ("It might attract more families if they offered this service, even for a nominal fee.")
And if you decide to bring a car to the Ritz, get ready to part with a thick stack of greenbacks. There is no self-parking option at this hotel, so guests are forced to pay $18 a day for valet parking. This is especially offensive when you consider that there will likely be entire days when your family won't budge from Grande Lakes. Right next door, the Marriott offers a choice between self parking (still pricey at $9 a day) and valet parking for $17 a day. If you're intent on visiting Disney World and other attractions, don't forget that you'll also pay a parking fee at each park of up to $10. The parting shot: When you use your car, expect to tip the valet both when you leave the hotel and upon your return.
We Are Family: During her visit, Martin estimated that families made up about 70% of the clientele at the hotel. ("We saw families with kids of all ages, from babies to college students.") Still, realize that it's a mixed crowd. If your blood pressure rises at the sight of corporate name tags, you should know that both Grande Lakes hotels do a significant business in meetings and conventions.
What separates the Ritz from other luxury chains is its famously proactive service, which extends beyond the concierge desk and restaurants to poolside. The pool at the Ritz-Carlton Orlando is simply stunning, with several entrances of wide steps leading into the water and fountains shaped like large fish standing sentry on either side. Surrounding the pool are rows of comfortable lounge chairs topped with thick blue cushions. As you choose your chair, an attendant materializes to cover it with two thick towels and rolls up a third to tuck under your neck. Want some shade? An umbrella will pop open in a snap, accompanied by a smile and the words, "My pleasure." The pool is shallow, ranging from three feet to five feet in its deepest point in the center. There is neither a slide nor a diving board, but there's an ample supply of inflatable rafts available free of charge to guests. Waiters are on hand to bring food and drink right to your chair. ("Whatever you want, you can have. You can eat in your bathing suit—a huge bonus with the kids!") There is a hot tub available to adults and supervised kids. Near the main pool and adjacent to the Ritz Kids clubhouse, there is also a kiddie splash pool with jet fountains and a nice playground. The mood is one of relaxation, rejuvenation, and refinement.
Guests at the Ritz can also use the Marriott pool, a terrific zero-entry pool that's great for little ones and links to a lazy river. ("This was a huge hit with my kids.") You can rent rafts to use on the lazy river ($5/day). Since the Marriott pool has neither waiters nor attendants to make sure you have enough towels on your lounge chair, the scene is much less elegant than at the Ritz. There is a hot tub in the Marriott pool area, and nearby there's also a playground, mini soccer field, and life-size chess set. ("The kids had fun with this.)
The beauty of Grande Lakes is being able to take advantage of an impressive range of recreational diversions, including tennis and volleyball, horse-drawn carriage rides (from $50), fly fishing instruction, Saturday morning golf clinics for kids, and ecotour boat rides on the headwaters to the Everglades. During their stay, the Martins played bocce ball and rented a surrey bicycle ($20 for 30 minutes on a four-seater) one evening after dinner. ("Sooo much fun! We went all over the property on the designated path.") The nature path is "great for strollers," making it a favorite haunt of families with babies and toddlers. Greens fees for golf start at $60 for nine holes and climb to $110 for a full round.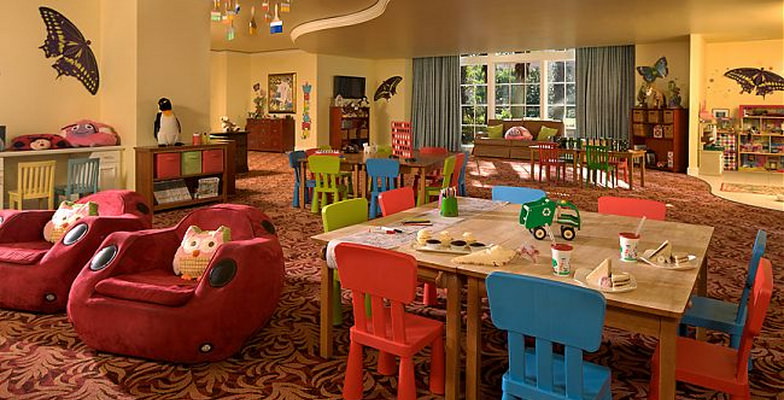 courtesy:grandelakes
For children 5 to 12, the hotel offers its Ritz Kids program daily from noon to 10pm. The Ritz Kids clubhouse is a separate building with top-notch security. You ring a doorbell to gain entry and must show ID to sign out your kids. The large premises are beautifully decorated, immaculately clean, and filled with a huge variety of toys, games, and art supplies as well as a large selection of video games. Rather than following a strict activity schedule, the environment is one of supervised indoor free play and group outdoor activities chosen by consensus. Kids are often taken outdoors to the pool or adjacent playground or to play Frisbee, volleyball, tennis, croquet, or tag games. On a visit the previous autumn, Martin's two kids, 8-year-old Bailey and 6-year-old Graham, enjoyed a three-hour session in Ritz Kids so much that this time they decided on a four-hour evening session, including dinner. ("I thought the counselors were wonderful. One counselor sensed that Bailey was shy and spent tons of one-on-one time with her. She also got both kids excited right when we walked in the door by enthusiastically telling them about all the fun stuff planned for the evening.")
Both times that the Martin children went to Ritz Kids, only a handful of children participated. ("On this visit, my kids were in a group of only six other kids participating, aged 6 to 8. On our previous visit, there were only four other children.") The low turnout is probably due to the hefty $17-an-hour fee. The question isn't whether children will enjoy themselves. ("My kids loved Ritz Kids. They watched the fireworks from a wedding reception, played on the Ritz Kids playground, ate dinner, made picture frames and take home hand-prints, played many games, and made new friends.") But parents will be at pains to justify paying so much to have their children partake in activities that are fun but no more enriching, stimulating, or creative than you'd find at other kids' clubs.
Let's do the math: A family that sends two children to Ritz Kids for a three-hour session would pay $108. If you drop your kids off for six hours in the evening between 4pm and 10pm, there's a flat fee of $80 for the first child and $75 for each additional child. Dinner is ordered off the room service menu ("typical kid choices like macaroni and cheese, pizza, and chicken tenders") and shows up later as an additional charge to your room. When their two kids visited Ritz Kids from 5pm to 9pm one evening, the Martins were shocked when the total charge came to $182. ("That's over $40 per hour!") If you have more than one child who wants to go to Ritz Kids, or if they want to go more than once during a trip, it may make sense to book the hotel's family package (See Price Tag, below). Though the hotel advises that you pre-register 24 hours in advance, last-minute drop-offs are possible if there's availability. ("You can definitely drop your kids in on the spur of the moment. When my kids arrived there were only two other kids registered, but four more came in later.") Note, however, that cancellations must be made two hours before the beginning of your session or you'll be charged for the full whack.
There are no teen-specific areas of the hotel, but there's an arcade at the Marriott and plenty of recreational offerings to appeal to mature kids. ("Most teens I saw were either golfing with their parents, playing tennis, renting surrey bikes, or hanging out at the pool.")
Where to Eat: The Martins' Club Level room gave them access to a semi-private lounge where was served a five-times-a-day buffet of food, snacks, and drinks. Taking advantage of these buffets allowed them to avoid spending a lot in the restaurants. ("We were delighted at the variety of food, including 'kid food,' offered on the Club Level and throughout the resort.") There are six restaurants at the Ritz-Carlton Orlando:
Norman's is the signature restaurant at this hotel, featuring celebrity chef Norman Van Aken's "New World Cuisine," which is a fusion of Latin, Caribbean, and European influences. (Open Sun-Thurs 6pm-10pm, Fri-Sat 6pm-10:30pm; Dinner average entre $36/adult, $12/child.)
The Vineyard Grill is primarily a steakhouse, with specialties of prime meats and fresh seafood. You can sit indoors or outdoors on a gorgeous terrace. There's a sumptuous champagne brunch served every Sunday afternoon. (Open daily 6:30am-10:30pm; Sunday brunch noon-3pm $59/adult, $29/child; Breakfast average entrée $14/adult, $8/child; Lunch average entrée $16/adult, $8/child.
Bleu is the poolside restaurant and bar featuring burgers, salads, light snacks, and cocktails. You can eat indoors, al fresco, or poolside. On Saturday evenings, there's often a seafood and raw bar. Dress code is casual and swimwear. (Open Sun-Thurs 11am-6pm, Fri-Sat 11am-8pm; Lunch average entrée $12/adult, $7/child; Dinner average entrée $16/adult, $9/child.)
Fairways Pub is a golf clubhouse restaurant and bar that's very popular for 19th-hole celebrations. It serves good steaks and seafood, and there's a spectacular view of the 18th fairway. (Open daily 11am-7pm; Lunch average entrée $21/adult, $8/child; Bar service only after 5pm.)
The Lobby Lounge offers light fare, afternoon tea, and cocktails. Come at sunset, when the setting is most memorable. There's live entertainment most evenings. ("The staff bent over backwards to make the children happy with coloring books, bending pick-up sticks, and so on.") (Open Sun-Thurs 11am-midnight, Fri-Sat 11am-1am; Average entrée $18/adult, $8/child; afternoon tea from $19 to $32/person.)
Vitale, The Spa Café, is located near the fitness center and spa. It's a good place for salads and other healthy fare, plus fruit smoothies and a wide selection of bottled waters. Dress code is workout clothes. (Open daily 9am-4pm; Lunch average entrée $12/adult, $7/child.)
The five restaurants at the Marriott include Primo, the award-winning Tuscan eatery conceived and presided over by chef Melissa Kelly.
Nightlife: Live classical, soft pop or jazz entertainment in the lobby serves as a nice backdrop for an evening of cocktails and dining. The pool is open nightly until 10pm.
If you'd like to get out for dinner as a couple, there are two babysitting options. There's a nanny service available through the concierge ($20/hr; minimum of four hrs.) Five- to 12-year-olds can attend Ritz Kids (see We Are Family, above).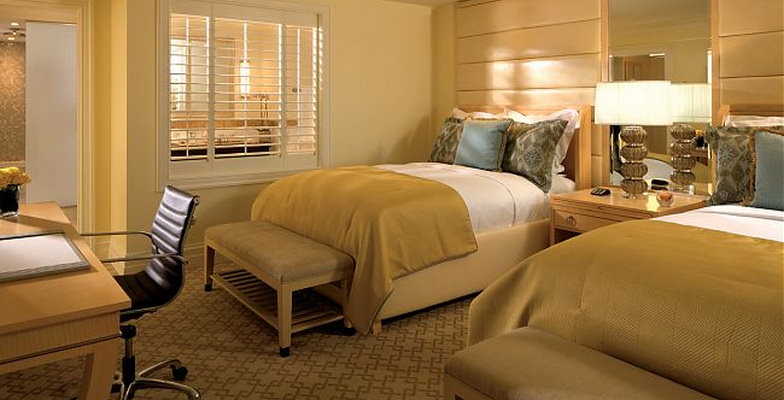 courtesy:gradelakes
Where to Stay: Since the Grande Lakes grounds are so beautifully maintained, there are no bad views, just different personal preferences. Most rooms overlook the pool area or look out on a garden courtyard or have a vista of the golf course and lakes. You'll pay about $30 more per night for a room with a lake view.
The least expensive category, the standard deluxe room, is an extremely spacious 480 square feet, furnished with either one king-size or two double beds. Every room at the Ritz-Carlton Orlando has a large private balcony or patio, and a flatscreen TV with cable channels that include PBS, Nick Jr., and Disney. There's a CD and DVD player in every room. You can expect twice-daily maid service and an evening turndown service. Inside each enormous marble bathroom, there's a double vanity, a large shower and separate tub. Two plush adult-size bathrobes and pairs of slippers hang nearby. You can rent an in-room refrigerator for an extra $15 per night.
Splurging for a similarly sized room on Club Level costs an extra $130 or less per night and entitles you to a far more personalized VIP service. Club Level rooms share a dedicated concierge and guests have access to an exclusive, semi-private lounge where there's a complimentary rotating buffet of gourmet meals, snacks, and beverages throughout the day, plus beer and cocktails in the evenings. There's also an honor fridge where you can store cold food items. The Martins' Club Level lake view room had two queen-size beds. ("Our room was huge and gorgeous, with a perfect view. Beautifully decorated and so clean.") Club Level guests have access to a free DVD lending library, whereas standard-level guests must pay a rental fee. For the Martins, it was a huge bonus to have an intimate lounge outside their room where they could hang out during the day and evening.
Price Tag: Room prices vary greatly according to season. During a weekend in mid-August, the nightly rate for a standard deluxe room is $219. The rate is more than 150% higher in February, climbing to $559 a night.
A Club Level garden view room goes for $349 in mid-August and $619 in mid-February. For the Martins, the complimentary food and beverage service on Club Level made upgrading well worth the cost. ("We had breakfast and lunch in the Club Level lounge every day. Plus we were entitled to unlimited snacks, sodas, and chocolate milk for the kids, plus beer, wine and mixed drinks for the adults. One night, Len and I made dinner out of the heavy hors d'oeuvres at Happy Hour in the Club Level lounge. We figure that eating most meals in the Club lounge saved us a huge amount of money.")
If your kids will be spending a lot of time in Ritz Kids, however, the best value is the Ritz's family package. You get two connecting lakeview rooms and unlimited complimentary access to Ritz Kids for two children. Plus, kids 12 and under eat free at every restaurant except Norman's as long as adult entrées are purchased. Kids also get complimentary disposable cameras and unlimited ice cream passports at the resort. The family package starts at $458 a night in August and slides up to $878 a night in February.
Even so, admits Martin, the Ritz doesn't make for an inexpensive holiday. ("It's not for the budget minded.") At $17 an hour, the kid's club may be the priciest we've encountered, and doesn't offer anything exceptional for that price. Forcing guests to cough up for valet parking, at $18 a day, is just plain nasty.
As you might expect, the JW Marriott's rooms are less expensive than those at the Ritz-Carlton. Keep in mind also that the Marriott typically offers a wider array of family-friendly packages, and some include tickets to SeaWorld or Discovery Cove.
Insider Tips:
Check the Ritz's website for special deals. At press time, we found a three-night package that included a $50 credit toward services at the hotel.
Before you arrive in Orlando, pre-book your treatments at the magnificent spa. Martin highly recommends the East Indian Lime Scalp and Body Treatment.
Stay on the Club Level for a genuine VIP treatment. It's very likely that you'll actually spend less overall if you take advantage of the complimentary food and beverage service in the lounge.
If you don't stay on Club Level, pack a few DVDs from your local video store to save on the fee charged by the hotel's video library.
If you're planning on spending every day at the resort, take a taxi to the Ritz and you'll save on the parking expense.