Holidays with kids
By Michelle Rae Uy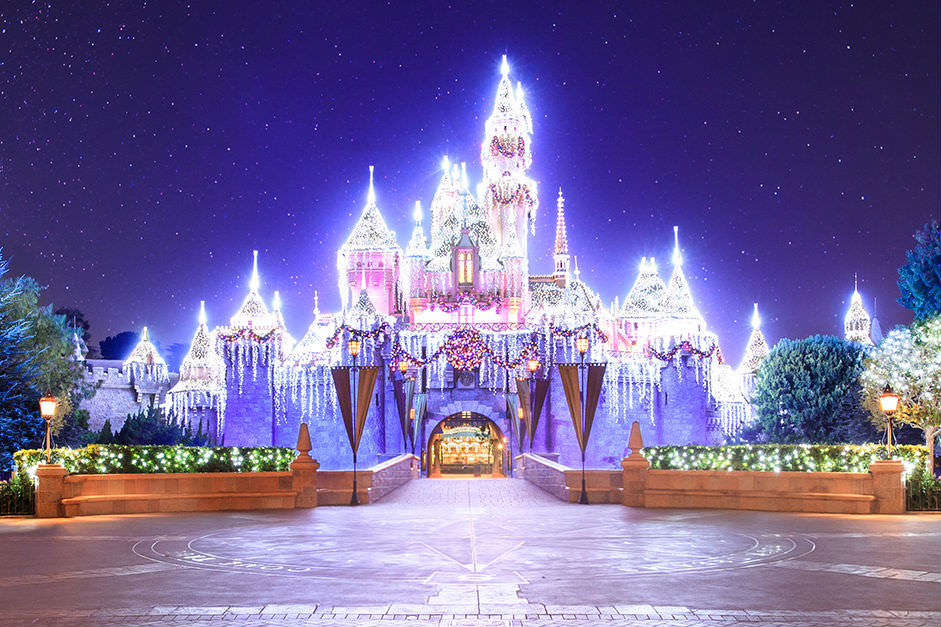 The Sleeping Beauty Castle at Disneyland glistens during the holiday season. (Courtesy Disney)
There's a treasure trove of things to do at Disneyland all year round. Come Christmastime, however, the Happiest Place on Earth gets even merrier. The whole resort, along with its two parks—Disneyland and California Adventure, becomes SoCal's very own winter wonderland. Kid-friendly Disneyland simply radiates with millions of sparkling lights, festive Christmas décor, carolers serenading guests, and wonderful holiday offerings. It's certainly one of the best places in the West Coast to spend the holidays with kids.
We had an opportunity to join in on the festivities and check out some of its best holiday attractions. Here are some of the best ones to check out at Disneyland during your visit with the kids.
(MORE: Things to Do for Christmas with Kids at Disney World)
Things to Do at Disneyland Park This Christmas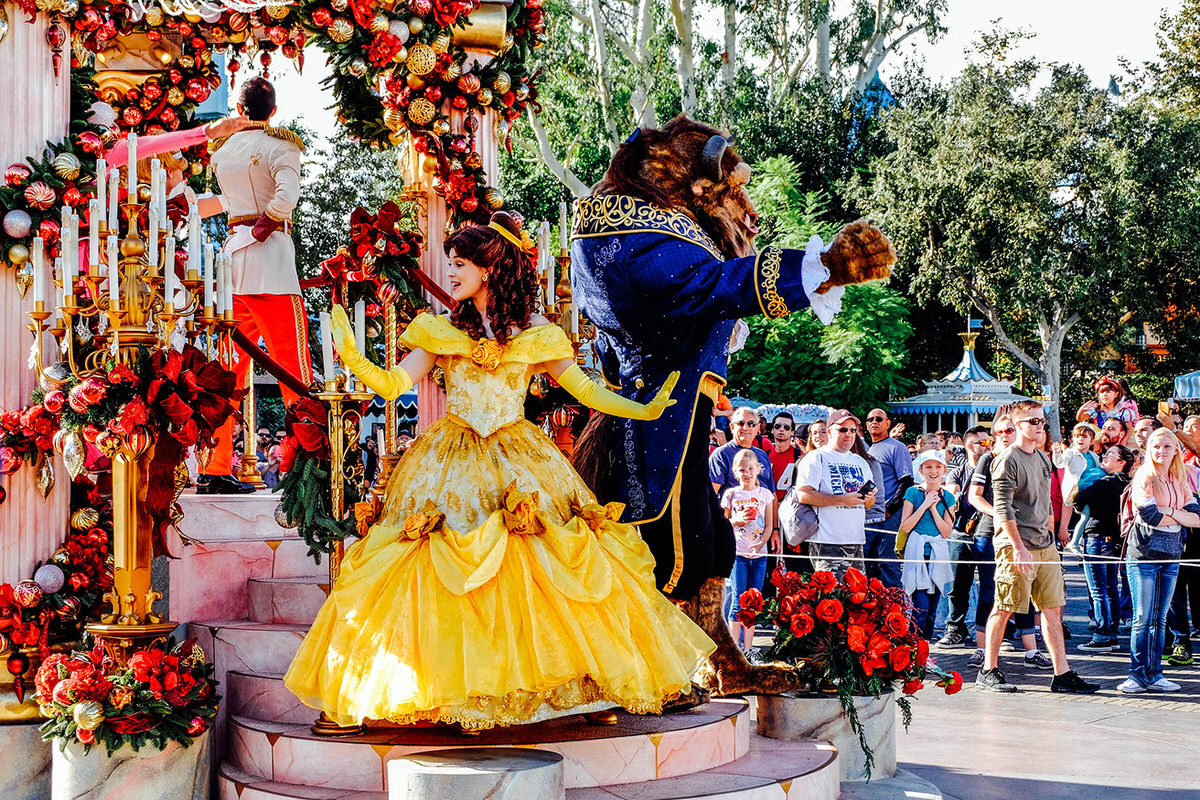 "A Christmas Fantasy" Parade is one of the best things to do at Disneyland during the holidays. (Photo: Michelle Rae Uy)
Regular holiday fixtures are again on offer, which families must add to their list of things to do at Disneyland this season. These include "A Christmas Fantasy" Parade, which is led by Mickey, Minnie and Donald themselves. This 40-minute that runs past "it's a small world" and down Main Street, USA. Participants include Toy Story and Cars characters, Winnie the Pooh and his gang, and the Disney Princesses and their princes. And Santa and his elves, of course, make a cheery appearance. Viewing spots include the Town Square, Sleeping Beauty's Castle, "it's a small world" Promenade areas. Arrive early to secure good spots.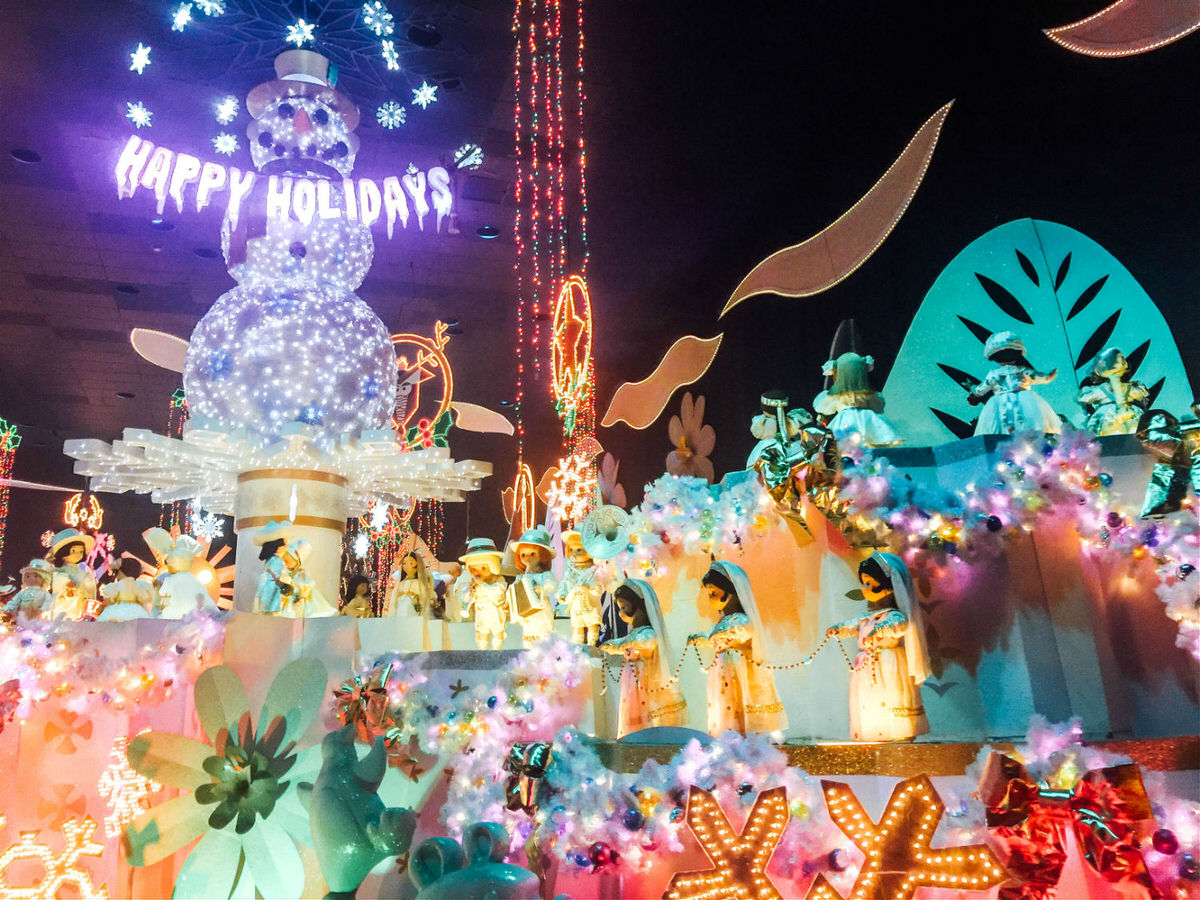 Inside "it's a small world" Holidays (Photo: Michelle Rae Uy)
If there's one thing families shouldn't miss during their holidays with kids here, it's the "it's a small world" Holiday ride. The Disneyland favorite has always pulled out all the stops during the holiday season, and this year is no different. At Christmastime, the adorable ride is even more inspiring than ever, sending messages of peace, unity and merriment. The ride is adorned with glistening décor, and the children's choruses will get you singing "Jingle Bells" in different languages. You and the kids will certainly be getting off that ride in good holiday spirits. Available through January 22, 2017.
One of the top family-friendly things to do at Disneyland this Christmas is the Haunted Mansion Holiday, another regular holiday fixture. The amazing attraction, helmed by Jack Skellington, also gets really festive during the holiday. It's transformed with wreaths, oversized gifts, ginger-dread houses, Christmas trees, and more! The Hatbox Ghost also stops by for a visit. It'll be like actually walking into Tim Burton's The Nightmare Before Christmas, the movie that inspired the ride. Be sure to secure a Fast Pass as it's one of the most popular rides. Available through January 8, 2017.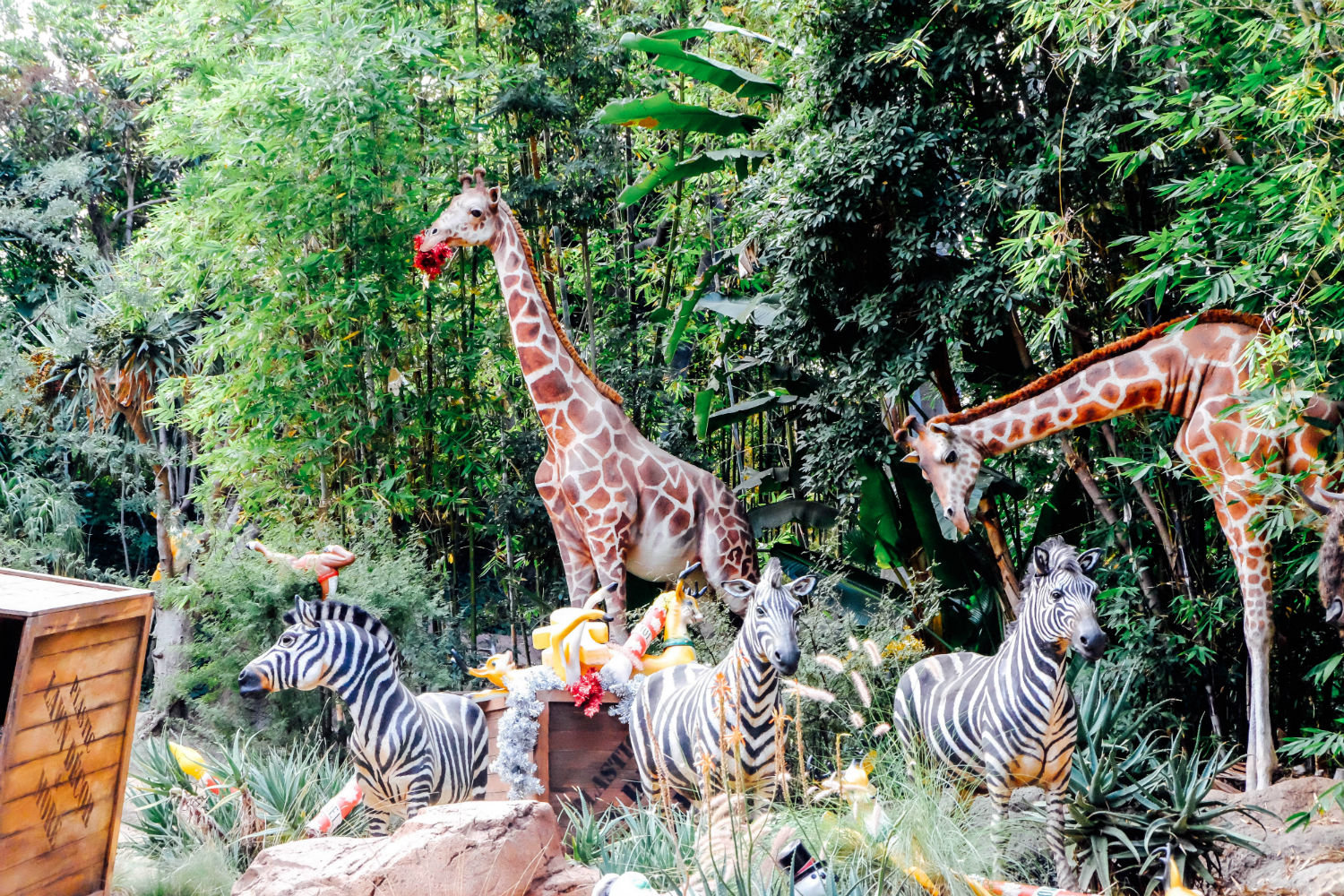 Animals at Jingle Cruise (Photo: Michelle Rae Uy)
The jungle might not be the most obvious place to spend the holidays with kids, but Disneyland's Jungle Cruise may just surprise you. At Christmas, it becomes decked out Jingle Cruise. The jokes may be cheesier, but the animals you'll see along the way will certainly be merrier. Along the way, you'll see remnants of the Christmas cargo that was accidentally released from a plane mid-flight. The result: holiday frenzy. There are natives dressed in ugly Christmas sweaters, orangutans sporting Santa hats and hippos feasting on massive fruitcakes.
Holidays with kids at Disneyland isn't complete without the firework display the park is famous for. This year, the enchanting "Believe… In Holiday Magic" Fireworks will leave you breathless. Amazing fireworks will paint the sky over Sleeping Beauty Castle, which sparkles with over 80,000 lights, shimmering icicles and snow. As usual, the dazzling display happens in tune to a beautiful, magical score that includes some of your Disney favorites. Best of all, guests will be treated to a proper winter as snow falls over Main Street, USA and "it's a small world." This is definitely one of the best things to do at Disneyland this season. Tips: Secure a good viewing spot early on. Also be sure to snap photos of the castle in the daytime.
(MORE: Most Festive US Cities to Celebrate the Holidays with Kids)
Other Holiday Treats to Sample at Disneyland
The classic "Holiday Time at the Disneyland Resort" Guided Tour will give guests a closer look at all the festivities. It's a must do for families spending the holidays with kids if they want a more exclusive experience there. At $85 per adult, this 2.5 hour walking tour will include a guide, reserved seating for the parade, holiday treats, and a collectable pin and personalized button. Available through January 8, 2017.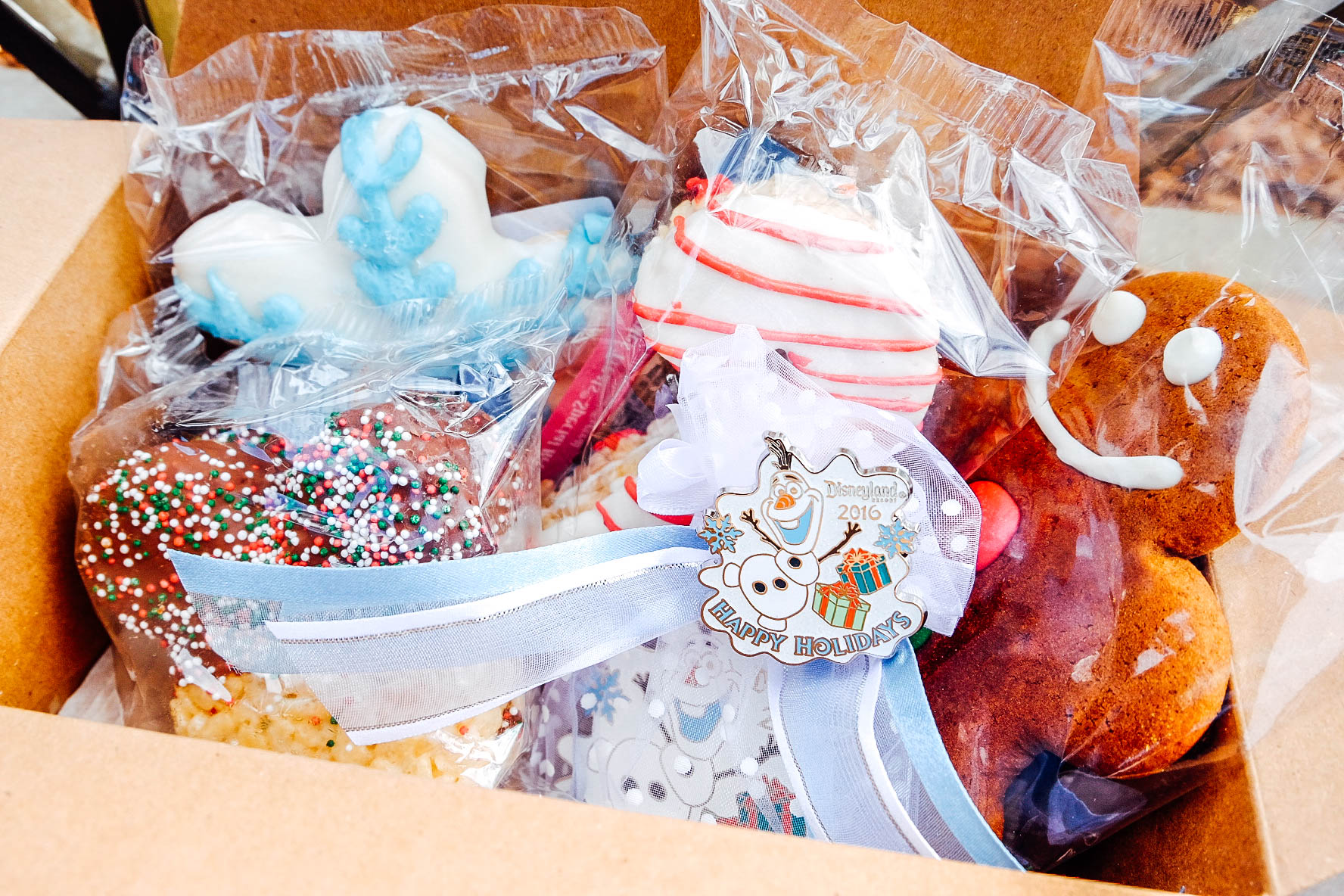 Holiday treats at Disneyland (Photo: Michelle Rae Uy)
Holiday goodies are an important part of the holiday tradition. So naturally, Disneyland would have these on offer too. These include the collectible Elf Mickey Steins, tasty gingerbread cookies, holiday rice crispy treats, and Snowman shortbread cookies. Of course, holiday drinks are on hand too: warm cups of peppermint mocha and pumpkin spice latte may be enjoyed at the park too.
Michelle Rae Uy contributed this to MiniTime. She is a travel writer based in Los Angeles and MiniTime's Head of Content, who spends her free time on adventures and film photography.