How to save on a family ski vacation
By Suzanne Rowan Kelleher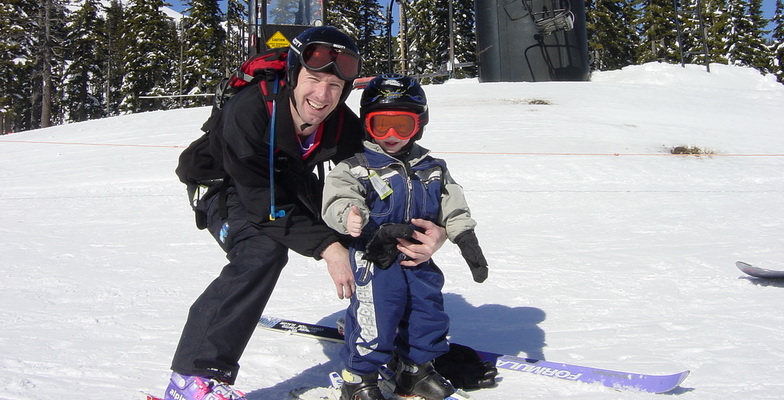 First time up skiing (eric.surfdude)
Planning a family ski vacation? Get ready for sticker shock. By the time you shell out for the condo, lift tickets, ski lessons, equipment rental, meals, daycare, snow gear, and all those inevitable miscellaneous expenses, you feel like your wallet's been run through a blender.
The bottom line: Ski vacations are pricey by nature, but savvy parents never pay full price for a winter getaway. Once you learn how to spot a kid-friendly resort, you can use a few smart strategies to skim significant cost off your total spend. Here are 10 easy ways to save on a family getaway this winter: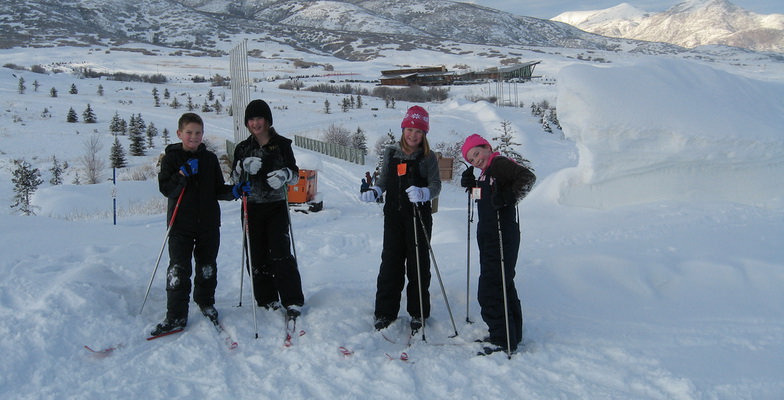 Cross Country Skiing Kids ( msn678)
(MORE: Make packing easy with a free ski vacation packing list.)
Book early. Every autumn, awesome early-bird ski vacation deals begin popping up all over. But time is ticking; you have to snap them up before ski season gets underway. These act-quick opportunities are a dime a dozen, but they typically dry up by Thanksgiving.
Aim off-peak. Timing is everything. Depending on where you want to ski, the season can last anywhere from four to six months. Many resorts out West are open by mid-November and remain open through April. In general, prices at ski resorts are highest when there is a greater chance of snow (read: coldest months) and also during school breaks. Opting to ski before Christmas or after mid-March can almost always save you a bundle. Visiting off-peak pays off big at Buck's T-4, a family-friendly resort in Big Sky, Montana. Save 40% on lodging and lift tickets for select stays (Nov 21-Dec 24, Jan 1-Feb 13, March 17-Apr 6), including free daily breakfast. Resorts' rates can fluctuate wildly throughout the season. To wit: At Smugglers' Notch, voted the No. 1 resort for family programs by SKI Magazine readers, prices during SuperSaver Value Weeks are 44% lower than at peak times, such as New Year's or President's Week. Hint: If your travel dates fall on the fringes of ski season, it's wise to choose a resort with a reputation for good snow-making capabilities, in case Mother Nature doesn't oblige with a layer of the white stuff.
Go midweek. Lodging and lift tickets are always more expensive on weekends, so a Monday-to-Thursday ski break can cost half of what a Thursday-to-Sunday getaway does at the same resort. But saving money is just the beginning of the good news. Midweek typically means fewer crowds, shorter lift lines, and smaller group sizes during lessons.
Be a tourist. All the big ski destination states have dedicated tourism associations which exist to promote their own resorts and ski areas. Their web sites can be good money-saving resources. For example, you'll find hot deals at Colorado Ski Country USA, Ski Utah and Ski Oregon, resort packages at Ski Vermont, and discounts on lift tickets at Ski New Hampshire.
Get free kids' lift tickets. Nothing is more family-friendly than a resort that lets kids ski free. Buy an adult ski lift ticket for five or more days at Steamboat Springs, in the Colorado Rockies, and you'll get a free 12-and-under child's lift ticket for the same number of days. Other resorts offering "kids ski free" deals include (for kids 10 and under) Big Sky Resort, in Montana, and (for kids 17 and under) Cataloochee Ski Area, in North Carolina.
Get free kids' airfare. Don't live within driving distance of a ski area? Look for "kids fly free" deals that provide complimentary air tickets for kids when a family ski vacation is purchased. Freebies often play a part in the well-priced vacation packages and lodging deals on Ski.com.
Get your grade-schooler a passport. Many states offer free or discounted skiing to students in a designated school grade. Typically, kids can apply online or through the mail and must provide proof of their current school grade. Each passport is good for up to three free lift tickets at each participating resort. Fourth and fifth graders can apply for the Pennsylvania 4th & 5th Grade Snowpass and New Hampshire "Earn Your Turns" and Snowsports Passports, while only fourth graders are eligible for the New York 4th Grade Ski & Ride Passport. Fifth graders can apply for the Vermont 5th Grade Passport, Ski Utah 5th Grade Ski & Snowboard Passport, and the Ski the Northwest Rockies 5th Grade Ski & Ride Free Passport, which includes resorts in Washington and Idaho. For sixth graders, there's the Ski Utah 6th Grade Snowpass. Colorado has both 5th and 6th grade passports.
Consult the deal watchdogs. Check Discount Lift Tickets, Liftopia, GetSkiTickets.com and SkiCoupons.com for ways to save on lift tickets at resorts around the country.
Save on equipment rental. Price out equipment rental on your resort's web site in advance of your trip. Sometimes pre-booking online can shave up to 20% off the overall rental cost. Weigh your resort's rental prices against the discounts you find on SkiCoupons.com. For example, if you're headed to Vail/Beaver Creek, SkiCoupons.com offers over a dozen printable coupons for equipment rental at local outfitters with savings of between 10% and 30%. Also, consider investing in your own helmets. Youth helmets can cost as little as $40 but frequently rent for up to $10 per day.
Follow the locals. True ski bums never pay full whack. They know that supermarkets and local ski shops in mountain resort areas sell lift tickets for up to $10 per day less than what you'd pay on-site. That's a savings of $40 per day for a family of four. Consider investing in the coupon-filled Entertainment Book for the area you'll be visiting. Inside the editions for Denver, Utah, and Vermont, for example, you'll find discounts on lift tickets, ski equipment rentals, dining, and many other amenities that travelers use. A skiing family could easily recoup the cost of the book in a single day.